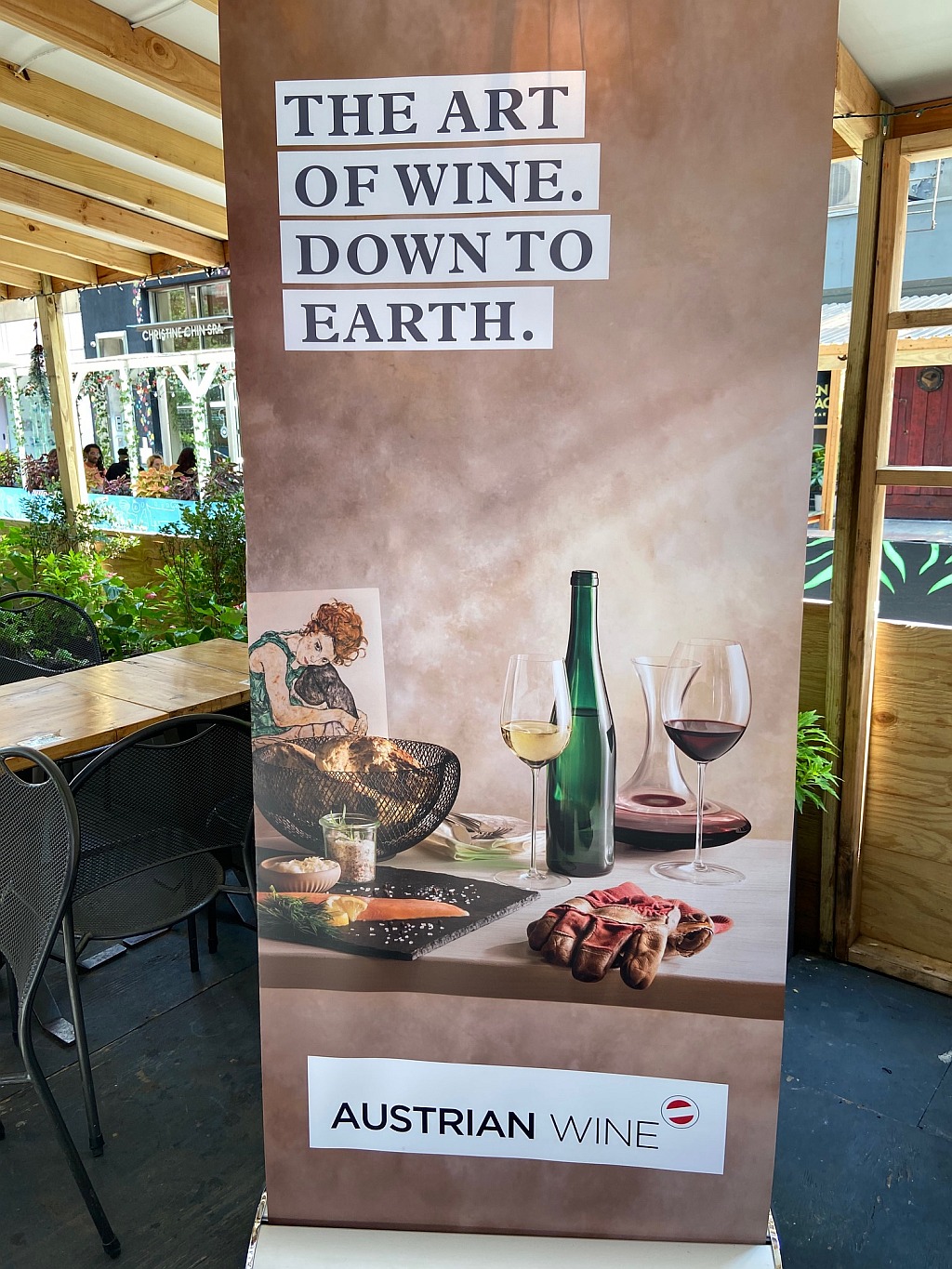 Austria's hills are alive with vineyards producing white wines ranging from refreshing to powerful and opulent, reds with distinctive fruit flavors and moderate alcohol, unique varietals bottled individually, or blended as cuvees, and luxuriant, radiant dessert wines balanced with sizzling acidity. A few weeks ago, I found this and more at an Austrian tasting at chef Erwin Schrottner's Café Katja in Manhattan's Lower East Side neighborhood.
Sommelier Suzanne DeStio, winner of the 2020 Austrian Best Sommelier competition and head sommelier at The Modern, a high-quality, stylish Midtown Manhattan restaurant, started the tasting with the nonvintage Szigeti Brut Burgenland sparkling wine.
Szigeti (Zig-it-ee) produces its sparkling wine from gruner veltliner, Austria's prominent white grape. It purchases from growers in the Burgenland region, and makes the wine with the alcoholic fermentation in stainless-steel tanks and the bubble-creating second fermentation in the bottle, the two-step process known as the traditional method.
The combination of gruner veltliner's bright apple-like aroma and flavor, and the dry mineral-laced finish were instantly pleasing, making the Szigeti brut the right choice to kickoff the event. 88 points. Retail prices range from $16 to $28.
The 2020 Tement Kalk & Kreide Sauvignon Blanc Sudsteiermark is the producer's flagship wine. Its front label lists the organic vineyard's geology of chalk (kalk in German) and clay (kreide). While informative, your attention will be captured by the wine's grass-y, cilantro aromas reminiscent of New Zealand's sauvignon style. Its pear, apple and white-fruit flavors carry a line of acidity creating tartness, balance and length. The alcohol is a modest 12.5%. 93 points. The wine will be in our market later this month with a retail price of about $22.
Once a year in Paris, the tiny one-block-long vineyard Le Clos Montmartre is rediscovered by hundreds of thousands of Frenchmen and tourist for the annual harvest festival. Whereas, in Vienna, its vineyards are woven into the city's daily life.
About 230 wineries are located within the city limits, producing 400,000 gallons of wine; nearly all have a heurigen (wine tavern) where their basic wine, Gemischter Satz is offered along with plates of charcuterie and cheese. Fritz Wieninger's is one such Vienna winery.
The 2019 Wiener Gemischter Satz (Geh-mish-ter Sah-ts) is a traditional field blend of 11 grapes grown in two vineyard areas, Bisamberg, which sits in Vienna's 21st district, supplies 70%, and the balance is from its Nuberg vineyard, a hill that soars above downtown Vienna.
Harvesting so many varieties simultaneously often yields field blends with grapes of varying ripeness. Wieninger's biodynamic grapes were led by 32% gruner veltliner followed by chardonnay and riesling: together the trio compose two-thirds of the blend. After fermentation, the wine was aged two months in stainless-steel tanks before bottling. A fragrant floral nose and rich white-peach, honey and ginger flavors are the most evident from this grape potpourri. Thankfully, the low 12.5% alcohol and mild acidity keep this wine balanced and focused in what could have been a mish-mash fruit bomb. The well-made and pleasing 2019 Wiener Gemischter Satz is an excellent introduction to Vienna's white wines. 91 points. Retail prices are $19 to $25.
Wachau is famous for its terrace vineyards built on steep slopes, requiring the viticulture work to be done by hand. This either triggers a vineyard's abandonment or presents the opportunity to make wines of intention. Peter Veyder-Malberg makes it his mission to acquire the terraces and save the 30- to 70-year-old vines. The laborious work includes maintaining the stone walls that are their own ecological cosmos with Austria's largest habitat of beneficial organisms. Without the walls, Wachau would not be a UNESCO World Heritage Site, and the Wachau wines would not have their unique character.
The handcrafted 2017 Veyder-Malberg Riesling Ried Bruck Viesslinger Wachau has a mild petroleum scent, a character of the chemical compound TDN that forms from ripeness or age. In this case, the Bruck single-vineyard (Rieden in Austrian wine terminology) has a southern exposure, generating high summer temperatures. The scent itself is not a flaw—just one of many aromas that resling offers.
Beyond the petrol is a citrus note, and a creamy texture that carries refreshing lime, lemon and bright honey-crisp apple flavors supported by lively acidity, which delivers a long, dry finish. At a low 12%, the alcohol never interferes with the wine's deliciousness. Try it with spicy foods. 93 points. Retail prices range from $68 to $75.
Roman Josef Pfaffl is the winemaker at his family's 50-acre estate in the Weinviertel region, Austria's largest vineyard area. The 2019 Pfaffl Zeisen Gruner Veltliner Weinviertel delivers the spicy, mild peppery and ripe white-fruit aromas and flavors identified with gruner veltliner from this Weinviertel region. Surprisingly, the nearly six grams of residual sugar did not leave a sweet taste, which speaks to the minerality of the vineyard soil. 90 points.
"Natural" wine is the nudist camp version of winemaking: Everything is stripped down to the bare essentials. Take, for example, the 2020 Christian Tschida Cuvee Rose Himmel auf Erden Österreich.
After hand harvesting the cabernet franc for the rose, Tschida stomps the grapes with bare feet in outdoor shade-covered tanks. Fermentation starts with indigenous yeasts in large barrels where the wine ages for one year. The wine is never racked—the process of moving wine from one vessel to another to remove sediment, spent yeasts cells (lees), clarify the wine and create a flavor profile—nor is it filtered and fined: The latter another process that assists in stabilizing the color and removing unwanted particles. Tschida never adds sulfur and bottles the wine by hand.
The result is Tschida's 2020 rose' Himmel auf Erden (German for Heaven on Earth), which is clothed in a faint pink veil with spicy cranberry and cherry aromas, and a light red-currant flavor with a mild mineral, balanced finish. His winemaking reaches back to a period before enology programs dressed wines with additives, gussied them up with new-oak barrel aging, and imparted a sartorial-like slickness commanding a fashion house price. Try the Tschida 2020 rose' in your best Riedel glassware, which will reveal the wine's earthy nakedness. The alcohol is a moderate 11.5%. 90 points. Retail prices range from $37 to $46.
The Markowitsch winery sits in the Carnuntum region, where it produces single-vineyard, village and regional wines in a dry climate and rolling hill. The 2019 Markowitsch Zweigelt Rubin Carnuntum is a regional wine produced from the zweigelt grape. Its bright cherry hue, and tart black-cherry and hibicus tea aromas make this wine immediately appealing. The pleasure grows with the blackberry flavor, mild tannins and a dry mineral finish. This is a good introduction to a red grape wine known to few wine lovers 89 points.
Roland Velich Moric (pronounced "Moritz"), produces Blaufrankisch in Burgenland, the eastern Austria region near Hungary (before 1921 it was part of Hungary). It is the primary vineyard area for this grape.
Moric's Blaufrankisch is not for faint palates. The 2017 Moric Blaufrankisch Reserve Burgenland's pungent black-cherry, black-pepper, raspberry and herbaceous aromas are attention grabbing and prepare you for the stony, mineral, blackberry, raspberry and rosemary flavors that dominate your palate. The elements recall the structure of malbec from Cahors, youthful Rhone syrah and recently bottled brunello and barolo. Cellar aging and roasted red meats will be best friends for Moric's Blaufrankisch. 90 points. Retail price is about $37.
Next: Part two: Wines with Chef Erwin Schrottner's wiener schnitzel at Café Katja.
Photos by John Foy