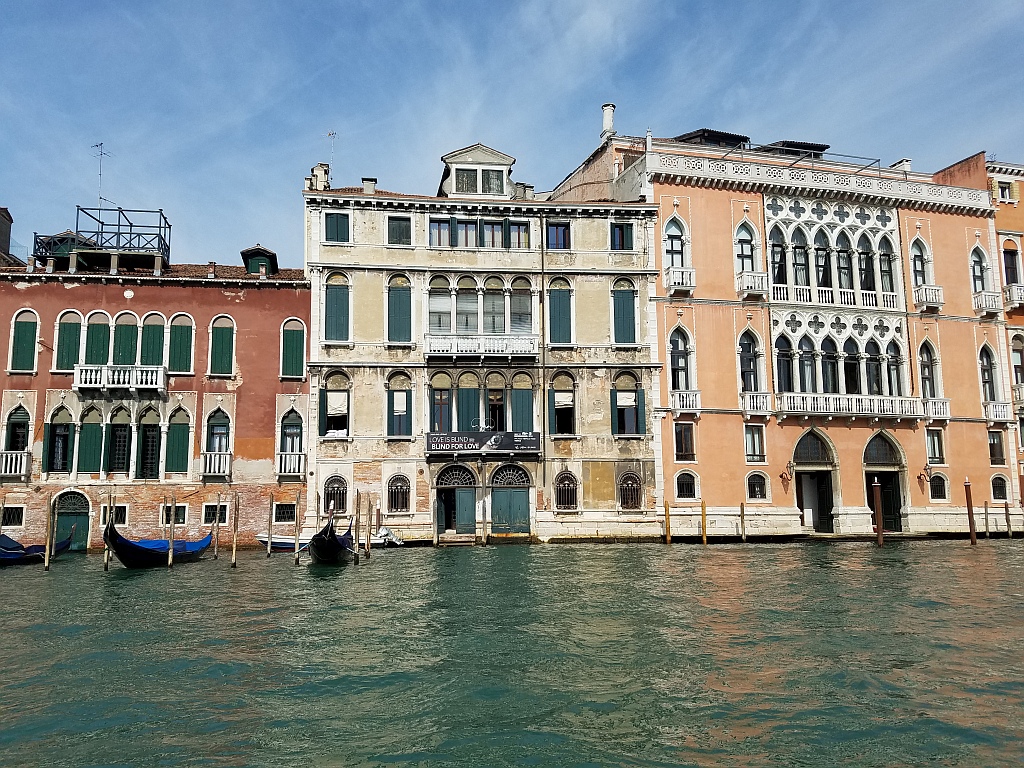 Last year, I visited the Venice Biennale, one of the world's major art fairs. The theme was titled "May You Live In Interesting Times." That became my motto for dining as I journeyed from Venice to Rome with stops in Verona and Ferrara.
Perhaps, most interesting is a bacaro, the Venetian version of a tapas bar where you drop in throughout the day for a glass of wine and cicchetti (chi-KET-tee)—small plates of seafood, bruschetta, crostini, focaccia, cheese, prosciutto, salami and just about anything else that can be consumed in a bite or two.
While walking from the Biennale's location to my hotel, Ai Reali, I discovered Cibo, a pocket-size alimentari with two standing-only tables made from wine boxes. Like a hound sniffing for truffles, I stood in the center of this culinary jewel box inhaling the cheese scents and the salami aromas. In the corner, on wall racks, I saw bottles from northern Italy's top wineries: Pieropan Soave, Livio Felluga Terre Alte, Jermann Sauvignon, Tedeschi Amarone, Zyme Harlequin, along with Tuscany's Sassicaia, Ornellaia, Tignanello, and gems from southern Italy.
Brothers William Foy (left) and John Foy (right)
It was about 3pm, a perfect hour for a cheese plate of the local monte Veronese, Vecchio Bastardy del Grappa, and Lombardy's tagellio. Joining it was a dish of Molinetto salami and Culatello di Zibello—both from near Parma, and tastier than its renown prosciutto—and sopressata from neighboring Friuli, all recommended by Mauro, my new friend behind the counter. And how impossible it was to enjoy this cicchetti moment without the pleasing Tedeschi Capitel Nicalo 2017 Valpolicella that Mauro offered by the glass.
As I stood at my table wedged against one wine rack, I noticed a bottle of Fongaro, Brut 2013 that is made from the Veneto's durella grape, and grown in mineral-rich soil that gives structure to this sparkling wine made in the traditional method. Mauro said he would have it chilled for my cicchetti visit the following afternoon.
The Michelin-recognized Bistrot de Venise's extensive wine list and 60 selections by the glass have magnetic power for oenophiles. Its comfortable banquettes, eye-pleasing décor, attentive service and well-made food have their own pull.
The wine list entered my field of gravity when I read it online and then emailed the restaurant to reserve a bottle of Marco Buvoli's sparkling wine L'Opificio del Pinot Nero Tre. The sommelier had it waiting for me when I arrived a week later.
It is labeled Metodo Classico, meaning the bubbles are created by the second fermentation in the bottle as in Champagne. Aged 36 months, this local sparkler's floral aromas, and rich red-fruit flavor finishes bone dry. It was excellent with the rare duck served with sweet and sour onion confiture.
It was interesting tasting Buvoli's Veneto sparkling wine with Bistrot de Venise's interpretation of a regional 16th-century game presentation.
If you want a waterfront table to watch the gondolas and boats go by, have lunch at the Museum Ca' Pesaro, the gorgeous 17th– century palace built for the noble Pesaro family on the Grand Canal.
Officially named the Ca' Pesaro International Gallery of Modern Art, it has a small restaurant with waterside tables and a museum café menu of pastas, sandwiches, cured meats, cheese and salads. My lasagna Bolognese was satisfying and on a small ledge in front of me, seagulls provided entertainment as they picked at a small fish for their lunch.
Sculpture in Ca' Pesaro honoring Venetian  female World War II Resistance fighter 
Be sure to spend some time in the palace museum. During my visit, I had entire gilded rooms to myself. It was one of the most delightful and privileged museum visits I've experienced—and the antidote for the crowds in Piazza San Marco.
Vini da Gigio lives up to its name with a novel-size wine list. A trattoria with basic wooden tables and chairs squeezed into two rooms, it's the counterpoint to Bistrot de Venise's ambiance and service.
After reading the wine book, I selected the 2015 Ronco del Gnemiz from Udine in the Friuli region, adjacent to the Slovenia border. It's made from the schioppettino grape that was thought extinct until 1970, when Paolo Rapuzzi made it a one-man crusade to find it. After finding a few vines in Friuli, Rapuzzi eventually developed enough to start a nursery and revive this lost grape and wine.
Ronco del Gnemiz's rendition delivered a full-bodied wine with intense black pepper, blackberry and plum aromas and flavors with noticeable tannins. It was the equal of the chef's duck-sauced rigatoni. But tuna with eggplant caponata was overwhelmed by a sweet onion confiture, and doubly so for the wine.
The Osteria Pesador sits on a large concrete dock that was once part of the Rialto Market facing the Grand Canal. The outside tables were in demand even on my cool, windy October day. Inside, are the 17th-century stone-vaulted dining rooms that once held market fruits and vegetables. A glass of Franciacorta Franca Conte accompanied my impeccably fresh and flavorful shrimp and zucchini slivers tossed in al dente spaghettoni.
Before departing for Verona, I enjoyed dinner in Ai Reali's cozy Alle Corone restaurant dining room. From its limited wine list, I ordered the 2015 St. Daniel Pinot Noir Riserva Alto Adige. An otherwise flavorful duck ravioli was marred by a thick, pasty mushroom sauce that fought with the black-cherry-flavored wine. But salvation arrived with the absolutely delicious roasted suckling pig graced with roasted potatoes and wild mushrooms. It was a superb food and wine combination, proving that no matter the times, things are interesting, especially in an artistic city like Venice.
Part Two: Dining in Verona.
Photos by John Foy