Last week, I had two dinners at the Chefs Club, a restaurant that rotates guest chefs every month. Until Oct 31st, 33-year-old Chef Joseph (JJ) Johnson, whose cooking gained notice at The Cecil restaurant (In Harlem, an African Tasting Plate), will be dazzling diners there. The menu takes you on a voyage of world flavors and seasonings with West Africa being the home port.
At our initial dinner, we were very pleased with our two appetizers: The first was West African lamb Suya (skewered lamb with Middle Eastern za'atar-seasoned goat yogurt and crispy Kimchi-seasoned slaw that we rolled into the crepe beside it.  The second was dumplings stuffed with shredded oxtail, cabbage and scallions flavored with ginger; sauced with a very mild yellow curry, and dressed with a saucer-sized taro chip.
West African Lamb Suya
We followed those two dishes with my main course, Udon noodles with braised goat, West African-seasoned peanut sauce, a mélange of diced vegetables and edamame beans. The dish was outstanding. For her second course, my partner Rose ordered another appetizer, Piri Piri Prawns with slices of Asian Pear: The two head-on prawns seasoned with bird's eye chili nested on moist yam flap jacks and peeked through an apple slaw. It was very flavorful.
We shared the West African Jollof Sticky Rice covered with pureed eggplant mixed with red curry and sliced radish. Its yin and yang of crunchy rice and pureed eggplant was texturally wonderful and the very spicy flavors were delicious.
Chef Johnson's cooking lends itself to Champagne and sparkling wines, and luckily, the Chefs Club's list has three pages of Champagne. We selected a bottle of La Caravelle Blanc des Blancs Nonvintage ($95) with our dinner.
Two nights later, I dropped in for a solo dinner at the bar. A conversation with the knowledgeable sommelier led to ordering a bottle of Domaine Labet, Cremant de Jura Rose' Nonvintage ($62) from the list of about a dozen sparkling wines.
Johnson's masterful use of spices and seasonings drove my curiosity about what he would do to the tuna tartare, a mundane dish in many restaurants. I was richly rewarded for the choice.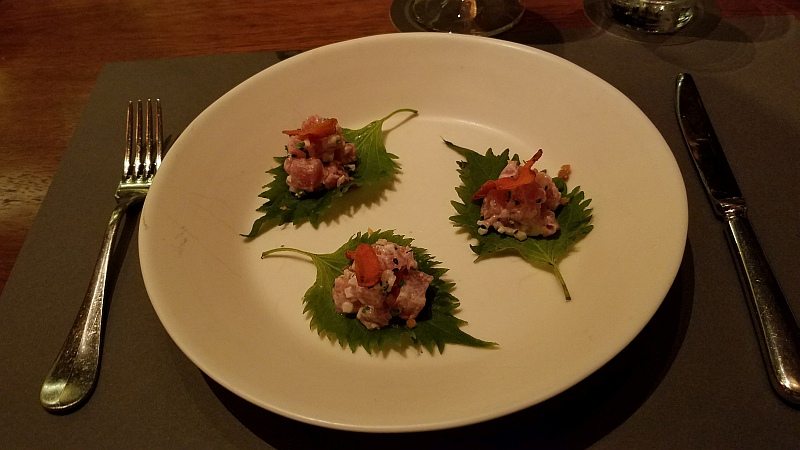 Three eye-catching, bright green, jagged-edge Japanese or Asian Shiso leaves held a teaspoon portion each of diced tuna coated with an emulsified Dijon, egg yolk, rice vinegar, sake sauce, and tossed with a crunchy mix of crushed almonds, peanuts seasoned with curry. As I picked up each leaf, folded it, and slid it into my mouth, I realized I will never think of tuna tartare in the same way. It was an incredible presentation and transformation of this dish.
For decades, I've been deeply frustrated by chefs cooking anything named Jerk. The source of the frustration is simple: I lived in Jamaica for more than two years. I know Jerk.
So, with a wary eye, I read the Roasted Half Chicken had a Jerk Tamarind Glazed, then ordered it. A half-hour later a moist plump breast and leg arrived with its shiny skin and slightly sweet and mildly spicy meat. Next to it was a rectangle sorghum cake and a mix of chopped greens and peeled carrot.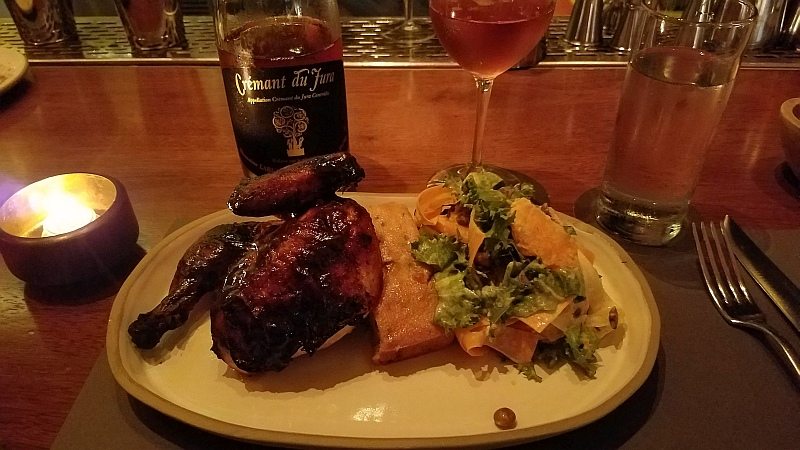 The chicken was not Jamaican jerk, but it was so good, only the bones returned to the kitchen. They were accompanied by the cake and vegetables, which were too heavy and dull. I thought it ironic that the least successful dish was the one with a (southern) American accent. But it was the only disappointing moment in two dinners that included seven plates. The Yankees should only have such a good batting average.
With Johnson's deft palate for world flavors, I thought the luxurious chicken brined in palm sugar would have hit a high note with a Caribbean or Latino citrus-accented fruit salsa, an Israeli couscous bearing Mediterranean flavors, or a Chef Johnson West African presentation.
On the first night, I sat at the kitchen counter, giving me a bird's-eye view of every dish. The one that was truly mouthwatering was the huge, roasted bone-in short rib for two with its skin and meat sparkling bronze, brown and black. Just looking at it brought out my inner caveman. And I heard it crying out for the fruit flavors and acidity of sangiovese found in Chianti Classico or Brunello.
But the wine list is not so accommodating. Its more than 500 selections contain many first-rate producers, but the three Brunellos on the list are $395, $525 and $990, respectively. Surely, a Brunello at a more crowd-pleasing price can be found from consistently good producers such as Poggio Antico, Col d' Orcia, Caparzo, Altesino, San Felice, Nardi and Banfi to name a few. The single Chianti Classico on the list from the excellent Isole e Olena at $72 would be a good choice.
The Domaine Labet Rose' sparkling wine was a smart suggestion by the sommelier. It reinforced my experience that Johnson's cooking is sparkling from beginning to end.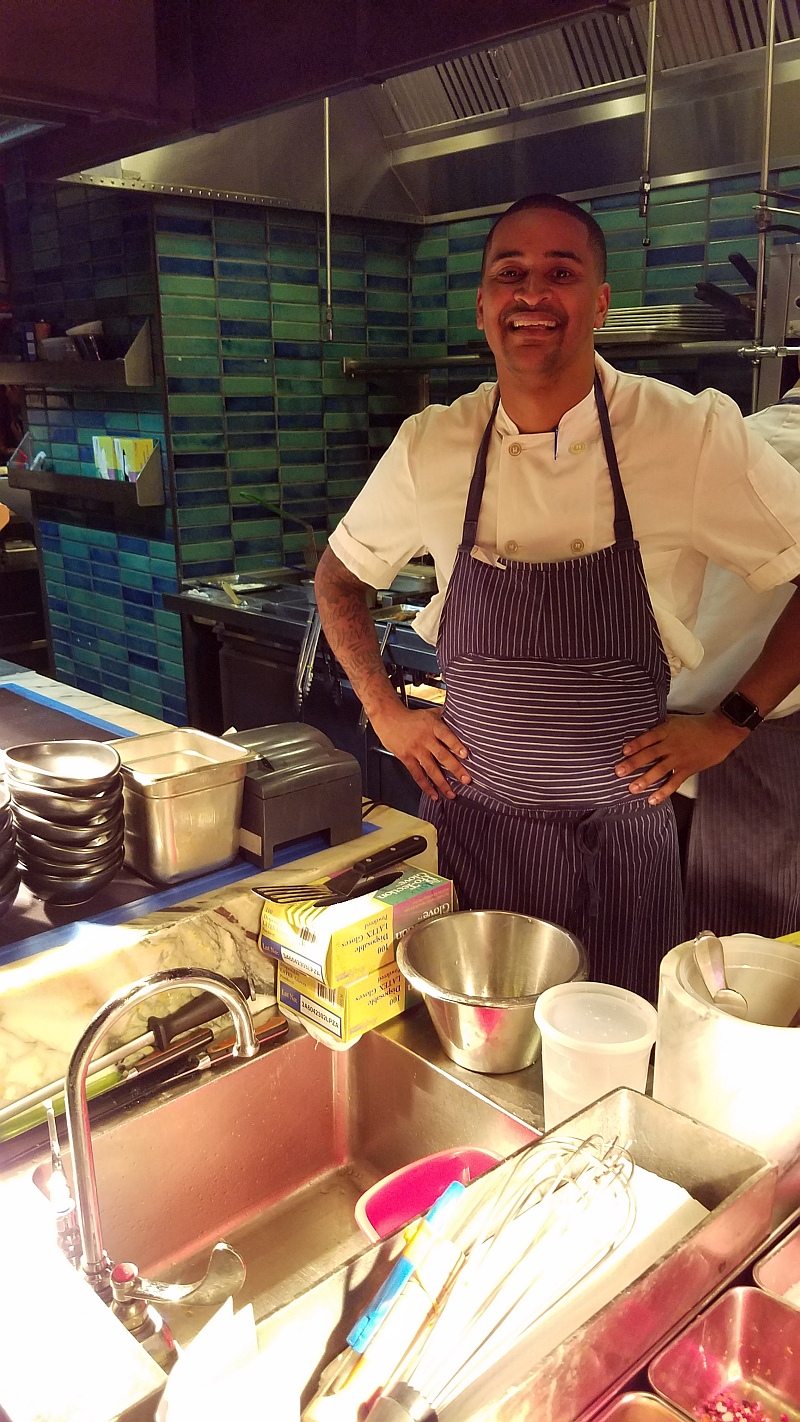 Chef JJ Johnson will be there only this month. You should find an open evening for dinner.  He is cooking some of the most flavorful, creative combinations I've had in years.
Photos by John Foy