Rosaline on Melrose Avenue in LA
For me, Los Angeles is a large, snake-shaped freeway with off ramps that drop you into disconnected neighborhoods. One of them deposited me on the edge of Beverly Hills, where chef and owner Ricardo Zarate opened Rosaline less than a year ago on Melrose Avenue in a designer shopping area of West Hollywood.
Zarate is serving an interpretation of his native Peruvian cuisine in a vibrating atmosphere that is light years from the food I ate while traveling there (Lima, Machu Picchu, Cusco and Ayacucho).
Named for Zarate's mother, Rosaline, has checked off every item on today's trendy restaurant list: communal table, open kitchen, bright bar, exposed lighting and undressed wooden table tops. Sadly, that also included uncomfortable chairs and hard surfaces that bounce the stadium-level noise, requiring you and your server to shout at each other. One soft touch: the many potted plants hanging from the glass ceiling that both gives a greenhouse feel and recalls the San Francisco fern bars of the 1970s.
But Zarate's food makes you focus on the plate. We followed our server's suggestion to start with the La Cevicheria menu choosing the ceviche crocante and ceviche de hongos from the six offerings.
The crocante's halibut and crispy baby calamari were spicy and tangy from the marinade of Japanese yuzu kosho, Peruvian aji Amarillo pepper, and leche de tigre- a mix to lime juice, ginger, cilantro, celery and red onion. Lacking a spoon, we used the fork's tines to collect the last drops.
Zapate's mushroom ceviche was equally delicious. In it, he paired king and tiny shimenji mushrooms with avocado and Japanese tomato ponzu sauce. If these ceviches were served to me during my Peruvian trip, I'd still be there.
With the ceviche, we enjoyed glasses of two Cavas: the 2015 Raventos i Blanc Rose' and the nonvintage Ramons Raventos Brut. The Raventos family, who entered the wine business in 1497, is arguably the most prestigious name in Spanish sparkling wines.
Paiche coated with kiwicha
Our server directed us to the Abrebocas, the small plates section of the menu, where she encouraged us to try the chicharron de paiche, a white river fish. The paiche (Pie-CHEE) was coated with the small grain kiwicha, the Andes name for amaranth (considered a superfood for its anti-carcinogenic, anti-hypertensive, anti-oxidant, and anti-lipidemic properties) and sauced with a yuzu aioli. Along with the nutritional benefits, every bite delivered remarkable flavor.
Zapate used feta cheese for his Lima huancaina sauce (cream and cheese combination) served with an organic chicken breast and cilantro beer rice. I was a little hesitant to order this dish as I do not like beer-flavored food, but the sauce and cilantro were controlling the flavor meter, and my glass of 2016 Viura from the renowned Muga winery was sensational.
The only dish that missed the hit parade was the overly sauced and busy pork osso buco. But the incredible flavor combinations, ingredients, and creativity of the other dishes were worth shouting about.
Knowing a chef's background is often the way many diners, including myself, select a restaurant, so I did my backgrounding on Brandon Kida, the chef at Hinoki & the Bird in Los Angeles' Century City neighborhood. After graduating from New York's Culinary Institute of America, he cooked at iconic French restaurants: L'Orangerie in Los Angeles and Lutece in New York City. He then moved from cook to executive chef at the modern Asian-French fusion Asiate in Manhattan, before assuming the same role at Blenheim Hill Farm, the upscale farm-to-table restaurant in New York's Catskill mountains. That was enough for me, and I booked my table at his current residence
The menu's Asian-French style would be perfectly at home in Asiate (one of my favorite New York restaurants). And what could be more French than beef tartare, and more fusion than crispy chicken marinated in Japanese yuzu kosho?
But the tartare left me bored. MIA were the capers, crushed black-peppercorns, egg yolk, Worcestershire and chopped flat-leaf parsley. And the crispy chicken was as exciting as a chain-store fried chicken thigh.
The stumbling first course continued into the middle course of pappardelle with duck ragout. The flavorful ragout was undone by a pasta so overcooked that any Italian chef would have considered it an assassination.
Meanwhile, the sommelier was perfectly in tune with his responsibility. My order of a half bottle of Marchesi di Gresy Barbaresco was sold out, but he came to the table with an offer I couldn't refuse: He would open a full bottle of Caparzo Brunello di Montalcino, pour half of the bottle into a decanter and charge me the same price as the Barbaresco. Done deal.
Berkshire pork chop with Carparzo Brunello di Montalcino
Perhaps, that good act influenced the cooking, too, because soon after my moist, richly flavored Kurubota (the Japanese name for the black Berkshire hog) pork chop arrived. The combination of the delicious meat and the Caparzo Brunello was outstanding. And kicking it up a notch higher was the side order of maitake mushrooms.
If the other main course of black cod was served on its own, I would have words of praise, however, next to the Kurubota pork chop it was the wallflower at the Homecoming Queen's prom.
Some think walking is necessary after dining. I always thought walking was the excuse for dining. But whichever viewpoint you choose, one place in Los Angeles where you'll want to spend a few hours strolling are the gardens at The Huntington.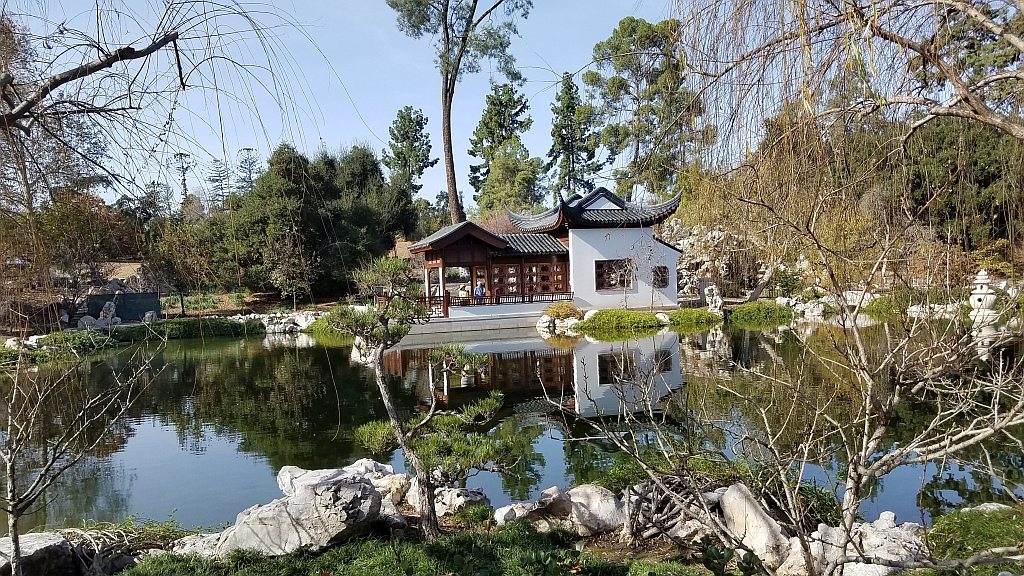 Often referred to as the Huntington Library, it is the estate of the 19th century railroad magnate and businessman Henry Huntington and his wife Arabella. The gardens are 120 acres of the 207-acre estate. I strolled the Japanese and Chinese gardens (with a brief stop for Chinese dumplings—well, you do need nourishment while walking).
And a walk through the Rose Garden can be the excuse for a formal afternoon British Tea in the Rose Garden Tea Room. But be sure you make an advance reservation. It is extremely popular.
For the more seditary or scholarly, there is the Huntington Library that has seven million manuscripts and 430,000 rare books, including: The Ellesmere manuscript of Chaucer's Canterbury Tales (ca. 1400–1405), one of 12 vellum copies of the Gutenberg Bible known to exist (ca. 1455), quarto and folio editions of Shakespeare's plays, some of which were printed during the writer's lifetime.
You'll also find letters and manuscripts by George Washington, Thomas Jefferson, Benjamin Franklin, and Abraham Lincoln, including the original manuscript of Franklin's autobiography. And first editions and manuscripts by authors such as William Blake, Jack London, Alexander Pope, Percy Bysshe Shelley, Henry David Thoreau, Mark Twain, and William Wordsworth.
The Huntington was certainly worth the nearly one hour freeway drive from our Santa Monica hotel.
Photos by John Foy
[/bt_text][/bt_column][/bt_row][/bt_section]