La Grande Georgette Friday, April 14, 2023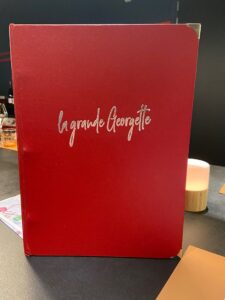 Naming your restaurant La Grande Georgette is not an overstatement when your wine list is 25 pages, the first 11 of which are devoted to Champagne. It also helps if you're within spitting distance (not that anyone is spitting bubbly!) from the Cathedral of Reims, France's historic address for crowning kings and emperors, and your cellar is in the heart of the city identified with what royalty drank and the world thirsts for.
Nor was it out of hubris that chef Julien Raphanel created an appetizer of veal and smoked eel tartare appearing under a boat-shaped latticed pastry crust, around which the server poured a slightly chilled crustacean consommé perfumed with bergamot from an eye-catching black metal Japanese tea pot. The silky texture and saline ocean-tasting consommé lifted the delicate veal flavor, and bergamot gave the smoked eel a long finishing taste to a composition and picturesque presentation associated with Michelin starred-chefs, which, I predict, Raphanel will soon become.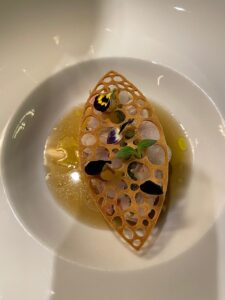 A consultation with the sommelier brought the nonvintage Benoit Lahaye Blanc de Noir Extra Brut Champagne, grown in the producer's organic vineyard in Bouzy, a village 13 miles south of Reims, noted for its pinot noir
Flaunting was not behind the main course of spring lamb and white asparagus. The earthy local lamb was served with a seared rib chop, a portion of the loin and slices from the tenderloin alongside the quintessential spring vegetable whose absence of color contrasted with the lamb's pink interior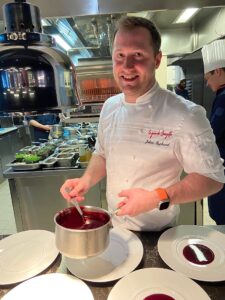 Chef Julien Raphanel
The vibrant Champagne from Lahaye became the counterpoint to the richly flavored pistachio cream and Tahitian vanilla mousse that triggered memories of childhood pleasures, making my dinner grand indeed. 
 Le Millenaire, Saturday April 15, 2023
 At the stylish Le Millenaire, a one-star Michelin Guide restaurant, you have a choice of one of three menus: four, five, or seven courses. Your server asks about any allergies; you are free to add any disliked foods. Then, the chef decides what you will eat, and you embark on a food ride that can range from thrilling to chilling, as seen in the movies "Hunger" and "The Menu."
 My five-course menu launched with an amuse bouche of unctuous duck liver mousse in a pastry shell, followed by tuna tartare peeping out from a similarly styled leaf-shaped lattice pastry as last night's boat-shaped version at La Grande Georgette.
 Immediately after the plates were removed from the table, Chef Benjamin Andreux' first course arrived, consisting of two green asparagus spears accompanied with shavings of lemon zest in a pistachio sabayon sauce—a  pleasant pairing made more enjoyable with a sip of Champagne Lallier Grand Cru Rose Brut. Just as quickly, my second course was whisked to the table—I refused it, telling my server that I wanted time to digest before being presented with another course. I also wanted time to focus on the Lallier Rose from Champagne's esteemed village of Ay, famous for its pinot noir.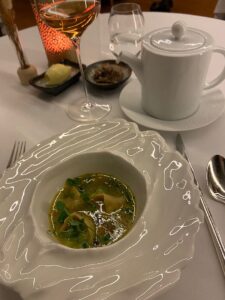 Fifteen minutes later, she brought a hot seafood ravioli in a licorice-flavored broth with submerged crushed hazelnuts. Its fragrance and deliciousness was enhanced by the pause between courses.
After a respectful interlude, it was time for springtime's white asparagus presentation, which Chef Andreux served with a perfectly cooked cube of turbot accompanied with a glistening green olive oil sabayon
 Afterwards, the highlight of my dinner appeared: a large spring morel stuffed with a puree of chicken alongside a perfectly cooked, large sweetbread topped with cooked diced tomato. Later, I asked Chef Andreux about the risk of sending a controversial food such as sweetbreads to an unsuspecting diner. He acknowledge that not everyone will eat it, but the combination of the two meats was worth the chance.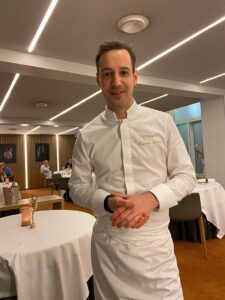 Chef Benjamin Andreux
Chocolate is a lot less risky than sweetbreads, which might be the reason that my two morsels of dark-chocolate cake were wedged between two mounds of dark-chocolate ice cream, under which, were unseen layers of mint waiting to explode on my palate.
Michelin-starred chefs rarely think only one dessert suffices. No sooner was my official dessert cleared, then a post-dessert dessert arrived with a top layer of milk and dark chocolate, a middle of lemon mousse on a base of dark-chocolate mousse in a chocolate shell. It was all wonderful when the dinner slowed to a digestible pace. 
Le Jardin de Crayers, Sunday April 16, 2023
In France, finding top restaurants open for Sunday dinner is akin to winning the lottery. My winning ticket was a 6:30 dinner reservation at Le Jardin de Crayers, the stylish café restaurant adjacent to Le Crayers, Reims' Michelin two-star restaurant.
I was seated on a banquette with a direct sight line to the front door, which gave me a prime perch for people watching, as 30 minutes later the hinges were swinging continuously as regulars, tourists and locals were taken to their tables. By 7:30 every server, floor manager, sommelier and sundry staff was moving at the fast pace of any hot Manhattan restaurant. I sat back sipping my Champagne from a half-bottle of Pierre-Brocard cuvee Tradition Brut while enjoying the staff's coordinated ballet.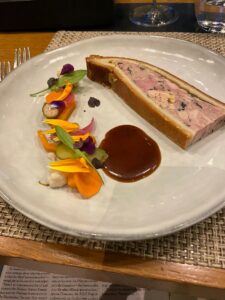 Turning my attention back to my table, I started with a pate en croute filled with duck liver, chicken and pork, a dish that is part of France's culinary patrimony and was expertly executed by this kitchen crew.
As the dinner hour ticked on, the staff shifted into a higher gear never losing a beat or dropping a dish, a performance that, when done right, demonstrates the controlled chaos of restaurants. .
Minutes later, my confit of lamb shoulder with lentils and sautéed cauliflower arrived in one gliding motion as the server put the dish in front me while pouring the Loire Valley 2017 Domaine de Cheralerie, Bourgeil Cuvee Galichets into my glass and quietly described the dish before whisking off to his next duty.
French lamb is delicious year around, but spring lamb is succulent. Le Jardin's required no knife: the side of the fork was sufficient to push it off the bone. And chewing was effortless as the tender meat released refined flavors generated from the mother's milk and grass diet.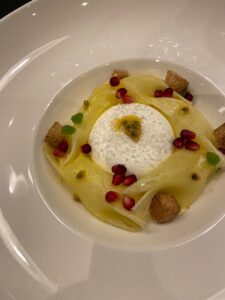 For dessert, my server suggested the citrus and ratafia baba, accented with my favorite passion fruit to pair with the remainder of the Pierre Brocard Champagne.
Quiet and calm filled the room that only 30 minutes ago was a buzz and a blur of motion. Like the hinged doors, this Sunday dinner was a great closing of my weekend dining in Reims, and opening next week's.
Dining in Reims: Part two, neighborhood eateries.
Words and photos by John Foy