Once upon a time, children of all ages made a trip to the department store to buy their father the traditional gift of a tie for Father's Day. In today's "work from home" world, few men wear ties any more. So, what's a gift giver to do?
Champagne or a sparkling wine is always a gift that never goes out of fashion, and happily, for the buyer and the recipient, good value and quality are found in numerous regions.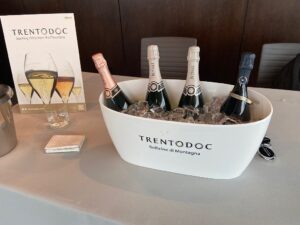 One such place is the Trentino region in northeastern Italy. Surrounded by the majestic Dolomite Mountains, this young appellation has quickly gained recognition for well-made classic method sparkling wines.
Worth the seach is Cesarini Sforza Brut and Brut Rose, both nonvintage, and limited to a dosage of four grams of sugar, qualifying them to be classified as extra brut. The Cesarini Sforza Brut is 100% chardonnay; its streaming bubbles release a floral scent, and citrus and ginger flavors. The faintly pink rose is 20% pinot noir and 80% chardonnay and as vibrant as the brut. A hint of red fruit lies behind the citrus aroma and flavor and the finish has a drier sensation than the brut. 88 points each. Expect to pay $26 to $33 for the rose and $24 to $30 for the brut.
For the real McCoy, gift your father with a bottle of Fleury Champagne. Founded in 1895, it's now in the hands of the fourth generation led by Jean-Pierre Fleury and his three children. In 1989, Jean-Pierre was the first in Champagne to practice biodynamic farming and winemaking.
In April, I was in Reims, the capital of the Champagne region, for four days of tastings. One of the standouts was the 2015 Fleury Notes Blanches Brut Nature, a 100% pinot blanc—an unusual grape for a monovarietal in Champagne, but not an unusual Fleury with its hints of sherry and lychee aromas, and full body. Apple and almond flavors are blended with minerality and a saline finish. It was bottled October 2016 and disgorged July 2022. This is a Champagne that grabs and holds your attention. 92 points.  Expect to pay about $100.
For sipping while the steaks are on the grill, Rioja's 2018 Bodegas Valdemar Conde Valdemar Crianza offers a medium body filled with black cherry and balsamic aromas and flavors gliding on soft tannins. It will bring dad's praise as he enjoys it at the table, too. 90 points. Expect to pay $15 to $20. The well-made 2017 has better distribution and is priced the same.
If your father likes Italian wines, he'll be dazzled by the 2017 Campogiovanni Brunello di Montalcino, part of the San Felice portfolio of excellent Tuscan wines. Campogiovanni is located in the southwestern section of Montalcino where its sangiovese grosso grapevines are planted in three parcels totaling 50 acres.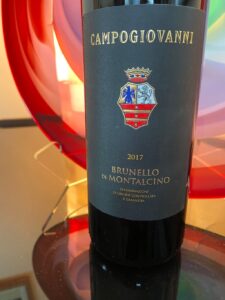 The hot, dry 2017 summer brought a black-cherry tinted wine with a captivating cherry-tobacco aroma and tasty raspberry, red plum and spicy flavors. Supporting tannins and a mineral backbone provide depth and length. If you're drinking the 2017 Campogiovanni this Father's Day, decant it for 45 minutes, otherwise cellar it for five to 10 years. 93 points. Retail prices range from $50 $93.
If fish is your father's dish, look to Jordan Winery in Sonoma County's Alexander Valley for well-balanced, flavorful Chardonnay. Founded by Tom and Sally Jordan 51 years ago, it is now owned by their son, John Jordan.
In the early 1970s, the Jordans attempted to buy Bordeaux's First Growth Chateau Margaux, but were blocked by the French government. In 1972, they purchased 269 acres in Alexander Valley, built a beautiful chateau-styled winery and unlike nearly every other Sonoma and Napa winery, focused on only two wines: cabernet sauvignon and chardonnay. Both were made with a French style of refined flavors, balance and length.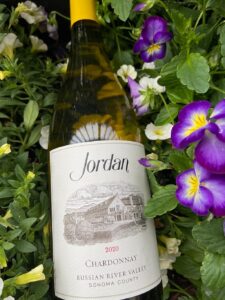 The 2020 Jordan Chardonnay Russian River Valley is reliably Burgundian with its harmonious ripe fruit, restrained oak aromas and flavors, and refreshing acidity. Jordan chardonnay has never been your California fruit bomb or oaky, high-alcohol wine. Its Russian River Valley fruit brings a natural richness akin to Burgundy's Corton-Charlemagne that your father will welcome with his steamed lobster, crab cake, or grilled red snapper. 92 Points. Widely available from $28 to $36 (which is at least $200 less than Corton-Charlemagne).
Whether you're giving or getting a tasty bottle, have a Happy Father's Day.
Words and photos by John Foy
Next article: Dining in Reims, part two.