The Champagne region is home to the world's finest sparkling wines made from chardonnay and pinot noir. While large brands and "houses" dominate the retail market, it's wines from the small producers that connoisseurs seek.
Moet et Chandon and Veuve Clicquot Ponsardin are the proverbial 500-pound gorillas with their huge volumes (tens of millions bottles annually) backed by the mass-marketing muscle of parent company and French luxury goods conglomerate Moet Hennessey Louis Vuitton. Much less known are the excellent growers' Champagnes in this first of a series that I will be writing about.
In the sub region, Montagne de Reims, Vilmart & Cie was founded in 1890 by Desire Vilmart. Since taking the reins in 1989, fifth-generation Laurent Champs runs the 26-acre estate spread across 10 parcels in the premier cru village Rilly-la-Montagne. During this period, Champs hasn't used herbicides or chemical fertilizers, nor has he treated the wines with malolactic fermentation. All the wines are aged in various-sized barrels, both new and used.
Champs's basic Champagne is the delicious Vilmart Grande Reserve Premier Cru Brut nonvintage made with 70% pinot noir and 30% chardonnay. The blend is from the 2014 and 2015 vintages. The pinot noir's full body is wrapped around chardonnay's floral aroma and white-fruit flavor with a backbone of refreshing acidity. Disgorged in June 2018. 91 points. Retail prices range from $38 to $68.
The grape percentage of the Vilmart Grand Cellier Premier Cru Brut nonvintage is the same as the grand reserve, but is made from wines of the 2012, 2013 and 2014 vintages. It is aged in large oak vats (foudres), giving it a touch of smokiness behind the floral scent. Rich, ripe white fruit and chamomile flavors are supported by a mineral backbone that carries the wine to a long, dry finish. Disgorged July 2015. 92 Points. Retail prices have a very wide range of $55 to $115.
The 2010 Vilmart Coeur de Cuvee Premier Cru Brut is Vilmart's top wine or prestige cuvee, made from the single-vineyard Blancs Voies with vines that are more than 65 years old. Made of 80% chardonnay and 20% pinot noir, the wine is aged in small oak barrels and has a pronounced croissant and floral nose. Its pear and cashew flavors and citrus-like acidity give it length, longevity and an elegant texture. It is a superb wine that will continue to develop over the next 10 to 20 years. Disgorged January 2017. 95 points. Retails prices have a wide range from $118 to $216.
The Cote de Blancs sub region lies about 30 minutes south (by car) of the Montagne de Reims. It's named for the chalky color of the soil and the chardonnay that occupies 97% of the vineyards. Six of the 17 Champagne villages rated Grand Cru are in the Cote de Blancs: Cramant, Avize, Oger, Le Mesnil-sur-Oger, Chouilly and Oiry. From these vineyards come the most exquisite blanc de blancs Champagnes with solid cores of minerality and acidity.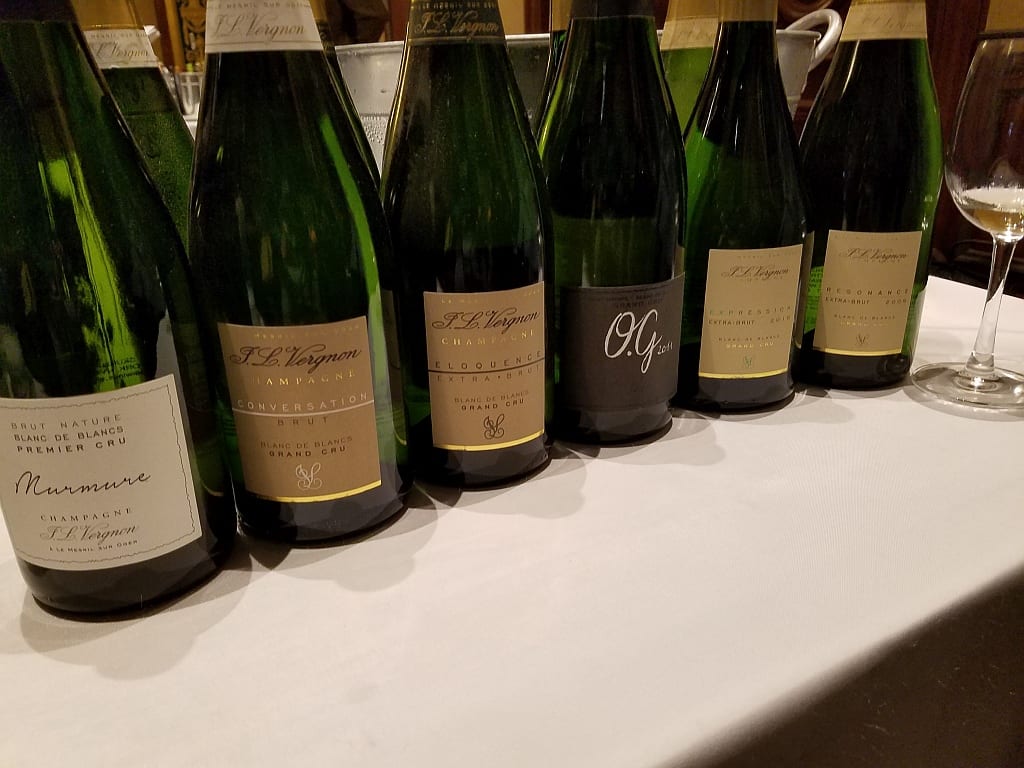 In 1950, Jean-Louis Vergnon planted 12 acres of chardonnay spread across parcels in the Grand Crus Le Mesnil-sur-Oger, Avize and Oger, as well as the premier crus Vertus and Villeneuve. He moved from the position of grower to grower-producer in 1985 with his first JL Vergnon Champagne. Today fifth-generation Clement Vergnon runs the estate with the assistance of winemaker Julian Gout. All the wines are fermented in stainless steel. For the last 15 years herbicides have been abandoned, malolactic fermentation is not employed, and the maximum dosage (the sugar liqueur added in the final stage of production) is a mild five grams per liter. This grower-producer has been a personal favorite.
The basic Champagne is the JL Vergnon Murmure Blanc de Blancs Premier Cru Brut Nature nonvintage. Grapes for this pure chardonnay come in equal parts from each of Vergnon's two premier cru vineyards, and aged for two years in equal parts stainless-steel tanks and older barrels. An earthy, fresh-baked bread leads to ripe Granny Smith apple flavor whose delicate texture is perfectly balanced and glides to a long, tasty finish. Its ripe fruit required no dosage. Disgorged in January 2017. 92 points.  Retail price is about $44.
The JL Vergnon Conversation Blanc de Blancs Grand Cru Brut nonvintage is assembled from 80% 2013 chardonnay and 20% reserve. The grapes are grown in three grand cru vineyards of which 90% is from Le Mesnil-sur-Orge and 10% from Avize and Orge. The wine is aged for three years in 80% stainless steel and 20% in older barrels. The process yielded very appealing aromas of toasted bread and cantaloupe, and ripe apple, pear and ginger flavors that formed an elegant texture with a mineral undertone. Beautiful balance and a long, dry finish will have you conversing about this wine. The dosage is five grams. 93 points. Retail prices range from a very reasonable $40 to $55. Also available in half bottles from $25 to $40.
JL Vergnon doesn't have a prestige cuvee, but it does make a selection of vintage wines. At my tasting, I was very pleased with the 2010 Expression Blanc de Blancs Grand Cru Extra Brut made from grapes of vines exceeding 65 years in Le Mesnil-sur-Oger (80%), and Avize and Oger (10% each). It was made and aged in stainless-steel tank until July 2011, then bottled and aged for seven years. Lime aroma and flavor mingles with the ripe apple, ginger and lemon-y accents that flow through the round, seductive texture to a long, refreshing, crisp finish. Its extra brut designation reflects the dosage of three grams. Expect the 2010 "Expression" to express itself with great complexity over the next two decades. 93 Points.  Retail price is a very reasonable $75. 
Happy New Year!
Photos by John Foy