Bordeaux's Eco-Heroes are Pouring Larger in New York.
Spoiler alert: Bordeaux is getting down to earth. In my August 2021 article, I reported on Bordeaux's exploration of new grapes to counter the drier and hotter weather brought by climate change. This report focuses on the producers who are embracing the region's shift to more conscientious viticulture.
Bordeaux's wine council and the French Ministry of Agriculture are working with winegrowers and chateau owners who are tending their vineyards with one of three modalities: organic, which constitutes 23%, or 62,500 acres of Bordeaux's surface area; biodynamic, of which 98 certified vineyards are half of all the certified biodynamic vineyards in Europe; and the High Environmental Value  (HVE) designation, totaling 123,552 acres and representing more than half the surface area in Bordeaux. Together these "eco-heroes" comprise 75% of Bordeaux's vineyards.
This did not happen overnight. In the 1980s, a few producers understood that after the Great Depression and World War II, growers relied on chemicals to protect their vines from disease and their crops from insects. But the chemicals were a devil's bargain: With the passage of time, the chemicals poisoned the soil, endangered the vines and the vineyard workers. With a vision of the future, producers began reducing the use of insecticides, herbicides and pesticides and started planting grasses and flowers between the rows of vines, adding compost and adopting other methods to rejuvenate the vineyard. Today's eco heroes—the beneficiaries of the earlier environmental pioneers—are focused on Bordeaux's fauna and flora to protect and enhance the diversity and synergy in its vineyards.
Recognizing their work, the Bordeaux wine council launched a month-long celebration with 60 New York City restaurants during November. The restaurants are pouring wine by the glass from 14 wineries in 3-liter bottles, or double-magnum size. I tasted the 14 wines and here are my favorites.
Noreetuh is a Lower East Side restaurant featuring Hawaiian cuisine and an award-winning wine list recognized by The Wine Spectator each year, 2018-2022.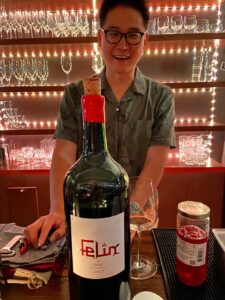 With my dinner, Jin Awn, Noreetuh's sommelier and partner, opened a double-magnum of the velvety-textured black cherry and herbal-flavored 2017 Chateau Biac "Felix de Biac," Cadillac Cotes de Bordeaux. 89 points. 14.5% alcohol.
Chateau des Laurents is owned by the Baron Edmond de Rothschild group, which also own the largest share of Chateau Lafite Rothschild. They created a superb 2016 Chateau des Laurents, Puisseguin-Saint-Emilion with its bright cherry color and attractive floral and red-fruit aromas. It's very easy to like its black-cherry flavors, soft tannins and dry finish. 90 points. 14% alcohol.
The 2019 Chateau Puyanche Francs Cotes de Bordeaux hails from the outer edge of Bordeaux where the chateaus of three villages compose the Francs appellation. Merlot is the leading red grape in Bordeaux and 80% of the Chateau Puyanche blend with cabernet sauvignon as the minority partner. Plush black-cherry and blueberry-like fruit with soft tannins create a charming and very drinkable wine. 88 points. 13.5% alcohol
Marie and Sylvie Courselle are daughters of oenology professor Francis Courselle, and granddaughters of Chateau Thieuley's founder Andre Courselle. Following their father, they earned degrees in agricultural engineering and oenology. They worked at wineries in Australia, California, Italy, Spain and throughout France before returning home to become the current owners and winemakers. Their compelling 2019 Chateau Thieuley Bordeaux Rouge combines 70% merlot, 25% cabernet sauvignon and 5% petit verdot and delivers very flavorful black-cherry and blueberry flavors with gentle tannins that make it ideal for wine by the glass. Don't miss this one. 90 points. 13% alcohol.
Chateau Clarke is a Bordeaux wine I've happily consumed many times. Baron Edmond de Rothschild purchased the dilapidated property in 1973, using his wealth and wine passion to create a top-performing winery.The 2016 Chateau Clarke Listrac-Medoc, from an outstanding vintage, blends 70% merlot with 30% cabernet sauvignon from its Listrac vineyards, situated between the world-renowned Saint-Julien and Margaux appellations. Complex blackberry, black cherry, herbal and gravel aromatics introduce the complexity of this wine. Its medium body is wrapped with pleasing blackberry and Darjeeling tea flavors and supported by soft tannins. It's drinkable today and age worthy at least through this decade. 91 points. 14% alcohol.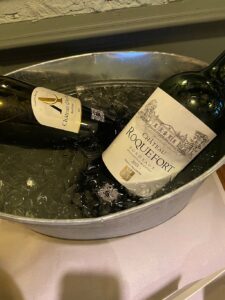 At 85%, sauvignon blanc dominates the 2021 Chateau Roquefort Bordeaux Blanc. Crisp grapefruit and passionfruit aromas and flavors are rounded with blending 15% of the soft-textured semillon grape. Enjoying this white wine means you don't have to see red when you hear the word Bordeaux. 92 points. 13% alcohol.
After the New York visit, the Bordeaux program will move to Chicago to repeat this excellent introduction to its large bottle wine by the glass program and story of its eco heroes.
As a long-time Bordeaux lover, I am thrilled to see this progress and will make an effort to support those producers by drinking their wines. And I hope you will too, starting with your Thanksgiving dinner party: any one of these bottles is ideal for your table.
Photos by John Foy