Getting to the Lange, the area where the extraordinary barolo and barbaresco wines originate, is best achieved by flying to Milan, then, staying for a few days of  shopping and delicious dining[/inlinetweet] in Italy's fashion capital.
After reading on his website that he never cooks with onion or garlic, it was impossible for me to start my epicurean adventure anywhere other than at Filippo La Mantia. What? A Sicilian chef who does not use the two ingredients in every kitchen in southern Italy? I had to discover what kind of eccentric cook is this man.
It was a rainy, late-October night when I arrived at the two-level restaurant, banquet and bar enterprise. Clustered by the front door was a large group of well-dressed guests, through which I excused myself to reach the hostess. She escorted me up the polished stone staircase to the living-room like dining room with its carpeted floor, generous-sized tables and cushioned chairs.
From the extensive wine list—stocked with Sicilian bottles—I selected the G.Milazzo, Blanc de Blancs, Brut Nature sparkling wine. It was labeled "metodo classico," signifying the traditional method produced it. The chardonnay grapes were grown in Sicily's volcanic soil giving the wine a mineral backbone and bright acidity to its lemon and lime flavors.
I enjoyed the onion and garlic-less Sicilian eggplant caponata with the very flavorful black-fruit and gravelly 2013 Benanti Serra della Contessea Etna Rosso. Benanti is one of Sicily's best producers, and the Etna Rosso showed its versatility with a village-size portion of fettuccini with rabbit ragout. Its deliciousness started to make me a believer in the no-onion, no-garlic school of cooking.
Tasty zucchini and artichokes propped up dull slices of veal before the hazelnut and chocolate gelato dessert triggered a dopamine avalanche.
As I walked towards the staircase, I took in the full room, the private group in the alcove, and at the bottom of the staircase, the crowded bar-café. It seemed the Milanese liked the cooking of this heretical Sicilian chef. I did, too.
The next day, I walked a half-hour or so for lunch at Cascina Cuccagna's restaurant, Un Posto a Milano. Located in the Porta Romana section of the city, the farmhouse dates to 1695 and was restored seven years ago with large courtyards, trees, gardens, farmers-market, and a vibrant community linking sustainable lifestyles, urban agriculture and cultural activities.
The glass atrium sheltered me from the afternoon dampness and sporadic rain, while the professionalism of the young server—from wine to table service—was striking, given Un Posto's casual style of colorful metal chairs and tables and exposed brick walls. Its ambience and attitude recalled San Francisco before the dot-com era.
My love for Italian cold cuts became more passionate with each bite of Un Posto's three artisan selections: an 11-month-aged coppa, a 24-month-aged pancetta, and a 3- to 4-month-aged salami. The intensity of the coppa's pork flavor set a new standard for my palate. And, pancetta—which I have never been able to eat raw—was devoured, leaving a peppery tingle and a desire for more. Only the salami had an equal (and can be found at Manhattan's Il Buco Alimentari).
Three chesses from Lombardy were enjoyable, but my devotion to French cheese was not shaken.
Un Posto's kitchen made the organic-flour rigatoni that was served "alla Norma" with its own twist of pureeing the eggplant for the sauce, then—from some of the 100 organic farms it supports—adding the traditional ingredients of sun-dried tomatoes, ricotta cheese, lemon zest and fragments of basil. The only thing it lacked was a sprinkle of salt, which was easily remedied.
The miss of the day was the dry farmer's chicken that the chef cooked too long—or too long ago. All the other dishes went well with the biodynamic 2014 Arcari + Danesi Brut Zero Franciacorta, my favorite Italian sparkling wine region.
Wine statement, "these are our wines some organic others biodynamic without sulfites. They come from small farms and are a mirror of the territory in which they are produced."
On the way out, I toured the second floor where local artists displayed  their jewelry, clothing and artworks.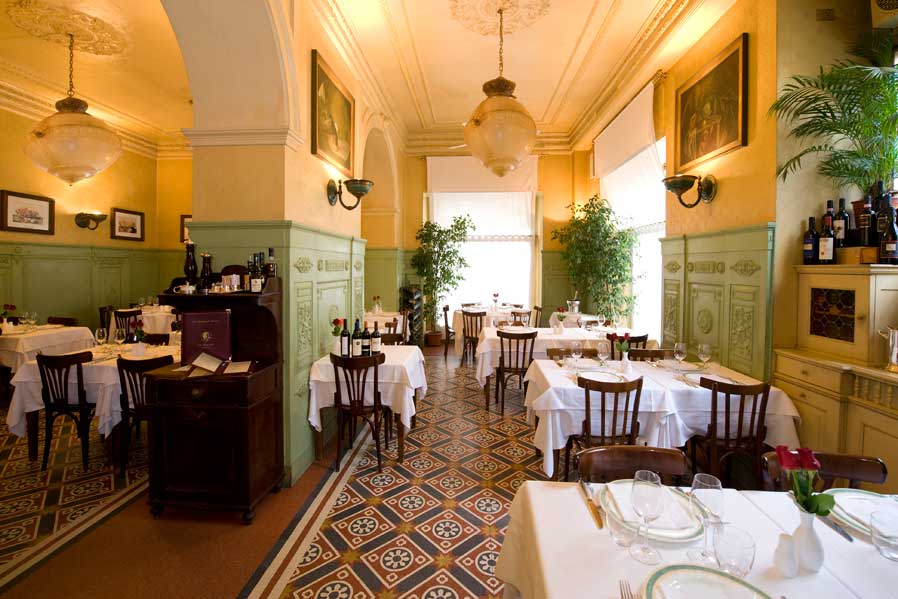 The first thing I noticed about the restaurant was the timeless beauty and tranquility created by joining the Reseda green shoulder-high wood paneling in the reception area and both dining rooms with soft yellow wallpaper above it.
Then, my gaze was captured by the parade of women of a certain age, as the French say, stylishly dressed in silk and their men in figure-fitting jackets all sauntering to their tables. Later, extremely tall women, whom I assumed were models arrived, cat walking across the room to their seats alongside Millennial escorts wearing jeans,T-shirts and the de rigueur week-old beard. Welcome to Milan and da Giacomo.
In such a room, it would be déclassé to do anything other than starting dinner with a bottle of Franciacorta, so with that excuse, I ordered the Monte Rosa Rose Brut Nonvintage. 
Dining and fish might not be the only reason every table was filled at da Giacomo, but it was mine. Carnivores will find a selection or two at the bottom of the menu; I chose the linguini with langoustines and zucchini flowers from the top. It was delicious.
Zucchini flowers appeared again around my turbot and potato gratin. A sheer butter-sauce coated the turbot giving the presentation a French tilt but not too many calories for the well-heeled and thinnish clientele. 
Dessert is an afterthought at da Giacomo, so I departed for the gelato shop on the square near my hotel. As I stepped into the late night air, two couples walked towards me. The high heels clicked on the sidewalk, the two men buttoned their double-breasted jackets, and the door to da Giacomo opened.
It was Sunday around noon when I asked my hotel receptionist a simple question: where's a good enoteca for lunch?
He said he didn't know one that was open on Sunday, so he did the most natural thing: He went to Google. There he found a review in Corriere della Sera Milan's—and Italy's—most important newspaper, of the wine bar, Cantine Isola dal 1896.
A taxi took me half way across the city before turning into a series of small streets lined with storefronts adorned with signs in Chinese calligraphy. After a few more minutes, the taxi stopped at Cantine Isola wine bar. Its front was wide open and uncorked bottles of wine lined the bar. At the end were plates of meat and vegetable bruschette.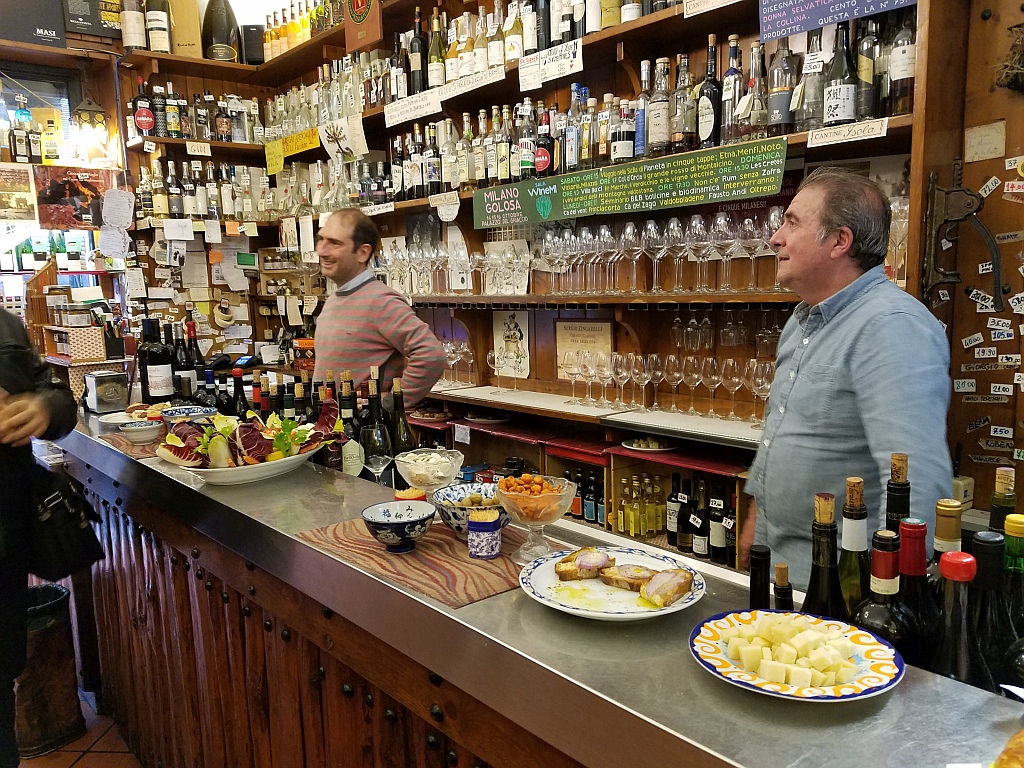 Behind the bar was a 50-something-year-old man who boisterously greeted me. Returning the greeting, I asked him if he had a lunch menu. He walked around the bar, took me by the arm and with machine-gun rapidity told me something in Italian while pointing across the street to a line of people.
Looking puzzled prompted the two women sitting on Cantine Isola's outdoor wooden bench to join the conversation. One explained in English that the two Chinese dumpling shops on the other side of the street were excellent and I should buy some, then come back to order my wines and enjoy lunch. It was the first time I ever encountered a wine bar that encourage buying food somewhere else.
I choose the dumpling shop to the right, which had a line of about 20 people. When I reached the window, I saw the sign noting a price of three euros for four dumplings. I purchased both the pork and beef dumplings and carried them back to my outdoor seat. Glasses of Franciacorta, barbaresco, and northern Italian pinot noir were served by my newest friend, the owner, Luca Sarais.
The dumplings quickly disappeared, but my hunger remained, so I crossed the street to the other Chinese shop, which, offered chopped meat cooked on a griddle and served in a bun, and shaved pork with onions served in a steamed bun. I ordered one of each.
Returning to my bench, I paired them with a glass of Chianti Classico. Meanwhile, Sararis' cousin, Michael Villanueva, walked around offering black- olive, sun-dried tomato and salami bruschette.
Luca Sarais (left) and Michael Villanueva
It was now getting colder, my lunch was an unexpected adventure, and Cantine Isola and Milan's Chinatown created a permanent place in my food and wine travel memory. My friend Luca called the taxi and closed the door for me. "I'll see you in New York," he said in English. His smile was no less broad than my own.
During the ride to my hotel, I thought about the women dressed to kill and the rakish young men at da Giacomo; the polished look of Filippo La Mantia restaurant and its dressy clientele. Then I recalled during my visit to Ceretto winery, I commented on the new stylish tasting room, to which, Roberto Ceretto replied, "of course, we are Italian."
And this is Milan.
Next: Part two dining in Alba and the Lange.
Photos by John Foy
da Giacomo photo courtesy of da Giacomo