After celebrating its centennial anniversary, Beaulieu entered the 21st century with newly planted vineyards and a winemaking team led by Jeffrey Stambor who joined BV in 1999.
Stambor made all the Georges de Latour Private Reserve through 2016—all the wines in this second part of the retrospective tasting presented by BV's current winemaker Trevor Durling who, in March 2017, became BV's fifth winemaker in its 119 year history.
As we concluded the first part of the tasting, I noted the spike in alcohol from the 12.5% wines of the 1960s to 13.9% as we closed the 1990s. This upward climb is dramatically increased in the 2000s, affecting the wine's style (and possibly the person drinking it).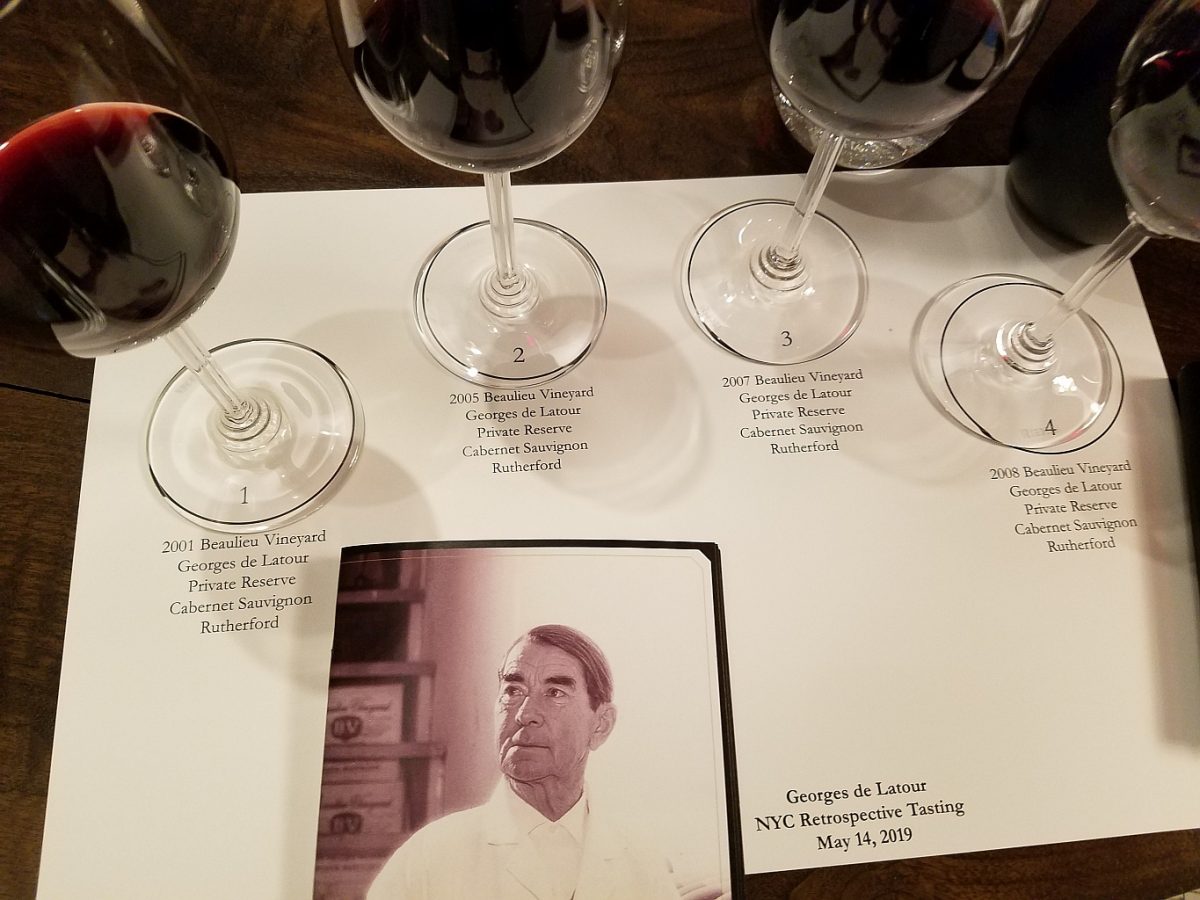 BV George de Latour Private Reserve 2001-2008; photo of Andre Tchelistcheff
Our tasting of wines from the new millennium started with the 2001 Beaulieu Vineyard Georges de Latour Private Reserve Cabernet Sauvignon. Following the elevated levels of the 1995 and 1997 wines, this came in at 13.6% alcohol. The 2001's aging in 57% French and 43% American oak barrels marked the last time that the Georges de Latour Private Reserve would be aged in such a high percentage of American oak barrels. As with many other Napa cabernets, Beaulieu's opaque blackberry to black-cherry color became the new normal. Toasted oak aromas, tasty tobacco and black fruit flavors glide on a medium body to a long, pleasing finish. 91 points. Retail prices range from $90 to $134.
The 14.8% alcohol level of the 2005 BV Georges de Latour Private Reserve Cabernet Sauvignon's established a threshold as the new normal for BV's flagship wine. It blended 7% merlot with the cabernet sauvignon. The wine's ripe blackberry flavor contained a slight sweet sensation on the palate, which, I thought came from the 20 months aging in 90% French oak barrels. 90 points. Not available in the retail market; auction market prices range from $50 to $90.
The 2007 BV Georges de Latour Private Reserve Cabernet Sauvignon's 15.5% alcohol established the highest percentage for this wine brand. A blend of 4% petit verdot and 3% malbec with its cabernet sauvignon brought toasted oak, vanilla and tobacco aromas, and black tea and blackberry flavors lined with dry tannins. 88 points. Retail prices range from $109 to $120.
In 2008, BV opened the doors of its new winery built exclusively for the George de Latour wine. With an emphasis on quality, the winemaking team limited the inaugural vintage to 8,500 cases, which remained the highest quantity through 2016. (Previously, production ranged from 12,000 to 29,900 cases in various decades.)
My bottle of the 2008 BV Georges de Latour Private Reserve Cabernet Sauvignon delivered a medium-bodied wine with black-fruit aromas and flavors, and possessing the slight sweet taste that I found in the 2005. Was it from the aging in 100% new French oak barrels, the 15.3% alcohol, or the blend partners (3% petit verdot and 2% malbec)? Most likely, I thought, it was the accent of the new French oak. 89 points. Retail prices range from $100 to $125.
Durling introduced the current decade with the 2012 Georges de Latour Private Reserve Cabernet Sauvignon, the first of five consecutive excellent vintages in Napa Valley.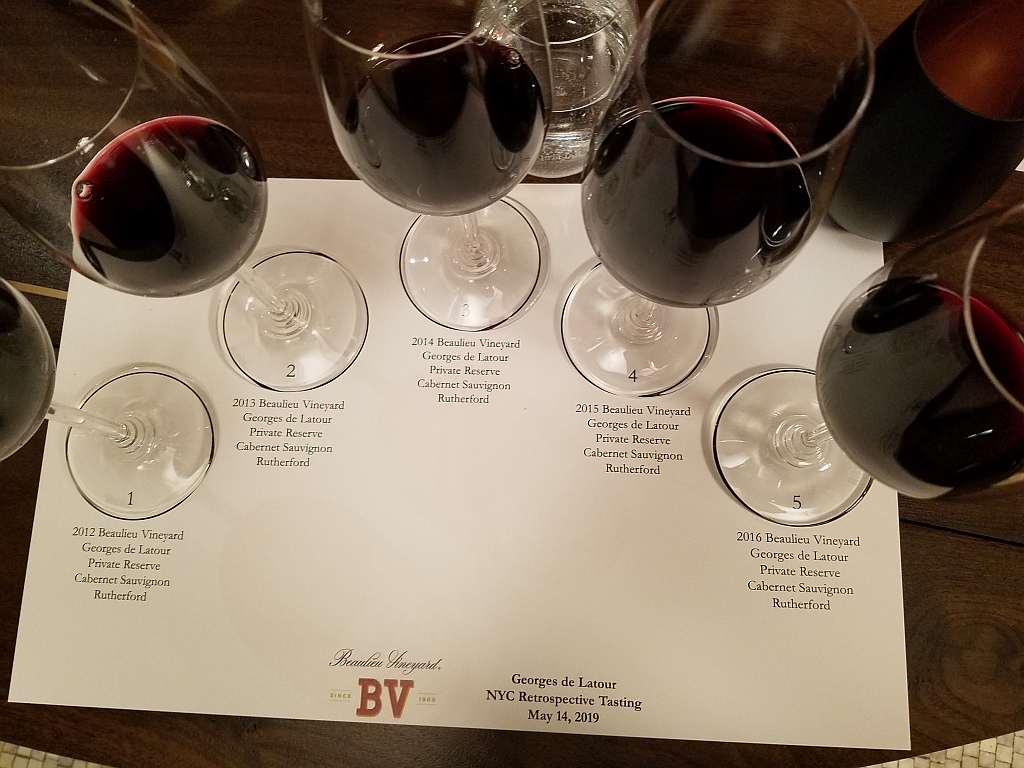 The blend included 4% petit verdot and 3% malbec, however, the 15.5% alcohol was distracting, and the muscular blackberry, dark chocolate and cherry overwhelmed my palate. Perhaps, this wine will develop better balance, but in its present state, it is best left in the cellar. 85 points. A wide price range of $90 to $158. 6,800 cases produced.
The 2013 vintage was Nature's gift to every winemaker and wine drinker. Perfect temperatures throughout the growing season followed by a long warm autumn allowed vineyard managers and winemakers to pick perfectly healthy grapes.
BV's winemaking team blended 6% petit verdot with the cabernet sauvignon and aged it in 100% new French oak barrels for the 2013 Georges de Latour Private Reserve Cabernet Sauvignon. This wine gave enticing vanilla, dark chocolate and black plum aromas. Its medium body is filled with delicious black-cherry and blackberry flavors with perfectly harmonious tannins, and I was never aware of its 15.2% alcohol. This is a wine that harks back to the elegant style of Andre Tchelistcheff. 94 points. Retail prices range from $100 to $148. 6,500 cases produced.
A sufficient amount of winter rain set up the 2014 vintage to be a year of quality and quantity. At BV, 4% petit verdot and 3% merlot were blended with the cabernet sauvignon, then aged in 100% French oak barrels (88% new) to produce the 2014 Georges de Latour Private Reserve Cabernet Sauvignon. "Juicy" was the word that repeated itself in my notes about the black-cherry aroma and flavor of this wine. Its fruit is lined with soft tannins, and the 14.9% alcohol is undetectable, making it pleasant drinking without aging it. And that's okay; you have the 2013 for the future. 90 points. An astounding retail price range of $89 to $160. 6,600 cases.
 Another drought-year did not deter BV's winemakers from producing a 2015 Georges de Latour Private Reserve Cabernet Sauvignon that slides nicely between the juicy, fruit-forward 2014 and the perfectly structured 2013. It is also the most blended wine in the 21st century group with 90% cabernet sauvignon infused with 4% merlot, and 3% each petit verdot and malbec. Its 15% alcohol cuts a middle ground, too.
 Along with Georges de Latour's standard black-fruit aroma, unusual cherry and blueberry scents caught my attention. The tannins give the 2015 more structure that the 2014 rendition, but the body is lighter than the 2013. So, if you buy the three vintages, enjoy the 2014 now; the 2015 through the mid-2020s and the 2013 for the next two decades—and, possibly longer. 92 points. Another vintage with a wide retail price range of $98 to $175. 6,200 cases produced.
The 2016 vintage is the last of five drought years, as well as an equal number of very good to outstanding vintages. At BV, the vintage marked the 80th anniversary of the Georges de Latour Private Reserve. Nature and the winemaking team responded accordingly, delivering beautiful fruit and a 2016 Georges de Latour Private Reserve Cabernet Sauvignon brimming with black olive, blackberry, and a unique hyacinth scent not found in any of the other wines. It's fuller and richer than the 2014 and 2015, with blackberry, olive and chocolate flavors coating the palate. Excellent balance gives it a long finish, and, without doubt, a long life, perhaps, matching the 2013. 93 points. Not yet in the market, but expect to pay from $100 to $150 when it arrives.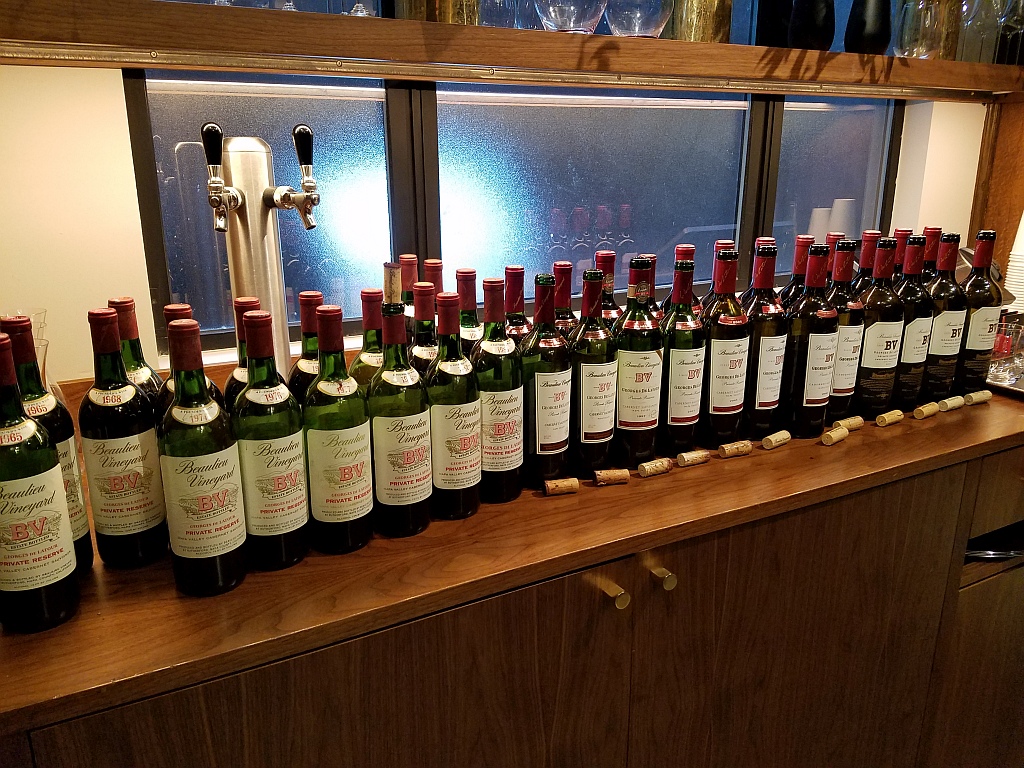 This 50-year, two-part retrospective tasting yielded some insightful information of the BV Georges de Latour Private Reserve from its inception, through five winemakers and multiple owners. After the death of Monsieur and Madame Latour, the estate was inherited by their daughter who sold it in 1969 to Heubelin, a large corporation in the wine business. This began a series of sales to corporations, including its current owner, Treasury Wine Estates. But, throughout, the Georges de Latour Private Reserve remained a cabernet sauvignon-driven wine with a Bordeaux pedigree. Until the early 1980s, its structure, aromas and flavors would have fit nicely alongside many Medoc wines.
After the 1980s, the Georges de Latour Private Reserve remained an overwhelming cabernet sauvignon wine—its least amount is 90% found in the 2015 vintage—blended in some years with Bordeaux varieties, merlot, petit verdot and malbec.
In part one of this retrospective tasting, the slick texture and vanilla flavoring from new French oak barrels doesn't appear as the wines were aged in a mix of American and French oak barrels; only the 1995 used 100% new oak. But with the advent of the 2000s, the Georges de Latour Private Reserve is aged every vintage in a majority of French oak, and many with 100% new barrels. This procedure is followed at many top chateaux in Bordeaux.
This change in style is also propelled by the increase in alcohol: From the 1960s' 12.5%, the wine increased only one percent until 1995, when it reached 13.9%. However, that amount of alcohol is now viewed as moderate. In my later tasting, we observed that from the 2005 vintage, the Georges de Latour Private Reserve ranged from 14.8% to 15.5%, or an average of 15.2%. This alcohol level is not a Bordeaux model.
From a consumer's standpoint, this means you are consuming 21% more alcohol with every glass. Such an increase carries health and driving risks. But high alcohol levels are not limited to BV; it is spread across New World wines, as well as at many Italian, Spanish and southern French wineries.
The retrospective tasting displays not only significant differences in barrel aging and alcohol, there is a substantial difference in the body weight of the 21st century wines and the density on the palate. Anyone who began drinking wine after 2000, would be shocked by differences found in the Georges de Latour wines of the 1960s through the 1980s.
From this retrospective tasting—and decades in the wine world—I continue to wonder if these modern wines will have the aging ability of others made by Andre Tchelistcheff, the 40-year old Bordeaux wines in my cellar, and the classic Barolos from the 1950s and 1960s that I am fortunate to drink occasionally.
Winemakers often say that people want wines to drink now, and they are just responding to the market. I say the buyer of wines such as BV Georges de Latour Private Reserve are mostly collectors. Who else spends a $100 and more for a bottle of wine? These buyers have wines lying quietly in their cellars for the "now" drinking. They want BV Georges de Latour Private Reserve for tomorrow and tomorrow's tomorrow.
Let's hope that BV's fifth winemaker will create wines for those tomorrows that surpass the aging time with as much life and complexity as the 1968 made by the winery's first winemaker.
Photos by John Foy