It would not be an overstatement to say that Chianti Classico is the Italian wine in which many Americans have found comfort—from their initial introduction through decades of drinking and collecting.
Earlier this year, the Chianti Classico Consortium, a promotional body founded in 1924 that today represents nearly 500 producers, held a tasting and seminars in Manhattan while introducing a new emphasis on the 11 Chianti Classico villages along the winding, picturesque road between Florence and Siena, the north-south axis of the Chianti Classico zone.
Leaving Florence, Greve in Chianti is the first main Chianti Classico village and the home of Castello di Verrazzano whose history is intertwined with New York City.
In the seventh century, the Verrazzano family took ownership of the castle. It was there that navigator and explorer Giovanni da Verrazzano was born in 1485. Thirty-nine years later, he led an expedition that sailed into what is now the New York Harbor during a journey of what is today's east coast of the United States. In 1964, a bridge connecting New York City's Brooklyn and Staten Island boroughs was completed and named the Verrazzano-Narrows Bridge.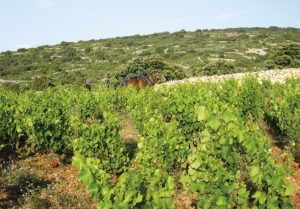 For centuries, vineyards were part of the castello's existence. After the last Verrazzano died in 1819, the Florentine Marchesi Rodolfi took possession of the property until 1958 when Cavalieri Luigi Cappellini became the owner and began beautifying the property, expanding into agrotourism, converting the vineyards to organic farming, and refining the winemaking. Under the new geographic listing, Verrazzano is in the village of Montefioralle, two kilometers outside its historic Greve address.
Co-owner Silvia Cappellini, Luigi's wife, was at the Manhattan tasting the 2018 Castello di Verrazzano Chianti Classico with its pretty cherry and rose hue and scent. The black cherry and mild coffee taste are carried on a mineral backbone that gives a refreshing tartness in the finish. It's readily drinkable and pleasing. 89 points. Retail prices are $21 to $27.
The 2016 Castello di Verrazzano Chianti Classico Riserva offers a darker shade of red, with pronounced black-cherry aroma and flavor. This is a bigger, fuller wine with a stony undertone that's ideal with meat-sauced pastas and grilled steaks. 90 points.  Retail prices are $37 to $47.
Located in Gaiole, Badia a Coltibuono is the midpoint along the road to Siena. Its 2019 Badia a Coltibuono Chianti Classico epitomizes the casual drinking pleasure of the region with its brilliant cherry-red hue, upfront strawberry and cherry aromas and flavors, along with mild tannins and acidity. 86 points. Retail prices range $15 to $30; good value arrives at less than $22. The 2017 Badia a Coltibuono Chianti Classico Riserva delivers more complexity with its rose flower and black-cherry scents. The toasted oak and black-cherry flavors provide a delightful finish. 89 points. Retail prices are $29 to $45.
Felsina, located in Castelnuovo Berardenga, the southernmost village in the Chianti Classico zone has long been a leader in producing 100% sangiovese Chianti Classico wines. The rich soils and minerality in the vineyards create a structure resembling the Brunello di Montalcino wines from the nearby northern section of that appellation.
The Felsina 2019 Chianti Classico Berardenga's tasty red berries bring an earthy aroma and flavor with soft tannins and instant enjoyment. 86 points. Retail prices are $19 to $37. Good value is found at less than $25. The 2018 Felsina Rancia Chianti Classico Riserva's dull red color makes its slightly mint-seasoned red-fruit an unexpected surprise. The herbal touch brings pleasing complexity and a stony backbone bodes well for aging, a hallmark of Rancia. 90 points.  Retail Prices range $46 to $72.
With its elegant hotel, excellent restaurant, spa, vineyards and winery, Borgo San Felice occupies a place of prominence in Castelnuovo Berardenga. Its Chianti Classico wines and Campogiovanni Brunello di Montalcino were on the wine lists of my former restaurants and in my personal cellar.
The 2019 San Felice Chianti Classico displays a mildly spicy cherry- and strawberry-flavored fruit with soft tannins, mild acidity and medium body that makes it pleasing and immediately accessible 88 points. Adding to the appeal is the incredible reasonable pricing, from $13. It's widely distributed, look for it at less than $19.
Equally affordable is the well-made 2018 San Felice Il Grigio Chianti Classico Riserva. Always notable for its smooth fruit and silky tannins, the Il Grigio Riserva coats the palate with an elegant richness and depth. This is an excellent wine that will deliver years of pleasure from your cellar. And the price is no less pleasing. 92 points.  Retail prices start at $19 and rise to $37 with many retailers selling it at less than $29.
The new emphasis on the villages in the Chianti Classico zone gives sommeliers and wine writers a fresh dusting off of a well-known story, and gives collectors a new reason to rethink their inventory.