The Grape viewed from a tasting room
Serruluga d'Alba is an important wine village in the Langhe region, a UNESCO World Heritage Site that dates to the Roman period. History notwithstanding, the village also enjoys a position in the midst of some of Italy's most privileged wine country.
But if you visit here, once you're done with the history tour, you owe it to yourself to partake in the region's other cultures assets, which can be found at Ceretto's Monsordo Bernardina Estate winery in San Cassiano, about five miles away.
The Ceretto family has a demonstrated interest in art and architecture supporting various works throughout the region. http://www.ceretto.com/en/experience/art-and-co Their winery is another such work, blending traditional and modern, distinguished by a glass dome extension of the old stone winery that juts out over the spectacular vineyard. Called "The Grape," the bubble, 30 feet above ground, offers an expansive view of the organically farmed vineyard, surrounding hillsides, the villages, castle tower and the red rooftops.
The entire space exudes thoughtfulness and style, and it messages you about Ceretto's wines before you taste them.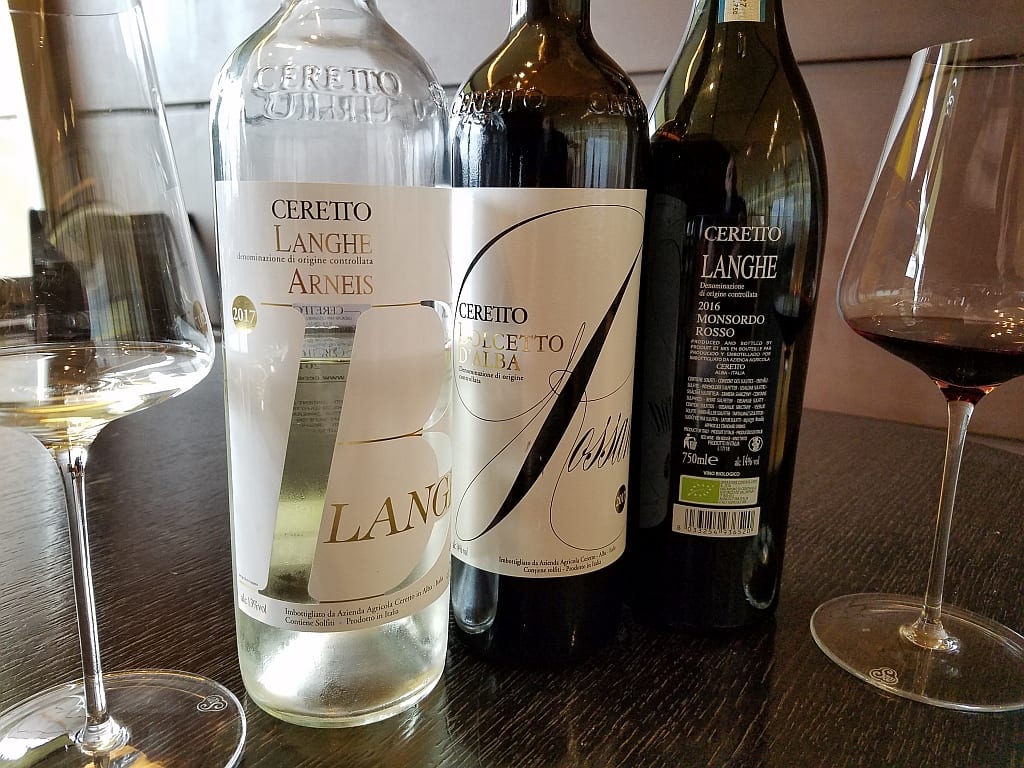 Last month, I sat with Roberta Ceretto with a selection of her family's newest vintages. We started with the 2017 Ceretto Blange Arneis Langhe, produced from a white grape that was nearly extinct a generation ago. Roberta's father Bruno and her uncle, Marcello, created the Blange wine in 1985. Today Ceretto accounts for 15% of the total arneis wine production in the Langhe—the name of the area in Piedmont that includes all the important wine appellations. Its floral fragrance recalls Easter lilies and the palate provides lemon and lime flavors with citrus-like acidity, freshness and length. Its style is its refinement. 90 points. Retail is about $25.
Some describe Dolcetto as the Piedmont version of Beaujolais, which is a good indication of the grape's natural gamay-like profile. Some producers, however, appear to be unhappy with what nature gave them, so they pick riper grapes, give the juice a longer maceration with the skins to extract color and tannins, and age the wines in French oak barrels. The vanilla infusion, greater body and pumped-up tannins give these Dolcettos more commonality with merlot and pinot noir.
The 2017 Ceretto Dolcetto d'Alba Rossana eschews such manipulation. Brief maceration followed by fermentation and aging in stainless-steel tanks give this a bright cherry color with boisterous red berry and cranberry aromas and flavors. This lively, light and luscious dolcetto is just waiting for you to pair it with grilled chicken, meat-sauced pastas, or pan-seared salmon on a bed of caponata (a sort of Sicilian eggplant-based ratatouille). 91 points. Expected to arrive in our market in spring 2019 and priced at $19 to $25.
The 2016 Ceretto Monsordo Lange is "80 percent winemaking and 20 percent soil," said Roberta of the wine blended from grapes on the Monsordo Bernardina Estate (50% cabernet sauvignon and 25% each merlot and syrah). Aged in French oak barrels, this is Ceretto's acknowledgement to New World winemaking. The blend varies by vintage. In the 2016, black fruit and toasted oak dominate the nose, and blackberry and black-cherry flavors are carried on plush tannins. It's technically correct, but if I had my druthers, I'd prefer to see that acreage planted with nebbiolo, which, unlike the international varieties, flourishes only in Piedmont's soil. 89 points.  Expected to arrive in spring 2019 and cost about $31 to $38.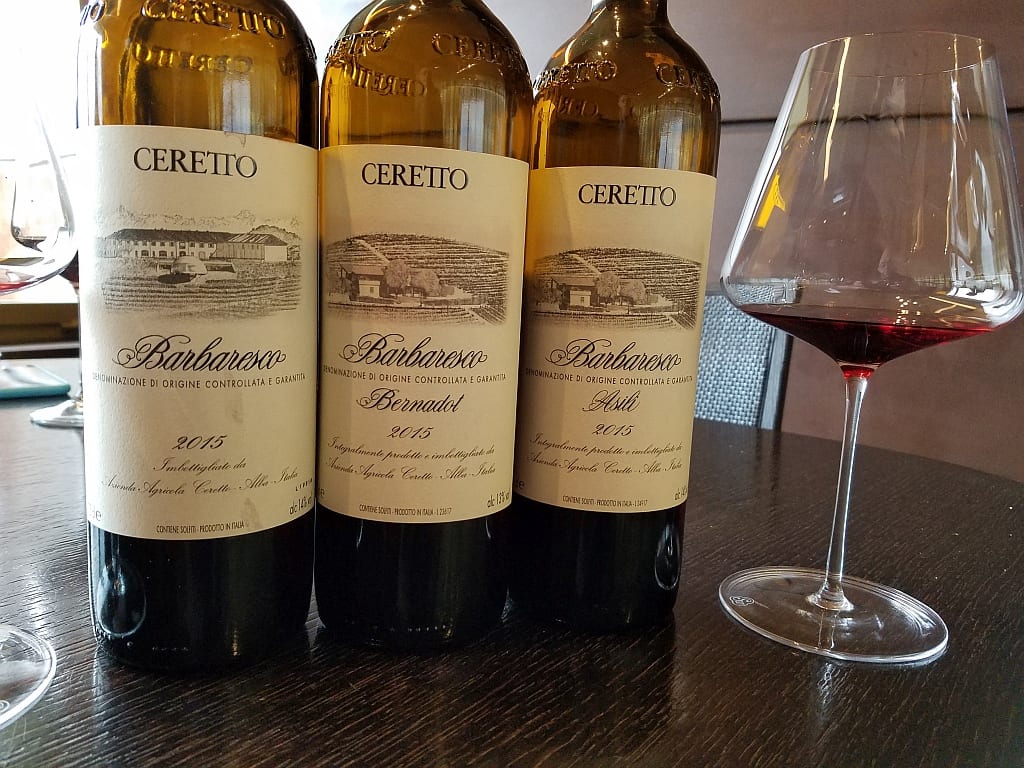 Nebbiolo is the grape of Barbaresco and the one that Roberta's grandfather Riccardo bought and grew to produce the family's first commercial wine in the 1930s. Today his grandson Alessandro is the winemaker, producing the 2015 Ceretto Barbaresco DOCG.
Along with the grapes from a 12-acre Barbaresco vineyard, Alessandro usually incorporates some grapes from the Bernadot and Asili single vineyards in this classic wine. The 2015 Barbaresco with its translucent red color, attractive floral and red fruit scents, and very tasty raspberry and cinnamon flavors, flows on a light body that has a kinship with 2015 Chambolle-Musigny. 92 points. Retail is $55 to $70.
Riccardo's sons Bruno and Marcello set the course for the family's future in the 1960s when they first purchased prized single vineyards, including a three-acre portion of Barbaresco's Asili vineyard. Borrowing from the Burgundy classification, these vineyards were christened "crus" by the Italian wine trade.
Purchased in 1997, and planted from 1998 through 2000, the Bernadot vineyard is in its prime. There is more body in the 2015 Ceretto Bernadot Barbaresco than in the classic Barbaresco, with pronounced aromas and flavors ranging from  raspberry to tart cherry, allspice and white pepper supported with a line of minerality in this well-made wine. 93 points. Anticipated arrival is spring 2019 and cost about $100 to $125.
Ceretto's Asili cru sits at the top of the vineyard—"bricco" in Piedmontese dialect—on a bed of clay and limestone. Having collected Bricco Asili wines since the mid-1990s, I recognized the gravelly, mineral backbone of the 2015 Ceretto Bricco Asili Barbaresco as the ingredient that gives the long life for which Asili is prized. Its tannins and minerality take time to soften and meld with the fruit, but your patience will be rewarded with a wine whose ethereal-like character—a mix of strawberry, cherry, anise and tobacco aromas and flavors—is always seductive. 95 points. Expected to arrive in spring 2019 and cost about $140 to $160.
All of the Ceretto barbarescos should be decanted and aerated for at least 45 minutes. And, if possible, the Asili even more.
Next week: Ceretto's Barolo and observations on older vintages.
photos by John Foy