For millennia, Jews made wine for religious and everyday consumption. That tradition and religious requirement—Jewish law dictates that all men and women must consume four cups of wine at the appropriate stages of the Seder—is integral to Jewish identity. In America, the image of kosher wine has long been Manischewitz Concord Grape, made palatable by its substantial quantity of residual sugar.
That is changing in the modern wine world and today Jews are often in the forefront of making high-quality wine. Nowhere is that more evident than in the vineyards and wineries of Israel.
I've been tasting kosher wines from Israel, Italy, France and California since the 1980s, and none has captured my palate and attention as Gva'ot wines did at a recent tasting of Israeli kosher wines in Manhattan, just in time for the High Holidays.
Gva'ot winery was founded in 2005 by entrepreneur and gold-medal paralympic Amnon Weiss and winemaker Dr. Shivi Drori, an agronomist and researcher in viticulture and oenology at Ariel University in the West Bank. Located in Givat Harel, the heart of Samaria, its vineyards are 800 feet above sea level and planted with chardonnay, cabernet sauvignon, merlot, petit verdot, cabernet franc, and ancient indigenous grapes.
Gva'ot wines have three tiers: Classic wines are designated mevushal (can be handled by anyone) and non mevushal. The Gofna and Masada wines are non mevushal, meaning they are to be opened and poured only by Sabbath-observant Jews.
The classic series is Gva'ot's basic wine, but I would hardly call the 2017 Gva'ot Cabernet Sauvignon basic. Made with 5% merlot and aged one year in used French oak barrels—the recipe for classic wines—this wine was instantly appealing with its black tea and graphite aromas, pleasant blackberry-flavored fruit and integrated tannins. 88 points. Retail price of the classic series wines range from $30 to $36. Production 8,000 bottles.
The 2017 Gva'ot Merlot blends 5% cabernet sauvignon and follows the same aging regime. Its soft texture and full mouthfeel of ripe, black-plum and blackberry flavors have a kinship with Bordeaux's Pomerol wines. 88 points. Production 6,500 bottles.
The 2017 Gva'ot Vineyard Dance is 46% petit verdot, 31% cabernet sauvignon and 23% merlot. The luxurious texture of the three grapes waltzes around your palate with rich black and red-fruit flavors without any disrupting tannins. 89 points. Production 9,500 bottles.
The Gofna series is Gva'ot's reserve wine, made from a selection of higher- quality grapes and aged for 18 months in used French oak barrels. The 2016 Gva'ot Cabernet Sauvignon Gofna Reserve blends 15% merlot with cabernet sauvignon creating a darker hue than the classic wines and a more intense black-fruit flavor. The tannins are more obvious, the mouthfeel is bigger and the finish longer than any of the classic wines. 90 points. Retail price ranges from $66 to $73. Production 4,150 bottles.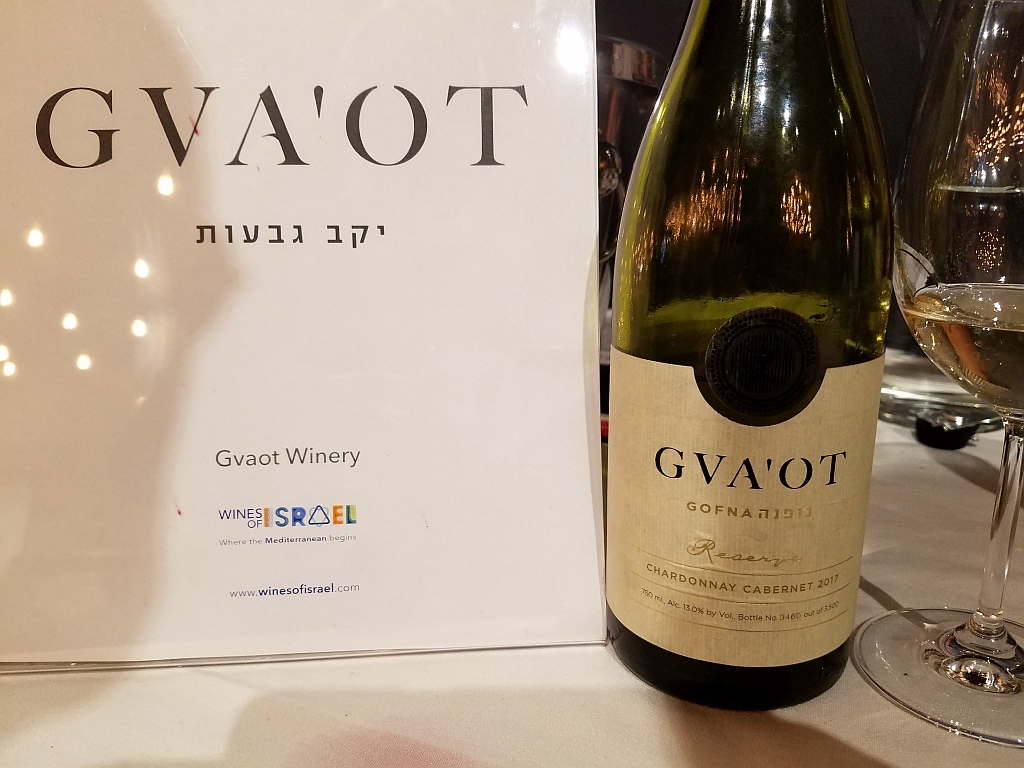 One of the most unusual wines I've tasted in years is the 2017 Gav'ot Chardonnay-Cabernet Sauvignon Gofna Reserve. Comprised of 75% chardonnay and 25% cabernet sauvignon, the white wine is made without any skin contact with the cabernet sauvignon's juice (a process that extracts the red color). The richness of the cabernet sauvignon and chardonnay, combined with the barrel aging on the wine's lees, created a full body, texture and taste profile that recalled Corton-Charlemagne. It is, without question, a unique wine. 92 points. Retail pricing is a very reasonable $45 to $50. Production is 3,500 bottles.
Meaning "strong foundation" or "support" in Hebrew, masada is a mountain-top fortress where the yearlong siege took place as the final event between the Jews and Romans before the Diaspora. It is also the name of Gva'ot's flagship wines, which are made from the best grapes and aged for 20 to 22 months in new French oak barrels.
The 2016 Masada is a Bordeaux-style blend of 55% cabernet sauvignon, 22% merlot, 15% petit verdot and 8% cabernet franc. Its elegant texture is wrapped around a full body with black-tea and blackberry flavors. Integrated tannins bring a long finish and the support for the wine's name. 91 points. Retail prices range from $80 to $90. Production is 3,900 bottles.
Though deep in history, today, Israeli winemaking employs modern techniques in the vineyards and winemaking. Research in ancient grapes thrives alongside international varieties, and kosher wines have the rich flavors and plush textures of their non-kosher brethren. Gva'ot winery and wines are part of the professional development of this sacred and traditional beverage.
Photos by John Foy
To leave a comment click on the red icon below.