Unlike song lyrics and movie lines that get stuck in our memories (for better or for worse), the wines we drink don't necessarily lodge themselves in our brains. Oh, we might recall our first glass, or a special glass of a cult wine … but how often do all those good wines just slip your mind?
Here's a list of wines you shouldn't forget—for the taste, yes, but also for the amazing value they present. At these prices, you'll want to remember them time and time again.
Some good-value wines are difficult to find. Take, for example, the 2013 Le Casematte Peloro Rosso Faro Sicily.  At only 50 acres, Faro is one of the smallest appellation in Italy and Le Casematte's organic vineyard occupies half of it.
The winery was founded in Faro Superiore, a village on the northern edge of Sicily, by Gianfranco Sabbatino, whose passion for wine superseded his accountant's job, and professional football (soccer) player Andrea Barzagli. They named it for the three World War II-era bunkers (casematte) on the 25-acre estate.
Peloro Rosso is made by Italy's renowned winemaker-consultant Carlo Ferrini, who blends the indigenous nerello mascalese (70%) and nocera (30%) grapes.
It's a straightforward fermentation in stainless-steel tanks, followed by two months aging in once-used French oak barrels, and four months in bottle. The wine has a bright, translucent cherry hue with slight smoky, cherry and raspberry aromas. A tart cherry flavor with crisp acidity and tannins makes the Peloro Rosso an ideal partner to roasted chicken with caponata, sausage and peppers, or the classic Sicilian Pasta alla Norma. 89 points. Retail price $19. Not widely distributed, imported by EmpsonUSA.
The 2015 Villa Russiz Les Enfants Venezia Giulia comes from the northern Italian estate that was the wedding gift to Elvine Ritter von Zahony from her father when she married Count Teodoro de La Tour in 1868. Today its 100-acre vineyard is managed by a foundation with charitable giving to a school for disadvantaged children, which Zahony established at the villa.
Winemaker Giovanni Genio at NYC tasting
Les Enfants is a blend of pinot bianco, pinot grigio, ribolla gialla and sauvignon blanc from the estate's vineyard in the Collio appellation. Although the sauvignon blanc is only five percent of the blend, its grassy aroma dominates the nose. It reappears as the background story to pinot bianco's soft, ripe pear taste. This is a delightful wine. 89 points. Good value at $19 to $21.
If you are a fan of vibrant, citrus-filled, New Zealand sauvignon blanc wines, then the 2014 Vavasour Sauvignon Blanc Awatere Valley Marlborough is your catnip.
From my glass, the clear-as-spring-water sauvignon blanc wasted not a second before exploding grapefruit, lemon, lime and passion-fruit aromas. Thus, forewarned, my palate experienced a collision passion-fruit, lime and lemon flavors. The 2014 Vavasour's super-charged aromas and flavors are as thrilling or terrifying as a roller coaster ride: I loved it. 95 points. At $12 to $16, the price is sensational, too.
For those seeking a more sedate and elegant white wine there is the 2015 Umani Ronchi Casal di Serra Verdicchio dei Castelli de Jesi Classico Superiore. Umani Ronchi is one of Italy's top white wine producers: Its Marche vineyards near the Adriatic coast produce the region's, and arguably Italy's, best verdicchio wines.
Casal di Serra is made from a special selection of grapes grown in the Montecarotto vineyard and three other plots in the Verdicchio dei Castelli di Jesi appellation. The 2015 Casal de Serra bottling is full-bodied with a rich, white fruit flavor akin to Burgundy's premier cru chardonnays. 94 points. Outstanding value at $15 to $19.
You can rely on Renato Ratti to produce high-quality Piedmont wines at fair prices. The 2014 Ochetti Nebbiolo is a case in point. Its eye-catching cherry color and cherry, cinnamon and rose fragrances make the wine instantly appealing. Delicious bing cherry and cranberry flavors are carried on a medium body with brisk acidity. It was a perfect mate to a grilled pork chop with a Dijon sauce. 91 points. Excellent value at $17 to $22.
At first, combining good value and Napa Valley might seem to be in opposition,  but it is possible with Chateau Montelena. Whether it's Montelena's excellent riesling at $20 to $25, or its Napa Valley cabernet sauvignon, you'll drink exceedingly well at a fair price.
courtesy of Ch. Montelena
The 2013 Chateau Montelena Cabernet Sauvignon Napa Valley is from an outstanding vintage. A blend of estate and purchased grapes—mainly from vineyards in the Calistoga district—the wine's elegant texture is weaved with hints of tobacco and sage aromas and flavors, delicious blackberry, and integrated tannins. Drinkable with 30 minutes aeration, and structured for aging. 90 points. And the good-value price? $40 to $50. The 2013 Chateau Montelena Estate cabernet sauvignon is $120 to $160.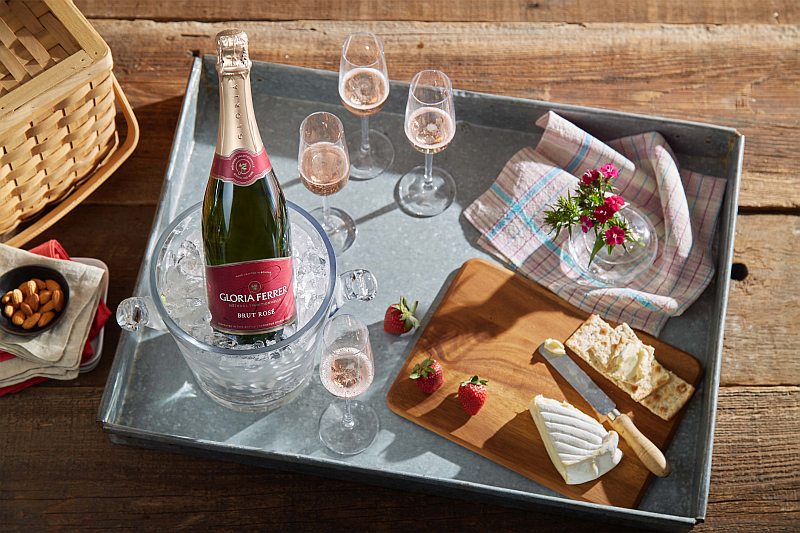 courtesy of Gloria Ferrer
A good life include a good-value bubbly. From its Sonoma Carneros vineyards, Gloria Ferrer Brut Rose Nonvintage makes a sparkler of pinot noir (60%) and chardonnay (40%) with tasty strawberry and apple flavors. This brut has a higher dosage (13 grams), which will appeal to sparkling wine drinkers who find most Champagnes too dry. 88 points. Retail prices have a very wide range of $17 to $29; shop accordingly.
As you commit this list, or a part of it, to memory, I give you a toast: "Here's looking at you, kid."
Photos by John Foy