This is the first in a series of  Barolo producers that I visited in the last week of October. 
Chiarlo's Cerequio vineyard and the hills of Barolo
Michele Chiarlo's Piedmont wines range from white Gavi to Barbera reds and the crus of Barbaresco and Barolo. Within that selection are traditional wines harnessed to modern winemaking techniques. It's a winning formula.
Last month, I met with Alberto Chiarlo, Michele's 52-year-old son, who along with his brother Stefano, have taken the reins from their father. In the cellar of Palas Cerequio, their nine room posh hotel nested among the vines in their Cerequio vineyard, I tasted a selection of their wines, (More on the Palas Cerequio in a future Barolo zone touring article.)
There are two types of Gavi: insipid, mass-produced wine from vineyards at 300 to 450 feet where grapes for 12 million bottles are harvested, and pleasing small production family-made wine from vineyards at over 1,200 feet. The 2017 Michele Chiarlo Gavi Le Marne falls into the latter category. Only 4,000 cases were made.
Chiarlo's Gavi is very expressive: aromas of almonds and white flowers ascend from the glass, and pear flavor glides across the palate, underlined with a dry, slightly saline and lime finish. 90 points. Retail is approximately $18 to $21.
As Alberto poured the 2017 Michele Chiarlo Gavi Revereto he explained that revereto means an oak tree forest, and after planting the vineyard, they kept oak trees on the perimeter for wind protection.
The vines are rooted in red soil, giving it more structure than the Le Marne bottling. It is also more restrained and with a gravelly backbone. Alberto called the wine "a little shyer" than the Le Marne, and noted it comes into its own two years after the Le Marne. Only 2,500 cases were made. 90 points.  Not in the market; the 2018 will arrive in March, I wil send you tasting note on it.
 "In the 1980s, barbera became the merlot of Piedmont," Alberto said as we discussed how some producers left the barbera on the vine for extra ripeness, then aged it for extensive time in new French oak barrels. Unfortunately, I still encounter barberas that have more in common with New World wines than the natural black-cherry and noticeable acidity that makes this Piedmont grape one of world's most versatile food-friendly wines.
In the 2016 Michele Chiarlo Barbera d'Asti Le Orme you'll find the freshness that's barbera's hallmark. In 2014, Stefano Chiarlo's winemaking reduced the oak aging to three months, and used stainless-steel tanks for the fermentation. These procedures—along with 12 months of bottle aging—delivered a bright black-cherry color and aroma, along with scents of black pepper and violets. Its tart cherry and graphite taste is carried on a light body that has a similarity to gamay—another food-friendly wine when not oaked up. Enjoy the 2016 Le Orme with grilled or pan-seared tuna, autumn root-vegetable casserole or roasted chicken. Its versatility will surprise many and its reasonable price even more so. 88 points. A bargain at $15.
Cipressi means cypress trees, and the proximity of them to Chiarlo's barbera vineyard in Nizza (in the province of Asti) gave the name to the 2016 Michele Chiarlo Barbera Cipressi Nizza. It's fermented in stainless steel and large casks (botti) and aged in 5,000 liter botti ranging from new to 12-years-old. This winemaking technique provides a round, soft mouth feel without infusing the wine with oak aroma or flavor. Herbal and cherry aromas are center with balanced black-cherry fruit flavor. 90 points. It will arrive in March; expect to pay about $28.
The 2015 Michele Chiarlo Barbera Le Court Nizza Riserva is the best known of the three Barberas. This is the first vintage under the Nizza appellation (heretofore it was Barbera d' Asti) and the most New World-styled of the trio.
Grapes from the nearly 50-year-old vines were harvested two weeks after the Cipressi and Le Orme. Fermentation is in vats and half the wine is aged in new French oak barrels with the other half in 5,000 liter botti for 30 months (riserva requirement), giving the 2015 Le Court a darker hue, concentrated black fruit, and oak aromas and flavors. A line of minerality and acidity in the finish keeps the wine balanced. Those who prefer a little more body and intensity will enjoy the Le Court. 89 points. It will arrive in March; expect to pay about $50.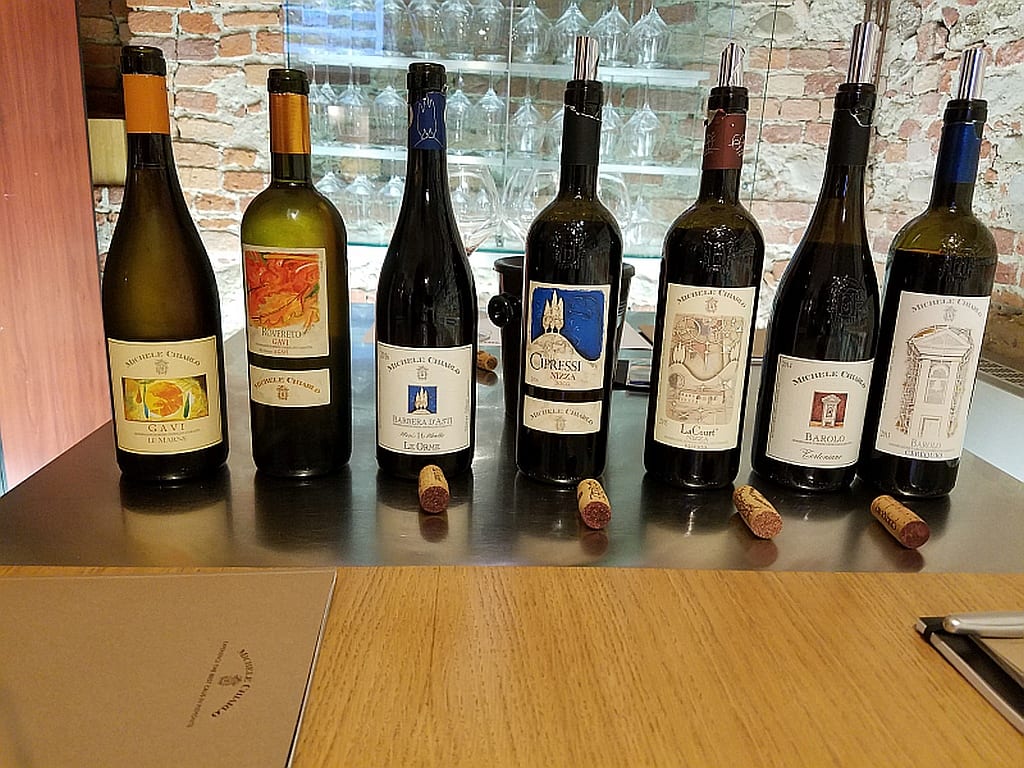 The 2014 Michele Chiarlo Barolo DOCG is a buying opportunity. The vintage suffered from rain and hail in the Barolo area and the winery declassified its 2014 wines from the Cannubi and Cerequio crus (single-vineyards) to the basic Barolo DOCG label. Declassifying wine(s) is not in the financial interest of the wine producer, but for consumers it sends a message of the winery's integrity and reliability. And that's priceless.
The 2014 Barolo is translucent red with lively raspberry and cherry flavors seasoned with a cinnamon taste. It is very tasty and delightful to drink. This is not a vintage to cellar, but it's ideal for ordering in a restaurant, or buying for consumption during the next two to three years. 87 points. It will arrive in March, expect to pay about $60.
The 2013 Michele Chiarlo Barolo Cerequio Cru is from an excellent vintage. Its eye-appealing translucent bright red hue is matched by a kaleidoscope of peppery, cinnamon, roses and raspberry aromas. Aged in 700-liter barrels (half new and half once-used), the tasty raspberry and cherry flavors are fresh and vibrant. Here, too, Chiarlo has held to the traditional style where others have made oak-saturated and extra-ripe New World-styled Barolo crus. 92 points. Retail prices range from $80 to $120.
After the intense aromas and flavors of Chiarlo's Barolos or Barbaresco, the Michele Chiarlo Nivole, one of the lightest and delightful Moscato d'Asti wines, is a refreshing end to dinner.
After crushing the grapes, Chiarlo freezes the must (the freshly pressed juice and grape pulp), then every two months ferments some of it, creating a perfectly fresh batch of Nivole for shipment to its American importer, Kobrand.
I was delighted with the 2017 Michele Chiarlo Nivole Moscato d'Asti. Its mild frizz delivers fruit flavors ranging from oranges and mango to passion fruit and more. Its 5.5% alcohol is its own pleasure at the conclusion of a dinner with heavier wines. And its half-bottle size is perfect for a dinner from two to four. 90 points. Retail is $12 to $16.
Alberto and Stefano Chiarlo started working with their father at the beginning of this millennium. Today they run the business building new branches that are rooted in the family's ethos of quality, integrity and affordability. It's a combination that has pleased me since the 1980s. I'm certain it will do the same for you.
Photos by John Foy