Generations of the Marchesi de Frescobaldi family, courtesy of Frescobaldi
After a lifetime of winemaking, it wasn't until 1995 that Robert Mondavi fulfilled his dream to create an Italian wine. That happened when he signed an agreement with Vittorio Frescobaldi, the 30th generation of the venerated Marchesi de Frescobaldi wine family. They named their new venture, Tenute Luce della Vite, the "Light of the Vine."
Although it might seem like putting the cart before the horse, the new partners had no idea of what wine they would make. Frescobaldi owned numerous Tuscan wine estates, so the options were many for Tim Mondavi and Lamberto Frescobaldi, the next-generation sons assigned the winemaking task.
The partners settled on using wines from the 1993 and 1994 vintages from Frescobaldi's Castelgiocondo estate in Montalcino. The prior owner, a French group, had hired Frescobaldi to plant French varieties such as sauvignon blanc, cabernet sauvignon and merlot. But only merlot passed Frescobaldi's quality standard when it purchased the property in 1989.
The two winemakers decided that their new wine would be a blend of merlot and, Tuscany's signature grape, sangiovese. It would be made outside of Italy's wine regulations, classifying it as an IGT (Indicazione Geografica Tipica), or, in wine speak, a super-Tuscan wine, a category that was all the rage at the time.
Fast-forwarding a decade, Frescobaldi executed its right to purchase Mondavi's share of the partnership when the Robert Mondavi Corporation, a public company trading on the NASDAQ stock exchange, was taken over by the beverage conglomerate Constellation Brands. (Not long after this transaction, Frescobaldi exercised its option to buy Mondavi's 50 percent ownership in their joint venture of Ornellaia, another Tuscan property producing super-Tuscan wines.)
It was with this background that I looked forward to a vertical tasting of Luce (LOU-chay) in the Manhattan home of Alessandro Lunardi, United States director of Luce (and Ornellaia).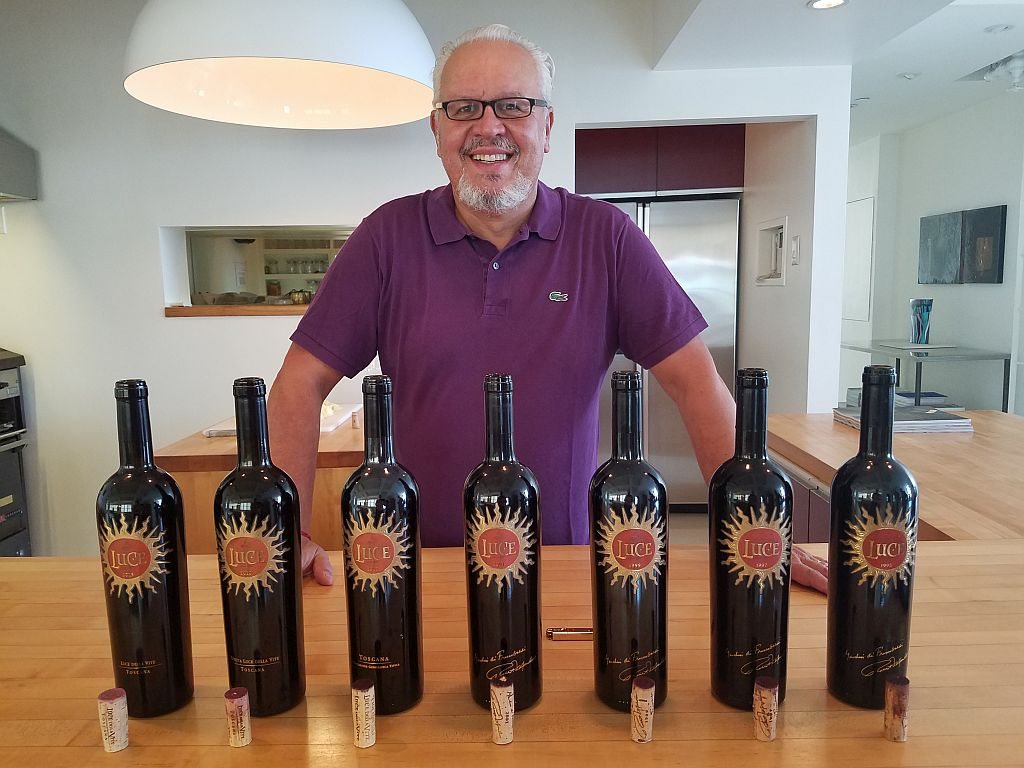 Lunardi led me to his professionally equipped kitchen where he had seven vintages of Luce ranging from 2013 to 1995 on the counter. He pulled the corks from all the bottles while onions were gently steaming over a low flame, and the beef was roasting in the oven for his native Tuscan dish, Cipollata Florentina.
Every vintage of Luce is a near-equal blend of sangiovese and merlot, Lunardi told me, as he prepared the 2013 Luce for pouring. Occasionally, it might be 45 to 55 percent in favor of one grape or the other.
For this vintage, a cool, rainy spring and mild temperatures in August allowed the grapes to ripen gradually. The 2013 possesses sangiovese's natural high acidity, giving merlot's soft black-fruit flavor a supporting backbone for future aging. Balance and length are positive indicators for a pleasing, long life of this young, well-made wine. 91 points.  A very wide price range of $80 to $125 requires researching prices before purchasing.
"September makes the vintage," is a classic expression of winemakers, and that explains the 2010 Luce. Heavy winter and spring rains spread mildew throughout Tuscany's vineyards and delayed the ripening period. But, in September, the sun appeared, the rain clouds dissipated, the grapes ripened, and an excellent vintage was harvested.
Merlot is 55 percent of the 2010 Luce blend, yet, for me, sangiovese's acidity spoke loudly. As with the 2013, Luce's 24 months aging in new French oak barrels leaves a puff of chocolate aroma. Merlot's blueberry and black-cherry flavors are in the forefront of this very flavorful and balanced wine. Integrated tannins and a medium body bring elegance and refinement. 92 points.  Retail prices from $90 to $115 warrants shopping.
Luce is born from a vineyard that ranges from 1,150 to nearly 1,400 feet high. In the upper area is galestro, a mix of schist and limestone where sangiovese's roots draw the minerality expressed in the 2007 Luce. Lower on the slopes, a bed of clay and sand allowed merlot to develop rich, blackberry and blueberry flavors in this near perfect growing season.
Approaching its 10th year, the structure of fruit and backbone in the 2007 Luce shows how time knits the traits of the two grapes into a cloth that is richer than either grape standing alone. 93 points.  Not commercially available.
While Lunardi poured the 2001 Luce, I was thinking that many wine consumers have a difficult time remembering which vintage in what appellation is highly rated. So, here's a tip: 2001 in Italy was a fool-proof year. From Amarone in the north to Brunello di Montalcino in the center to Turasi in the south, 2001 was a red wine drinker's year.
Now a middle-aged wine, I wondered if the 2001 Luce live up to the vintage's reputation? I tasted it: Indeed the youthful, boisterous black-fruit and chocolate aromas and flavors were faded and in their place, was an enticing tobacco and soy scent and sensual cherry-liquor flavor. The gravel-grown sangiovese continues to be the balance beam for merlot–and our palate, and yes, the 2001 Luce remains a well-made wine. 91 points. Not commercially available.
Lunardi pointed out the 1999 Luce's aging regime differed from the younger wines: In the 1990s, a two-step approach was used, with one year in new French oak barrels, then six months in once-used Slavonian oak casks.
Luce's black-cherry aroma marker was not altered by the mix of barrels, nor was its tobacco scent and flavor that developed with age. A tertiary coffee flavor added to the savory blend, and sangiovese's acidity gives it balance, length, and many more years of life. 94 points. Not commercially available.
After Lunardi removed the pot roast from the oven and plated portions of it submerged under the wilted onions, I lingered over the 1999 Luce while enjoying forkfuls of his Tuscan dish.

courtesy of Frescobaldi
Luce's logo is a sunburst taken from a sacred image of the sun with 12 flames from the altar of the Santo Spirito church in Florence. In its own way, it tells the story of the 1997 vintage.
Throughout Italy, vineyards that year were blessed with perfect weather and radiant sunshine. In Tuscany, the temperature reached record levels, including hot nights. It made for an early harvest with perfectly ripened grapes. Winery owners, and many wine critics praised the embryonic wine.
But one difficulty of a hot vintage is low acidity, the very ingredient needed for balance and longevity. For many years, I have preferred Tuscan wines from 1999 and 1995 for their balance and aging potential. It was with this mindset that I picked up my glass of 1997 Luce.
The wine transported coffee and tobacco aromas and flavors, and a mild cherry-liquor flavor flows around its medium body.The elegant texture is pleasing in this matured wine.There is no reason to delay drinking it. 90 points. Not commercially available.
Before Lunardi presented the 1995 Luce, he displayed a large disc wrapped in gold metallic foil paper. As he unwrapped it at the kitchen counter, he explained it was a cheese specifically made for Luce by former Austrian chef Hansi Baungartun at his cheese shop in northern Italy's Alto Adige region.
While cheese and wine are often thought of as a duo–a culinary horse and wagon, if you will–the lactose in cheese will soften the tannins and acidity of red wine. So, I tasted my 1995 Luce before the cheese was served.
As the bookend to the 2013 Luce, the 1995 Luce had given up its red sheen and distinct chocolate and black-fruit flavors. It mellowed into a quiet black-tea and black-cherry scented-and- flavored wine with dry tannins and an angular finish. 88 points. With the cheese, the wine was absorbed by the cheese's grainy texture and sour cream flavor. The 1995 Luce is not commercially available.

I always conclude a vertical tasting with a back-and-forth retasting of the wines. I rechecked my favorite, the 1999, confirming its complexity and potential longevity, then hopscotched through the youngest, middle-aged and oldest wines searching for a synthesis of Luce's style. The 1999 remained king of the hill, while the 2013, 2001 and 1995 contained the wisdom more than two decades ago of blending merlot's velvety texture with sangiovese's tart cherry character. It was how two young winemakers saw the light.
Photos by John Foy,  unless credited to Frescobaldi