Sabrina Tedeschi, president of the Amarone Families at Felida in Manhattan.
In the center of Verona, Italy, is a 1st-century Roman amphitheater, where opera is performed in summer ("Adia" is the signature summer stock on stage). Northwest of the city, are the historic, classico vineyards of Valpolicella where the producers of Amarone are engaged in their own year-around operatic drama.
In 2009, 12 of Amarone's better producers formed the marketing group, "Famiglie Dell'Amarone d'Arte": Allegrini, Begali, Brigaldara, Guerrieri Rizzardi, Masi, Musella, Speri, Tedeschi, Tenuta Sant'Antonio, Tommasi, Venturini and Zenato. Later, Torre d'Orti joined the group.

While not exclusively the crème de la crème of Amarone producers (Quinteralli and Dal Forno are not members), the 13 members of the Amarone Families would certainly be on any knowledgeable list of Amarone's top quality wineries. However, the Valpolicella Consorzio, which represents more than 2,000 growers and wineries, claims it has the exclusive right to the Amarone name and has sued the Amarone Families for infringement.
It was with this background that I traveled to Verona in January, and invited Sabrina Tedeschi, president of the Amarone Families, to speak to the Wine Media Guild, a New York-based organization of wine writers at our March 1st luncheon at Felida restaurant in Manhattan.
Before Tedeschi spoke, we tasted a selection of Amarones from the group vintages, ranging from 2013 to 2009.
The sole 2013 was the Tenuta Sant'Antonio, Selezione Antonio Castagnedi Amarone della Valpolicella.  Perhaps, it was chance that this was the only 2013 –from a rainy and hail-effected harvest season—or, other producers knew better than to present this vintage. But the unkind weather matched the astringent, unappealing wine.
Allegrini, Begali, Tommasi, Speri and Zenato all presented 2012 Amarones. If you want to know why many winery owners and winemakers have grey hair at a young age, it's from having back-to-back vintages like these two. While 2013 was plagued by rain and hail in September and October, 2012 had the schizophrenic personality of being desert-like hot and dry in July and August, only to turn rain-plagued in September!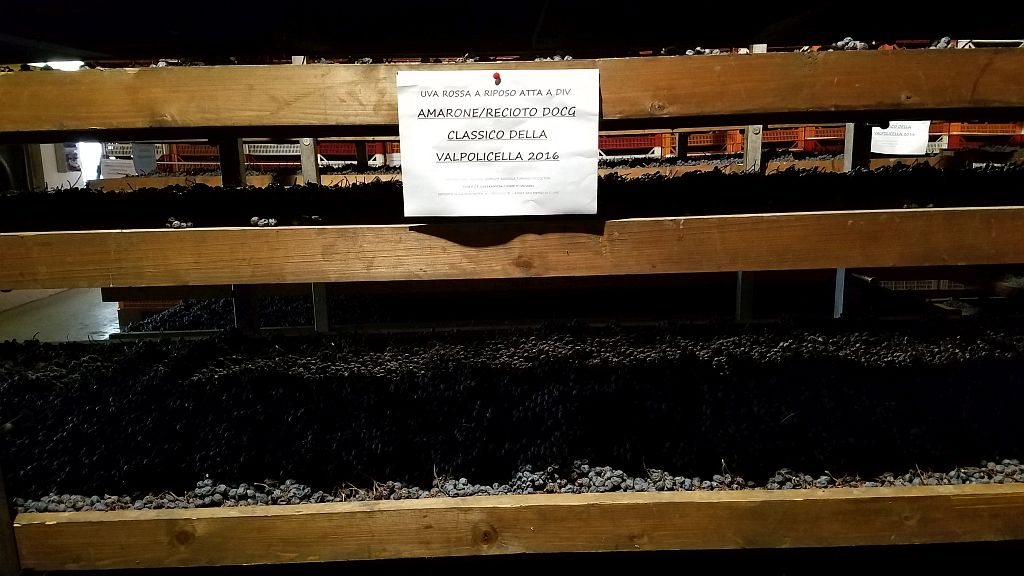 Grapes drying on traditional bamboo racks at Tommasi (January, 2017).
After harvesting, making Amarone requires drying the grapes to the point of being raisin-like, a process termed appassimento. Traditionalists do this on straw trays in the lofts of the winery or in special houses called fruittaio (fruit house). Modernists employ temperature- and- humidity-controlled buildings or tents where the grapes dry in plastic boxes. The latter facilities reduce the probability of the grapes developing rot spores or mold, but traditionalists claim it eliminates some of Amarone's complex aromas and flavors. Where the validity of those viewpoints lie could be its own article.
 Allegrini was in the forefront of the development and use of the modern drying method. Its 2012 Amarone Classico's pronounced fruit aroma and raspberry-cherry flavors with integrated tannins and pleasing, long finish provides a strong argument for its modernist technique in a challenging year. 93 points. Retail has a wide range of $50 to $65.
Allegini 2012 Amarone with the logo "A" of the Amarone Families.
For seven generations, the Speri family has made wine in Valpolicella. The single-vineyard 2012 Speri Vigneto Monte Sant'Urbano Amarone Classico presented its delightful cherry-strawberry aroma and flavor with harmonious tannins that carried it to a gracious finish. 91 points. Retail is $69 to $77.
The 2012 Zenato Amarone Classico balanced its pleasing cherry scented-and-flavored fruit on a medium body wrapped with soft tannins and acidity. It's well-made and immediately appealing. 90 points. Retail has a very wide range of $41 to $77.
Tommasi is under the guidance of a youthful and energetic fourth generation.  Tommasi's 2012 Amarone Classico translucent cherry color, and raspberry-cherry aromas and flavors give this medium body wine instant appeal. It is eminently drinkable. 89 points. Retail has a very wide range of $48 to $80.
The 2012 Begali Monte Ca' Bianca Amarone Classico is a selection of the best grapes from the Monte Ca' Bianca vineyard and dried in a fruittaio. This highly-regarded winery continually sends us award-winning Amarones. However, at our tasting, the nose of this wine was disconnected from the raspberry, black-cherry fruit flavors that had length and balance. I think it needs more bottling aging for the aroma to align with the fruit flavors. But it could be evidence that in challenging years, the fruittaio is not the house you want to be in. 87 points.  Retail is $43 to $50.
Mother Nature blessed the 2011 season from spring to fall with moderate temperatures, timely rainfall and a warm, sunny harvest.
In 1978, Sandro Boscaini became the director of Masi, and it has been one of the Veneto's and Amarone's most vibrant wineries ever since. And he was a leader in founding the Amarone Families. Masi's 2011 Costasera Riserva Amarone Classico had a slight soy accent to the cherry scent, and the raspberry and cherry flavors are mouth filling and woven with plush tannins and an elegant finish. 90 points. Retail has a very wide range of $42 to $75.
Corvina, the primary grape of Amarone, drying in Masi's loft. (January, 2017)
Brigaldara traces its history to 1269 when archives recorded its buildings and land. In 1929, Renzo Cesari purchased the villa and land; his descendants developed the vineyards in the 1970s, and began winemaking in 1979. The 2011 Brigaldara Case Vecie Amarone comes from Brigaldara's vineyard in Grezzano, part of the extended Valpolicella appellation running east of Verona. It's red-brick-colored with a primary cherry aroma that's cinnamon-accented. It has a tasty red-fruit flavor with good balance and a pleasing finish. 89 points.  Retail is $96 (I found only one store with this wine. It's in Florida.)
The cool and rainy conditions of the 2010 vintage resulted in lighter bodies than normally associated with Amarone.
The 2010 Musella Amarone Riserva is from certified biodynamic-farmed vineyards located outside of Valpolicella's classico area. The wine's brilliant cherry color is accompanied by a bright cherry flavor with a delicate finish. 88 points. Retail is $65 (I found only one store with this wine. It's in California.)
In 1913, the noble Italian families, Guerrieri and Rizzardi, united in marriage and created this winery.  While the 2010 Guerrieri Rizzardi Villa Rizzardi Amarone Classico is lightly colored, it has a bit more body than I expected. A touch of cinnamon provides a background scent and flavor to the cherry-driven fruit. It's ready for drinking. 87 points. Not yet in our market.
The oldest wines in our tasting were from the very hot and dry 2009 vintage. The 2009s are the flip side of the younger wines made in cool, rainy years. Heat develops more sugar in the grapes, which reduces the grape's acidity, and converts to higher alcohol during fermentation.
The 2009 Venturini Campomasua Amarone Classico is a special selection of grapes from the hillside Masua vineyard and only made in top vintages. Its medium body bears pungent black-cherry aroma and flavor with the vintage's higher alcohol content at 16.5 percent. It's ready to drink with your next prime rib or grilled lamb chops. 89 points. Retail is $54 (I found only one store with this wine. It's in New Jersey.)
The Tedeschi family has been in the wine business for nearly four centuries. Tedeschi's 2009 Capitel Monte Olmi Amarone Classico Riserva is notable for a few things. It's the first riserva that winemaker Riccardo Tedeschi has made for the single-vineyard Capitel Monte Olmi Amarone. And, its rich raspberry and blackberry ripe fruit flavors and integrated tannins bring excellent balance and length to this luscious wine. 93 points. Retail is $96 to $99.
Having completed the informal tasting, Sabrina Tedeschi told us that every bottle of the Amarone Families is identifiable by the group's sticker bearing the logo "A"  and surrounded with the words, "Amarone Families, Famiglie Dell' Amarone d'Arte."
She explained that the group was founded as a reaction to the lowering of standards by the Valpolicella Consorzio. Members of the Amarone Families must pledge to follow stricter methods for aging, alcohol content, longer appassimento, and vineyard techniques.
At the moment, the stricter methods are not written rules; they are more like a play without a script. In this drama, the actors are polished and experienced, and know that a great performance is ultimately an act of self-discipline. And that, we applaud.
Photos: John Foy