Six weeks ago, Golan Heights Winery winemaker Victor Schoenfeld returned to New York presenting his newest Yarden wines, the company's flagship wine label.
In 1988, Schoenfeld graduated from the University of California's venerated wine program at Davis, then worked at Chateau St. Jean in Sonoma and Jacquesson & Fils in Champagne before joining Golan Heights Winery in Israel's Galilee wine region in 1992.
Israel, which is about the size of New Jersey, has many soils and climates, Schoenfeld explained. "Winter can bring snow to Golan Heights' volcanic soil vineyards, and the growing season is dry and warm with cool nights."
I was taken by the chalky, volcanic soil backbone in the orange, citrus-flavored 2012 Yarden Brut Rose. Its blend of 70% chardonnay and 30% pinot noir was aged five years in the bottle, as in the traditional method used in Champagne and other quality sparkling wine regions, and disgorged this past March. It's a delightful aperitif, but also has the structure for years of aging. 86 points Retail is about $36 to $44.
Our luncheon at Gramercy Tavern began with slices of raw fluke with thin discs of cucumber and radish, fragmented basil leaves and lime. The lively freshness of the dish paired well with the mild floral-scented and pear-flavored 2017 Yarden Pinot Gris, as well as the rounded citrus-like 2017 Yarden Sauvignon Blanc. Both garnered 89 points. Retail prices for the pinot gris is approximately $20, and the sauvignon blanc ranges from $15 to $20. Good value is found at less than $17.
Schoenfeld said the unusual 2014 Yarden 2T red wine's blend of tinta cao and touriga national grapes was first created in 2007 because he loves Portuguese wines and thought these two grapes would do well in Golan Heights's climate and soil.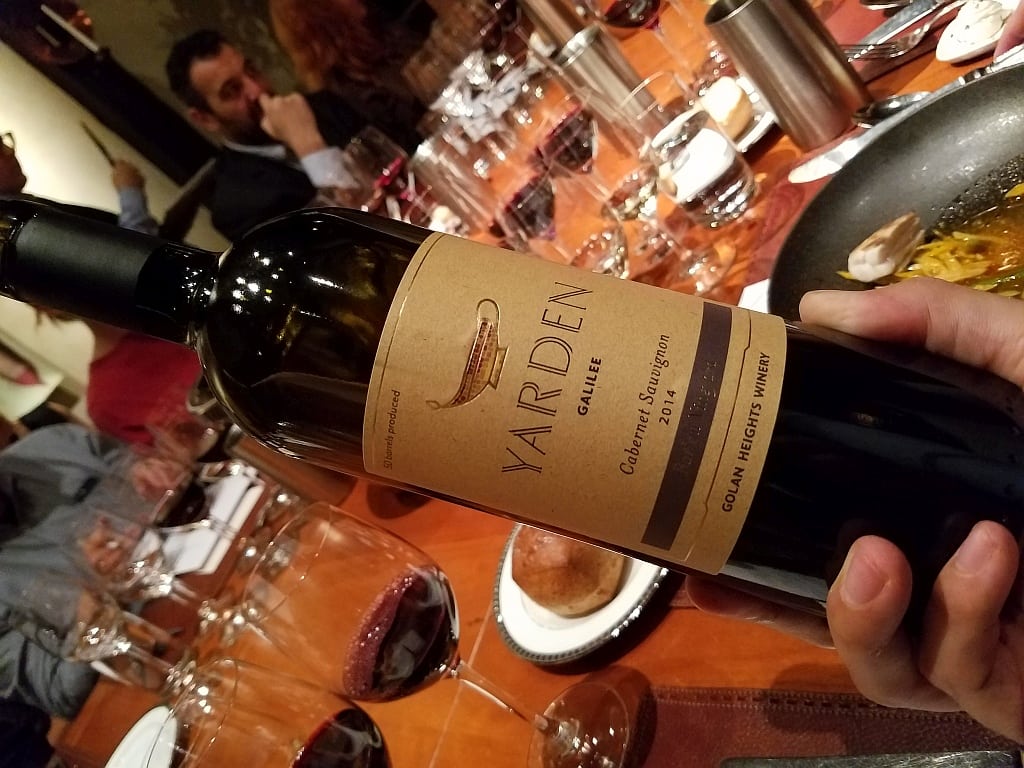 I thought the 2T's blackberry and marjoram aromas, and blackberry, mulberry and black-raisin flavors did well with the lamb chops and marquez sausage main course. 87 points. However, the 2014 Yarden Cabernet Sauvignon brought more complexity to the table: smoky, toasted oak and oregano aromas floated with the blackberry scent, and the black cherry and black-fruit flavors were supported by the volcanic soil's minerality. The full mouthfeel was harmonious with the delicious meats. 90 points. The 2T retails for approximately $35, and the cabernet sauvignon has a very wide $22 to $44 price range: at less than $30 it is remarkable value.
To all those celebrating Rosh Hashanah, l'shanah tovah. And to those who are not, but want a delicious wine that happens to be kosher, cheers.
For my report on Schoenfeld's visit last year, see https://thewineodyssey.com/israel/connoisseurs-are-blessed-with-kosher-for-passover-wines/
Photos by John Foy