2013 Brunello di Montalcino tasting in NYC.
"Classic and cool" is the phrase being used by Brunello producers and some critics for the 2013 Brunello di Montalcino wine. While cool is undeniable, classic is debatable.
Rain was a constant in the spring and early summer, and the cooler than usual growing season culminated with more rain in October. With these conditions, vineyard workers had to ward against potential disease and pick only ripe, healthy grapes.
Montalcino's geological formation has the shape of an upside down ice cream cone with vineyards sprinkled at every level. About one mile from the Montalcino village is the third-century BC Etruscan fortress Poggio Civitella occupying the highest point at 2,168 feet. Down a long, twisted eight mile road sits the appellation's southern village Sant' Angelo Scalo at approximately 500 feet. This vast range of altitudes creates micro-climates that have a major impact on the vineyards and resulting wines.
Brunello is made only from a unique clone of sangiovese: sangiovese grosso, notable for its high acidity, ample tannins and intense fruit flavors. (Brunello means "big dark one" and explains the difference in size from the sangiovese grape of Chianti). Cool vintages, such as 2013, can accentuate the acidity and tannins, while preventing the fruit's sugar level to rise enough to ripen the fruit fully. Think of your garden tomatoes in a long, warm summer versus a damp, cool one.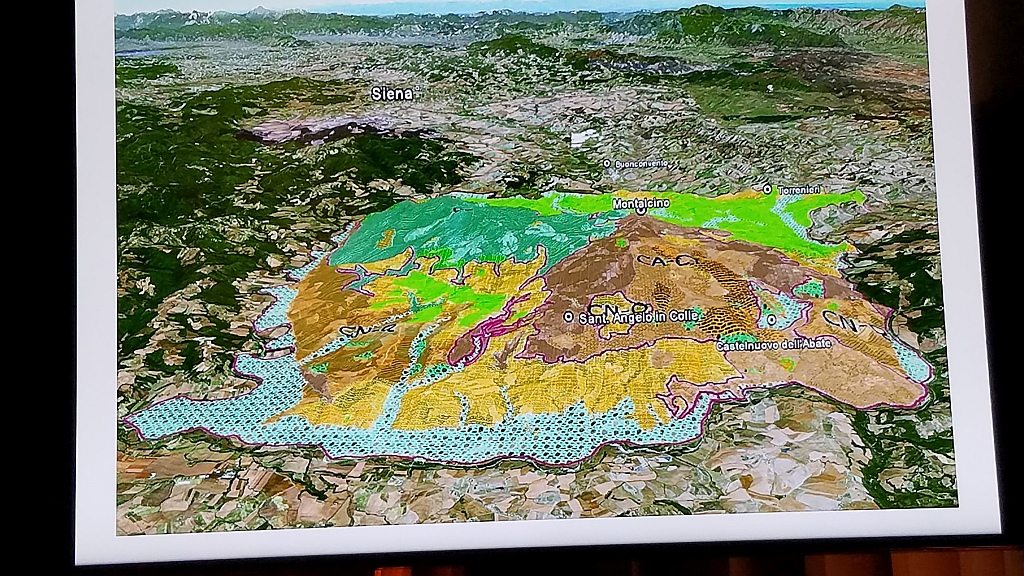 But brunello is more than a grape: It is the very identity of Montalcino. Without this internationally acclaimed wine, Montalcino is nothing more than another medieval hilltop village. The relationship is also symbiotic: Without Montalcino's hillsides, soil and climate, its sangiovese would not have the unique character that makes it one of the world's great red wines.
In January, the Consorzio del Vino Brunello di Montalcino—a trade organization of Brunello producers—held their annual New York City tasting of its newest vintage, 2013. While only 31 of the Consorzio's 208 members presented their wines, that representation is statistically enough to conclude that 2013 is a vintage of medium bodied, fruit-forward, balanced and drinkable wines. As in nearly all vintages, there are wines that will be stunning, but 2013 appears to have supplied consumers with shorter term (up to 15 years) pleasant drinking from vineyards in the southern section of Montalcino, and less ripe, tannic wines in the northern half.
La Fiorita: Since New Yorker Natalie Oliveros took ownership in the mid-2000s, there has been a constant improvement of the wines of this small estate founded in 1992 by winemaker Roberto Cipresso. Its polished and plush style was advantageous in 2013, producing a very flavorful black fruit wine with supporting tannins. If you want to enjoy this well-made wine now, it needs to be decanted, but better to age it for a few years. 91 points. Not yet in the market. 
Paradisone Colle Degli Angeli: Just north of the Montalcino's walls. Attilio Locati delivered a pungent black cherry and soy-scented wine with more body and black cherry flavor than other wines in this tasting. It has a delightful finish. 91 points. Not yet in the market. 
La Magia: Under the direction of second-generation family member and winemaker Fabian Schwarz, this certified biodynamic winery is a unique undivided 40 acre vineyard planted with only brunello at 1,400 feet in the southeastern section of Montalcino.
This a very captivating wine with substantial body, enticing red plum, a cherry and vanilla nose, and very flavorful black cherry and pomegranate taste. The noticeable tannins and dry, mineral finish will soften after a few years of bottle aging. 91 points. $49. 
Carparzo: Consistently one of the best value brunellos, located towards the northern top of the appellation, the 2013 brings an aromatic black cherry, herbal and soy (Italians refer to this scent as balsamic) with medium body and a very approachable blackberry-flavored fruit. Well made and instantly pleasing. 90 points. $31-$45.
Fattoria dei Barbi: Southeast of Montalcino. Its smoky, toasted-oak, red plum and white pepper aromas and red-plum, cherry flavors are appealing. The dry, stony and mildly tannic finish call for a few years of cellaring. 90 points. $47. (If visiting Montalcino, Barbi has a good restaurant at the winery, only a 15 minute drive from Montalcino on local road 55).
Val di Suga: A longtime favorite, this is a blend of its three northern vineyards. The medium body has red fruit and vanilla aromas, and savory cherry and strawberry flavors with round tannins. Pleasant and drinkable 90 points. Not yet in the market.
San Polo: Located southeast of Montalcino, and owned by Allegrini, one of the top Amarone producers, this was the only riserva in the tasting. It's very perfumed with ripe, red fruit and smoky, vanilla-toasted oak. Medium body coated with ripe, cherry flavor with balanced acidity and tannins. Needs three to four years cellaring to show its best. 90 points. $50-$60.
Capanna: One of the founders of the Consorzio, and owned by the Cencioni family since 1957 this 50-acre vineyard in the northern Montosoli area is considered one of Montalcino best sub-regions. Its cherry and soy aromas and flavors are delightful and carried on a medium body with balance and length. Well made and drinkable.90 points. $55-$68.
Banfi: Founded by New York's Mariani family in the appellation's southern tip, Banfi is the largest producer in Montalcino. From wines to its hotel and hospitality center, Banfi has had a major impact on the appellation since its purchase of 4,500 acres in 1977.
Its Poggio Alle Mura is one of its two single-vineyard brunellos. The 2013 has a mild herbal, black cherry and soy aroma. Its medium body is wrapped with flavorful black cherry-like fruit and integrated tannins providing balance and length. 90 points. $45-$70.
The regular (called normale in Italian) bottling of the 2013 Banfi Brunello is a blend of grapes throughout the property resulting in a lighter, more herbal and fruit-driven wine. Its 580,000 bottles is more than 10 times the production of the Poggio Alle Mura. 88 points. $35-$60.
Le Chiuse: Once part of the Biondi-Santi estate, the organic 17 acre vineyard is owned by Simonetta Valiani, the great-granddaughter of Ferruccio Biondi-Santi and located 1,000 feet above sea level on the Montosoli northeast side of Montalcino.
A maraschino cherry-like aroma, and cherry, strawberry flavors are attached to this medium-body wine. Integrated tannins and a soft texture give this wine a pleasing finish. 90 points. $80-$100.
Col d'Orica: One of my favorite brunellos is owned by the charming Francesco Marone Cinzano (of Cinzano vermouth fame), and is the largest organic winery in Montalcino. Its vineyards are on the southern side of Montalcino near Sant Angelo in Colle. The brunello for this bottling is at 600 feet altitude.
The 2013's cherry color and red berry aroma and flavor are instantly likeable. Soft tannins provide balance and a pleasing finish. 89 points. $35.
Talenti: Located in the southern section of Montalcino near Sant Angelo in Colle, its vineyards are at 600 to 1,200 feet elevation. Bright red fruit and mild vanilla aromas introduce this very red fruit-flavored, medium body wine. The mineral, stony backbone needs a few years aging to become fully integrated. 89 points. $42.
IL Poggione: This Sant Angelo in Colle estate dates to 1890 when Florentine Lavinio Franceschi purchased the farmland, once the winter resting grounds for his sheep herd. Today, his great-grandchildren run the 1300-acre property, of which, 336 acres are vineyards.
Winemaker Alessandro Bindocci made a medium body, tasty black cherry-flavored wine with mellow tannins. It is eminently drinkable. 89 points. $65-$74.
Casisano: Owned by the acclaimed Amarone producer Tommasi, the nearly 55-acre vineyard is located near Sant'Antimo abbey in the southeastern section of the appellation. A medium-light body delivers bright cherry and strawberry flavors that are ideal for a restaurant's wine by the glass or casual foods such as pizza or grilled chicken. 88 points. Not yet in the market. 
IL Palazzone: Composed of three vineyards spread across Montalcino, its youngest vineyard is Due Porte sitting 1,600 feet above sea level in the northwestern section. The other two are at 600 feet in the southeastern section near Castelnuovo dell'Abate.
The diversity of soils and climate yielded a 2013 medium body brunello with red fruit and black-pepper aromas and bitter cherry flavor with noticeable tannins. At this juncture, the wine seems disjointed. A few years of aging should mold the parts. 88 points. Not yet in the market.
In accordance with the wine regulations for Brunello di Montalcino, the 2013 wines are now permitted to be sold. Where you see a single price, it means I found only one retailer in America who received the wine. The wines noted "not yet in the market," means I was not able to find any importer and/or distributor who delivered the particular 2013 to any retailer.  That should occur during the next month or two. 
Photos by John Foy