Union des Grand Crus 2015 tasting in NYC.
Every vintage is an act of nature over which producers—especially Old World—have little control. The 2015 vintage began with a wet winter. A warm spring flowered the vines in late May and the beginning of June, then a hot, arid six to seven weeks baked the vineyards until August when substantial rains arrived. As the harvest for merlot was starting in mid-September, rain from a rare tropical storm fell for a week in various areas of Bordeaux with Pauillac, St. Estephe and more northern vineyards getting the most. Sunny, dry weather returned for the harvest of the red grapes until it rained intermittenly during the first week of October. Cabernet sauvignon and franc were the last picked, and occurred under mostly dry, sunny conditions. By the third week of October, the chateaus completed the 2015 harvest of red grapes.
In 2015, the hot, dry weather of mid-summer stressed the vines, then rains arrived reviving some and providing excess water for others. In understanding 2015, use a real estate expression: it's all about "location, location, location."
Pauillac:
The composite picture of the Pauillac tasting is one of ripe, forward fruit with smooth tannins. The wines are very approachable, a characteristic not associated with Pauillac in great vintages. Delightful and well-made are positive descriptors for 2015, along with medium term (10 to 20 years) aging.
Ch. Pichon Longueville Comtesse de Lalande: One of my favorite wines delivered a delicious, lip-smacking black cherry, raspberry-flavored 2015. A hyacinth aroma adds to its appeal. The mild tannins reflect the structure of this vintage, and the balanced finish is typical of this top-line chateau. 93 points. $130-$230. (With bottles dating to the 1985 vintage, Pichon Comtesse occupies a prominent place in my cellar.)
Ch. Lynch-Bages: After taking the reins of Lynch-Bages in 1972, owner Jean-Michel Cazes changed this Fifth Growth from an also-ran to one of the most sought after Bordeaux wines in America. His American education and IBM career taught him the importance of marketing, which he did throughout the United States, making Lynch-Bages a favorite of American collectors.
The 2015's black cherry and mild vanilla nose, tasty black cherry flavor, mild tannins and drinkability will bring smiles to long-time and new Lynch-Bages drinkers alike. 92 points. $115-$159.
Ch. Grand-Puy-Ducasse: This chateau has been a standard bearer for good value and continues its legacy in 2015. Blackberry and mild vanilla aromas and flavors are instantly likeable. The round tannins provide structure and easy access to its immediate pleasure. 92 points. $38-$65.  Best Buy
Ch. Grand-Puy-Lacoste: A smoky, toasted-oak and black fruit nose, black cherry and black tea flavors, and supple tannins make this another pleasant and drinkable wine from this vintage. 90 points. $65-$94.
Ch. Pichon Baron: Darker black cherry hue than others in this group. Its smoky, black fruit aroma and flavor are usual characteristics of this chateau, but the forward-fruit flavor and accessibility of the vintage replaces its usual firm structure of fruit, tannins and gravelly underbelly. 90 points. $135-$180.
Florent Fresse, Export Manager, Chateau d'Armailhac
Ch. d'Armailhac: In 1933, Baron Rothschild purchased Chateau d'Armailhac, a 125-acre vineyard on the southern side of Mouton-Rothschild. It was named for the 18th century family who established it, and was classified as a Fifth Growth in 1855.
When I was introduced to Bordeaux wines this one was known as Chateau Mouton Baron Philippe, then Chateau Mouton Baroness Philippe. In 1989, its current name was created, which is an abbreviation of its historical name: Chateau Mouton d'Armailhac. Back then, it was a generally accepted idea that regardless of the name, the bottling was a second wine of Chateau Mouton-Rothschild—it was not.
The 2015 d'Armailhac is very red fruit-perfumed and filled with ripe red plum and raspberry-like flavors. This wine needs only your glass and thirst. 90 points. $43-$80. Good value at under $50.
Ch. Clerc-Milon: From the third estate of the Baron Rothschild family's Pauillac portfolio—also classified as a Fifth Growth and adjacent to Mouton (and bordering Lafite)—Clerc-Milon has been an easy drinking wine whose life span was limited to a decade or two. The 2015 won't change that fact as its very ripe cherry character dominates the nose and palate. It's pleasing from beginning to end, the latter being a tad short. 89 points. $60-$120.
Ch. Haut-Bages Liberal: A favorite good value wine of mine, the 2015 has an elegant black cherry and floral aroma. Its tasty blackberry and black plum flavors ride on smooth tannins to a fruit-flavored finish. 89 points. $39-$60. Good value at under $50.
Ch. Lynch-Moussas: The 2015 vintage's profile of medium body with very drinkable fruit and mild tannins is a perennial style of this chateau. This year, Lynch-Moussas was lighter than the other wines with a black cherry character that did not linger on the palate. 88 points. $38-55.
Saint-Estephe:
These wines, combined with the Pauillac tasting, reinforced my view that 2015 is pleasing for current consumption through 2025 to 2030.
Ch. de Pez: The consistency of the chateau's wines is displayed in the very fragrant and flavored 2015. Its blackberry-like fruit's supple tannins bring balance, length and youthful access. Ownership by Roederer Champagne almost guarantees the quality.91 points. $40-$58. Good value. 
Bernard Audoy, owner Chateau Cos Labory.
Ch. Cos Labory: This relatively unknown estate deserves your attention for its well-made, age-able, and good-value wines. In 2015, its dark black cherry hue, black fruit and vanilla-oak nose, and a juicy, blackberry fruit flavor with plush tannins brings immediate appeal and pleasure.  90 points. $40-$44. Best buy. 
Ch. Phelan-Segur: A longtime favorite of mine, I was surprised by the translucent bright crimson color, spicy cherry, vanilla-oak nose, juicy black cherry and strawberry-like flavors, and light finish. Its light body and lack of structure is unusual for this estate and makes me think that the rains diluted Phelan-Segur in 2015. 89 points. $42-$70.
Ch. Lafon-Rochet: With its unusual translucent cherry hue and lighter body this wine displayed the effects of the rainy August and September. It does offer a very tasty cherry and slightly spicy profile for near-term drinking. 89 points.  $40-$53. 
Pessac-Leognan:
This appellation was created only in 1987. Carved from the Graves appellation, Pessac-Leognan has the most prestigious chateaus from Graves, beginning with the First Growth Chateau Haut-Brion, and what some connoisseurs consider its equal, Chateau La Mission Haut-Brion.
Pessac-Leognan is farther south than Pauillac and Saint Estephe and its wines showed richer fruit aromas and flavors. You can feel and taste the dilution that the rains brought to the northern appellations.
Ch. Carbonnieux: If you started drinking Bordeaux in the 1970s or 1980s, Carbonnieux was one wine you mastered. It was on many restaurant lists, and was the only white Bordeaux the average American wine consumer knew.
The 2015 red is very pleasing with its bouquet of hyacinth and red fruits, medium body, and flavorful black cherry and raspberry-like fruit. Excellent balance and length will remind longtime wine consumers why they liked Carbonnieux and also serves as a delightful introduction for those discovering Bordeaux. 92 points. $37-$50. Good value. 
Ch. Fieuzal: Some vintages of Fieuzal were too oaky for me, but the 2015 has a much more appealing floral, black fruit and mild vanilla-oak scent. It's a touch tannic for the vintage, but overall the blackberry and raspberry flavors are balanced with a long, pleasing finish. 91 points. $36-$45. Best buy.
Ch. Haut-Bailly: American banker Robert (Bob) Wilmer purchased Haut-Bailly in 1997. With money, vision and the able assistance of Veronique Sanders—whom he appointed the estate manager after buying the chateau from her grandfather—Haut-Bailly gained acclaim and became a much sought after wine (my cellar has the 1995, 2005, 2009 and 2010). Wilmer died in December 2017, but the invigorated chateau lives on.
In the 2015, captivating blackberry and pomegranate flavors glide on smooth tannins. This vintage will develop quicker, which is its own virtue for those without cellars. 91 points. $90-$180.
Domaine de Chevalier: While famous for its white Bordeaux, I have been collecting its red wine for decades. A few bottles of the 1986 are still in my cellar as well as more recent vintages.
Owned by Olivier Bernard, the current president of the Union des Grands Crus, the 2015 offers an enticing floral, spicy vanilla-oak bouquet, and black plum and blackberry flavors that are immediately rewarding. 90 points. $65-$100.
Ch. Les Carmes Haut-Brion: Real-estate businessman Patrice Pichet bought this estate in 2011. Once part of Chateau Haut-Brion, Pichet added another 15 acres to the property when he purchased part of the adjacent Chateau Thil in 2012.
Through it is in Pessac-Leognan, its vineyard composition of 42% cabernet franc and 40% merlot has more in common with Saint-Emilion. This blend might explain the herbal and peppery aromas mixed with the pronounced black fruit scents (or it might be winemaker Guillaume Pouthier's style after working for Rhone Valley's Michel Chapoutier). Blackberry and pomegranate flavors are balanced and long in the finish. 90 points. $75-$145.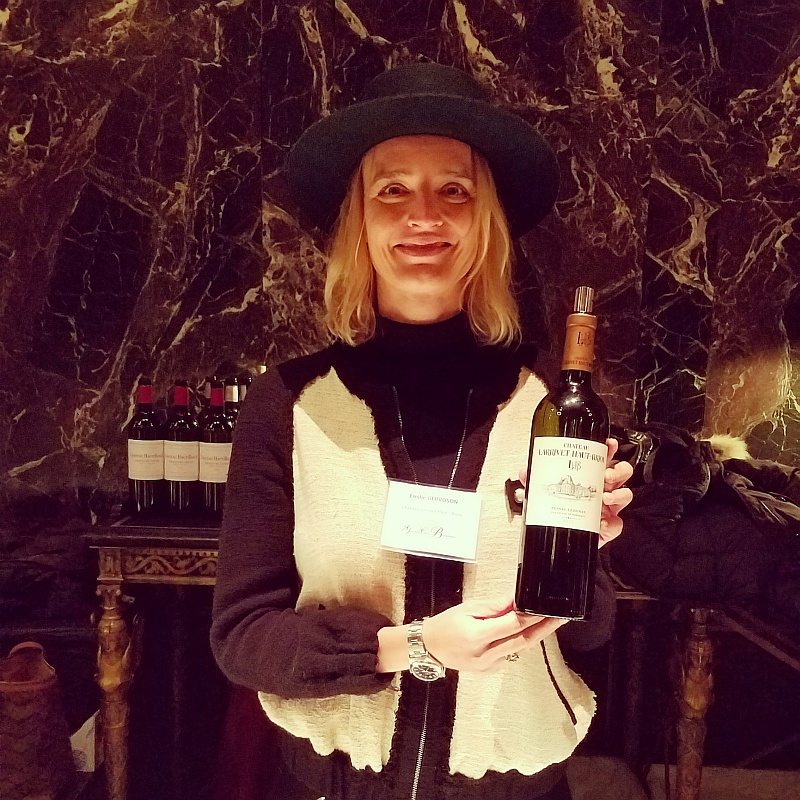 Emilie Gervoson, family member Chateau Larrivet Haut-Brion.
Ch. Larrivet Haut-Brion: A next-door neighbor to Haut-Bailly, I recall liking its white wines more than its reds. That could change if it continues making attractive reds like the 2015. A mild toasted-oak and red-fruit nose is matched with ripe, cherry and raspberry-styled flavors that have body, balance and length. 90 points. $33-$58. Good value. 
Ch. de France: a darker hue that others in this tasting, more smoky, toasted-oak nose and noticeable tannins sets this wine apart. But it has 2015's tasty, ripe black fruit flavor and a background black tea taste. This is one of the few wines you need to cellar for a year or two. 90 points. $29. (found only one store offering this wine).
Ch. Latour-Martillac: the 2015's smoky scent recalled this estate's style of toasted-oak followed by fruit aromas. While its ripe red fruit flavors are pleasant and balanced, they are a tad short. 89 points. $36-$51. 
Coming up: Saint-Emilion; good value 2015 Cru Bourgeois; and superb 2015 dry and sweet white Bordeaux.
Photos by John Foy