Last month, Antonio Michael Zaccheo Jr. was in New York and New Jersey presenting his high-quality, reasonably priced Carpineto wines.
We met at New Jersey's Vesta Wood-Fired Pizza Restaurant—whose name doesn't begin to describe the first-rate Italian cuisine of chef and owner Frank Giampa—for a presentation of Carpineto's sangiovese-based Tuscan wines.
In 1967, Zaccheo's father, Antonio Mario Zaccheo partnered with winemaker Giovanni Sacchet with a collective vision of upgrading Chianti Classico wines, produced in the area that extends from near Florence in the north to some 40 miles south near Siena. Back then, quantity was the goal
Today the second generation of Zaccheos and Sacchets manage more than 1,000 acres of vineyards spread across four of Tuscany's major appellations: Chianti Classico, Brunello di Montalcino, Vino Nobile di Montepulciano and Maremma. Only the latter is not sangiovese-driven.
Antonio Michael Zaccheo, 51-years old, earned his undergraduate degree (magna cum laude) at San Francisco State University, and his MBA at University of California, Davis. Before returning to his family's estates, he worked at Minneapolis-based Cargill, Inc, and as chief of operations for Wente's portfolio of wineries. Speaking five languages, Antonio is the public face for Carpineto.
The winery is a family affair: Giancarlo's daughter, Caterina Sacchet, is the winemaker, and Francesca Zaccheo and Elisabetta Sacchet, sisters from the respective families, provide administrative support.
We began our tasting with the 2015 Carpineto Chianti Classico DOCG, a blend of 80% sangiovese and 20% canaiolo, combining grapes from Carpineto's two appellation estates, Dudda and Gaville, and purchased fruit. From a splendid vintage, the 2015 Carpineto Chianti Classico is brilliantly cherry-colored with delightful cherry and cranberry flavors. Its excellent balance and immediate pleasure will deter most drinkers from aging this wine, but a year or two in your cellar will bring complexity to what is nearly irresistible as your good-value red wine. 90 Points. Retail prices run from a bargain $13 to an overpriced $24; most retailers priced the wine in the mid-teens.
In 2013, after a rainy spring and cool August, Chianti Classico producers were given a dry fall to selectively harvest late-ripening grapes. From its Dudda estate and an adjacent leased vineyard in the heart of the Chianti Classico zone, the 2013 Carpineto Chianti Classico Riserva DOCG is an excellent example of care and attention. Red fruit aromas, and black-cherry and anise flavors are laced with vibrant acidity and a mineral backbone. This delicious, well-made wine should rest in your cellar until 2020 and deliver pleasure throughout the next decade. 93 points.  And a great value at $17 to $26.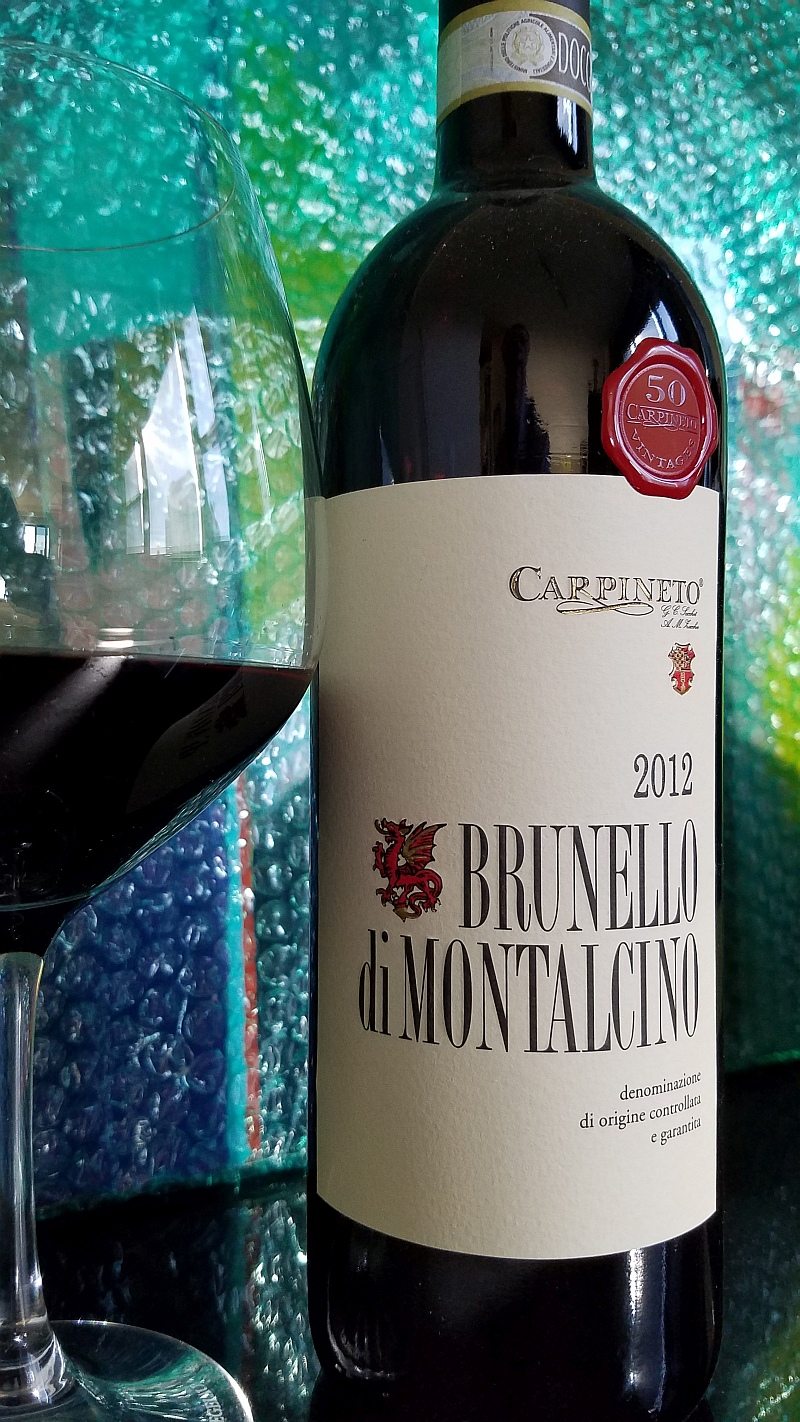 The difference between Chianti Classico and Brunello di Montalcino is more than miles. It's also sangiovese clones, climate and altitude (and perhaps, a touch of attitude).
Twenty miles south of Siena a corkscrew-fashioned road seems to be an endless upward climb to the ancient-walled village of Montalcino. From this perch, you look across Tuscany's vast landscape and the many hillside vineyards growing sangiovese grosso for the world-famous Brunello di Montalcino wine.
Carpineto planted 25 acres of its 127-acre Montalcino estate with sangiovese grosso, the only grape permitted for Brunello di Montalcino. As its name implies, the grape is larger than the sangiovese planted in the Chianti Classico zone. Along with the different clone of sangiovese, altitude and southern location, Brunello has more stringent aging requirements than Chianti Classico and excludes all other grapes.
The Rosso di Montalcino category provides producers an outlet for grapes of younger vines or wines the producer knows to be good, but are not at the level desired for its Brunello label.
The 2015 Carpineto Rosso di Montalcino is everything rosso is meant to be: eye-catching candy-cane red, enticing cherry and floral-scented, lip-smacking strawberry and cranberry flavors carried on a line of acidity that keeps the palate refreshed. This is the ideal wine for pizza Margherita, grilled chicken, and lively conversations. 90 points. One topic of the conversation is its very reasonable price tag of $22 to $24.
The non-riserva Brunello, or what Italians called normale, requires five years aging, of which at least two years are in barrel (riserva adds another year's aging).
A number of wineries use French oak barrels, but thankfully Caterina used the traditional Slavonian oak casks for the 2012 Carpineto Brunello di Montalcino.  The difference is startling.
French oak barrels add a vanilla flavor that overrides sangiovese's natural cranberry-like flavor and acidity. It instills a slickness to the texture. By employing the classic Slavonian casks Caterina captured the vibrant rose flower, black-cherry aromas and the natural cherry, raspberry and soy flavors, riding on a mineral, stony backbone that will deliver pleasure through the next decade, and more with proper cellaring. The 2012 Carpineto Brunello is an excellent example of what Brunello can be when winemakers let sangiovese grosso speak for itself. 94 points. A very attractive $42 to $64 (note: many Brunellos start at the upper end of this price range).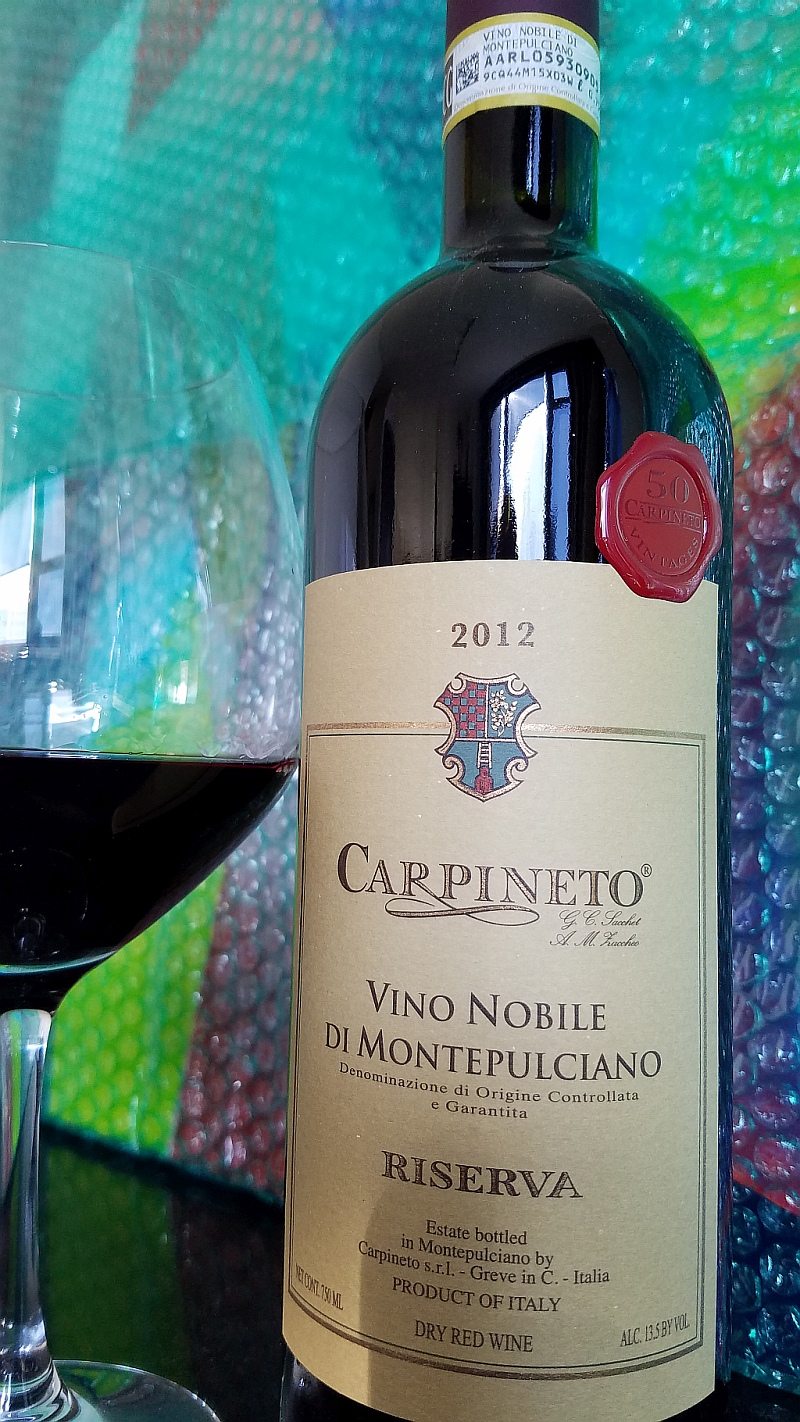 If there is a wine that is more confusing to consumers than Vino Nobile di Montepulciano, I am not aware of it. Like many Italian wines, its name includes its location: the Tuscan village of Montepulciano. But that is also the name of a grape used in wines in various parts of Italy (yet doesn't contain the grape's name), and most known for Montepulciano d'Abruzzo from the southern Italian region.
So, you have a wine with the name of a grape that doesn't contain it, and when a wine does contain the Montepulciano grape, it often doesn't state it. Got that?
Oh, one other thing: In this Tuscan appellation, sangiovese is called prugnolo gentile.  
The 2012 Carpineto Vino Nobile di Montepulciano Riserva is made with 90% sangiovese and 10% canaiolo (like Chianti, Vino Nobile's regulations permit up to 30% non-sangiovese grapes). The appellation's riserva designation requires at least three years aging, which Caterina accomplished with two years barrel aging between Slavonian and French oak barrels, followed by a year of bottle aging.
Her techniques delivered an intensely aromatic- and-flavored wine ranging from black-cherry and blackberry, to black plum with a mineral and tannic backbone. It requires 30 minutes aeration in a decanter. This is the biggest wine of the five reviewed and will be perfect with lamb or a winter stew. 94 points. An amazingly good deal at the lower range of $21 to $39.
These five bottles represent a portfolio of excellent Tuscan sangiovese-based wines at remarkably attractive prices. While drinkable now, patience will reward you for cellaring the riservas and Brunello wines. You'll be thankful you did.
Wishing you all a delicious Thanksgiving with friends, family and other loved ones.
Photos by John Foy