Eyes light up when white burgundy is on the table. When it's California chardonnay, hands reach for the bottle. Even pinot grigio brings smiles as it's poured. But take a bottle of dry white Bordeaux from the ice bucket, and you'll most likely see blank faces.
Why is this consistently affordable, well-made white wine with centuries of history still an "also-ran" to most wine consumers?
After World War II, fashion and prices favored red wine. Slowly, vineyards were converted from white grape varieties to cabernet sauvignon, merlot, cabernet franc, petit verdot and malbec. Then, in 1970, red Bordeaux wine surpassed the production of white.
Dry white Bordeaux fell deeper into the shadows as Sauternes and Barsac, the sweet white Bordeaux wines, were coveted by wine collectors and connoisseurs.
Today, dry white Bordeaux is made primarily from sauvignon blanc and semillon, with muscadelle and sauvignon gris playing minor roles in most blends. Vineyards are spread through 13 appellations, most producing two styles: generic Cotes de Bordeaux and Entre-Deux-Mers. They offer light, refreshing and fruity wines made in stainless steel tanks for immediate enjoyment. In contrast to the structured, world-class wines from Graves and Pessac-Leognan on the Left Bank that are vinified and aged in new and used French oak barrels.
A few months ago, a trio of French winemakers arrived in Manhattan to present a broad selection of dry, white Bordeaux wines. We met Valerie Lavigne, viticulture and oenology teacher and researcher at the University of Bordeaux; Valerie Vialard, winemaker at Chateau Latour Martillac in Pessac-Leognan; and Corinne Comme, viticulturist and owner of the biodynamic Chateau du Champ des Treilles in Saint-Foy (I bear no relation to this appellation that I am aware of).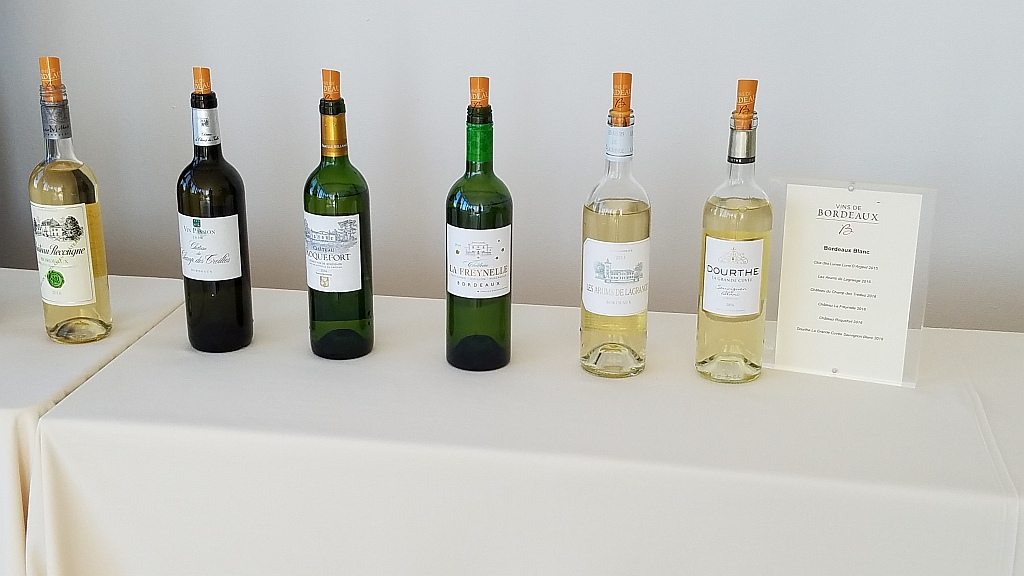 For your use, my notes follow the two styles, beginning with light, refreshing and fruity wines ideal for summer. In this group you will find wines of great value.
Fermented and aged in stainless-steel tanks: Bordeaux Blanc Appellation
2016 Chateau Roquefort comes from a large estate in the Entre-Deux-Mers region. While it bears the generic Bordeaux Blanc appellation, the wine itself is anything but. Blending 85% sauvignon blanc with 15% semillon, the lively sauvignon blanc lime and pineapple aromas are matched with pungent lime and lemon-thyme flavors, good balance and a long finish. I've tasted many vintages of Chateau Roquefort white wines and this is one more excellent bottling. 92 points. Best value at $12 to $13; at this price, buy it by the case for summer's entertaining.
2016 Chateau La Freynelle blends 60% sauvignon blanc with 20% each semillon and muscadelle, creating a very citrusy aroma and flavor. Its medium body carries lemon and gooseberry flavors with a dry, mineral backbone. 91 points. Another great choice for summer drinking at $12 to $15.
2016 Chateau Recougne is in the Fronsac appellation, but its white wine must be classified under the generic Bordeaux Blanc appellation. Made of 80% sauvignon blanc and 20% semillon, the wine is fermented and aged for one month in stainless steel tanks before bottling. This clean, quick process preserved sauvignon blanc's lime and fresh-cut grass aromas. Its lime and thyme flavors have a long, pleasing finish. 90 points. An amazing value at $11 to $15, and ideal as a summer party wine.
2016 Chateau du Champ des Treilles Vin de Passion is a blend of 34% sauvignon blanc, and 33% each semillon and muscadelle from 68-year-old vines grown in limestone and clay soils. Cultivated biodynamically, the grapes are fermented and aged for five months in stainless steel tanks, resulting in a wine with pleasing pear, white flowers and light smoky scents.  The tasty, ripe white nectarine flavor has a firm gravelly backbone that leaves a clean, refreshing sensation. 89 points. Great value at $15 (found in only one store in NYC).
2014 Chateau La Dame Blanche is pure sauvignon blanc and the white wine of Chateau du Taillan. Its very floral nose is a departure from sauvignon blanc's grassy or citrus aromas, but the lemon thyme taste is true to form. 88 points. $18 to $20.
2016 Dourthe La Grande Cuvee Sauvignon Blanc 2016. Dourthe is a large Bordeaux wine company owning eight chateaus across the region. La Grande Cuvee is a bottling made of pure sauvignon blanc from various vineyards. It's mildly flinty, citrus and thyme aromas are classic white Bordeaux, and it offers a pleasing white fruit flavor with mild acidity that makes it immediately drinkable. 88 points. $11 to $15.
2016 Chateau Landereau incorporates all four grape varieties with sauvignon blanc leading at 40% and muscadelle trailing at 10% from its Entre-Deux-Mers vineyard. Fermented and aged for a few weeks in stainless steel tanks, the wine has a mellow fruit aroma with a pronounced apricot taste. 88 points.  Not yet in the market.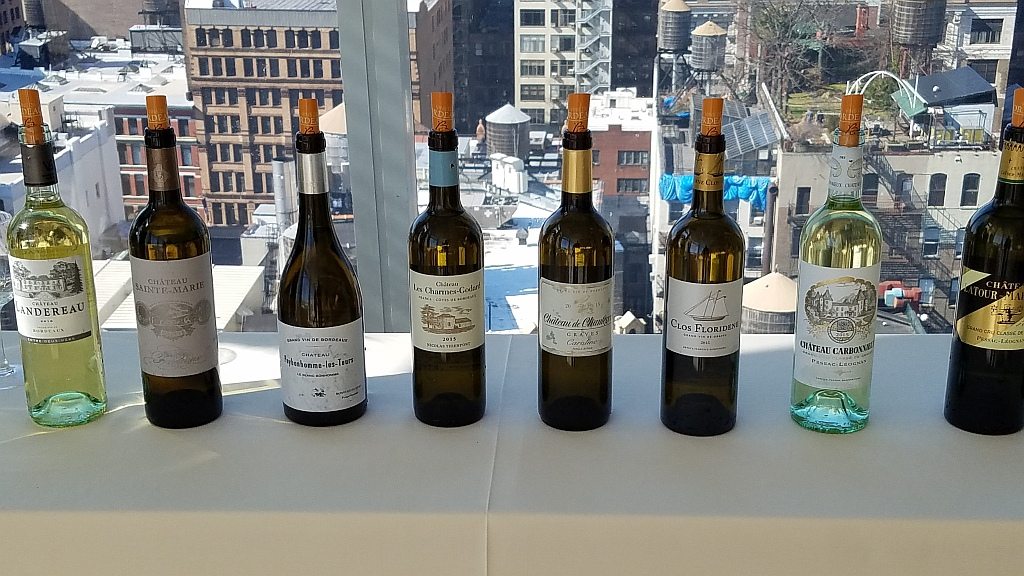 Fermented and aged in oak barrels: Graves or Pessac-Leognan appellations (principally).
Winemaker Valerie Vialard blended 60% sauvignon blanc and 40% semillon grown on vines averaging 35-years-old in her 2015 Chateau Latour Martillac. Fermented and aged for 11 months in oak barrels, the wine has a slight golden hue with scents of white flowers, smoke and apricot. A mild vanilla taste underscores the lime flavor with very good balance and a dry, mineral finish. 92 points. $32 to $45.
2015 Clos Floridene is owned by Florence Dubourdieu, the widow of Denis Dubourdieu, a leading researcher on Bordeaux dry and sweet white wines and who died in July 2016 after a long career as a professor of enology at the University of Bordeaux. He was also a consultant to numerous chateaus, including d'Yquem and Cheval Blanc, and owner of five Bordeaux estates.
In this final vintage of Dubourdieu (due-boor-DOO), the 2015 Clos Floridene is a blend of 52% sauvignon blanc and 48% semillon, barrel fermented in 25% new oak and aged for eight months. Its citrus character stands out in the aroma and flavor with very clean white nectarine flavor, and a mineral finish. Delightful drinking. 91 points.  Prices range from $19 to $32; good value is found at less than $25.
Chateau Lagrange in St. Julien is an estate whose red wines I have multiple vintages of, dating to 1989, and whose white wine I have enjoyed for many years. I was pleased to taste the 2015 Les Arums de Lagrange made of 60% sauvignon blanc and 20% each sauvignon gris and semillon (the latter two grapes are barrel fermented and aged). Its melon and apricot flavor is  underlined with a mild smokiness and the soft acidity of the 2015 vintage. It is a charming wine for current enjoyment. 90 points. A very reasonable $16 to $18 but with limited distribution.
2015 Chateau Carbonnieux is one of the most familiar white Bordeaux wines in America due to its active promotion in our market dating from the mid-20th century and its wide distribution. Grown in the gravelly limestone of the Pessac-Leognan appellation, the 80% sauvignon blanc and 20% semillon delivers a slightly smoky nose with mellow white fruit aromas. Its medium body carries ripe, rich melon and pear flavors supported with an underbelly of grapefruit-like taste and acidity. 90 points. A very broad price range of $32 to $68.
2014 Chateau Sainte Marie Madlys vineyard is a blend of 65% sauvignon blanc, 20% semillon and 15% sauvignon gris organically farmed in the Entre-Deux-Mers appellation. The Madlys is the best vineyard of winemaker and owner Stephane Dupuch. The wine was barrel fermented and aged for seven months in 400-liter demi-muids (nearly double the size of a standard Bordeaux size barrel), which reduced the wine's oak flavor and let other flavors shine: ripe pear, white flowers and vanilla aromas. Its medium body brings delicious pear and gooseberry flavors with a stony, mineral finish. 90 points. $18 to $24.
2015 Chateau Les Charmes-Godard is a 15-acre vineyard in the Francs Cotes de Bordeaux, the smallest appellation in the region. It's owned by the Thienpont family, who also own numerous prestigious chateaus: Pomerol's Le Pin and Vieux Chateau Certan; and St. Emilion estates, Châteaus Pavie Macquin, Larcis Ducasse and Bellevue. Nicolas Thienpont manages Les Charmes-Godard.
The 2015 is a blend of 50% semillon and equal parts sauvignon blanc and gris, and fermented and aged in 500-liter barrels, with 20% being new. The two sauvignon grapes provide the acidity to balance the barrel's vanilla and toasted-oak aromas and flavors, giving the wine balance and a pleasing white-fruit flavor finish. 90 points. A wide price range of $14 to $30. Good value at less than $23 (but considering a bottle of 2015 Le Pin starts at $4,760 the $30 is a deal, too.)
2015 Chateau Chantegrive Cuvee Caroline.This chateau was founded in 1966 when owners Henri and Francoise Leveque sold their stamp collection to buy five acres of vineyard land.
The Cuvee Caroline is equal parts sauvignon blanc and semillon and fermented and aged in 50% new oak under the direction of Hubert de Bouard, winemaker/owner of the renowned Chateau Angelus in St. Emilion, who has a definite preference for oak-infused wine.
You'll find that preference actualized in the aroma and flavor, along with ripe apricot and pear fruit flavors with the soft acidity of the 2015 vintage. 88 points. $20 to $26.
Wines fermented or aged in a mix of stainless-steel, oak barrels or concrete tanks.
2015 Jean Faux, Bordeaux Blanc appellation. In 2002, former barrel cooper Pascal Collotte purchased the 108-acre property and replanted the vineyards, which are now farmed biodynamically. Five acres are devoted to white grapes.
The 2015 Bordeaux Blanc is 85% sauvignon blanc and 15% semillon vinified in stainless-steel tanks and aged for nine months in oak barrels (less than 15% are new). Its citrus and apricot scents are appealing and the very ripe fruit with pear and lemon flavors pleasing. The mild acidity makes the wine quaffable. 88 points. $20 to $28.
2015 Clos des Lunes "Lune Blanche" Bordeaux Blanc. Lune Blanche is the third bottling of the Clos des Lunes line of dry, white Bordeaux wine produced from grapes grown in Sauternes, the world's greatest address for sweet white wine.
Perhaps, it takes someone like Olivier Bernard, the owner of Domaine de Chevalier in Pessac-Leognan-‑whose dry white wine rivals that of Chateau Haut-Brion, Bordeaux's greatest dry white wine‑-to create Clos des Lunes in Sauternes.
The 2015 Lune Blanche is 70% semillon and 30% sauvignon blanc fermented and aged for six months in a mix of oak barrels (25%) and stainless-steel tanks (75%). As though its Sauternes address would not be denied, a whiff of honey mingles with the ripe pear and vanilla aromas, which repeats on the palate. Mild acidity makes this fruit-forward wine a delightful aperitif for current drinking. 88 points. From $15 to $27. Good value at less than $20.
2016 Chateau Peybonhomme-Les-Tours is a certified biodynamic estate in the Blaye Cotes de Bordeaux appellation. The white Bordeaux is equal parts semillon and sauvignon blanc with 40% fermented in new oak barrels and 60% in concrete vats. It delivers a tropical fruit aroma and flavor that differs from all the other wines in this review. The fifth-generation owners Catherine and Jean-Luc Hubert seem to understand their uniqueness as the wine is the only one in a Burgundy-shaped bottle. 88 points. $15 (found in only one store; it's in NYC).
Dry white Bordeaux is your pleasurable, good-value wine whether enjoyed al fresco with a fresh salad, or under a shady tree with a cool breeze. I recommend adding it to your arsenal of easy-drinking wines for easy days of summer ahead.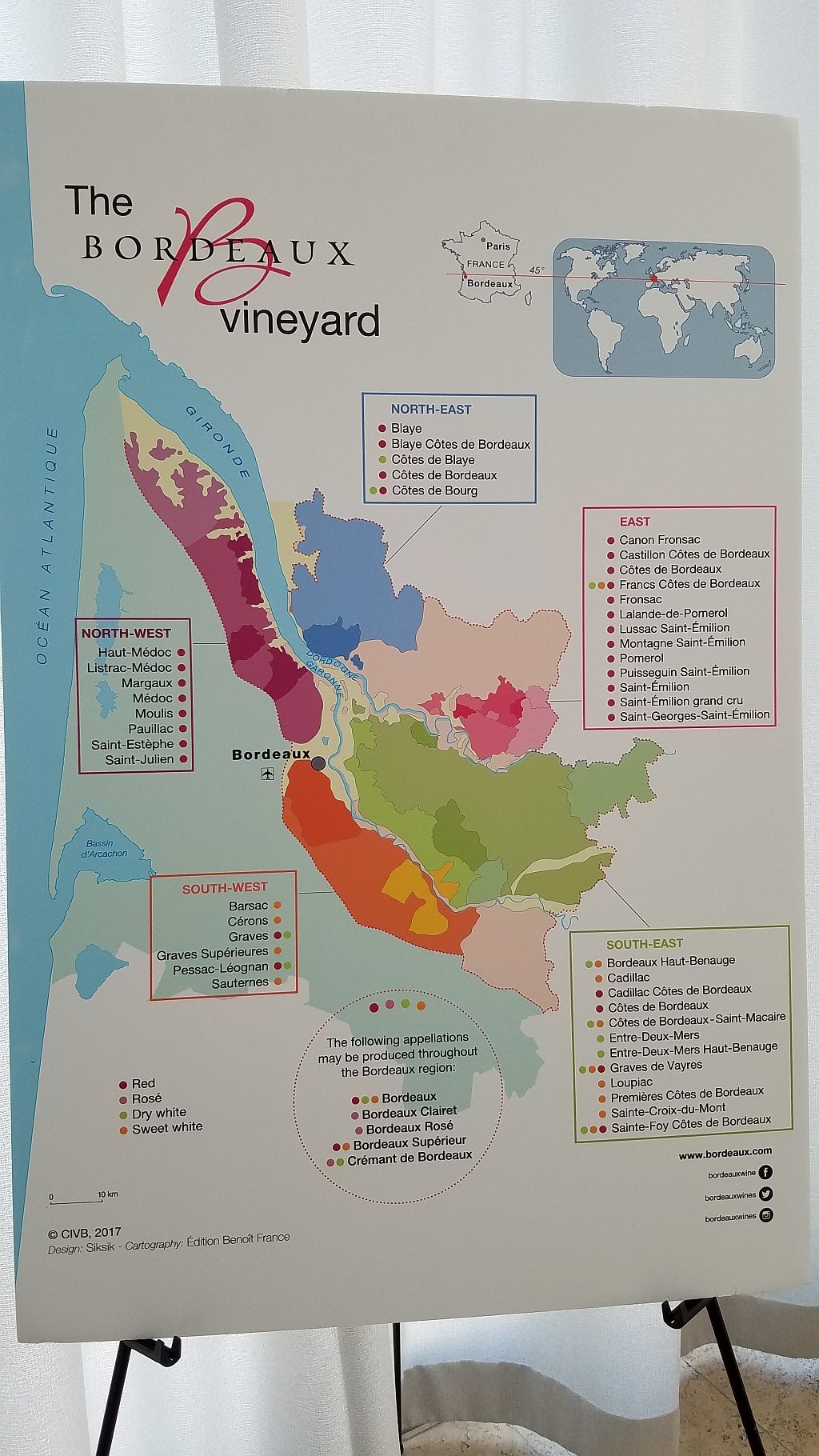 Photos by John Foy