Forty-one years ago, Bernard Baudry created his winery with a five-acre vineyard in Cravant-les-Coteaux, a village in Chinon, the heart of France's Loire Valley red wines. His son, Matthieu, was born in 1975, too, making this an auspicious year.
Baudry studied enology in Beaune, then worked in a government laboratory in Tours where he was responsible for analyzing food to find health hazards and examining water and soil to protect vineyards. This work motivated him to emphasize plowing in his own vineyards and refrain from overusing chemicals at a time when intensive spraying was normal.
Matthieu attended enology programs in Macon and Bordeaux before departing for internships in Tasmania and Napa Valley's Bouchaine Vineyards. In 2000, he returned home, forming the Baudry father-and-son winemaking team.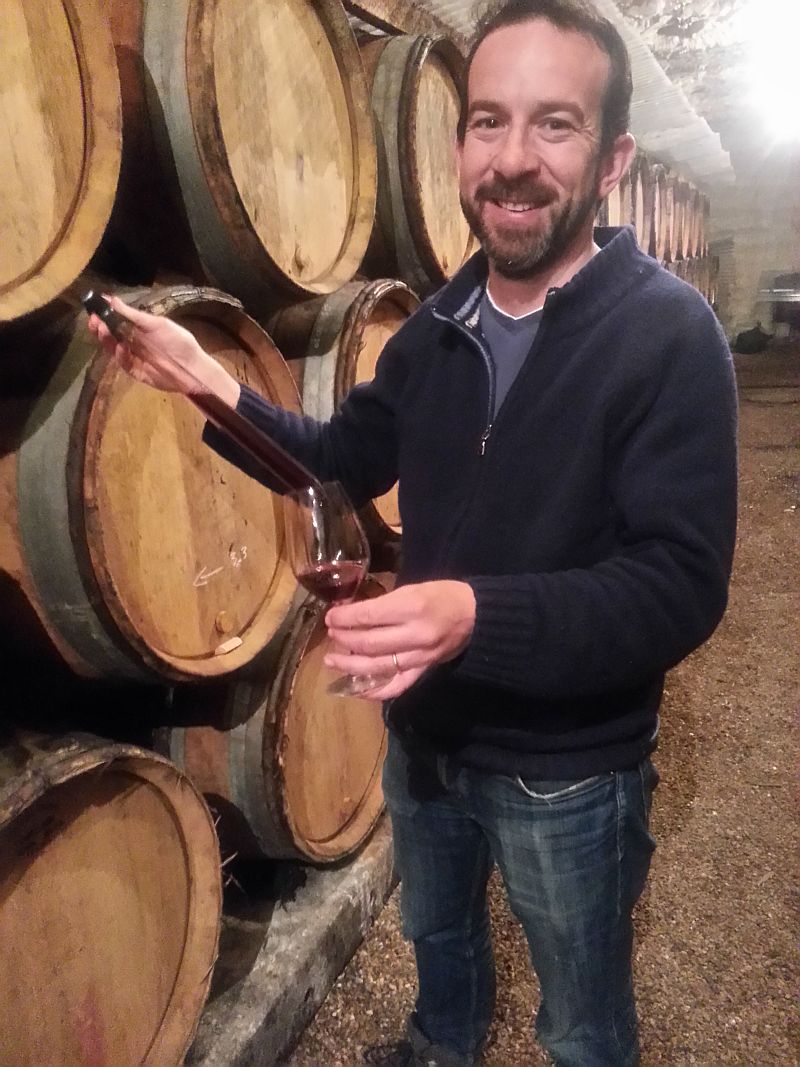 Matthieu Baudry in the family's cellar.
In 2006, the Baudries began organic farming in their 77-acre estate, receiving certification five years later. The vineyards are spread across Chinon with soils ranging from gravel to limestone to clay and sand, and planted with 90 percent cabernet franc, the primary red grape of Chinon, and 10 percent chenin blanc, the appellation's white grape. The natural yeast on the grape's skin is the spark for starting fermentation; no commercial yeast is used.
Today Matthieu runs the winery with confidence and the advice of his retired father, who, during my April visit, was inspecting the fermentation tanks.    
We began our tasting with the 2015 Bernard Baudry Les Granges the largest vineyard at about 17 acres. It was planted in 1988-89 in gravel and alluvial soils near the Vienne River. Some years, spring rains cause the Vienne to flood the vineyard.
Fermented and aged in concrete or stainless-steel tanks, this unoaked red wine's welterweight body is riotously cherry in color, aroma and flavor. A touch of spiciness adds complexity, delivering the joyfulness found in cru Beaujolais. 88 points. Retail prices are in the good-value range of $15-$20. (Click on the Dining in Paris article and read about the 2014 Les Granges wine pairing at restaurant Kigawa.) 
The 2014 Domaine Bernard Baudry is from a year that was saved by a dry, warm fall after a cool and rainy summer. Created from various parcels of 30-to 35-year-old vines growing on a plateau of 70 percent limestone and 30 percent gravel, the 2014 Domaine has more structure than the 2015 Le Grange and its black-cherry fruit delivers pleasure from the first sip. 89 points. Expect to pay $20-$22. 
A barrel sample of the 2015 Bernard Baudry Les Grezeaux displayed the supple, pleasant, red-fruit character of this embryonic wine. Its 50-year-old vines grow in gravelly soil, giving it more body than the Domaine and Les Granges bottlings. Les Grezeaux always ages in 5-year-old oak barrels until the second spring after the harvest, then it is bottled unfiltered. Preliminary rating 90-91 points.  
You might wait for the 2015 to come into its own, but the black fruit- and black pepper-scented 2014 Les Grezeaux is bottled and waiting for you with its tasty, black-cherry flavor, integrated tannins and stony, mineral finish. 90 points. Prices range from $22-$28.
Within a few years, you should find either of these younger wines offering the complex aromas and flavors of tobacco and black cherry infusing the delicious 2010 Les Grezeaux that accompanied my wild duck main course at the excellent Charles Barrier restaurant in Tours during my October visit. 95 points.  Not commercially available.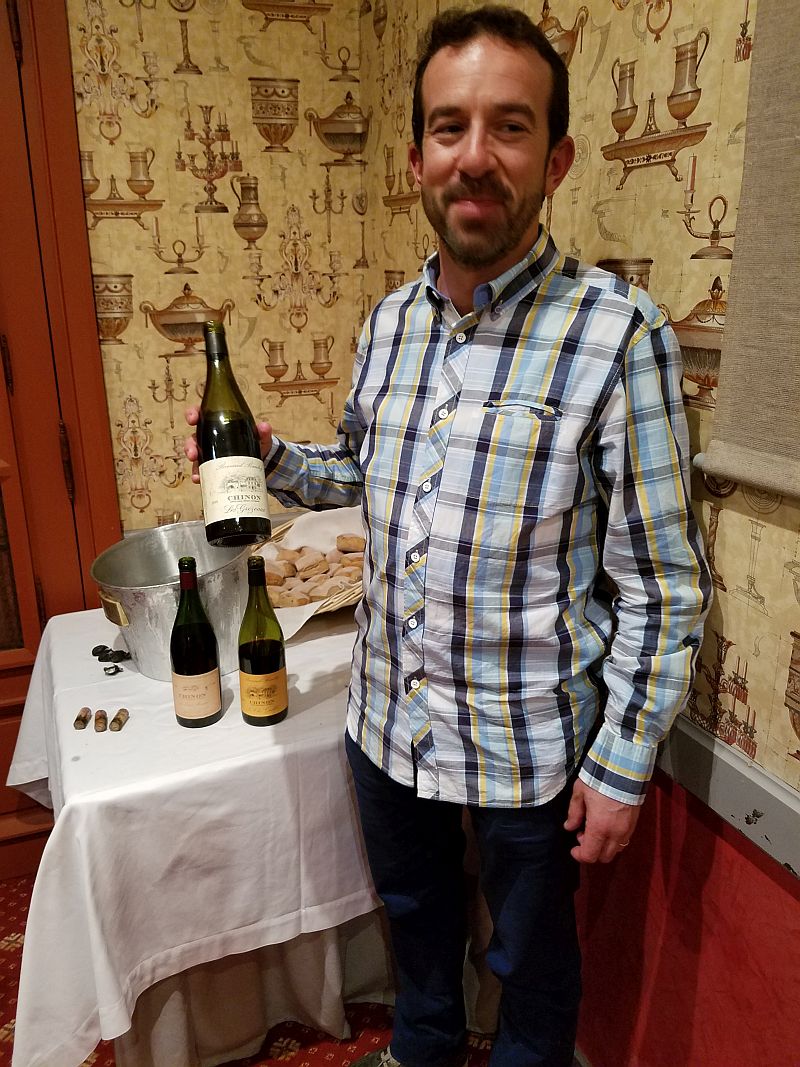 Matthieu Baudry holding the 2010 Les Grezeaux at restaurant Charles Barrier.
Le Clos Guillot is a 10-acre vineyard planted between 1993 and 2000. In April, while tasting a tank sample of the black-fruit-scented 2014 Bernard Baudry Le Clos Guillot, Matthieu said that the yellow limestone soil of this appellation gives a Burgundian texture and a long finish to cabernet franc wines in Chinon. The wine's aroma was giving me the impression of darkness and depth as Matthieu explained that after a year of barrel aging, it was moved to its cement vat for nine months. I was swirling the lively, refreshing, red-fruit flavors around my mouth as he said the 2014 Clos Guillot would be bottled unfiltered in September 2016. As the wine deposited its mint-accented finish I wrote 90 points. In October, it was a delicious partner to a pork chop at Charles Barrier. The 2014 Bernard Baudry Le Clos Guillot should be in our market in a few months.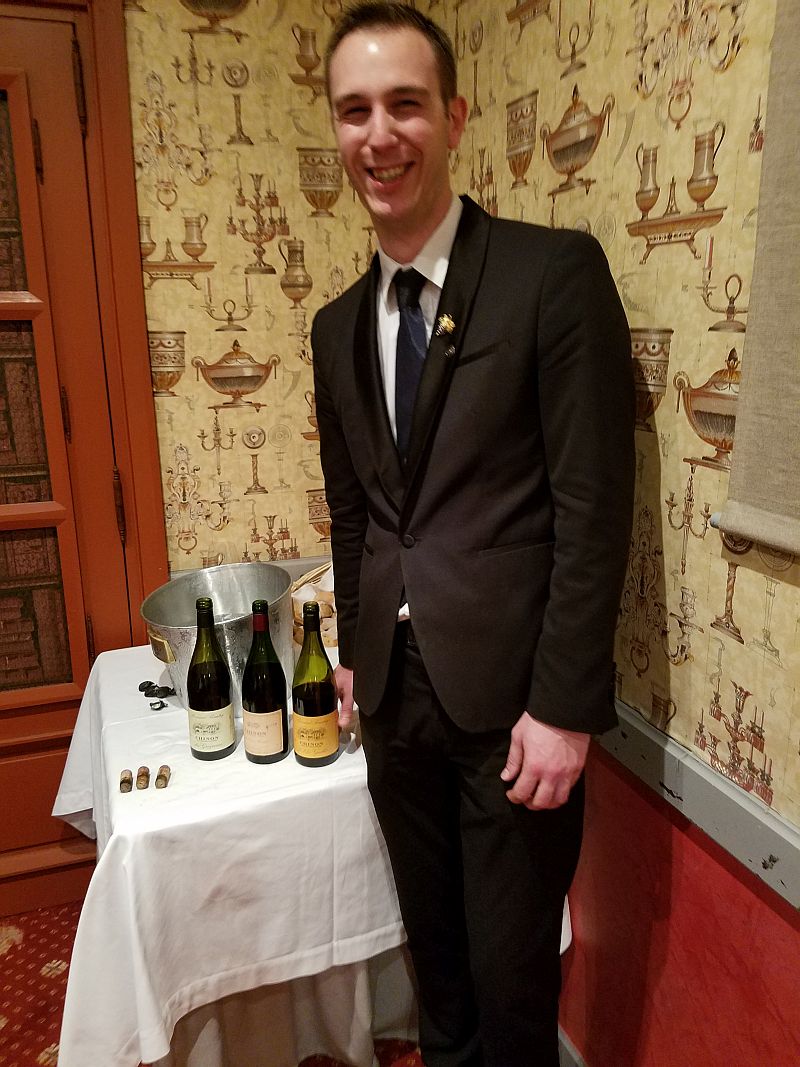 Sommelier Antoine Lafort with the 2014 Le Clos Guillot on the right.
In the decades that I've been tasting and collecting wines, I've observed that those that are seamless in youth are elegant with age. And that is my vision of the future from the barrel sample of the 2015 Les Clos Guillot. Its black-fruit flavor is lined with soft, supporting tannins giving it a cashmere texture. You'll have to wait until September 2017 for its bottling, but it's a wait that will be rewarded. Preliminary rating 94-95 points. 
Baudry thinks of the La Croix Boissee as its Grand Cru vineyard. It's about 6 acres on a sun-drenched, south-facing, white limestone hillside. As I inhaled the granite- and black-tea -scented 2014 Bernard Baudry La Croix Boissee, Matthieu told me that white limestone brings power and body to cabernet franc in Chinon. There was a density to the aroma and black-fruit flavor, but also a softness that indicated to me that 2014's warm fall harvest delivered supple cabernet franc. It will be bottled unfiltered in January 2017.  91 points. 
But when I tasted the barrel sample of the ripe, fruit-driven 2015 Bernard Baudry La Croix Boissee, I realized that it is the vineyard's sunny disposition that brings forth its pleasure quotient and a preliminary rating 91-92 points.  
Then, the vineyard's white limestone took its turn on the stage when I tasted the 1997 La Croix Boissee in April of this year, and again in October as the second wine with my main course of wild duck at Charles Barrier.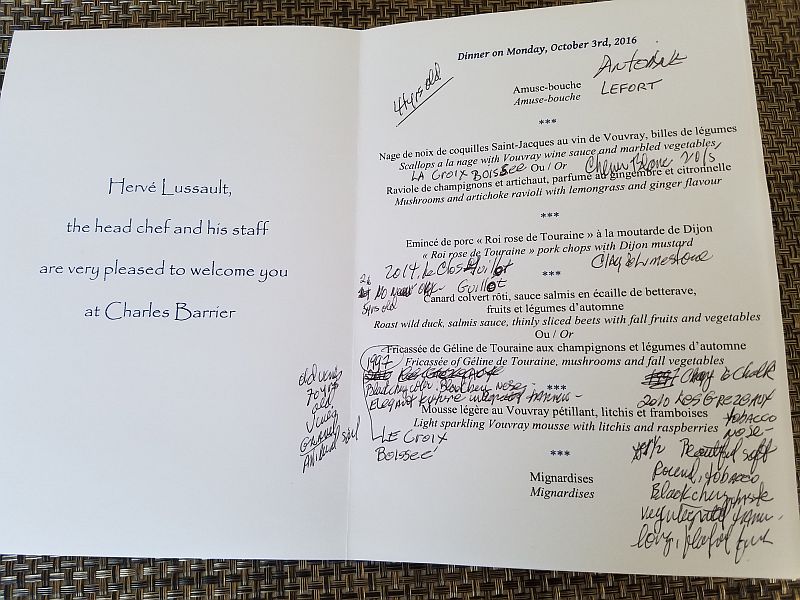 Chinon's top red wines have great aging ability, but, like humans, they show variations with age. Take the two bottles of the 1997 La Croix Boissee that I tasted this year: the first in April; the second in October.
April's wine had a slight brownish edge, and swirled black-cherry and tobacco flavors. Meanwhile, October's wine retained its black-cherry hue, and its black- fruit flavor was still vibrant. But both shared integrated tannins and a long, pleasing finish. 93 points.  Not commercially available.
La Croix Boissee is also Baudry's chenin blanc vineyard. At Charles Barrier, the medium-body, tropical and citrus fruit character of the 2015 La Croix Boissee Blanc was on vivid display. One could almost taste the sunshine in the richly flavored fruit; the mineral backbone from the white limestone gave structure and a clean, dry finish. It was delightful with mushroom and artichoke ravioli flavored with lemongrass and ginger.      92 points.  Retail is $40.
The Baudry winery is 41 years old– a blink of the eye in the wine world. Other families trace their winemaking ancestry in centuries. But in this short time, Bernard and Matthieu Baudry earned the respect of many in the wine world and placed Domaine Bernard Baudry among the best of Chinon wineries.
photos by John Foy