Chateau Haut Brion (photo by John Foy)
The majestic image of Bordeaux's grand chateaux with turrets or towers behind black-iron gates, long, gravel driveways, regal doors and shuttered windows is but one view of the mythology of Bordeaux. In fact, there are more than 8,000 wine producers in the Bordeaux region with the word chateau on their wine label. But many are family homes with children's toys and bicycles on the lawn leading to the family's vineyard. These chateaux offer some of the best wine values in our market.
Further distanced from the image is the fact that these wines are white, not the long-glorified red. When Bordeaux white wines are mentioned, many consumers and collectors recall its sweet wines from Sauternes and Barsac. But cut that umbilical cord, too. Think dry.
Bordeaux's dry white wines are made from sauvignon blanc; or by blending it with semillon, muscadelle or sauvignon gris. Pessac-Leognan is one of the most famous appellations in Bordeaux; within its boundaries are the world-renowned Chateaux Haut-Brion and La Mission Haut-Brion. The former produces a dry white wine that is as sought after and expensive as its First-Growth red wine. But the Dillon family, owners of both chateaux, make a dry, white wine that retails for less than $25, proving that good-value white Bordeaux can be found throughout the region.
With Thanksgiving approaching and holiday parties in the making, here are some dry, white Bordeaux wines that will please the palate and the purse.
Pierre Dourthe founded his Bordeaux wine merchant business in 1840. Over decades and generations, it entered the winemaking business buying chateaux and contracting with growers. Then, in 1988, Dourthe created a dry, white Bordeaux labeled Dourthe No.1 that became an instant best seller. Under another brand, is its pure sauvignon blanc 2015 Dourthe La Grand Cuvee Bordeaux Blanc. Blooming with fresh-cut grass and grapefruit aromas, its medium body is clothed with cilantro and lemon flavors moving on a lively acidity and a bright, clean lime-flavored finish. 90 points.  At $10 to $13, this is a delicious bargain.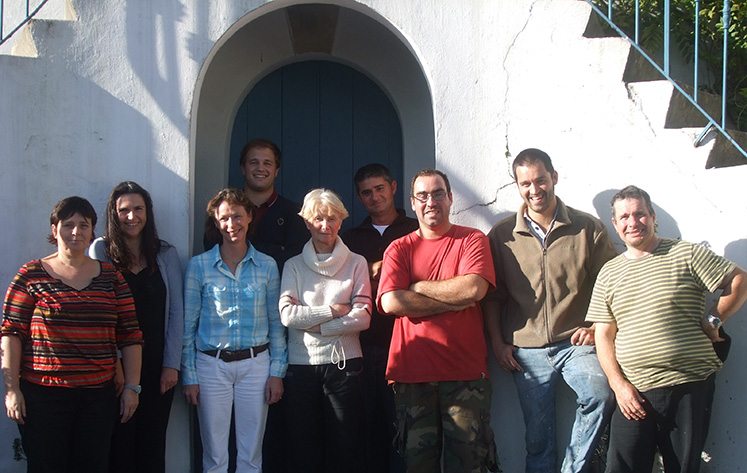 The Boyer Family and staff, Catherine Boyer in center (photo courtesy of Chateau du Cros)
The Boyer family has owned Chateau du Cros for four generations. Under the direction of Catherine Boyer, the tasty 2015 Chateau du Cros Sauvignon Blanc is composed of 90 percent sauvignon blanc and 10 percent sauvignon gris. Although not widely planted in Bordeaux, sauvignon gris is used in the white wines of Chateau Haut-Brion, as well as Pessac-Leognan's prestigious Chateaux Smith-Haut-Lafitte and Pape-Clement.
The 2015 Chateau du Cros Sauvignon Blanc sprinkles lime and lemon in its aroma and flavor. Pleasing from the first scent to the last sip, the added layer of minerality in the finish earns it 91 points. And just as nice as its composition is the price: $12 to $15.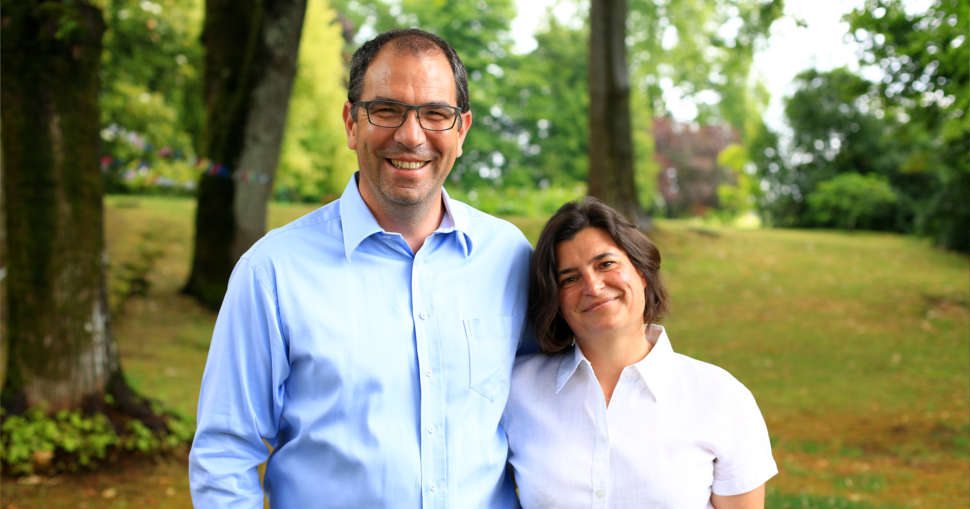 Damien & Maria Chombart (photo courtesy Chateau Lamothe de Haux).
Chateau Lamothe de Haux is owned by the third generation of the Chombarts. Each family member has a role in bringing the 2014 Chateau Lamothe de Haux Bordeaux Blanc to market. It's 40 percent semillon and sauvignon blanc, respectively, and 20 percent muscadelle. The latter grape has a floral aspect and is found more often in sweet wines.
Muscadelle's 20 percent presence in the 2014 Chateau Lamothe de Haux Bordeaux Blanc contributes lily and guava aromas. Its 40 percent semillon provides a full and round mouthfeel with a mellow pear flavor, while the sauvignon blanc deposits a mild crispness and citrus flavor. 88 points. Retail is a very reasonable $12 to $14.
In 1935, Wall Street investment banker Clarence Dillon purchased Chateau Haut-Brion. In 2005, the clarendelle wines were created under the umbrella of Clarence Dillon Wines by his great-grandson Prince Robert de Luxembourg, who now directs the family wine business.
The 2013 Clarendelle Bordeaux Blanc is made from purchased grapes grown in the Graves and Pessac-Leognan appellations, both considered the best areas for dry, white wine vineyards. It's made of 61 percent sauvignon blanc, 32 percent semillon and 7 percent muscadelle.
The 2013 vintage was very difficult in Bordeaux—and throughout France—due to a cold, rainy spring and a rain-plagued September. Only Sauternes and Barsac had a successful year.
It is in challenging vintages that you witness the professionalism of a team, and the Dillon family's staff captured muscadelle's floral scent, and the savory, ripe persimmons and lemon-lime flavors that permeate the 2013 Clarendelle Bordeaux Blanc. Its mild acidity supports the fruit and leaves a lingering finish. 90 points. A quality bargain at $18 to $24.
Serving any of these white Bordeaux wines with turkey is a natural mate, and their good value is evident. But less obvious is their natural affinity with semi-soft cow's milk cheese and goat cheese.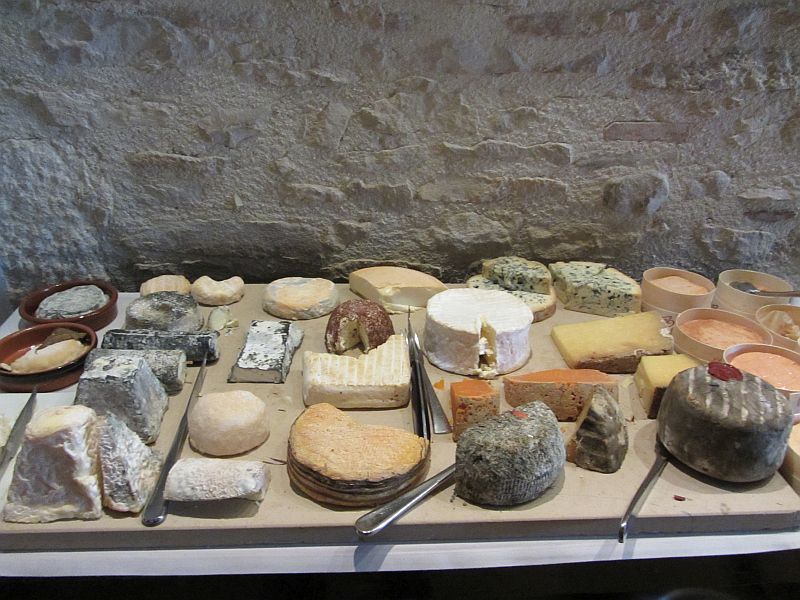 Most people think of red wine with cheese, but I encourage you to pour any of these white wines, or any non oak-aged sauvignon blanc. You will find the yin and yang of the cheese's creaminess and the wine's crispness offset each other perfectly.
Photo by John Foy