Like people, wines can get pigeonholed, too. From regions to wineries, it's easy to focus on the obvious and miss the broader view—whether it's New Zealand's sauvignon blanc overshadowing the country's tasty pinot noir, or Ornellaia and Sea Smoke wineries, whose sought-after red wines block the spotlight from their well-made whites
Ornellaia is one of Italy's prestigious red-wine producers, and every year, winemaker Axel Heinz arrives in New York City with the newest vintage for its inaugural tasting.
While I share the anticipation of others for the elegant red wine, I also look forward to Heinz's presentation of his white wine, Poggio alle Gazze dell' Ornellaia.
In 1982, Lodovico Antinori founded Ornellaia in Bolgheri, then, an obscure Tuscan town except to those in the wine world. He produced the first Poggio alle Gazze in 1987. After 14 vintages of this sauvignon blanc-based wine, Antinori, and his winemaker, Thomas Duroux (who moved to Chateau Palmer in 2004) grafted the 24-acre vineyard to cabernet franc and merlot.
In 2005, Marchesi di Frescobaldi took control of the winery, and Heinz and assistant winemaker Olga Fusari arrived. Two years later, they discovered that some of the grafted vines continued to produce sauvignon blanc grapes (apparently vines can be defiant). So, the new team made a tiny quantity of 2007 Poggio alle Gazze.
In the following years, nearly 15 acres were planted at Ornellaia with viognier, verdicchio and vermentino. And another vineyard for sauvignon blanc was developed at Bellaria, three miles from Bolgheri.
This month, I traveled to Ornellaia and tasted the latest three vintages of Poggio alle Gazze.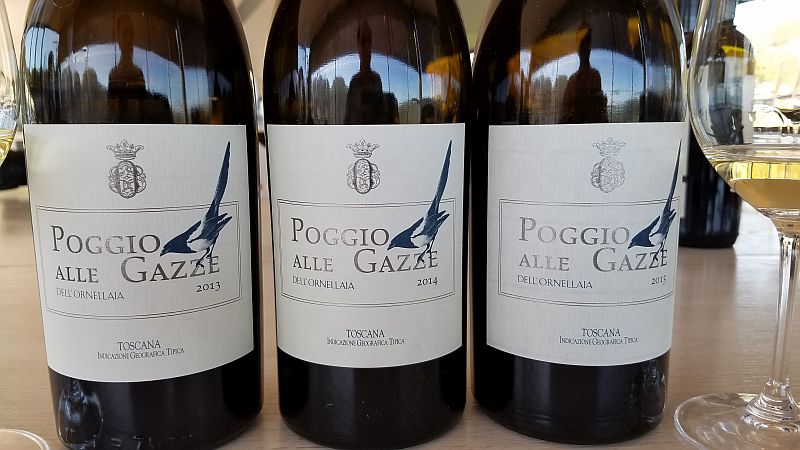 Fusari said the season's ideal growing conditions made the 2015 Poggio alle Gazze dell'Ornellaia an easy vintage for winemakers. Its floral and tropical fruit aromas are as fragrant as a Hawaiian lei. Sauvignon blanc, 60 percent of the blend, brought a backbone of citrus-like acidity to viognier's bold jasmine and lychee accents. Behind these dominant grapes are vermentino and verdicchio contributing mellow fruit flavors and soft acidity. The ripeness is mouth filling, not bulky; the acidity is tart, not astringent. For the patient wine collector, the 2015 Poggio alle Gazze will age gracefully; for those less discipline, the pleasure will not be fleeting. 95 points. Retail from $52 to a pricey $80.
It would not be off-target to say that in vintages like 2014, winemakers must wonder if Mother Nature has a perverse sense of humor. Until August, the growing season was warm and dry, giving the winemakers high hope for an excellent vintage. Then, the temperature dropped and rains arrived. It created havoc for the red grapes, but the cool days and cooler nights allowed the white grapes to develop acidity and balance.
Fifty percent of Poggio alle Gazze is fermented and aged in oak barrels—equal parts in new and once-used barrels—and the other half in stainless-steel tanks. It's a formula that was particularly useful in 2014.
Flowing from my glass of the 2014 Poggio alle Gazze dell'Ornellaia were mild citrus and tropical fruit scents and fruit flavors. The restricted use of new oak barrels prevented the 2014 wine from being infused with the characteristic vanilla taste of new barrels, allowing the wine's citrus quality to shine.
With time, the 2014 Poggio alle Gazze integrates its sauvignon blanc acidity with the more voluptuous viognier, bringing a long, pleasing finish to this very well-made wine. 94 points. Retail prices range from $50 to $75, shop accordingly.
Along with its barrel and stainless-steel formula, Ornellaia does not initiate malolactic fermentation (the process of converting the grapes' natural tart acidity to softer lactic acid: think green apple versus milk). This winemaking decision means that Poggio alle Gazze has both a crisp, refreshing style and the backbone for aging.
A rainy winter and irregular flowering led to uneven grape clusters and lower quantity of the 2013 Poggio alle Gazze dell' Ornellaia. A hot summer turned cooler in August, allowing the grapes to develop aromas ranging from fragrant floral to fresh-cut grass. Now entering its fourth year, the 2013 Poggio alle Gazze's full body is wrapped with a blend of passion fruit and mango flavors that are carried to a long, elegant finish. 91 points. Retail prices range from $59 to $75.
Crossing the ocean to come back stateside, Sea Smoke was founded in 1999 by Bob Davids in California's Santa Rita Hills AVA. The winery is named for the afternoon white fog that rolls up the Santa Ynez canyon from the cold wind coming off the Pacific Ocean eight miles away.
From the outset, Davids wanted to produce world-class appellation pinot noir in Santa Barbara County. Sea Smoke's southern hillside vineyard is flooded with sunshine from early morning until the late afternoon fog comes up the canyon blanketing the vineyard. The combination of soil, sunshine and fog allow the grapes to ripen gradually, capturing all the fruit aromas, flavors and acidity.
Sea Smoke's pinot noirs have rightly enjoyed enthusiastic response from pinot noir connoisseurs and wine critics. But I think its chardonnay is a gem, too.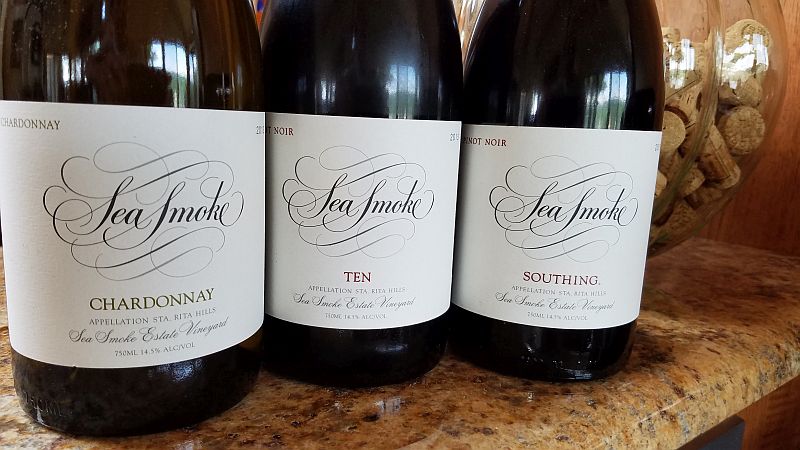 The eight-acre chardonnay plot is part to the estate's 100-acre certified biodynamic vineyard. Made from four chardonnay clones, the wine is fermented in a mix of stainless steel tanks, large French oak barrels, and a foudre, a 554- gallon French oak vat.
Like the billowing fog, the 2013 Sea Smoke Estate Santa Rita Hills Chardonnay releases clouds of pear, buttery croissant, and floral aromas. The full mouth feel is generated from the rich fruit and two winemaking techniques: malolactic fermentation and battonage, the latter is a process of periodic stirring of the lees (the spent yeast cells in the wine) that adds body, along with aroma and flavor compounds. The buttery texture from malolactic fermentation, and the added palate weight with the rich pear and citrus flavors are catnip for those who like big, intensely flavored California chardonnay.
Given my druthers, I would prefer less malolactic fermentation, but with mildly spicy foods the 2013 Sea Smoke chardonnay is a good pairing. 90 points. Retail prices range from $65 to an excessive $100.
Wines like Poggio alle Gazze dell' Ornellaia and Sea Smoke chardonnay are special in their own right, you just have to broaden your outlook to find them.
Photos by John Foy