History buffs know that the Oregon Trail stretched from what is now the State of Kansas to Oregon's Willamette Valley. Pioneers departed with spring's snow melt, hoping to arrive in Oregon before winter set in.
Similarly, from May through early July, I blazed a wine trail tasting a selection of Willamette Valley's pinot noir, chardonnay, pinot gris, rose' and sparkling wines. Like the pioneers who wrote about their passage, I am sending my report on Willamette Valley's pinot noir. The white wines will follow at a later date.
Oregon is a state built by adventurers, and Joe and Pat Campbell were no exceptions, making their pilgrimage to Willamette Valley in 1974. They bought an abandoned prune and hazelnut tree orchard, parked their trailer on the property, and introduced their six-year old daughter to their new home. That winter, a herd of elk bedded down in the bowl-shaped clearing near their trailer, giving the Campbell's their yet-to-be-winery its name: Elk Cove. At the time, there were fewer than 10 wineries in Oregon.
Fitting into that era's zeitgeist of connecting with the land Joe Campbell and his wife, with the assistance of friends, planted a five-acre vineyard. With his background in science (a degree from Stanford University School of Medicine), Campbell taught himself how to make wine. The property's barn was converted into the winery, and they built their home from reclaimed wood.
Today Elk Cove is one of 500 Oregon wineries, and their son Adam is the winemaker.
The 2014 Elk Cove Vineyards Pinot Noir Willamette Valley was born under ideal conditions, as from spring to harvest, dry, warm weather brought ripe, healthy grapes. Quality and quantity are the unique hallmarks of the 2014 vintage in Willamette Valley—a region with a reputation for cool, rain-plagued seasons.
For the 2014 Elk Cove Vineyards pinot noir, Adam Campbell used grapes from the family's five vineyards, along with a small amount of purchased pinot noir from longtime-growers. The grapes of each vineyard are fermented and aged separately; after 10 months in French oak barrels (20 percent new), the wines are tasted and blended.
Elk Cove' 2014 pinot noir is a perfect example of why I believe most pinot noir must be aerated. When tasted immediately after poured, the wine lacks definition as the tannins and acidity are buried in the voluptuous black-cherry-flavored fruit. It is flabby.
But after 30 minutes of exposure, the air reveals cranberry and tart cherry flavors with a flow of acidity. What was once boring changes into a delightful aromatic- and-flavorful wine. Its medium-body, full mouthfeel, and fruit with integrated tannins and acidity were perfect with a roasted chicken breast stuffed with Dijon mustard. 92 points. Excellent value at $23 to a reasonable $33.
David and Ginny Adelsheim returned from a European trip in 1971 smitten with the idea of making wine. The following year, they purchased 19-acres in northern Willamette Valley and began planting their vineyard. In 1978, David produced the first Adelsheim Vineyard pinot noir. During the ensuing decades, as he expanded his estate Adelsheim became a leader in developing Oregon's wine industry, as well.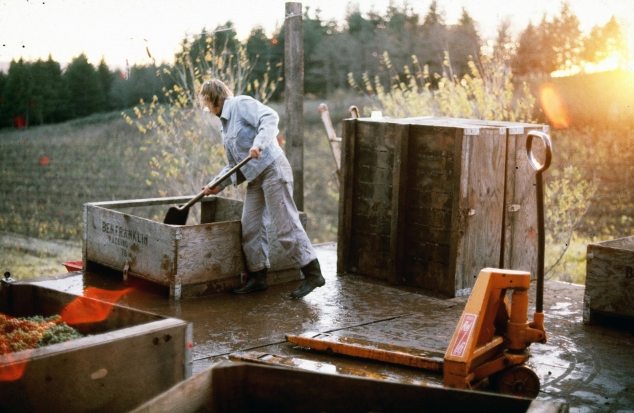 David Adelsheim first commercial vintage 1978.  Photo courtesy of Adelsheim.
In 2001, Adelsheim hired winemaker David Page, who, along with associate winemaker Gina Hennen, produced the savory 2014 Adelsheim Pinot Noir Willamette Valley.
The wine's mix of 58 percent Adelsheim Vineyards' grapes and 32 percent purchased from growers, releases an intense black-cherry, clove and vanilla perfume. A substantial body is built with delicious black fruit and vanilla flavors, and velvet-y tannins. While I am not a fan of oak barrel's vanilla influence, the savory, delectable appeal of the wine is undeniable. 92 points. Excellent value at $19 to pushing the boundary at $36; shop accordingly.
See "July 4th Celebrations with American wines" for a report on the 2014 Adelsheim Chehalem Mountains Breaking Ground Pinot Noir.
Craig and Claudia Broadley arrived in Willamette Valley in 1980 from California's counter-culture epicenter Berkeley, and worked for Lawrence Fellinghetti at San Francisco's The City Lights Bookstore. In 1982, they purchased land in Monroe, a town in the southern section of Willamette Valley; the first Broadley Vineyards pinot noir was produced in 1986.
The 2014 Broadley Vineyards Pinot Noir Willamette Valley has a translucent cherry hue, and cherry, cranberry and white pepper aromas. Its medium body supports tasty strawberry and cherry flavors with a line of bright acidity running under the fruit, bringing the wine to a savory, balanced finish. If, like me, you enjoy red wine with grilled salmon or tuna, this one will be a good partner. 90 points. From a good value $20 to a reasonable $33.
I clearly remember the buzz, excitement, and sense of awe in 1987 when the news spread that Robert Drouhin, the head of the esteemed Burgundy wine company, Maison Joseph Drouhin, purchased land in Willamette Valley. It was a validation of Willamette Valley's quality.
Drouhin installed his daughter Veronique as the winemaker, and began the process of planting the new vineyard at Domaine Drouhin. With time, the vineyard matured, and Veronique gained a better understanding of the climate and soil, and how her Burgundy pinot noir clones adapted to their new home.
The 2014 Domaine Drouhin Pinot Noir Dundee Hills Willamette Valley is translucent cherry, releasing soft fragrances of red fruit, toasted oak and white pepper. Its medium body has refined red-plum and cherry flavors. There is the sensation of alcohol on the front of the palate, but it disappears as the ripe, flavorful fruit, with integrated tannins and acidity, glides to a pleasing finish. It brought to mind the wines of Aloxe-Corton in Burgundy's Cote de Beaune. 90 points. From a reasonable $33 to an excessive $55; shop accordingly.
Dick Erath left California for Oregon in 1967 with a passion to make pinot noir. He found his niche producing flavorful, easy drinking, good-value wines. Erath Winery became the largest producer in the state, prompting Ste. Michelle Wine Estates to purchase it in 2006.
The 2014 Erath Willakia Vineyard, Pinot Noir Ecola Amity Hills is produced from a 100-acre pinot noir plot of multiple soil types, elevations, root stock and pinot noir clones. From this diversity comes this translucent cherry-colored, profusely perfumed wine with aromas ranging from Chinese Five Spice to black-cherry to roses. It is equally lively on the palate with its cranberry, pomegranate and white pepper flavors tied with integrated tannins. 89 points. Retail is a pricy $45 to $60.
In 1999, Columbia Empire Farms, an Oregon agricultural company owned by Dr. Robert Pamplin, Jr. purchased Chateau Benoit, a winery in Willamette Valley that dated to 1979.
Pamplin rechristened the winery Anne Amie, named for his two daughters, and refocused the direction of the winery from middling white wines to high-quality pinot noir. To achieve the latter, he hired winemaker Thomas Houseman, who gave up his career as a professional dancer to earn a degree in enology and viticulture from the University of California Fresno. Before joining Anne Amie, Houseman worked for pinot noir specialists Husch Vineyards in Anderson Valley and Ponzi Vineyards in Willamette Valley.
The 2014 Anne Amie Vineyards Winemakers Selection Pinot Noir Willamette Valley is unfined and unfiltered. Its translucent cherry color, and cinnamon, all-spice, black-cherry and vanilla aromas are immediately pleasing. My pleasure of the Burgundian-style raspberry and cherry flavors was interrupted  by a stream of vanilla flavor from the oak barrel aging (which I found surprising as only 11 percent of the French barrels are new and 21 percent are once-used). But the pleasure returned with the Chinese Five Spice aftertaste that I find enchanting in pinot noir. 88 points. Retailing at a reasonable $22 to $32.
In 1980, businessman Harry Peterson-Nedry founded Chehalem winery (che-HAY-lem) is the name of one of the bands of the Atfalati Native American tribe that once lived in Willamette Valley and the northern section of Oregon.)
Two years later, he planted Ridgecrest vineyard, and by the mid-1990s, Peterson-Nedry added two more vineyards, and businessman-turned-winery owner Bill Stoller as a partner in Chehalem. Its three vineyards are spread across three sub-appellations in Willamette Valley, making it one of the most diverse wineries in the valley.
The 2014 Chehalem Three Vineyard Pinot Noir Willamette Valley is from Chehalem's Ridgecrest, Corral Creek and Stoller vineyards. Its black-cherry color, and spicy, cherry aroma are instantly appealing. Its rich black-cherry and vanilla flavors are carried on soft, silky tannins that add to the appeal, while the mild acidity makes this tasty wine enjoyable from the first sip. 88 points. Retail is approximately $30.
In the end, my OregonTrail was a lot less arduous than what the pioneers experienced. But if you're not familiar with this worthy region worth expoloring, consider this your road, and hit the trail.
photos by John Foy