In life, Etienne Guigal accomplished an extraordinary rise from poverty that began in 1924, when, as the youngest child in a family that could not afford to care for him, he joined his brother picking fruit in Ampuis, a town in France's northern Rhone Valley. Then, at 14-years-old, he worked in a vineyard owned by Vidal-Fleury, the largest wine company in the Rhone.
Over the next 15 years, he advanced to cellar master and general manager of the winery. In 1946, with Europe destroyed by World War II, and the economy devastated, Guigal resigned his position and started his wine business. It was an act of extraordinary confidence, or, if followed by failure, extraordinarily foolhardy.
But succeed it did. Then, another unexpected event occurred. In 1961, Guigal's 17-year-old son Marcel, was sent home from school to find his father had instantaneously gone blind, thrusting Marcel from a school boy's life to the adult task of running the family business. Over the next 40 years, father and son worked together buying and developing vineyards and producing wines that made Guigal internationally renowned.
During his childhood, Philippe, Marcel's son, trailed his father and grandfather in the wine cellar and vineyards. In 1997, he earned his oenology degree from the University of Burgundy, and became the winemaker at E. Guigal winery. Now, Philippe and Marcel work together to produce wines ranging from the remarkable good-value Guigal Cotes du Rhone red, white and rose' to their extraordinary Cote-Rotie wines.
The Cote-Rotie appellation is inseparable from Guigal. It makes three world-famous single vineyard Cote-Roties: What cheeky wine collectors call the "La-La wines" (La Mouline, La Turque and La Landonne); Chateau d'Ampuis, a blend of seven hillside vineyards; and Brune et Blonde, named for the two sections of the appellation.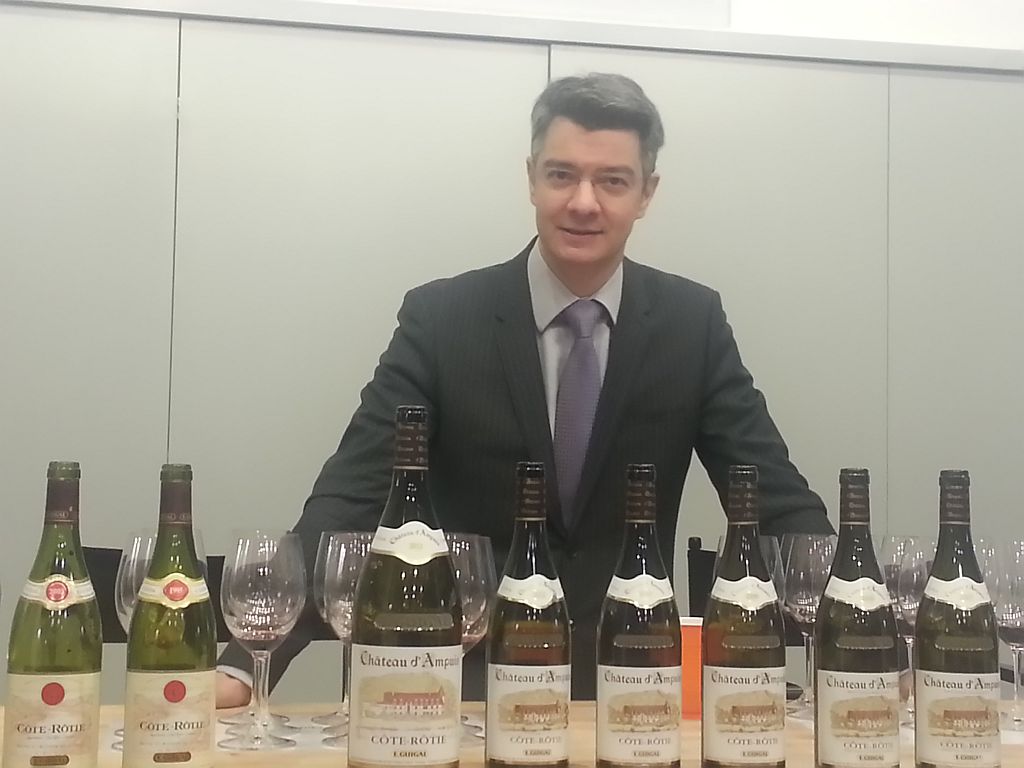 Earlier this year, Philippe came to Manhattan to present his Cote-Rotie wines. The Cote-Rotie appellation is the northernmost section of the Rhone Valley, and its name means "roasted slope" for the steep hillside terraces that are exposed to and absorb the sun's rays. He began by explaining the vineyards in the Rhone have roots dating to the Romans some 2,400 years ago.
But those 24 centuries would have been literally uprooted 40 years ago had it not been for the courage of Phillippe's father and grandfather who opposed the local authorities wanting to sell off abandoned vineyards to housing developers. Over decades, the Guigals have purchased the best vineyards as they became available. Today the family owns 80 of the 732 acres in Cote-Rotie.
We began the tasting with the 2011, 2003 and 1995 Cote-Rotie Brune et Blonde, long one of my personal favorites. Wine lore attributes the name to a noble person who had two daughters, one with brown hair the other with blond. Reality has a less sentimental interpretation: The soils of the Cote Brune are darker with iron and clay, giving the wine its structure, while Cote Blonde's lighter-colored sand and limestone contribute aromatics.
With three to five percent of the white grape, viognier, the syrah-based three vintages of Brune et Blonde painted a picture of what the Cote–Rotie vineyards yielded in different seasons. We began with the rain-influenced and cool climate 2011 Guigal Cote-Rotie Brune et Blonde displaying its flinty, black-olive and rosemary aromas. Continued on the palate, the tasty black-olive flavor is lined with bright acidity in its short finish. 88 Points. Price range $54-70.  See note at conclusion about prices.
But the 2003 Guigal Cote-Rotie Brune et Blonde's overripe prune-y and black olive is Mother Nature's flip side of the 2011. From that scorching summer, I have yet to taste any European wine that reflected its natural profile of aromas and flavors. Though this wine's cooked blackberry aroma and liquor-like flavor are odd, they're not surprising for 2003. 86 Points Price range $66-80. 
However, the rosemary, black pepper and black olive aromas in my glass of the  1995 Guigal Cote-Rotie Brune et Blonde displayed the range of scents that syrah offers when grown on the hillsides of Cote-Rotie. And blackberry flavor with integrated tannins brought a silky texture showing how wonderfully Guigal's Brune et Blonde ages. It reminded me of why I always had it on my restaurant wine lists and have the 2009 and 2010 magnums aging in my cellar. 93 points. Price range $80-100.
Chateau d'Ampuis has a thousand-year history in the town of Ampuis and has been the Guigal's restoration project since the start of this millennium. After acquiring it in 1995, they developed new vineyards at seven sites spread across Cote-Rotie's Brune et Blonde areas. Made from 93 percent syrah and 7 percent viognier, the Chateau d' Ampuis follows the same winemaking regiment as Guigal's "La-La wines": four weeks maceration and fermentation followed by 38 months aging in new oak barrels made by Guigal's coopers at the estate.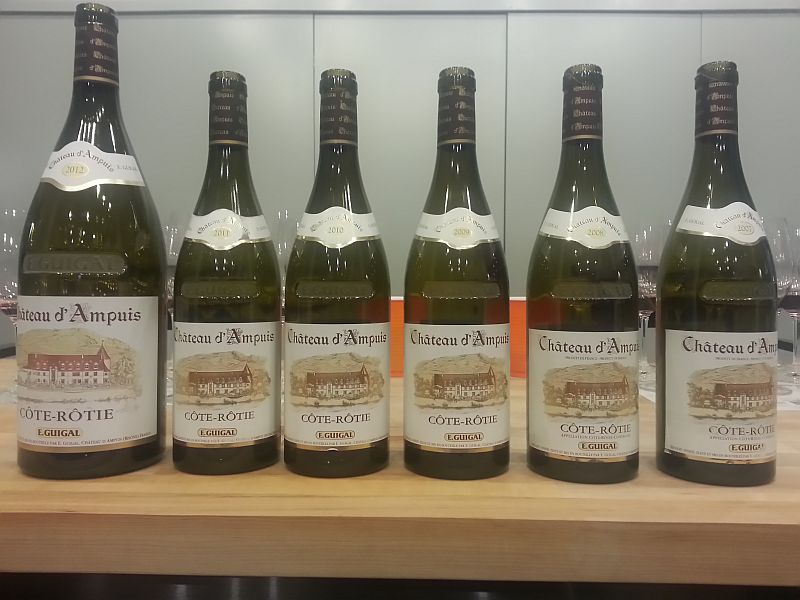 Philippe presented a vertical tasting of Chateau d'Ampuis from 2012 to 2007 by noting that the wine from the seven vineyards are made and kept separately until just before bottling. Only wines from six vineyards were used for the 2012 Chateau d'Ampuis that released an explosion of floral, red and black fruit, rosemary and smoky scents. And black olive, raspberry and cherry flavors coursed around my mouth with integrated tannins. This wine will age gracefully. 91 Points. Price range $80-145. Poured from a magnum.   
The 2011 Chateau d'Ampuis is like the middle child in a big family. It is not as showy as the 2012, lacks 2010's elegance and 2009's muscle. But, sitting quietly in the glass, it brings a cedar scent, and black olive, raspberry and cherry flavors with soft tannins that make it easy to like. 89 points. Price range $85-160.
"It was very easy to make great wine in 2010," Philippe noted as the 2010 Chateau d' Ampuis was poured into my glass. The vintage's refinement was evident in the intermingling of raspberry, black fruit and smoked black tea aromas, and elegant black olive, rosemary and raspberry flavors saddled to firm and harmonious tannins, giving the 2010 Chateau d'Ampuis a long finish. 97 Points. Price range $129-175.
The 2009 Chateau d'Ampuis is blunt about its red fruit character. It wants to show you what a cherry cobbler would be if it were liquefied. And it wants you to know that the tapenade, raspberry and cherry fruit flavors carry noticeable alcohol and lighter tannins that will let you drink this vintage while the 2010 is enhanciing its refined nature in your cellar. 91 Points. Price range $125-200. Given 2010's superior quality versus the price of the 2009, it's a no-brainer to opt for the former. 
Five vineyards contributed their grapes to the rain-plagued 2008 Chateau d'Ampuis. Guigal delivered a pleasantly fruit-scented and-flavored wine crisscrossing black olive, cherry, rosemary and cedar aromas and tasty cherry and blackberry flavors. This is your Chateau d'Ampuis for current drinking. 88 Points. Price range $87-143.
Our vertical tasting finished with the pleasingly red fruit-scented 2007 Chateau d'Ampuis. Created in a cool summer and windy and rainy September in Cote-Rotie, its black pepper and black cherry flavors were transported on a medium body with soft tannins. 89 Points. Price range $130-200.
While the Rhone was the only major red wine region in France to have a successful 2007, the southern Rhone shined brightest. If you come across Guigal's 2007 Chateauneuf-du-Pape on a wine list, order it. Buying it from a retailer at about $50 is not a good idea if it has been on the store's shelf for years exposed to the room's temperature, lighting and customers handling it.
The 2012 La-La Cuvees.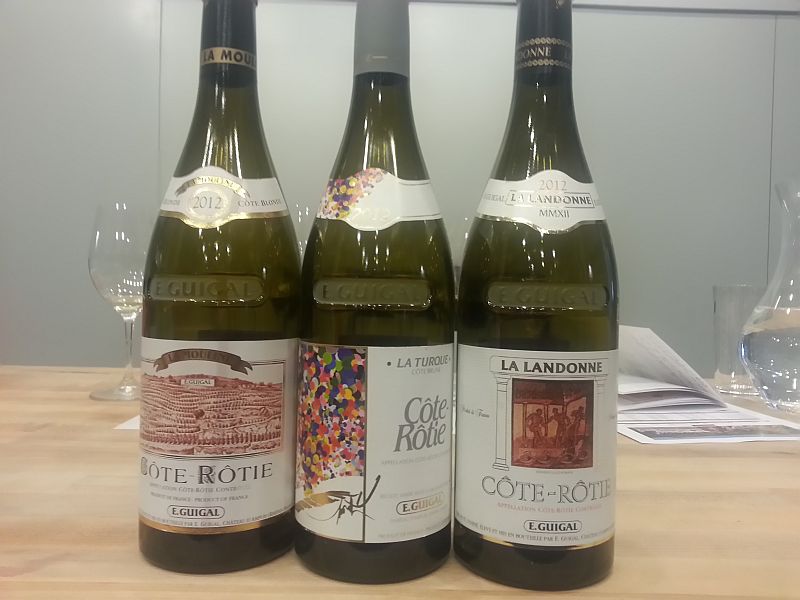 Wine collectors gravitate to what I call the "B wines": Bordeaux, Burgundy, Barolo, Barbaresco and Brunello. Then, there are the three single-vineyards Guigal Cote-Rotie cuvees: La Mouline, La Turque and La Landonne.
These three wines have a special following and a unique fact: they are the only red wines sought by collectors that are blended with a white wine. As with all of Guigal's Cote-Rotie wines, each is a blend of syrah and viognier.
La Mouline is in the Cote Blonde and planted with 89 percent syrah and 11 percent viognier; the two grapes are harvested and fermented together. La Mouline's high percentage of viognier has earned it a reputation as the most feminine of the three bottlings.
Purchased in 1966, it was Guigal's first single-vineyard in Cote-Rotie. Its 2.5-acres contain the oldest vines in the appellation, averaging 90 years and with plantings dating to the 1890s.
The 2012 Guigal La Mouline Cote-Rotie released a cloud of black cherry, cedar, black pepper and raspberry aromas; its ripe blackberry and cherry fruit flavors were infused with round tannins that gave the wine an elegant texture and made it very approachable.  96 Points. Price range $280-400.
La Turque is a 2.5-acre vineyard stretching across the Cotes Blonde and Brune and planted with 93 percent syrah and 7 percent viognier. When Guigal purchased the site in 1980, it had not been used as a vineyard for nearly 50 years. After replanting it, the first La Turque was produced in the great 1985 vintage. The vineyard has a southern exposure giving it sunshine from the sun's rise to its evening set.
The 2012 Guigal La Turque Cote-Rotie was immediately noticeable for its bigger structure and mouthfeel. More restrained than La Mouline in its fruit aromas, but delicious blackberry, black olive and cherry fruit flavors with a backbone of tannins. This wine needs a few more years of cellaring before it will display its full range of flavors and elegance. 96 Points.  Price range $300-400.
"This is a very sentimental vineyard for me," Philippe said as he presented the 2012 La Landonne.  His father planted the vineyard in 1975, the year that Philippe was born.
At 5.7-acres, La Landonne is the largest vineyard of the three cuvees. Guigal bought the vineyard a parcel at a time from numerous small owners. It's located at the northern end of the Cote Brune. With limestone and iron oxide soils, it is the last vineyard to ripen.
The herbal, dusty, earthy nose of the 2012 Guigal La Landonne Cote-Rotie is completely different from La Mouline and La Turque. And a cascade of flavors from raspberry to black cherry to black pepper flow across your palate on a mineral backbone and striking tannins. This is a bold wine that needs at least five more years of cellar aging. 98 Points. Price range $300-400.
At the conclusion of the tasting it was clear that Marcel Guigal's lifetime in Cote-Rotie is intertwined with the appellations rise to prominence; and Philippe's never ending quest for perfection is part of the family's DNA.
Whether you buy the great value Guigal Cotes du Rhone red, white or rose', the classic Chateauneuf-du-Pape, or any of the Cote-Rotie wines you will come as close to perfection as any winemaking family can consistently do. And that's extraordinary.
Note about pricing. I found a large price spread on all the wines. It will benefit you to search the web before purchasing any of the wines reviewed in this article. 
Photos: John Foy