Barolo beckons me when autumn's red and yellow leaves shimmer in its brisk wind, then lessens its grip with the blooming of spring's daffodils. It was between these two seasons that I tasted Marchesi di Barolo wines last year.
I arrived at Manhattan's Chefs Club where Valentina Abbona was presenting a selection of her family's Barolos from the current 2012 to the 1970 vintage. The sixth-generation of her family to own this prestigious property, Valentina has also inherited the vivacious personality of her mother, Anna Abbona.
Located in Piedmont's Barolo village, the estate owns 185 acres of vineyards and has access to another 245 acres through vineyards it leases and farms itself and long-term contracts with growers.
Marchesi di Barolo ferments in stainless-steel tanks, and ages its wine in a mix of traditional Slavonian oak casks and French oak barrels, producing classic translucent scarlet-red, spicy-scented, and red-fruit flavored Barolo wines.
Valentina began our tasting with the 2012 Marchesi di Barolo Coste di Rose Barolo. Coste di Rose is a steep hillside vineyard that produced ripe, cherry-scented-and- flavored nebbiolo grapes in the excellent 2012 vintage. Behind the tasty fruit are integrated tannins and a bright acidity that gave this well-made wine a tangy, cherry and raspberry red zinger tea-like finish. 91 points. Expect to pay about $80 to $85.
We move to the 2006 Marchesi di Barolo Coste di Rose Barolo.  Born in a warmer year than the 2012, this older sibling displayed more complexity with its cinnamon, tobacco and black pepper aromas. Those unfamiliar with nebbiolo's similarity to Burgundy's pinot noir texture will be surprised by the wine's refinement, and delighted with its tobacco and dried-cherry flavors. 93 points. Expect to pay about $75.
Cannubi is one Barolo's most prestigious vineyards (called Crus in Piedmont) and the 2012 Marchesi di Barolo Cannubi Barolo displays its generous qualities. Enticing floral, cherry and raspberry aromas are elevated by cherry and red licorice flavors. An earthy, tannic backbone provides the structure for a decade or two of aging capability. 93 points. Priced from $80 to $120.
The 2006 Marchesi di Barolo Cannubi Barolo is not available in the retail market but if you see it on a wine list, don't hesitate to order it (provided the restaurant has proper wine storage). It's bursting with floral, tobacco and red fruit aromas, and delicious ripe cherry and tobacco flavors with integrated tannins. 93 points.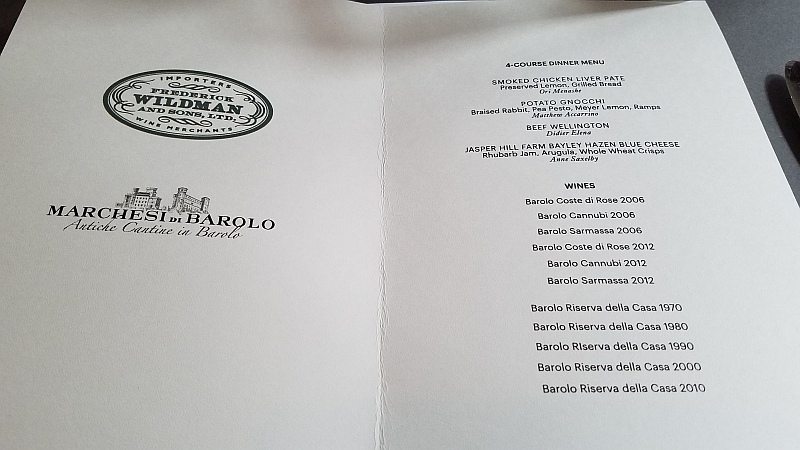 As we progressed to the mature vintages, the wines retained their essential combination of red fruit scent and flavor accented by a vintage's aromas and flavors of allspice, black pepper, leather and tobacco.
The mature 1980 and 1970 showed Marchesi di Barolo's capacity for aging and the reward that cellaring brings. Rich, layered and complex, they're great wines for fireside reading or dining in these months between fallen leaves and spring blooms.
Photos by John Foy