Maven derives from the Yiddish word, meyvn, meaning one who understands … a connoisseur, if you will. In the wine world, there are many such folk, often specializing in a region or a grape variety. In the 20th century, for zinfandel, that teacher has been Joel Peterson.
The son of two chemists, Peterson was working as a microbiologist in San Francisco in 1976 when his passion for wine got the better of him. He bought seven tons of zinfandel grapes and made two single-vineyard wines. Soon after, he created Ravenswood winery, which became America's leading zinfandel producer.
At that time, Peterson had to overcome the tidal wave of "white zinfandel," a misnamed pink, sweet, cheap wine that ignominiously misrepresented both zinfandel (a red wine) and rose (generally, a crisp, dry wine)—not unlike what Beaujolais Nouveau did to Beaujolais.
Ravenswood gained its reputation for wonderfully complex zinfandels, many from grapes grown on heirloom vines in single vineyards dating to the late 19th century. The winery was also known for its well-made zinfandel regional bottlings, and its everyday, good-value Vintner's Blend label. Only Ridge Vineyards—another single-vineyard estate near the Monte Bello Ridge—developed a following and reputation for its zinfandel that rivaled Ravenswood. (Ridge, however, remained famous for its Monte Bello cabernet sauvignon.)
On my way to meeting Gary Sitton, Ravenswood's new winemaker, I recalled that during the mid-1980s and 1990s, I always had a few Ravenswood single-vineyards zinfandels on my restaurant lists, and often offered its Sonoma Old Vines or Vintner's Blend zinfandels by the glass. Last July, I opened a bottle of the 2001 Ravenswood Barricia Vineyard Zinfandel (six of the 10 acres were planted before 1892), which after 30 minutes in the decanter, revealed its delicious, spicy fruit flavors. I was looking forward to this update.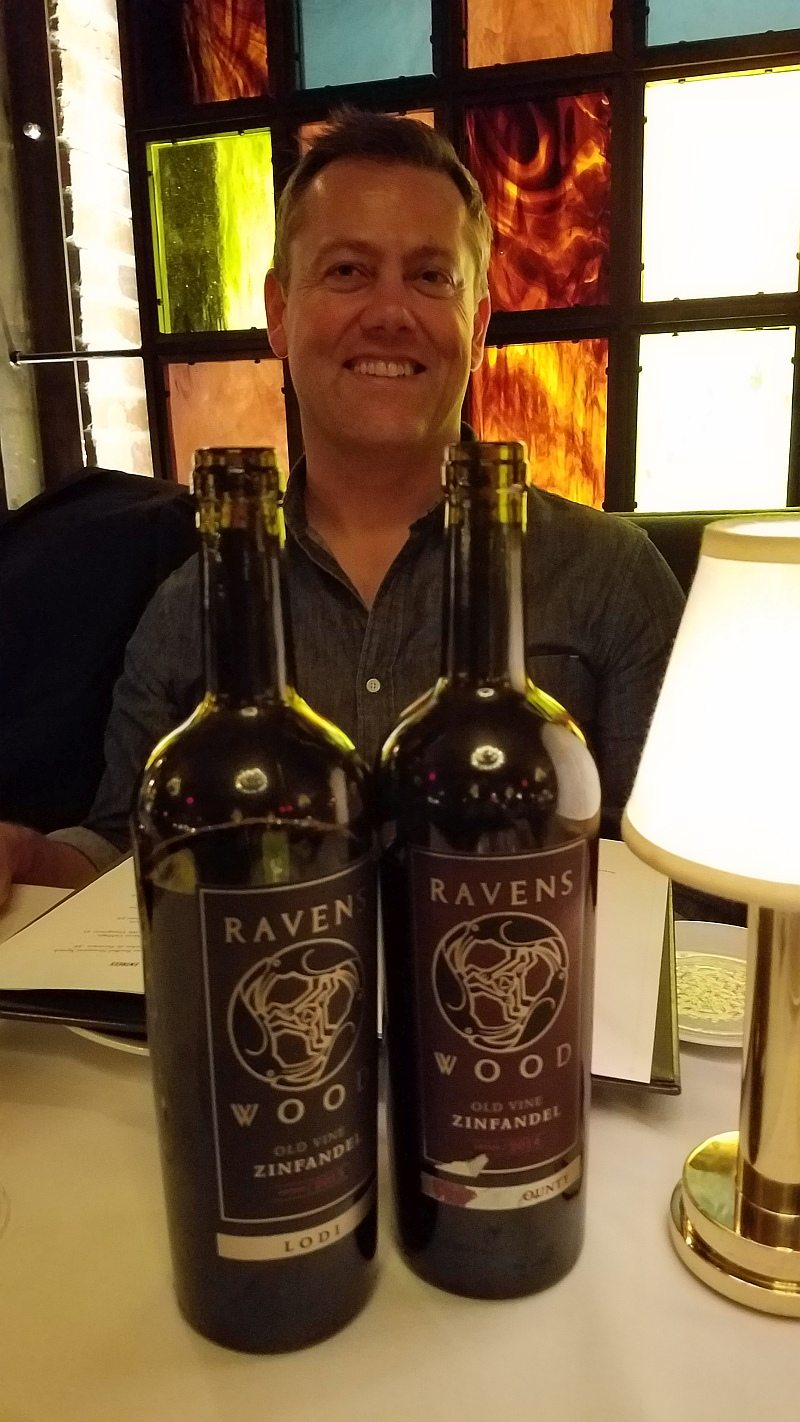 Temple Court restaurant in lower Manhattan, was the site of our tasting from Sitton's inaugural vintage. Sitton, who worked with Peterson from 1999 to 2007, rejoined Peterson and Ravenswood in 2015. With a broad smile, he said "Like the Prodigal Son, I returned home."
Sitton poured the 2015 Ravenswood Old Vines Lodi Zinfandel. Lodi's warm climate makes it the first of Ravenswood's three county zinfandels to be harvested. Its blackberry, mulberry and black-pepper aromas and flavors reminded me of Languedoc's mourvedre. Noticeable tannins bring balance and a pleasing finish. Give an hour of aeration and you'll have a very good-value red wine for your steak. 88 points. Retail prices range from a remarkable $11 to $17.
The 2015 Ravenswood Big River Vineyard Alexander Valley Zinfandel is from a 14 acre vineyard planted around 1893 above a bend of the Russian River in Sonoma County's Alexander Valley. Sitton said the Big River Vineyard's entire planting of immaculately farmed 19th century vines tells "the story of California zinfandel at its purist."
Its enticing black-fruit and vanilla aromas are matched by the black-cherry and red-plum-like flavors. With an hour or two of aeration you'll enjoy softer tannins and the rich fruit quality of this Big River zinfandel. 89 points. Retail price is $39.
Belloni Vineyard is named for Ricardo and Natalia Belloni, Italian immigrants who purchased the property outside of Santa Rosa in 1971. The vineyard was planted around 1900 with a mix of zinfandel, carignan, petite sirah and alicante bouschet.
In 1991, Ricardo called Peterson, who had a well-earned reputation for buying old vine zinfandel grapes. Since that call, Ravenswood has annually produced a Belloni vineyard-designated zinfandel, save for 1993 and 1994, when Peterson blended the grapes with those from several other zinfandel vineyards.
The 2015 Ravenswood Belloni Vineyard Russian River Valley Zinfandel is a field blend of Belloni's four grapes picked and fermented together. It yields a pungent plummy black-fruit and black-pepper nose with elegant, rich blackberry, black-plum and black-pepper flavors. It was excellent with Temple Court's braised lamb. 91 points.  Retail price is $39.
It's fair to say that without Otto Teller, there would be no Old Hill Zinfandel. His story is too long for this column, but Teller was one of those unique people who leaves a legacy because he lived his vision of life. (The full tale can be found at https://www.ravenswoodwinery.com/Vineyards: click on Old Hill.)
The story of 2015 Ravenswood Old Hill Sonoma Valley Zinfandel can be narrated. It's a field blend of 26 grapes picked and fermented together, which delivers a kaleidoscope of aromas and flavors ranging from cinnamon to plum, blackberry and black pepper—just to note the most prominent. The tannins are not shy either, so you'll be advised to decant this for a few hours. Sitton said it has the best aging potential of all the Ravenswood zinfandels and, I say, the best story, too. 92 points. The wine will arrive in the marketplace shortly, expect to pay about $60.
Teldeschi vineyard in Dry Creek Valley is owned by John Teldeschi, whose father, Franco (Americanized to Frank) was brought to California as a child from Tuscany after World War II by his father Lorenzo. The family's 30-acre vineyard is planted with zinfandel vines dating from 1913, along with petite sirah and carignan.
In the late 1970s, Peterson contacted Frank and after drinking the family's homemade wine, began purchasing their grapes. Sitton follows Ravenswood's procedure of fermenting the three grape varieties separately before blending. Depending on the harvest, the Teldeschi vineyard wine is 80 to 90% zinfandel and 5 to 10% petite sirah and carignan, respectively.
The 2015 Teldeschi Vineyard Dry Creek Zinfandel had the most reticent nose of the wines in the tasting. But its black-fruit character was just the opposite on the palate: explosive and mouth filling. With a few hours of aeration, the tannins evolve into a supple supporter. 90 points. Retail price is $39.
In any business, following a legend is no small task. But Sitton's eight years at Ravenswood allowed him to take the winemaker's mantel with his eyes wide open. The 2015 Ravenswood single-vineyard wines shows he sees the future clearly.
Photos by John Foy