Two weeks ago, we examined the pinot noirs of Oregon's Willamette Valley. Now, the dog days of August seem like a good time to review the state's white wines.
We pick up the trail in 1966 when visionary-pioneer David Lett ignored all the naysayers in the California wine business and drove to Willamette Valley to plant pinot noir. He became the first person in America viticulture to plant pinot gris (read Lett to Ladiere, Jan. 26, 2017) and made the first wine from that variety in 1970 (an overwhelming 11 gallons, or about 55 bottles). It's now Oregon's second-largest planting after pinot noir (pinot gris is a mutation of pinot noir).
In 1982, Montinore Estate was founded by the Graham family, who made their first wines in 1987. A decade later, they hired Rudy Marchesi from New Jersey's Alba Vineyards as a consultant, who initiated organic and biodynamic farming in 2003. When the Grahams retired, Marchesi purchased the estate in 2005 and coverted the 200 acres to biodynamic cultivation. It was certified by the world-leading Demeter organization in 2008, making Montinore the second-largest biodynamic vineyard in America.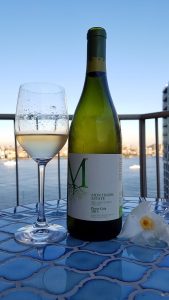 The 2015 Montinore Pinot Gris Willamette Valley is made from two pinot gris clones that David Lett and David Adelsheim brought from Alsace, France in the 1970s. Montinore gave the honorific Lett Selection to the clones.
Made and aged in stainless-steel tanks, the 2015 Montinore pinot gris has a very appealing floral and sage scent. The tasty pear flavor is balanced with lively acidity, making it a delightful partner with soft-shell crabs, followed by a wedge of mature Camembert cheese. 90 points. Prices range from an incredible bargain at $12 to a reasonable $18.
In 1995, John and Mary McClintock founded the 20-acre Vista Hills Vineyard in the prestigious Dundee Hills area of Willamette Valley. Acclaimed for its brownish-red volcanic Jory soil, Dundee Hills is also home to the renowned Eyrie Vineyards (David Lett) and Domaine Drouhin wineries. Both border Vista Hills Vineyard.
The McClintocks planted their first plot (1.4 acres) with pinot gris in 1997. Over the next decade, 42 acres were planted, including a second plot (3.8 acres) of pinot gris. The other acreage is devoted to pinot noir.
From these vines came the 2015 Vista Hills Treehouse Pinot Gris with its jasmine and honeysuckle fragrances, full body, and pronounced flavors of peach and apricot riding on stream of acidity. It was very pleasing with sautéed scallops in a caper-flavored butter sauce. 89 points. Good-value at $13 to a reasonable $19.
The 2014 Bethel Heights Chardonnay Eola-Amity Hills Willamette Valley offers a lesson in the importance of glassware.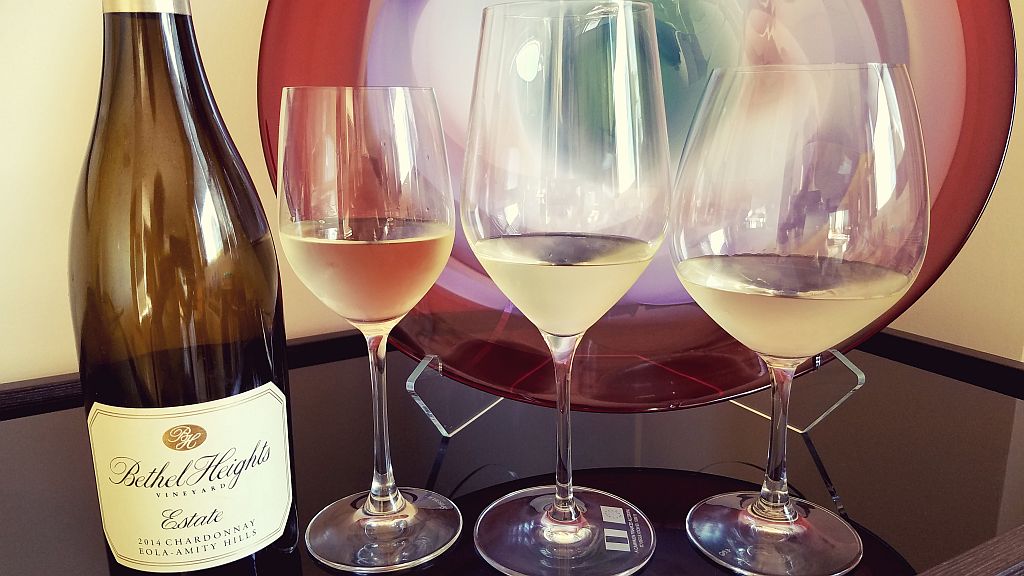 I poured the 2014 Bethel Heights chardonnay into the Spiegelau Vino Grande Burgundy, a 25-ounce glass I use for most wines, and was my standard glass at my former Sonoma Grill restaurant.
In it, the chardonnay's alcohol dominated the aroma and my palate. I put the glass aside and fetched a nearly equally large glass that tapered the way an ice-cream cone does. The result was the same: alcohol was the primary perception.
Then, I took a small, 10-ounce standard non-descripted wine glass from the cabinet. In it, the same chardonnay displayed harmonious apple and vanilla aromas, and mellow pear and apple flavors underlined with a soft acidity. Banished was the dominating alcohol presence of the larger glasses. Shockingly, this "lesser" glass was the winemaker's friend.
As for the wine itself, it was born in Bethel Heights' warmest season since its founding as the first vineyard in Eola hills in 1977. It was fermented and aged in oak barrels running from the classic 225 litres to 500 litre puncheons to a 3000 litre foudre, and treated with full malolactic fermentation. And what was the alcohol level you ask? A very reasonable 13.3 percent. Thus, the importance of the glass.
88 points (substantially more than what the rating would have been if tasted only from either of the larger glasses). Retail price $29 to $32 with limited distribution.
Photos by John Foy