Few wineries create an iconic wine. And fewer still create an appellation. Sassicaia did both.
Marchese Mario Incisa della Rocchetta wanted only a glass of wine. World War II prevented him  from acquiring his beloved Bordeaux wines, so in 1944, he received cuttings of cabernet sauvignon from a friend's estate near Pisa and grafted them to vines on a small plot of his 6,000 acre estate in Bolgheri—at the time, an unknown town near the Tuscan coast. His first wine was in 1948, made with French varieties and Bordeaux methods, on his estate, Tenuta San Guido.
While Rocchetta's estate was famous for its horse breeding (he co-owned Ribot, one of history's greatest race horses), it was also known for its environmentally sensitive farming and as a nature preserve. In 1958, Rocchetta founded Palude di Bolgheri, the first large wildlife preserve in Italy. He also founded a grammar school on the estate for the children of its employees, whose reputation for a quality education attracted children from the surrounding area.
On this multifaceted estate, Rocchetta made his cabernet sauvignon-based wine (including 15 percent cabernet franc) for the pleasure of his family and friends. He named it Sassicaia, meaning "stony ground" in the local dialect, for the topography of the vineyard. An adjacent 19th-century farmhouse bore the same name.
In 1968, with the encouragement of his cousin, vintner Marchese Piero Antinori, Rocchetta marketed a small quantity of Sassicaia. It was immediately recognized as unique: a Tuscan wine with Bordeaux breeding.
Though classified Vino da Tavola, the lowest Italian wine appellation. Sassicaia was sought by collectors and carried one of Italy's highest price tags. In 1994, the Italian wine authorities recognized what the wine world had already declared: Sassicaia was singular. They granted Sassicaia its own appellation, Bolgheri Sassicaia. It was the only wine in Italy and one of the few in the world to be so recognized.
Last month, I traveled to Bolgheri for a series of tastings. My first was at Tenuta San Guido with Rocchetta's granddaughter Contessa Priscilla Incisa della Rocchetta, the third-generation member who represents the winery.

Contessa Priscilla Incisa della Rocchetta at the map of Tenuta San Guido.
We began with the red-fruit fragrant 2014 Sassicaia born in a promising season that turned rainy and cool in August. Sassicaia's lower than normal 13 percent alcohol, and more cherry-flavored fruit reflects the challenges of this vintage. But skilled winemaking captured the vineyard's minerality and integrated the tannins, giving the 2014 balance and length. 90 points.  Prices have a wide range of $160 to $238, shop accordingly.
If you could "cut and paste" the 2010 vintage with the 2014, you would take the former's August and September and marry it to the latter's spring. But Mother Nature is not so elastic.
Instead, the 2010 Sassicaia was created from a season that was stunted by a frigid winter that delayed the vines' awakening, followed by a cold, rain-filled spring, which postponed its flowering. But with summer's arrival, temperatures turned normal and the vines gradually developed; patience was rewarded with a warm and dry harvest that extended from late September to the final days of October.
Black-cherry runs through the 2010 Sassicaia. It presents itself in the color and performs dramatically in the aroma and flavor. Behind it is an elegant, velvet-y texture and a secondary flavor of tobacco, which I love to find, but never do, in every cabernet wine—be it sauvignon or franc. Sassicaia's stony vineyard leaves behind a telltale mineral taste. The future for this wine is as bright and warm as was its harvest. 94 points.  Retail pricing has a wide berth of $170 to $300.
The cool, rainy spring that delayed the vine's flowering and reduced its grapes was not an encouraging sign in 2008. But a warm, dry, sun-filled summer delivered a normal harvest from mid-September through the first week of October, and a stunning 2008 Sassicaia. 
The black-cherry aroma is laced with secondary scents of tobacco and leather that produced a magnetic field that kept pulling my nose to it. Equally compelling for the mouth is the delicious black-cherry, black-tea and herbal flavors that endlessly glide across the palate. The 2008 Sassicaia is developing into a masterpiece: complex aromas and flavors, harmonious fruit and minerality, a luxurious texture, and many more years of life. 98 points.  Retail prices range from $180 to $240.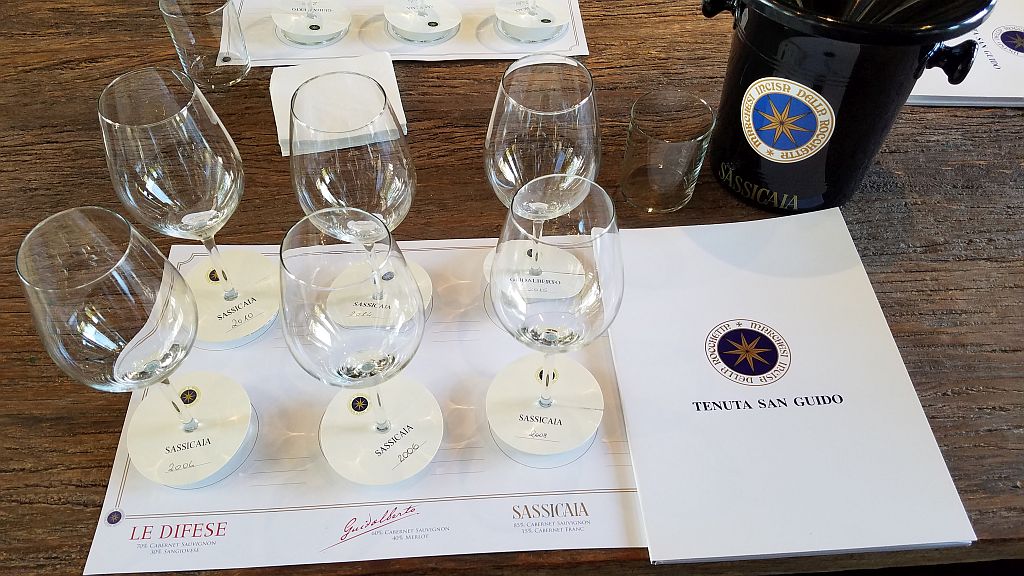 Sassicaia is not a showoff. It takes a decade or so before its evolution puts it into the unique position of being like Bordeaux but not of it, and of Tuscany but not like it. I sensed it with the marvelous 2008, and experienced it fully with the 2006 Sassicaia.
The 2006 season was less dramatic; rain was intermittent, a hot June and July was balanced by a milder August, and the sunny, dry, September harvest let the winemaker send his pickers into the vineyard to fetch healthy, ripe grapes.
From my glass, the nearly 11-year-old wine released a profusion of aromas ranging from black-cherry, dried oregano, tobacco, to Darjeeling tea. Sassicaia's minerality was on vivid display with its graphite-like backbone supporting a rich, intertwined blackberry and tobacco flavor, which remained on my palate so long I thought I should give it a parking ticket. 96 points.  Retail prices from $225 to $325.
As in 2006, the growing season in 2004 let the winemaker relax. The vegetation cycle brought a normal spring flowering with good grape clusters, and a gentle, sunny summer permitted a gradual ripening, insuring aromatic, flavorful fruit.
I was immediately enthralled with the 2004 Sassicaia: its cabernet sauvignon and cabernet franc released clouds of leather and tobacco scents that were fuller than the pleasing 2006 and 2008 renditions. Then, Sassicaia's trademark blackberry and black-tea aromas drifted from the glass, giving me every reason to enjoy waiting before tasting the wine. But once the rich, black-fruit flavors lined with Sassicaia's tobacco and stony essence coursed around my mouth, a new level of pleasure arrived with its own reason to linger. 95 points. Retail prices from $175 to $320.
As we progressed from the youngest to oldest vintage, it was clear that be it good or troubled-weather, Sassicaia has an essence that speaks for itself. All the wines share a proportionality of fruit aromas and flavors, the soil's minerality, and a medium to full-body that comes from the vineyard. Absent are the wine consultant's bag of tricks running from extra-ripe fruit, intensive oak-aging, and excessive alcohol that inhabit a number of Bolgheri wines founded in the last 30 years.
After returning home, I wanted to see the evolution of the 2000 Sassicaia, so I opened a bottle from my cellar. Its black-cherry color was still youthful; after 15 minutes, toast, coffee, and earthy fragrances floated from the glass (I used the 25-ounce Spieglau Vino Grande Bordeaux), and a gravelly, ripe, red-fruit flavor appeared. Over the ensuing hour, an elegantly textured bay leaf, dried oregano, cherry, black-tea and coffee-scented and-flavored wine harmoniously crossed my plate. In a blind tasting, it would be easy to misindentify this wine as Bordeaux.
But as I lingered over my dinner, I accidentally discovered that after three hours, the 2000 Sassicaia shed its skin of herbal, red fruit, and mineral aromas and flavors, and evolved into a delicious, velvet-textured blackberry-flavored wine with no sign of age. It was an amazing transformation. And it explains why you should always decant great wines. I kept the wine inside its bottle and relearned, belately, the value of "practice what you preach."
As this bottle was from my cellar, I will not numerically rate it, but I will tell you that if you are fortunate to own the 2000 Sassicaia, or can purchase it from a source that guarantees its provenance, you will be rewarded with a superb wine.
Vertical tastings are necessary if you want to understand the DNA of a wine. For me, Sassicaia shared similarities to Chateaux Cheval  Blanc and Figeac, both St. Emilion Premier Grand Cru Classe wines. There is the black-fruit, tobacco and leather qualities found in Cheval Blanc and Figeac; the mineral aspect and the wine's weight on the palate. And both, unlike most St. Emilion wines, have a significant percentage of cabernet franc and cabernet sauvignon.
But there are differences, too. Sassicaia brings an herbal seasoning to its blend, something that I find particularly attractive. Perhaps, it's my chef's palate; I like Sassicaia's gradations of aromas and flavors. I like its uniqueness. It's why I always have vintages of it in my cellar.
Photos by John Foy & William Foy