In 1981, Lodovico Antinori founded Tenuta dell' Ornellaia in Bolgheri, then, an obscure Tuscan town except to those in the wine world.  Nearby, Antinori's cousin, Marchese Mario Incisa della Rocchetta owned Tenuta San Guido where the world-famous Sassicaia wine was made from cabernet sauvignon and cabernet franc. Following his cousin, Antinori planted those two Bordeaux varieties as well as merlot and petit verdot.
But in contrast to his cousin, Antinori hired Michel Rolland as his wine consultant, whose advocacy of ultra-ripe grapes, long maceration and extensive aging in new French oak barrels often results in high alcohol, jammy wines.  Rolland retains his consultancy at Ornellaia.
With the passage of time, Ornellaia gained a reputation for two excellent red wines: its eponymous Bordeaux blend, and Masseto, a single-vineyard pure merlot. Adding to its fame was an excellent white wine made from sauvignon blanc, Poggio alla Gazze (read Glorious white wines where others see red).
But as the end of the 20th century approached, Antinori's financial position required him to sell a minority holding to Robert Mondavi. In 2002, Mondavi bought out Antinori, then sold 50 percent of Ornellaia to Marchesi de Frescobaldi, with whom Mondavi had a partnership at Tuscany's Luce delle Vite winery (read: Seeing the light with Luce). Three years later, Mondavi was taken over by the international wine and spirits company, Constellation Brands, and Frescobaldi exercised its option to buy Mondavi's half of Ornellaia. Today Ornellaia is the crown jewel in Frescobaldi's Italian winery portfolio.
With full ownership, Frescobaldi hired winemaker Alex Heinz, and assistant winemaker Olga Fusari. In July, I met with Fusari for a tasting of Ornellaia and Masseto.
Olga Fusari at Ornellaia
Our tasting not only examined the two wines, but under two sets of weather: Ornellaia's cool years in 2014, 2010 and 2005, and Masseto's warm to hot vintages of 2013, 2011 and 2009.
In a normal year, Ornellaia is made from a blend of 40% each merlot and cabernet sauvignon, 13 to 15% cabernet franc, and 5 to 7% petit verdot. But cool years skewer the ratio.
We began with the 2014 Ornellaia which Fusari said, "will be remembered forever as a complicated year."
She told the story of a season that was perfect until the cold, rainy weather arrived at the end of July. She emphasized that vineyard management was critical for a successful wine in 2014.  At Ornellaia, leaves were cut from the vines, exposing the grapes to the meager sunlight, and allow the pickers to select only ripe clusters during their three passes through the vineyards. Then, the grapes were inspected one by one on the sorting tables in the winery. The harvest, which normally began in late August and finished by the end of the September, ran until October 26.
From such a meticulous effort came the 2014 Ornellaia with its fragrant floral, cherry and cinnamon nose, and a medium body delivering tasty black-cherry fruit with a stony finish. Fusari said that petit verdot's perfect ripeness comprises 20 percent of the blend–three times its normal volume. For me, it brought a noticeable acidity, which will require a few years in your cellar to coalesce with the fruit. 90 points. Retail prices range from $135 to $260, consider buying at under $200.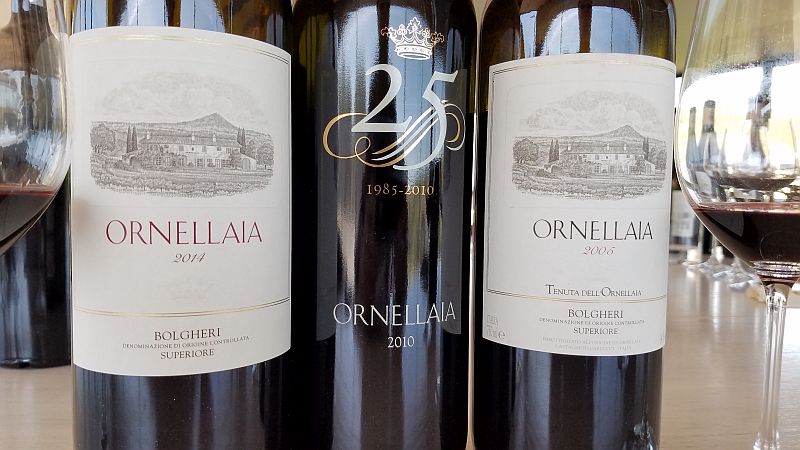 The 2010 Ornellaia is from a cold spring that delayed the vines' flowering and a cool growing season slowed the grapes' maturation; harvest began September 14 in place of its usual end of August onset.
But the cool, gradual ripening brought the advantage of balanced fruit and acidity to the 2010 wine. Its black-cherry aroma is laced with a wood scent from the 70% new oak barrels in which the wine aged for 18 months. Its 54% cabernet sauvignon drives the blend with black fruit and tannins. The 12% cabernet franc adds it black-tea character, while the 28% merlot brings a red-fruit taste, softness and harmonizes the wine.
This vintage requires at least 30 minutes aeration. History shows that wines from cool, gradual ripening vintages often age remarkably well, so don't hesitate to cellar the 2010 Ornellaia. 92 points. The wide price range is $179 to $291; consider buying at under $200.
Fusari is sentimental about the 2005 vintage as it was the first one for her and Heinz at Ornellaia. The challenges of the vintage only add to its endearment.
After a very cold winter and cool spring, the vines developed normally. But the harvest was interrupted by rain and didn't finish until mid-October. A careful selection yielded ripe fruit with soft tannins.
Driven by 60% cabernet sauvignon, the 12-year-old 2005 Ornellaia is very drinkable. It tannins are integrated with black-fruit flavor. In a difficult vintage, the new team produced a very well-made wine. 90 points.  From $150 to $270, only the lower end of the price range warrants consideration.
Masseto is a pure merlot wine grown in a nearly 17-acre hillside vineyard of clay, granite, sand, volcanic soils, and crustacean shells (Bolgheri is near the Tyrrhenian Sea). The various soils are spread across six plots and the grapes of each are harvested and fermented separately. First made in 1986 as Ornellaia Merlot, subsequent vintages carried the Masseto name.
Ornellaia's Masseto is often compared to another great merlot-based wine, Chateau Petrus. While they have commonalities in pricing and international acclaim, they are dissimilar in style. Its aroma, flavor, mouthfeel and alcohol content give Masseto a New World sensibility. From Bordeaux's Pomerol appellation, Chateau Petrus is more restrained.
While Fusari presented the 2013 Masseto in the selection of warm to hot vintages, the season was rainy throughout the spring, causing irregular flowering and lower yields. There were a few hot spikes in the summer, but a cool August gave the merlot good acidity. The harvest took place September 12 to 24.
In my glass, the 2013 Masseto has floral, sweet vanilla and red plum fragrances. Its plush-textured red plum and peppery flavors, laced with integrated tannins and acidity make the wine instantly appealing. 92 points. Retail prices range from $550 to $800.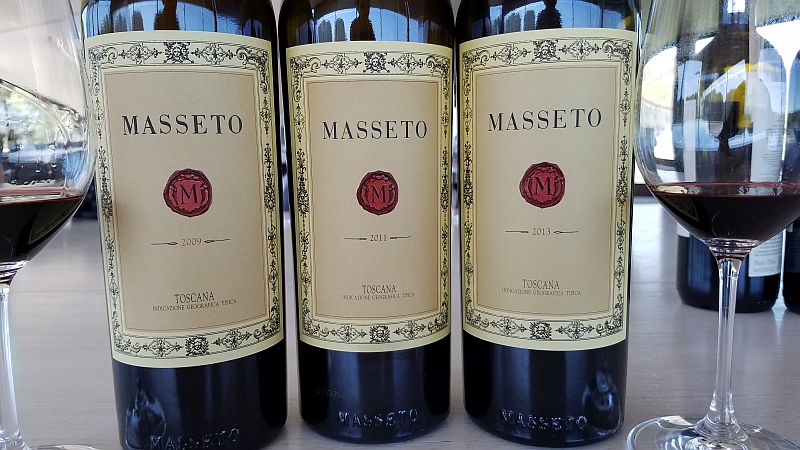 Hot winds from Africa descended on Tuscany in August 2011 causing grapes to ripen with high sugar levels and lower acidity. Merlot is particularly sensitive to heat, and was picked a week earlier than normal in Masseto's vineyard.
The 2011 Masseto's vanilla, red plum, white pepper and cedar aromas made me anticipate a fruit and oak-driven flavor (Masseto is aged 24 months in 100% new French oak barrels), but much to my surprise the wine's red-fruit flavor was submerged under noticeable tannins, the vineyard's minerality, and a stony finish. Masseto's breeding and history assure a merging of the separate parts; I would project 2022 to 2025 for the coming together. 90 points. Retail prices range from $500 to $845.
In 2009, heat was prevalent throughout the vineyard areas of the northern hemisphere. From Washington State, which recorded its hottest summer, to Germany and Austria and everywhere in between, sunshine and warmth were abundant.
In Bolgheri and at Ornellaia, the harvest brought healthy grapes, producing a 2009 Masseto with pungent red-fruit and vanilla-oak aromas, mouth-filling red-plum and cherry-fruit flavors stitched with mellow tannins, and a dollop of milk chocolate flavor in the finish. Wines from hot vintages are rarely long-lived, but offer delicious drinking during their span of time. Enjoy the 2009 while you wait for the 2011 Masseto to develop. 92 points. Prices range from $540 to $784.
In reflecting on the Bolgheri red-wine estates profiled in the last three articles, there is a spectrum for them. At one end is Sassicaia with its Bordeaux-like style and Tuscan richness; at the other end is Ornellaia with its New World-styled red-blend eponymous wine and Masseto. Moving towards the Sassicaia model is Gaja's Magari (but not the other Ca'Marcanda wines, which, based on tastings over the years, are more New World than Ornellaia).
With time, I would not be surprised to find Ornellaia shedding the Michel Rolland influence, nor to find Gaja move all of Ca'Marcanda wines in the direction of Magari.
There are other Bolgheri wineries that are at the extreme end of the spectrum with their over-ripe fruit, excessive oak influence and other winemaking techniques of that genre. But this is what happens in a new appellation with the freedom to make what the winery and/or its importer thinks will sell.
But I cannot escape thinking, do we really need more New World-styled wines from the center of the greatest wine nation?
Photos by John Foy and William Foy