Fifth article of a series from an autumn 2018 visit and tastings in Piedmont.
Before his untimely death in 1988 at 54 years old, Renato Ratti was one Barolo's legendary figures. He was also a visionary, adjusting his winemaking by shortening maceration and fermentation times, and reducing oak barrel aging of his wines to two years from Barolo's traditional four to five years—winemaking steps that others followed.
Inspired by Burgundy, he was the first to investigate the soils of Barolo and Barbaresco vineyards, creating the Carta del Barolo with its classification of single vineyards and best vintages. In the 1980s, the region's wine producers recognized his leadership skills, electing him president of the Barolo consortium, as well as the general director of the Asti consortium.
He purchased a plot of the Marcenasco vineyard in Barolo's La Morra village in 1965. In subsequent years, he added acreage in Marcenasco, and purchased plots in La Morra's Conca and Rocche crus. His first Marcenasco wine was made in the 14th-century Abbey L'Annunziata, which, years later, Ratti transformed into the Renato Ratti Museum of the Wines of Alba with objects and documents that tell the story of the region's wines.
Upon his death, Renato's 20-year-old son Pietro, whose diploma from the Alba enology school was freshly printed, assumed control of the family business. Although young, he inherited his father's vision, buying vineyards when he could, leasing others not for sale, and purchasing grapes on long-term agreements—a handshake and your word. And, following in his father's footsteps, Pietro has been twice-elected president of the Barolo consortium.
In 2005, Pietro completed constructed of a new winery into the hillside below the abbey with an innovative grass-covered roof that helped control the subterranean temperature and humidity (which now seems prescient with today's warmer temperatures). It was in the underground cellar that I met Pietro last November as we tasted the recently fermented 2018 wines from the stainless-steel tanks and barrel samples of the 2017 and 2016 single-vineyard Barolos. Afterwards, we tasted recently released wines and older vintages upstairs in Ratti's private tasting room.
The 2016 Renato Ratti Nebbiolo Ochetti is made from grapes purchased from the same families for 40 years, and is one of the great values from Piedmont and in the wine market at large. Its eye-appealing translucent cherry hue is complemented by the black-cherry and red-licorice aromas. Very tasty raspberry and cranberry flavors with integrated tannins and a mild mineral accent in the long finish make this a delicious, eminently drinkable wine. Factor in its $19 to $25 price tag, and you have a great wine bargain. 90 points. 
Pietro with an Imperial of Marcenasco
Renato Ratti bottled and labeled his Marcenasco wine, making it the first single-vineyard Barolo, or what came to be called a cru. Since then, additional plots were purchased making the 2014 Renato Ratti Marcenasco Barolo a blend within the single vineyard. Its black-cherry color is highlighted with a youthful purplish-tinted edge and the nose offers black-cherry and herbal scents of thyme and marjoram. Crossing the palate are black-cherry and cranberry flavors and a stony undertone that uplifts the fruit flavors in the finish.  92 points. Retail prices range from $40 to $77.
Less than two acres, Conca is one the smallest vineyards in the Barolo zone. It lies behind the abbey and was documented by the Benedictine monks in the 12th century. The 2014 Renato Ratti Conca Barolo from here holds true to form of being bigger and richer than Marcenasco. Red fruit and coffee aromas are in the fore, and rich cherry and plum flavors are supported with tannins and a gravelly backbone. Where Marcenasco is ideal at age 5, Conca needs a few years more to show its best. 92 Points. Retail prices range from $78 to $90.
Rocche is my favorite vineyard in La Morra. In its youth, I'm always struck by Rocche's Campari-like aromas of cherry and cinnamon combined with other red-fruit scents from the particular vintage.
The 2014 Renato Ratti Rocche dell' Annunziata adds a strawberry accent to the Campari-like aroma and flavor, and the blue marl and sandy soils deposit a gravelly undertone. Such complexity is what make Rocche a grand cru style wine and Ratti's 2014 is at that level. 94 points. Retail prices range from $83 to $110.
We began a trio of older vintages—two Rocche and one Marcenasco—that showed the complexity these single-vineyard wines offer for those who have the patience to cellar them.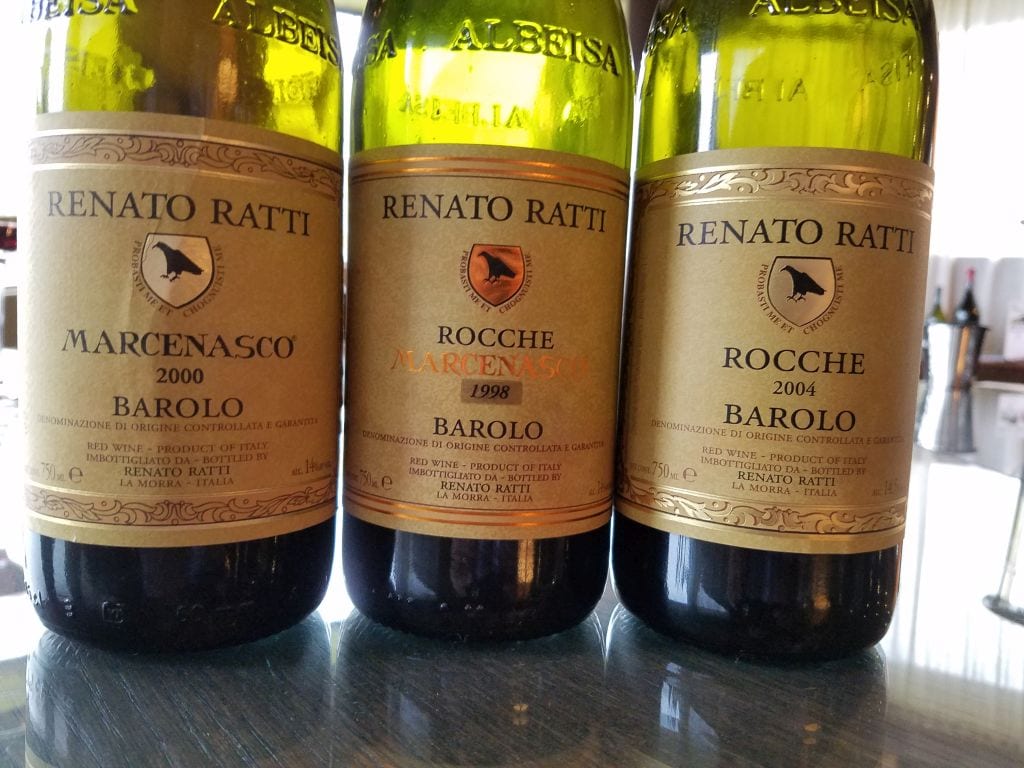 The 2004 Renato Ratti Rocche dell' Annunziata's white truffle, anise, leather and black-cherry aromas are captivating, and the deep, long strawberry and black-cherry flavors are accented with leather and tobacco undertones. Rocche shows best after a decade and poured after decanting for at least 45 minutes. 94 Points. I found one store in America offering this wine at the remarkable price of $90.
The 1998 Renato Ratti Rocche dell' Annunziata has the cigar box and tobacco aromas that I adore in mature wines. Leather and macerated red-fruit notes join them, creating a mesmerizing nose. Raisin and plum flavors with lines of tobacco and coffee flow through the fruit and integrated tannins provide balance and length. 92 points. Not commercially available.
The 2000 Renato Ratti Marcenasco offers substantial tobacco and leather aromas combined with delicious, mature tobacco and black-fruit flavors. While this vineyard is not as acclaimed as Rocche for long aging, Ratti's 2000 Marcenasco shows that in the right hands, a wonderful long-aged wine can be produced. 91 points. Not commercially available.
I've been following Renato Ratti wines since the 1990s—nearly Pietro's entire career. A consistent style of elegance and refinement has been the wines' hallmark. Add the reasonable prices and you have every reason to make Renato Ratti a cornerstone of your cellar.
Photos by John Foy