Texas wine? If your first thought is, "you've got to be kidding me," than you understand my reaction to the invitation for the tasting of Texas wines in New York City a few months ago.
But then a little voice in the back of my head reminded me that I was also skeptical about Turkish wines before tasting them. So, with a sense of curiosity, I went to Rouge Tomate in the Chelsea neighborhood to discover if the Lone Star State's wines were as good as Turkey's or just turkeys. I tasted wines from the two major American Viticulture Areas (AVAs) in two segments.
Of course, this being Texas, nothing is small. Its commercial wine production began in the 1970s and has grown exponentially. Its eight AVAs are dominated by two: Texas Hill Country and the Texas High Plains. The first occupies 9 million acres north of San Antonio and west of Austin, and the latter covers 8 million acres in the panhandle where 80 percent of Texas grapes are grown. As perspective, the land mass of either of these AVAs is larger than the vineyard areas of Spain, France, Italy and China combined.
In the High Plains, producers cultivate 55 grape varieties in about 4,000 vineyard acres at altitudes ranging from 3,000 to 4,000 feet. The vineyards receive 17-21 inches of rain annually, and nine inches of snow. At this height, grape growers are also challenged by spring frost and hail storms. The Hill Country AVA covers some 1,000 acres, centered around the town of Fredericksburg. At 425 – 2,400 feet elevation, Hill Country enjoys a considerably warmer growing season, with more humidity.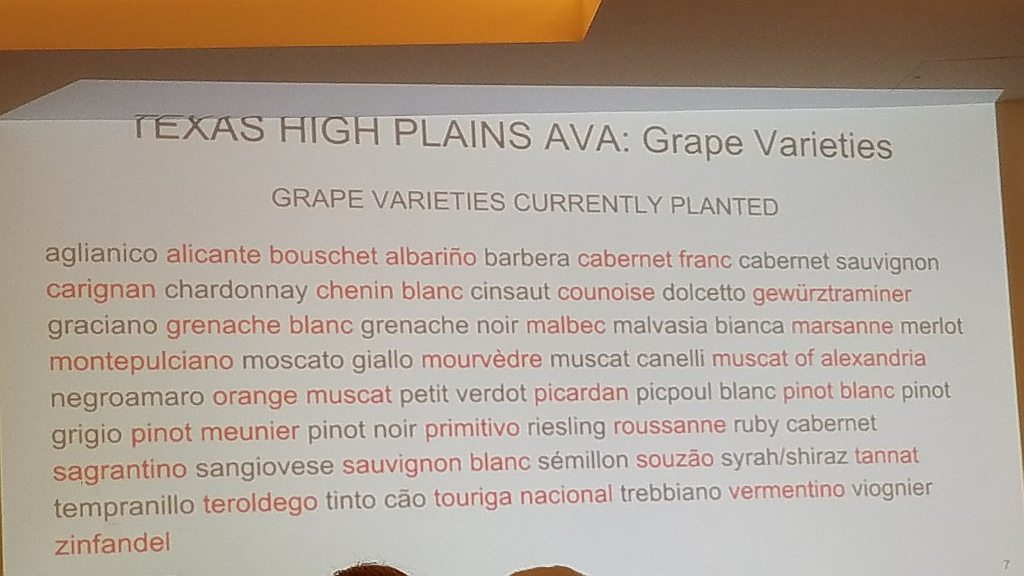 Introductory tasting: France, Italy and some esoterica: Six grape varieties from three wineries were presented for our introductory tasting.
The 2016 Messina Hof Winery Riesling Cuvee Father and Son Texas High Plains is named for Paul Vincent Bonarrigo and his son, Paul Mitchell. In 1977, Bonarrigo planted a one-acre vineyard with 50 grape varieties for a Texas A&M study on the feasibility of grape growing in the state. When Bonarrigo added two more acres in 1983, these wine pioneers were hooked. Since 2010, Paul Mitchell and his wife Karen run the winery, producing about 14,000 cases annually.
Messina Hof's clear white 2016 riesling has a pungent white peach, nectarine and petrol nose, and its off-dry peach-y taste is carried on a medium body with a slightly sweet-ish finish that calls to mind generic Liebfraumilch. 83 points.
The Italian red grape, Sagrantino, is grown primarily in Umbria's Montefalco region. Its astringent tannins made most winemakers give it up until Arnaldo Caprai, a textiles entrepreneur-turned-winemaker, made sagrantino's survival his cause. Today, he is the leading producer of top quality Sagrantino di Montefalco.
In Texas, the 2015 Messina Hof Winery Paulo Sagrantino Texas High Plains captures sagrantino's black-pepper spiciness in its blackberry and black cherry aromas and flavors. But sagrantino's aggressive tannins were missing, which puzzled me (though some might consider it a blessing). Overall, though, the wine's fruitiness lacked complexity. 82 points.
You can call Lost Draw Cellars a family affair. Founded in 2013 by grape grower and farmer Andy Timmons, his nephew Andrew Sides, and Sides' father-in-law Troy Ottomers, the winery has made its mark with French varieties such as picpoul- grown primarily in the Languedoc and neighboring Catalonia Spain-and mourvedre, another southern French variety often used as a blending component with grenache and syrah.
The white 2016 Lost Draw Vineyards Picpoul Texas High Plains is light-bodied with a fruit-filled citrus scent, white-fruit flavor, soft acidity and a short finish. 82 points. While the 2015 Lost Draw Vineyards Mourvedre Texas High Plains has the blackberry and floral aromas associated with its French cousin, along with a smoky accent. Its medium body carries a rustic black-fruit flavor with mild tannins. 83 points. 
Texas Hill Country
In 2009, Dr.Robert Young and his wife Brenda founded Bending Branch Winery in the Texas Hill Country AVA. They grow a variety of grapes from 10 vineyards throughout the state;  some, like Portugal's souzão, are unknown to the average wine consumer.
But in America, a relative lack of a wine history combined with new world pioneering spirit, allows grape growers and winemakers from California to Texas to New Jersey to try making wine from any grape. And that's how I came to taste the 2014 Bending Branch Winery Estate Souzão Texas Hill Country.
Its dark, nearly opaque black cherry color is a primary characteristic of souzão's intense purplish skin. The grape is authorized for but not used in port wine, and is used in Vinho Verde for a light red fizzy wine. In Texas, its red plum and floral aromas are pleasant introductions to the juicy, red-fruit and blackberry flavors lined with noticeable tannins. This souzão cries for a grilled steak. 85 points. 
Tannat might be slightly better known, as Uruguayan winemakers adopted this French grape as their red variety despite its aggressive tannins, a reason most producers abandoned it except for in the Pyrenees and the southwest French appellation of Madiran.
The black cherry-colored 2012 Bending Branch Winery Tannat Texas Hill Country emitted herbal and black-fruit aromas. Its medium body folded a tasty blackberry flavor with an earthy minerality, giving the wine a balanced finish. Not observing any of the characteristic tannins, I wondered if it was indicative of Bending Branch's fruit, or the use of micro-oxygenation—a winemaker technique founded in Madiran to soften tannat's tannins. 85 points.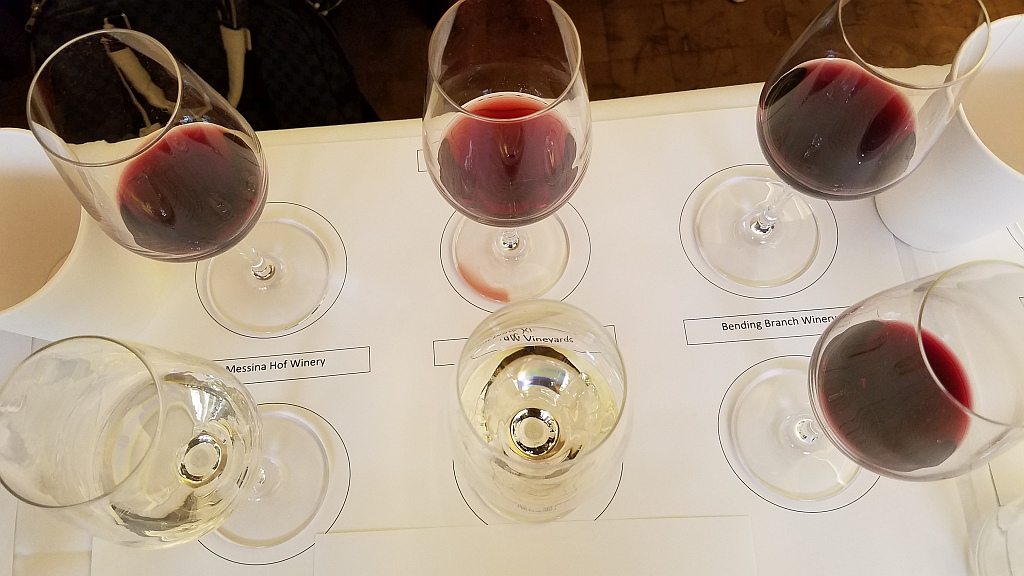 Round two: a focus on tempranillo
As we concluded the introductory tasting, I was intrigued by Texan wineries choosing esoteric grapes, southern French and Spanish varieties, as well as the missing tannins. So, for the second session I choose wines made from or featuring the Spanish grape tempranillo best known for Rioja wines.
The best was the 2015 Llano Estacado THP Tempranillo Texas High Plains blended with 9% cabernet franc and 8% carignan by winemaker Greg Bruni. A third-generation California winemaker and graduate of UC Davis enology and viticulture program, Bruni used grapes from Llano's vineyard planted in 1991 along with purchased grapes.
The translucent black cherry tempranillo releases enticing soy, roses and black-cherry aromas, and delivers pleasing black cherry and earthy flavors. Its stony backbone and integrated tannins gives it length and a delightful finish. 90 points.
Nearly as good was the garnet-colored 2015 Lost Draw Cellars Tempranillo Texas High Plains with its black pepper, black cherry and dried oregano aromas. Its medium body was wrapped with blackberry and black pepper flavors and supporting tannins. 89 points.  
Just a notch less was the 2014 Bending Branch Winery Tempranillo Newsom Vineyards Texas High Plains. Made from purchased grapes of the highly regarded 145-acre Newsom family vineyard, the black-fruit, smoky nose was a pleasant introduction to the very flavorful black fruit and earthy background taste. 88 points.
The 2016 Messina Hof Winery Tempranillo Private Reserve Texas High Plains delivered pleasing blackberry, black cherry aroma and flavors with good balance and pleasant dry finish. 86 points.
Wedding Oak Winery takes its name from the majestic 400-year-old oak tree growing 2.5 miles from the winery. Winemaker Penny Adams blended 81% tempranillo, 18% garnacha and 1% viognier in the 2015 Tempranillo Reserva Mirasol Vineyards Texas Hill Country wine. The effort produced a dark-red currant color, and blackberry and herbal aromas. A slight minty taste mingles with the red-fruit flavors. 85 points.
The tempranillos reinforced my perception of the easy drinking style of Texas wines. The soft, integrated tannins and mild acidity let the ripe, sometimes juicy, fruit be the wine's appeal. These are wines for immediate enjoyment. No cellaring is required, and no aging is necessary. At less than $30, they offer an attractive quality/price appeal.
National distribution is rarely available. You should contact the winery for purchases.
Photos by John Foy