Champagnes at IL Gattopardo
With Hanukkah, Christmas and New Year's Eve within 10 days of each other, there's plenty of opportunity to close out 2019 and welcome 2020 in style. No matter what you're celebrating, Champagne should be in your glass.
For Hanukkah, two delicious kosher Champagnes from Drappier and Laurent-Perrier provide festive bubbles and also dispel the idea that kosher wines are less than their non-kosher brethren.
During my visit to Drappier in 2014, I tasted the Carte d'Or cuvee, a recipe of 80 percent pinot noir with the balance divided between chardonnay and pinot meunier that has been intact since 1952 (with slight adjustments according to nature's yearly impact at harvest).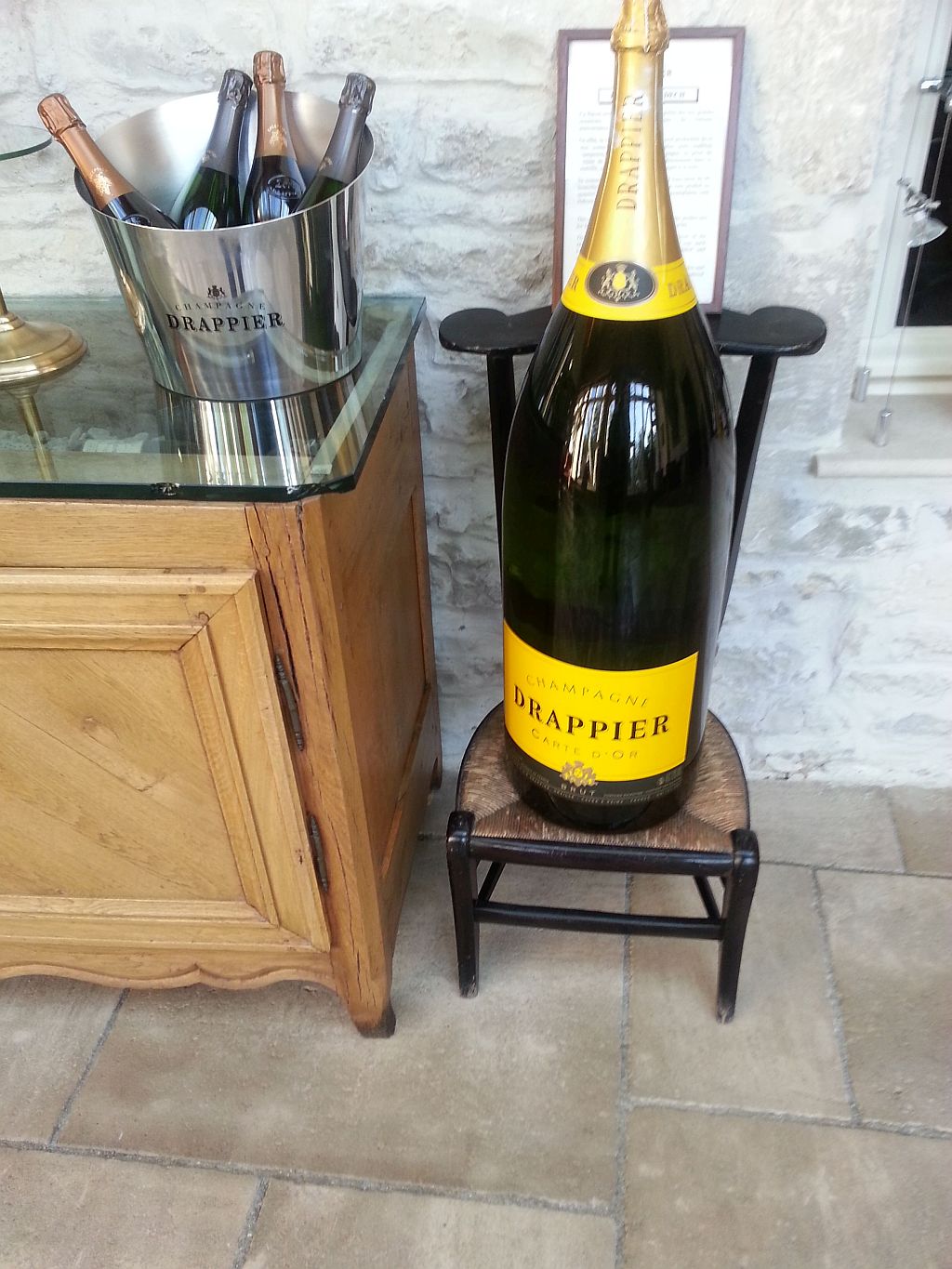 At Champagne Drappier
At my most recent tasting this year, the kosher nonvintage Drappier Carte d'Or Brut Champagne streamed refined bubbles, pushing white-fruit aromas from the glass. A delicate texture lined with baked bread and citrus flavors is supported with minerality, giving this well-made Champagne a lingering finish. 88 points. Expect to pay about $33.
From its brut nonvintage to its prestige cuvee Grand Siècle, elegance is the essence of Laurent-Perrier Champagne—a personal favorite for decades. Its nonvintage kosher brut blends a majority of chardonnay with pinot noir and a minor portion of pinot meunier. White flowers and pear aromas give way to white-fruit flavors with a refined texture and fresh acidity. 90 points. Retail prices range from $64 to $80.  
A few weeks ago, the Wine Media Guild, a New York-based wine writers' organization, held its annual holiday Champagne luncheon at Manhattan's Il Gattopardo restaurant. Here is a selection of bottles that brought us pleasure and will do the same for your festivities.
 If you've been good this year, maybe Santa will leave you a bottle of Collet Collection Privee 2006. Cellar master (the Champagne term for winemaker) Sebastien Walasiak blended chardonnay (65%) and pinot noir (35%) vinifing and aging two-thirds of it in barrels, which created a coffee accent to this firmly-structured wine. 90 points.
 More classical is the Collet Collection Privee 2008, which I tasted independently. With its white-fruit personality, rich mouthfeel, and bright acidity give the wine length and aging ability. 92 points. I preferred this vintage, but was told Walasiak is partial to the 2006. Because you've been so good all year, you might find both under your tree. Retail prices range from $60 to $75.
White peach and mild, toasted rye bread aromas and flavors fill the 2012 Perrier-Jouet Belle Époque. Its elegance matches the beautiful Art Nouveau-styled bottle, making it a splendid gift anytime, especially for yourself. 93 points. As retail prices have a broad range of $125 to $227, it pays to shop around.
 The 2009 Alfred Gratien Cuvee Paradis is from the second-hottest vintage on record. Cellar master Nicolas Jaeger is the fourth generation of his family to produce Alfred Gratien Champagne. In 1990, he started his training under his father and assumed the titled and position in 2007. This vintage of the Paradis is a blend of two-thirds chardonnay and one-third pinot noir, slightly modified by the particularities of the vintage. Always aged in oak barrels, the full body and mouth-filling flavors are supported by a stream of acidity and minerality. 92 points. Very limited production; retail is approximately $90 to $100.
One of the best values in Champagne is the nonvintage Delamotte Blanc de Blancs. Considered the second wine of the great Salon Champagne, Delamotte sources its chardonnay from the renowned grand cru and premier cru vineyards in Cramant, Le Mesnil-sur-Oger, Avize and Oger. It's reported that in years when Salon doesn't make a vintage wine, its fruit goes to Delamotte.
This nonvintage chardonnay carries an elegant texture and its full body is built around delicious apple and croissant aromas and flavors with a clean, mineral backbone. It's one of my favorite everyday Champagnes. 91 points. Widely available with prices ranging from $37 to $70.
Perhaps, the most appropriately-named Champagne is Piper-Heidsieck Rare.
In 1855, Piper-Heidsieck celebrated its centennial with a special cuvee placed in bottles designed by Fabergé—the jeweler of Tsar Nicholas II and renowned for his jeweled eggs—with white gold, diamonds and lapis lazuli gemstones. Nearly a century later, in 1976, the Champagne house created "Rare" with bottles designed by the Parisian jewelers Van Cleef & Arpels. Then, Rare cuvees were produced in only seven vintages between 1976 and the current 2006. The bottle for these vintages with its golden tiara was designed by the Parisian jeweler and medalist Arthus Bertrand.
The 2006 Piper-Heidsieck Rare is a blend of chardonnay (70%) and pinot noir (30%) fermented in stainless steel and aged for seven years in bottle. Rare is never in contact with wood barrels, nor does it undergo malolactic fermentation, so there's a vibrant, clean acidity that carries the opulent fruit for decades of pleasure. I have drunk every vintage; the 2006 will be superb. 95 points. Retail prices range from $135 to $200.
In 2018, cellar master Regis Camus announced that he would continue to make Rare, but Piper-Heidsieck is making it a stand-alone wine similar to how Dom Perignon is to Moet & Chandon. The remainder of his duties has been turned over to a new cellar master for the other Piper-Heidsieck Champagnes.
Madame Evelyne Roques-Boizel
Two years ago last month, I first tasted Boizel Joyau de France 2000 when Evelyne Roques-Boizel introduced her Champagnes to the American market at a luncheon in Manhattan's Ai Fiori restaurant. I was instantly impressed with her wines, and, a few weeks later, added six bottles of the Joyau de France to my personal collection.
At the recent Wine Media Guild tasting, one bottle showed the effects of poor storage, but the other two were as full bodied, intensely-flavored and-balanced as I know the wine to be. 92 points. Retail prices range from $115 to $180.
Roederer Cristal is considered by many to be the ultimate Champagne. But I have been bothered by its policy of marketing the wine after a minimum aging of five and half years, when every other Prestige Cuvee is aged from seven to 14 years (the aforementioned Boizel Joyau de France). When I tasted the Roederer Cristal 2008 I was seduced by its white flower, vanilla bean and pear aromas. With its medium body wrapped in a honey cocoon with ginger, and pear flavors tied to a backbone of minerality and bright acidity, this vintage of Cristal will please for decades. 98 points. Widely distributed and priced, look for it at $225 to $260.
Best ice bucket at the Wine Media Guild Champagne tasting.
Veuve Clicquot La Grande Dame 2008 is one of the best values in the Prestige Cuvee category. The 2008 is composed of 92% pinot noir and 8% chardonnay—the highest percentage of pinot noir for any vintage of La Grande Dame. Its full body, opulent fruit, lemon and grapefruit-like flavors and acidity, and excellent balance bodes well for decades of life and pleasure. 96 points. Retail prices range from $120 to $160.
The Pol Roger Cuvee Sir Winston Churchill 2006 is one more great vintage of this remarkable cuvee. If you like full body, luxuriant, fathom-deep-flavored Champagne, than you must have this wine in your cellar, and, after a few more years aging, in your glass. 97 points. Retail prices range from $180 to $300.
Wishing you a sparkling holiday season and Happy New Year.
Photos by John Foy