Santa Monica's Organic Farmers Market in January 2018
In the aftermath of Hurricanes Irma and Maria, this year, I changed the route of my annual January "escape the northeast winter" trip from the Caribbean to Santa Monica, California.
I didn't get much beach time—the Pacific Ocean is much too cold for my daily swimming practice—so I spent my leisurely hours otherwise exploring the region. And, of course, that led me to restaurants. Happily, I found the dining at a much higher quality level than I recalled from my visit a decade ago, which more than made up for lost time oceanside.
I found the best dish of my trip at Rustic Canyon, a farm-to-table restaurant that indeed, looked as though it could have been "farm to farm" with its hefty bare wooden tables, sturdy chairs, and patina-worn floors. (Founder Josh Loeb says the restaurant is an extension of the "treehouse home.")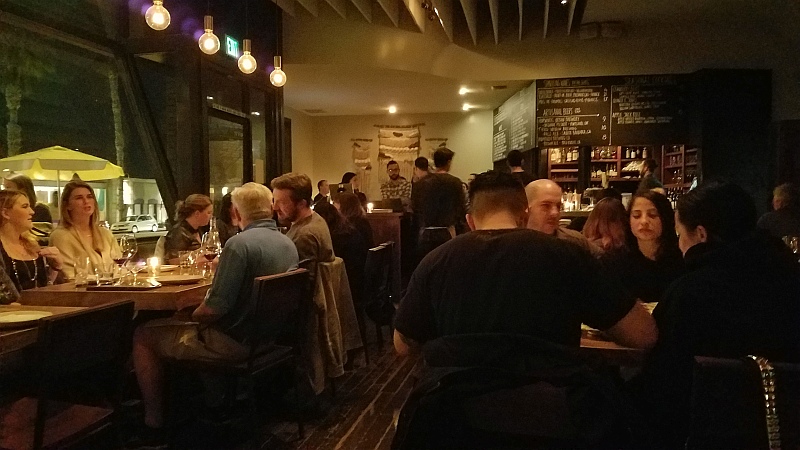 The menu plays with the classics. For example, traditionally, pozole verde is an ancient Aztec stew of boiled corn with chicken or pork. At Rustic Canyon, Chef Jeremy Fox switched to a nautical presentation of mussels from Santa Barbara Mariculture, a Santa Barbara aquaculture company raising the mollusks in the Santa Barbara channel.
The shelled tender mussels floated with Rancho Gordo hominy and crispy tortilla strips in a green broth made of pureed poblano, cilantro and oregano. It was so delicious not a drop was returned to the kitchen. And for the first time in my life, I liked corn. If I get advanced notice of my death, this dish might be my last wish.
But Chef Fox is not a one-dish wonder. He hit another home run with the Rapini Malfatti, gnocchi-soft dumplings and broccolini (broccoli di rape) in a light parmesan broth with toasted bread crumbs.
Only the porchetta and grilled Calabrian sausage made me wish I ordered something else. Both were dry, and the sausage had a fried taste.
Rustic Canyon's wines by the glass had their successes and failures, too. The crimson-colored nonvintage Mas de Daumas Gassac rose sparkling wine from France's Languedoc region gave an unpleasant combination of herbal, black-fruit aroma and flavors with a bitter finish. I left my glass half full. A better aperitif was the nonvintage J. Lassalle Cachet Or Brut Premier Cru Champagne.
Much better yet were two full-bodied red wines: 2015 Fouassier Iconclaste Sancerre exploding with wonderful raspberry flavor, and the 2013 Reverdito Barolo, which showed the advantage of ordering a nebbiolo wine by the glass: The opened bottle aerated the wine's substantial tannins and elevated the fruit featuring black-cherry and red-licorice.
"East meets West" is not a reference to Yours Truly traveling to California—rather, it's the concept and menu of Cassia, a French-Vietnamese hybrid from Rustic Canyon owners [Josh] Loeb and Zoe Nathan, who partnered with Bryant and Kim Ng, in a 1930s Art Deco building. The atmosphere is French brassiere and the menu is Southeast Asian influenced.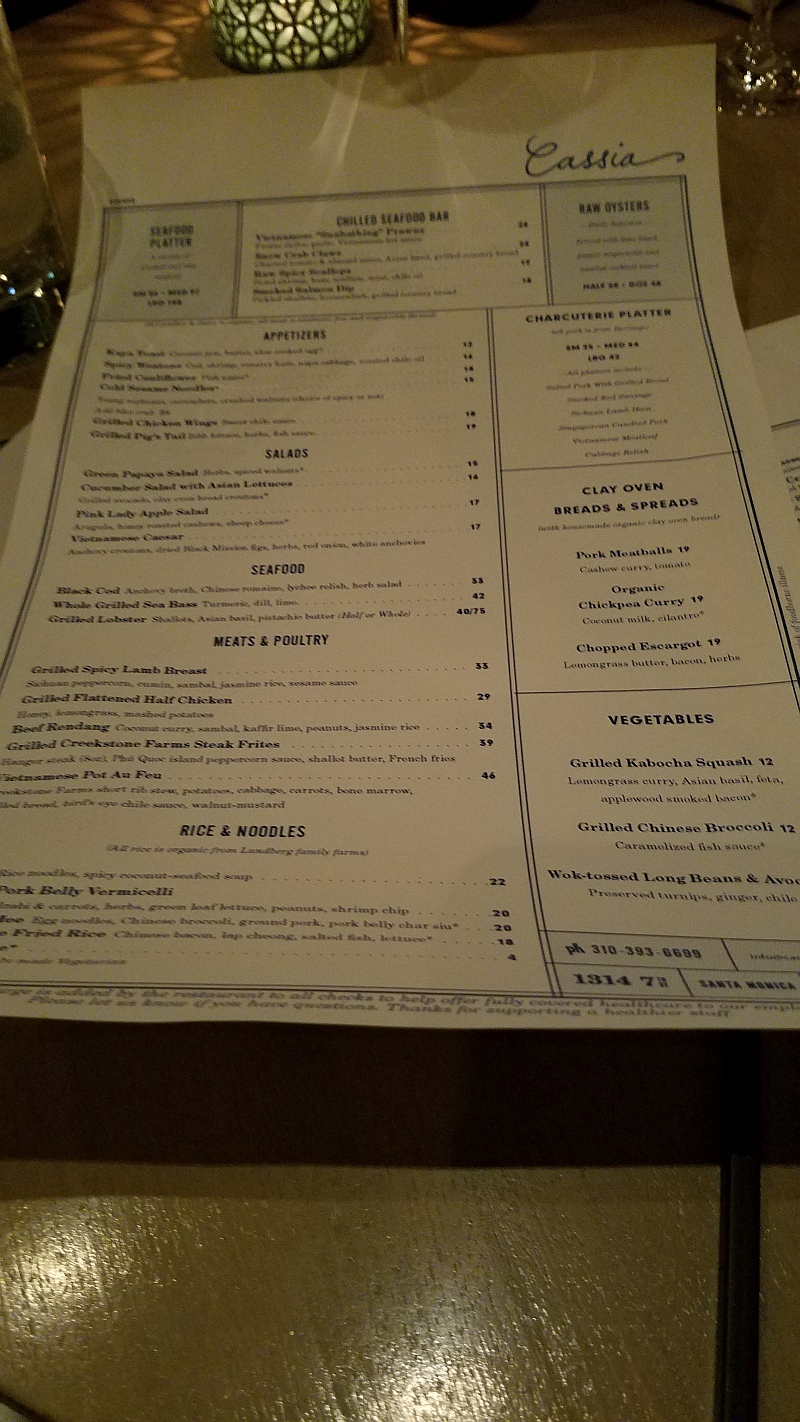 The large, high-ceiling (and high volume) room seats about 100 diners (a tent outside accommodates another 75 "walk-in" diners—those who arrive to this full-throttled restaurant without reservations). Chef Bryant Ng's menu offers raw seafood, charcuterie, salads, meats and fish, rice and noodles, and clay pot creations, including my tasty first course of pork meatballs in a curry cashew sauce.
An appetizer of cold sesame noodles with cucumber, soybeans, walnuts and blue crab made an adequate and flavorful main dish for my partner Rose, while the roasted half chicken with lemongrass and mashed potatoes merged quality and quantity in my main course.
With foods leaning towards the Orient and Occidental, I always gravitate towards Champagne and the nonvintage R.H.Coutier "Tradition" Champagne carried me to a comforting place. Made from estate-grown fruit from Coutier's Grand Cru Ambonnay vineyards, its 70% pinot noir and 30% chardonnay blend is intensely flavored and ideal for many foods.
I couldn't return home without dinner at Michael's in Santa Monica. You might be too young to know its history, or too old to remember it, but Chef Michael McCarty was one of the first in the "California cuisine" movement, and by extension, modern American dining—when he opened his eponymous restaurant in 1979.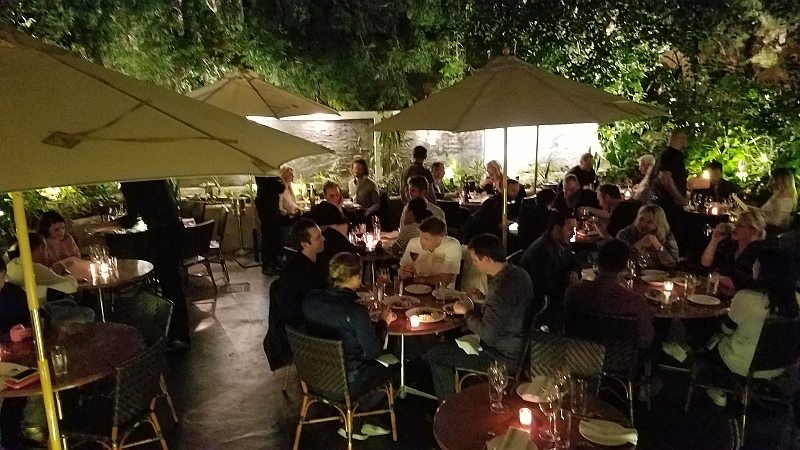 The restaurant is still as was when it opened: a tree- and plant-filled patio, which over time has been enhanced with Michael's art collection on just about every spot that doesn't have a plant or tree.
Michael is still present on the floor, saying hello and stopping at every table—as professional today as back then.
And the food still has an edge to it. Take the Peruviana beans, which at first bite are pleasantly flavored and a touch smoky. But when your fork brings the hot chile oil to your mouth, you'll need extra-high tolerance for it, or a fire extinguisher. I had neither, so I turned to the plate of quail with chanterelles and Hungarian cheese puree. At first bite, the quail was tender and tasty, and the strongly flavored cheese a pleasing counterpoint, but again, the outer ring of the dish contained a fire-hot spice. I discovered the edge was a dangerous place.
But cooling off my mouth was a painless process with the rich, delicious, fruit-filled 2015 Sapaziniere Macon-Brussieres, made from chardonnay. The sommelier said it was fermented and aged in stainless-steel tanks: Without any oak influence, the wine's pure fruit flavor and minerality shined brightly.
A middle course of pici pasta carried a savory oxtail ragu with smoked ricotta salata. I ordered a glass of 2015 Poderi Colla, Pian Balbo Dolcetto d'Alba. It had a bigger body and more forward black-fruit flavor than I'm accustomed to with Dolcetto wines in the New York-New Jersey market.
I mentioned that to the sommelier and she said that it was an observation she had not considered even though she had lived in the New York City metro area. Upon reflection, she thought it had validity as Californians drink their bigger, richer, native wines, and distributors and sommeliers buy imported wines with that taste preference.
Our last dish of the trip was a succulent young chicken, sectioned and arranged in a bed of farm-fresh chicories, finger-length chives with tarragon dressing. Its freshness and deep flavors were cutting-edge California cuisine in 1979, and today it is considered on trend. But all the while, Michael McCarty just called it cooking.
Now nearly 40 years old, Michael's pioneering ways are still relevant: it is the farm-to-table movement that has caught up to him.
Photos by John Foy