Since 1824, Tedeschi has been a family-run winery in Italy's Veneto region. Today's fifth generation, winemaker Riccardo, and his sisters Antonietta and Sabrina, are directing the enterprise.
On a frigid winter day this year, I stood at the top of Maternigo, Tedeschi's newest vineyard, in the eastern section of the Valpolicella appellation. Sabrina accompanied me. As we took in the scenery–its isolation and patches of snow–she said bears and wolves inhabited the surrounding woodlands. I started inching towards the car.
We drove to La Fabriseria, a 17-acre vineyard in the Valpolicella Classico zone, which is more domesticated. The parcel is named for a Catholic Church council that met on Sundays to discuss and solve any local issues. Sabrina's grandfather, Riccardo, was a member of his church's La Fabriseria, and often brought a bottle of his wine to share with the other members at the meeting's conclusion. After our tour, we warmed up in the winery with a tasting of Tedeschi's most recent vintages.
At my winery tasting, Sabrina explained that her family purchased 205 acres of woodlands for the Maternigo vineyard in 2006. Two years later, they planted 76 acres with Valpolicella's indigenous grapes corvina, corvinone, rondinella and oseleta that were used in the 2013 Tedeschi Maternigo Valpolicella Superiore wine.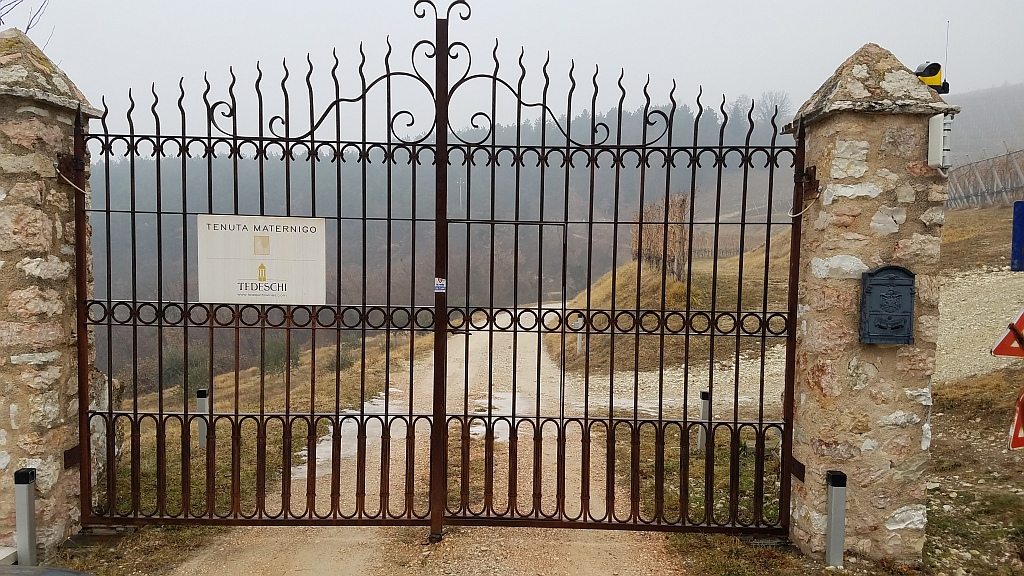 A cold, wet summer pushed the 2013 harvest into late October from which Riccardo produced a black-cherry-colored, prune, blackberry and herbal aromatic wine. Its medium body delivers tasty blackberry fruit with integrated tannins and a soft finish. The 2013 Tedeschi Maternigo Valpolicella Superiore is for current consumption. 88 points. It's also a good value at $24.
I'm sure the council members would enjoy the 2012 Tedeschi La Fabriseria Valpolicella Classico Superiore with its black fruit aroma and flavor. Its aromatic fruit and herbal accent gives the wine complexity without any heavy-handed winemaking. 90 points. Will be in the market in 2018; expect to pay about $25.
But if Riccardo wanted to be elected president of the council—or you had a similar desire—then the 2011 Tedeschi La Fabriseria Amarone Classico Riserva is the wine that will win every vote.
Made only in the best vintages (seven times since 1983), the wine has an opaque black-cherry hue with a cornucopia of fruit aromas and flavors ranging from blackberry to black plum to prunes. Behind these enticing flavors is a backbone of tannins that carry the rich fruit flavors without interrupting them. The 2011 La Fabriseria Amarone Classico Riserva will age for decades. 95 points. Will be in the market in 2018; expect to pay about $300.
The 2015 Tedeschi Valpolicella Superiore Capitel Nicalo Appassimento is named for company founder Nicalo Tedeschi. Valpolicella's traditional manner of partially drying the grapes (appassimento) in crates or on straw mats before fermentation enhances the sugar level and phenolic compounds.
Black cherry, beefy and smoky aromas from the fermentation and 12 to 18 months aging in Slavonian oak barrels are delightful first impressions of this wine. The pleasure increases with the red fruit flavor supported by fresh acidity and tannins that carry the wine to a long, savory finish. 91 points. Will be in the market in 2018; expect to pay about $20.
Ripasso is another method used in making Valpolicella wine. Some of the pomace (grape skins and seeds) from Amarone production is added to the Valpolicella wine. After macerating for up to two weeks, a second fermentation is initiated giving the ripasso (repassed) wine additional body, flavors and alcohol. Ripasso wines are often referred to as "baby Amarones."
The 2015 Tedeschi Valpolicella Superiore Ripasso Capitel San Rocco delivers black-cherry, Asian Five Spice and blackberry aromas. Black-fruit flavors with a mineral, stony backbone are balanced and long. This ripasso is ideal for steak au poivre, or lamb chops with a side of broccoli di rape. 93 points. Will be in the market in 2018; expect to pay about $25.
2015 Ripasso in traditional Slavonian oak cask
Tedeschi maintains a balance of traditional and modern winemaking. The former includes using Slavonian oak cask or barrels (as opposed to French) and the latter dries its grapes in the temperature and humidity-controlled tents or rooms versus the historical use of open-air barn or winery lofts.
Merging the best of the past with the technology of the present creates the elegant 2011 Tedeschi Capitel Monte Olmi Amarone Classico Riserva. From its tiny 6-acre Monti Olmi vineyard, Riccardo makes  a blackberry, prune and mildly smoky-scented Amarone. Its juicy blackberry and mulberry flavors are braced with tannins and the vineyard's minerality, giving the wine structure and balance. This well-made wine will age for decades, but I doubt anyone will resists its pleasures that long. 93 points. Will be in the market in 2018; expect to pay $80 to $100.
The Tedeschi siblings have established a wine style that preserves the natural aromas, flavors and texture of Valpolicella and Amarone wines. The wines are elegant and substantial, a winning combination for the next century and future generations.
Photos by John Foy
(For related content on Amarone wines, see: The Amarone Families Know How To Perform.)