Chef JJ Johnson remains at the Chefs Club until the New Year.
Knowing that Chef JJ Johnson's residency at the Chefs Club was to end on October 31st (not a nice treat for Halloween I thought), I wanted to enjoy his cooking one more time. So, I stopped by on the 27th and found an open seat at the bar.  
While reading the wine list, I was informed that JJ's residency was extended through 2017. It seemed lots of diners were as excited by his cooking as I was.
After that good news, the sommelier stopped by asking if she could be of assistance. I told her I had my eye on the outstanding Loire Valley winery Olga Raffault's Les Picasses (single-vineyard) Chinon 2010 ($72). Being very familiar with Raffault's wines, I asked her to aerate it in a decanter.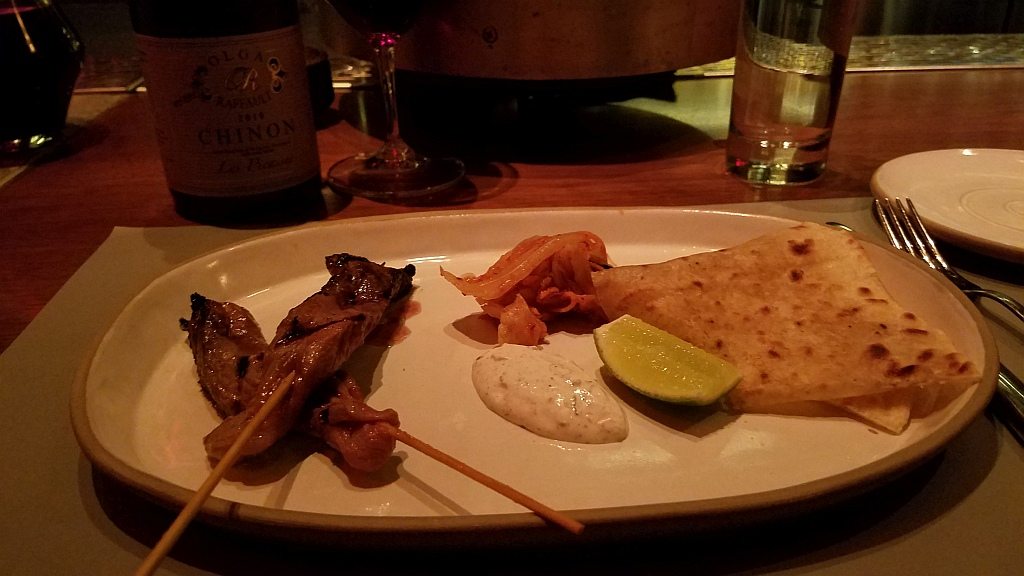 Returning to the menu, it looked like JJ's Afro Spice Lamb Suya was the perfect dish for the elegantly textured cabernet franc from Les Picasses. Served on two skewers, you can eat them with a fork, dipping pieces into the Middle Eastern Za'atar goat yogurt, or smear the yogurt on the accompanying roti, place the lamb on it and roll it for hands-only eating. Either way, you're in for a delicious moment.
In early October, I reported that my Roasted Half-Chicken was the one dish of seven that fell short. You can put that in the dustbin of history. Like the artist he is, Chef JJ took out a fresh canvas and made a dazzling portrait of the Jerk Glazed chicken sitting next to an intriguing green-leaf and yellow-orange vegetable composition.
The first forkful was a ride on saline-sweet green raft: Braised collard greens coated with soy, shellacked with palm sugar and seasoned with ginger and chilies. Then, my fork carried to my palate the slightly bitter yellowish-orange turmeric-seasoned cauliflower puree that wiped out the sweet aftertaste of the collard greens. I was entranced with the yin-and-yang of these two vegetable presentations next to the perfectly juicy chicken. It is thoughtfull adjustments like these that is going to rocket JJ Johnson into the stratosphere of chefs.
As I wrote a month ago, "Don't miss Chef JJ Johnson's stand at NYC's Chefs Club." You'll find me there. Again.