Marques de Caceres Visionary
Enrique Forner, the founder of Marques de Caceres in Spain's Rioja region, was a visionary who brought Rioja into the modern age.
Born into a Spanish wine-producing family that restored two abandoned Bordeaux chateaux, Forner attended Bordeaux University's wine program where he studied under the renowned professor Emile Peynaud.
In 1964, he returned to Spain, bringing Peynaud as his consultant. They decided that the Rioja Alta region in northwestern Spain would be the place for Forner's dream winery. Forner's friend, the Marques de Caceres allowed him to use his name in exchange for an annual donation to a favorite charity. Forner's first vintage was 1970.
Eschewing Rioja's regulation and tradition of long aging in old American barrels, Forner installed new stainless steel tanks for fermentation, and new or slightly used French oak barrels for shorter aging. Forner's wines immediately were noted for their fresh fruit character and new Rioja style.
Last month, I tasted a quartet of wines from Christina Forner, who assumed the leadership mantel in 2007 from her father.
Cava, the popular sparkling wine of Spain, was not among Forner's original wines. The nonvintage Marques de Caceres Cava Brut is a delightful creation, made with cava's traditional grapes xarel-lo, macabeo and parellada grown in the Penedes region in eastern Spain; Cava's regulations follow the winemaking steps of Champagne: After the grapes are fermented, the wine is bottled for its bubble-producing second fermentation. Marques de Caceres cellars its cava for 11 months, creating a wine with appealing croissant-like aroma and honey crisp apple flavor.
You'll find this sparkler makes a delightful aperitif, or a cooling counterpoint to spicy foods. 88 points. Prices range from a remarkably low $10 to a reasonable $20.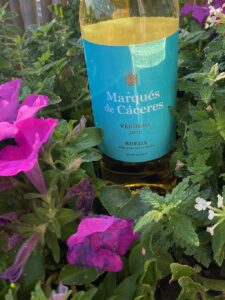 Verdejo is Spain's everyday white wine. At one time, it was identified by its oxidized character, which resembled a poorly made cheap sherry. Today, quality producers know how to grow and make balanced and flavorful Verdejo like the 2021 Marques de Caceres Verdejo. Harvested at night when the grapes are cooler, which lowers the sugar and increases the acidity, the grapes are immediately delivered to the winery where they are gently pressed and fermented in temperature-controlled tanks. The wine remains in large aging tanks for a few months before bottling. This methodology creates an almond-like aroma and flavor with hints of dried apricot and a mild, fresh acidity.
Pour a glass with a selection of nuts as they do in the tapas bars throughout Spain, and think no further when wondering what wine to choose for your paella, or other rice-focused dishes. 88 points.  Retail prices range from an exceptionally low $8 to $15 with wide distribution at less than $10.
Crianza is the young red wine enjoyed every day by millions of people throughout Spain and across the western world. The 2018 Marques de Caceres Crianza is 90% tempranillo blended with garnacha and graciano grown in Rioja Alta and Rioja Alavesa vineyards. 
Aged for a year in a mix of French and American oak barrels, of which, 25% are new and the others up to four years old—plus a year in bottle—the bright-red cherry scented- and- flavored wine is instantly drinkable and perfect with Spain's dry-cured jamon sliced from the pig's leg mounted on the iconic jamonera. 87 points. Retail prices range from a good value $11 to $20, with wide distribution at less than $16. 13.5% alcohol.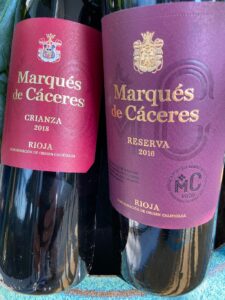 Made from older vines, the 2016 Marques de Caceres Reserva delivers richer black-fruit aromas and flavors from the blend of tempranillo, garnacha and graciano grapes in the Rioja Alta and Alavesa vineyards. The fruit-forward reserva has a smooth texture from its two years aging in a mix of 50% new and 50% one- and two-year-old French barrels and two years more in the bottle. The 2016 reserva is ideal with grilled or roasted beef and lamb accompanied with Spanish rice and black olives. 91. Retail prices range from an incredibly good value $16 to $30; there is wide distribution at less than $20. 14% alcohol
Forner had the foresight to see that Rioja could be elevated with the implementation of modern wine making and with his success, the entire region benefited.
Photos by John Foy