Paris Dining:
It's easy to get swept away in Paris–after all, it is the city for and of lovers. But it's not always so easy to find places for dining off the beaten track that deliver both delicious food and memories. If you want quality neighborhood restaurants, wine-oriented restaurants with fair prices, chefs putting their talent on every plate and dining room staffs serving you with care, spend some time with this list and in these restaurants.
I spent 25 years in the kitchen and 23 years as the owner of three restaurants. And for four decades I've been visiting wine cellars, vineyards, and interviewing winemakers. I recognize that we all have our preferences in food, wine, ambiance and prices; but I'm confident there are many restaurants on this list, culled from my personal experiences, that will please you.
Lunch:
Lavinia. (8th arrondissement) 3 Blvd de Madeleine.  Best place for lunch and late-afternoon glass of Champagne
I eat here every time I'm in Paris. It's a must-go place for lunch, with continuous service until 8pm.
The restaurant is on the second floor of this high-end wine shop. Filled with French business folks enjoying excellent food and wines by the glass and bottle. Bonus: you can take any bottle from the wine shop bring it upstairs to your table and pay the wine shop price; no corkage nor service charge.  Or, choose from the large wine list.
I've been coming here for so many years, I can't recall the first visit. But at my May 2015 lunch I had the pleasant discovery of Lavinia's use of the Coravin, which allowed me to enjoy glasses of Clos St. Denis, Charmes-Chambertin and Vosne Romanee.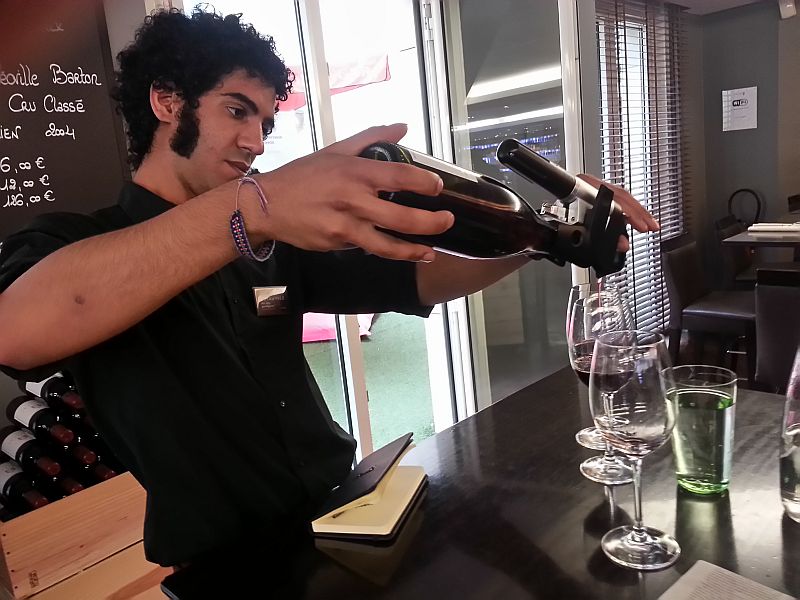 (Sommelier at Lavinia uses coravin wine pourer)
UPDATE:
My return visit for lunch in October 2016 introduced me to a pleasant, new wine: Domaine de Bellieviere, Jasnieres appellation. Located 30 miles north of Tours (Loire Valley), this biodynamic winery is owned by Eric and Christine Nicolas. Its 2014 Clos des Truffieres is very perfumed, light as a feather and weighted with raspberry and black-cherry flavor that was excellent with my steak tartare.–Discovering wines like this is why you go to Lavinia.   
Along with those gems was a glass of the Chinese five spice-perfumed- and black-cherry-flavored 2008 Domaine Henri Boillot Volnay, which was rode in tandem with a plate of charcuterie. But all was not red at our luncheon: the elegant vanilla- and apple-scented, 2015 Macon Village, Julian Guillot, Les Pierres Blanches was filled with delicious white fruit flavors.  
Juveniles. (1st arr.) 47 Rue de Richelieu. The flip side of Lavinia. This is a tiny wine store with about 20 seats jammed into it. You'll eat surrounded by wine boxes and wine shelves.
It's a small menu, but what's there is good with an unusual selection of wines. On one visit they were serving Napa Valley's Schramsberg blanc de blancs by the glass. Mon Dieu–California wine in Paris!!!
Les Papilles. (5th Arr.) 30 Rue Gay-Lussac.
Another tiny wine shop with good food and wines by the glass. I prefer Juveniles, but it just depends on which one is closer when the clock strikes noon.
Lazare. Parvis de la Gare St. Lazare. On the second floor (for Americans) and the first floor for Europeans of the Gare de Lazare train station. It's a first-class kitchen run by chef Eric Frechon (La Verrier, Restaurant Frechon, Le Bristol, Le Crillion). It opened September 2013. Service is everyday from 7am to midnight. But don't be fooled, this is France; I arrived at 3pm and the kitchen was closed; but my lunch was a delicious charcuterie plate and cheese selection at the bar. Wines by the glass are very good: mine included a Cru Beaujolais and a red Sancerre, both poured from magnums.
In June 2014, my lunch was country pate, coq au vin, a glass of each rose' Champagne and Morgon. And again in October at the communal table, the roasted pigeon and fall mushrooms were outstanding.  A year later, two glasses of Duval-Leroy Champagne accompanied another delicious lunch of succulent gigot d'agneau (leg of lamb) and mussels in a curry broth.
And again, two years later (April 2016) I enjoyed the classic quenelles de brochet to my (now ususal) place at the bar. Not to be forgotten was the bright and fresh haricot verts and white mushroom salad.
Classic Quenelles de Brochet
After lunch take the escalator downstairs to Jeff de Bruges for a box of Belgian chocolates- the best country in the world for chocolate candies.
Le Cocotte: (7th arr.) 135 Rue St. Dominique. Stylish coffee shop layout with upscale food owned by  chef Christian Constant of the one-star Michelin Les Fables de la Fontaine  restaurant next door. Food is very good with a small, reasonable priced wine list. Excellent place for a casual lunch; no reservations but the crowd doesn't linger. (For dinner,  see Les Fables de la Fontaine reviewed below.)
Porta 12. (10tharr.) 12 Rue des Messageries. As of October 2015, this was the newest lunch spot on my list. It has only 12 tables, and la porte (door) is easy to miss as this is a small restaurant on a quiet side street. But don't miss it: here, you'll find high quality cooking, young English speaking and friendly staff.
There are two lunch menus: three courses for 35E and five courses for 55E. No choices; you choose one or the other, and chef makes the menu.
While riding my bicycle on Rue Vivienne, I saw the "Passage des Panoramas" Paris' oldest glass-covered  arcade. I immediately recalled that Racine (2ndarr.), the white-hot bistro of 10 years ago was located there. I chained my bike to a pole, entered the arcade and found Racine. It was half empty. The plate of supermarket-quality salami with brown bread and a glass of mediocre Champagne explained why.
Gare au Gorille (17th). 68 Rue des Dames. The name tells you this is a restaurant with a sense of humor: Be careful of the gorilla. Located on a side street a few blocks from the Rome Metro station. I discovered this storefront with its industrial design (is this becoming the millennial generation trademark?) and pleasant young staff in September 2015 and found the food and service good, and the prices are fair.
Lunch is three courses for 27 euros, which is a great deal. Two choices come with each course. The wine selection is organic, biodynamic and natural (the philosophy is free). I love Beaujolais, so the 2011 Michel Guignier, Beaujolais, La Bonne Pioche was spot-on.
52 Rue du Faubourg Saint-Denis (10th arr.) is the address and name of the industrial-looking café to which I rode my bicycle for lunch instead of waiting for the housekeeping staff to prepare my hotel room. A glass of Chartron-Taillet Cuvee St. Anne Champagne, made by a 30-something winemaker and owner of the Champagne house matched the age of every customer and staff member–save yours truly.
The calamari with avocado puree went well with the Champagne, then the main dish of Dorado filet and eggplant puree called for a second glass of the Cuvee St. Anne. Was the lunch worth a two-mile ride in each direction? No, but it was beautiful blue-sky Paris day and a much better way to pass the time than sitting in the hotel lobby.
NEW LISTING:
Au Bon Accueil (7th) 14 Rue de Montlessuy. Kigawa's dining- room manager, Bertrand Verdier, gave me my October 2016 lunch discovery, Au Bon Acceuil. This charming restaurant was established in 1870, and has been family-owned since 1980.
Two courteous, English-speaking waiters in bistro black apron and white shirt serve the chef's modern version of bistro fare. My 36-euro three-course menu began with fried sardines tempura-style with a lemon flavor that diminished the sardines' saltiness while being mouth-watering. The main dish–Pave de Dorade or filet of bass, with a palette of tricolor peppers, cherry tomatoes and puree of potatoes–pleased the palate and the eye. A good selection of fairly priced wines included the biodynamic 2014 Domaine Pierre Cauvin Cremant de Loire Brut Nature, which was too tart as an aperitif, but balanced by both fish presentations. And deep appreciation went to the dessert course: brioche baked with autumn fruits and accented by passion-fruit foam and garnished with a wedge of persimmons.
Only two streets away from the Eiffel Tower, Au Bon Accueil is nearly in its shadow. Yet, it maintains a local appeal. Indeed, this is the kind of restaurant every neighborhood should have.
Dinner: 
Les Temp au Temps. (11th arr.) 13 Rue Paul Bert. Excellent food, be prepared to talk to your neighbor because your neighbor's table is 6 inches from yours–and it's a minuscule room . The wine list is limited but good. If you like this kind of ambience, you'll enjoy it. Otherwise don't go.
La Braisiere: (17th arr.)  54 Rue Cardinet. One-star Michelin. Had enough of tiny casual restaurant recommendations? Here's one that has about a dozen tables with flowers and paintings dressing the room,  and where you wear your nice dress or jacket.  Staffed by women and directed by chef/owner Jacques Faussat,  service is attentive but never obvious.  The food is always excellent, the wine list reasonable (with half bottles of Champagne when I'm traveling alone) .
Dinner in June, 2014 began with a half bottle of an unheard-of but excellent Champagne: Delahaie.  Fragrant ginger nose, rich flavors and mouthfeel. (Note to self: must look for it in USA.)
Chef made me a half-portion of sweetbreads with sliced apples, white raisins and a cinnamon spicing. The main dish of Iberian pork chop with a ravioli-filled of girolles and ground pork was outstanding. Both dishes were perfect for the half-bottle of 2009 Domaine Prieur-Brunet Santenay
Au Trou Gascon. (12th arr.) 40 Rue Taine. This one-star Michelin restaurant has an excellent wine list, very comfortable and "nice dress and jacket" room, attentive service and excellent wines at very fair prices.  When I dined here in April 2013, I had a great dinner with outstanding wines: 1999 Deutz Cuvee William Champagne and 1999 Morey St Denis, "En la Rue de Vergy" Bruno Clair. Both reaffirmed the level of excellence of the 1999 vintage in Champagne and Burgundy.
When I returned in September 2013,  another delicious dinner with 2002 Rene Engel Vosne Romanee– another great Burgundy vintage.  This restaurant is out of the way, but should be on your must-visit list.
My return a year later resulted in yet another enjoyable dinner: Partridge filet with cepes, followed by wild rabbit (hare) and foie gras, which was perfect with the 1999 Domaine Geantet-Pansiot Gevrey-Chambertin,V.V.
Les Fables de La Fontaine. (7th arr.) 131 Rue Saint-Dominique. The pleasant, small dining room of this one-star Michelin restaurant seats about 25, and has very good food and an acceptable wine list. Décor is more than jeans but less than your best dress. .
Le Christine (6th arr.) 1 Rue Christine. Pretty neighborhood restaurant with attentive service, good food, and decent wine list. The kind of place you want for a relaxed dinner with friends.
Les Climats. (7th arr.)  41 Rue de Lille. This was my best discovery in 2013 with its monumental wine list dedicated to Burgundy ( A climat is the French term in Burgundy for a plot or a vineyard that has a definitive soil, climate or slope) , excellent food, and great service by Franck,  the enthusiastic sommelier. I loved my Simon Bize Savigny-les-Beaune "Les Bourgeots" 2005 for two reasons: It was delicious, and it was 59 Euros. I can't wait to go back. Oh, the dining room is two rooms: front is a red-velvet chair, dark wood ambience; the back room (which I prefer) is Cape Cod wicker white chairs; and when the weather is accommodating, there is garden dining in more wicker white chairs. Go there but don't drink my Simon Bize !!!
My delicious 2005 Simon Bize Savigny-Les-Beaune with Les Climats'  savory lamb en croute
My encore visit the next year, started with a glass of 2010 Domaine Fontaine-Gagnard, Chassagne-Montrachet, 1er Cru La Boudriotte (one of my favorite Chassagne producers) and tiger shrimps, followed by squab pigeon with an artichoke gallet and another bottle of 2005 Simon Bize. Wonderful. (And thank you to sommelier Franck who put my name on the bottle and kept it in the cellar for my promised return that April.)
Sommelier Franck Emmanuel
I dined here twice more in 2015. No more Simon Bize, but there is a cellar full of Burgundy gems in wait. The one I selected after consultation with the female sommelier: 2008 Domaine Pierre Gelin, Fixin, 1er Cru Clos Napoleon. It's a monopole, the French term for a single-vineyard, and from a vintage that is unjustly overshadowed by the brilliant 2009 red burgundies.
Now with its first star from Michelin, the prices are up, but Chef Julien Boscus' delicious food, incredible Burgundy selection and professional service warrants the price and the rating.  And the thoughtful and caring owner, Carole Colin, makes Les Climats a "home away from home."
UPDATE:
Returning in October 2016, I found a newly decorated dining room in the rear of the restaurant. Sommelier Johanna Tichadou-Messere decanted our 2010 Jayer Gilles Hautes-Cotes de Nuits whose cranberry-strawberry fruit flavors and acidity was perfect with chef Julien Boscus' delightful fall dish of grouse, wild mushrooms and puree potatoes.
Sommelier Johanna
Le Villaret (11th arr.)  13 Rue Trnaux. When the owner of a good restaurant tells me where she eats on her day off, you have to go.  Carole Colin, the owner of Les Climats recommended this neighborhood restaurant with its very good food and good wine list. Swedish blond wood room features a bistro menu and English-speaking owner who takes your order. A quintessential Paris neighborhood restaurant that will surely see me again.  (April 2014)
And sure enough it happened: I had my table the following fall where the 55-euro seasonal menu featured a generous foie gras portion; a main course of wild partridge with mushrooms and chestnuts, with support from a 2008 Domaine Geantet-Pansiot Chambolle-Musigny and a 2008 Clos Rougeard, Samur Champigny from the extensive wine list.  Few Americans are aware of the delightful cabernet franc wines of the Loire Valley's Samur Champigny appellation, and fewer still of the first-rate Clos Rougeard.
Chez Monsieur. (8th arr.) 11 Rue du Chevalier Saint-George. Near the Madeline, this classic-styled bistro is owned by the same partners of Les Climates (Carole Colin and Denis Jamet).  June 2014 found me sipping a glass of Alfred Gratin blanc de blancs before enjoying a first course of sauteed girolle mushrooms with garlic butter and toasted hazelnuts; couldn't be more typical bistro and very tasty. My main dish of turbot with potatoes tossed with onions and chives went down well  with a bottle of 2010 Domaine Diconne,  Auxey-Duresses. Good fare and ambiance.
When I had dnner again the next spring, I flew in from Spain at 9:30pm, and called Carole who kept a table for my 10:30pm arrival. The excellent dinner with bass as my main course and a red Beaune (the waiter assumed I wanted a white Beaune since I ordered fish). I finished up after midnight; all the stores were closed so Carole gave me a bottle of sparkling water for my bedside table.  Who said the French aren't nice? (Probably the same people who say the same about New Yorkers.)
Restaurant Kigawa. (14th arr.) 186 Rue du Chateau. This was a new discovery in October 2014. The chef/owner of this 24-seat demure restaurant is Japanese who cooked in Paris for years before going out on his own. A half-bottle of Laurent-Perrier Champagne started the evening and the menu was a game lover's paradise: Wild hare pate and pigeon with fall mushrooms merited a half-bottle of Cote-Rotie and another half of Chassagne-Montrachet red Jean-Noel Gagard.  In my notebook, I wrote, "Great dinner; must go back."

And go back I did: another superb dinner the following May. By now, the tradition to start with a half-bottle of Laurent-Perrier  was established and enjoy with an appetizer of white asparagus and morel mushrooms. That was followed by spring lamb with artichokes and a bottle of excellent 2012 Bourgogne Rouge from Domaine Anne Gros.
Five months later my dinner started with a glass of Jacques Lassagne Champagne, then moves to the fall menu of a fricassee of cepes with bacon, blending the buttery mushrooms and pork flavors. The main dish of a rack of Iberian pork is as elegant as the 2014 Bernard Baudry, Chinon, "Les Granges". And when was the last time you had a chocolate soufflé for dessert? For me, it was much too long after Kigawa's.
But "too long" wasn't repeated: Just six months later, a perfect caramel soufflé was delivered to my table in April 2016, preceded by a toothsome pork, foie gras and sweetbread pate, and a roased squab pigeon. A bottle of Delamotte Brut Champagne– perhaps the best value on the market– and the 2014 Marcel Lapierre, Morgon, Cru Beaujolais rounded out another great evening in this jewel box.  And Michelin has yet to award this excellent restaurant with one star.  Quelle dommage!

Pastry chef Junko Kigawa's Caramel Souffle.
October 2016 found me in a perfect universe of flavors when chef/owner Michikiro Kigawa sent out the raw shrimp and Dourade Royale tartare with radish shavings, capers and radicchio. It was fresh, pure and delicious; I matched it with a glass of Philipponnat Brut Zero. Later, dining room manager Bertrand Verdier poured Jean Folliard's 2014 Morgon "Cote du Py." Its rich, blackberry, cranberry and white-pepper flavors flattered chef Kigawa's savory fricasse of lamb.

Bertrand Verdier presenting the 2014 Jean Foillard Morgon (left)
Yes, I like this place. If I'm in Paris, you'll find me here.
Garance (7th arr.) 34 Rue Saint-Dominique.  My newest adventure was awarded one Michelin star in 2015. Two small rooms upstairs, one is a depressing grey (why would anyone paint a dining room grey?) with artless walls; the other is a brighter white with a small, glass wine room. The young staff is pleasant and the sommelier is upbeat about his wines bearing fair prices; the menu is a la carte with a limited selection of four appetizers, three main courses and two desserts. Not exactly what I expected from a one-star restaurant. But the horse tartare recalled my time living in Brussels where horsemeat is a regular menu item. It was good but the red beets and plum juice was too odd for me. The main course duck is no better than others; not a one-star dinner. Kigawa is twice as good with no stars. Go figure.
Amarante (12th arr.) 4 Rue Biscornet. This small bistro is on a side street with very reasonable prices.  It's worth the search for the Boudin de Couchon, a pig's blood sausage with such intense flavor that small bites are required. A bottle of 2012 Claire Noudin, Hautes Cotes de Beaune was succulent and the quintessential Burgundy.
Restaurant Louis (9th arr.)  23 Rue de la Victoire. My first visit was in September 2015. This little jewel box is going for the Michelin star constellation. I have no doubt the chef will get at least one very soon; the food is creative and very good. Lots of little touches that Michelin will love and you'll be pleased with, too. Menu at lunch is three courses; dinner is either six or eight courses (but think French fine dining sizes, not American plates).

Service is perfect, the wine list small but you'll find something to enjoy with dinner. My choice was the savory 2010 L'Etoile de Bergey, the second-label of Ch. Haut Bergey, Pessac-Leognan.
Restaurant Louis server smoking an appetizer at tableside
Another new star appeared in the 2015 Michelin Paris restaurant galaxy: the Italian cuisine Penati al Baretto (8th arr.) 9-11 Rue Balzac.  Its bourgeois location features a cushioned dining room with a multilingual manager and a sommelier who forgot the art of smiling even when you are not enjoying your job of serving your customers.

Robotic they are; but the chef is not. From my April 2016 dinner, the spring asparagus risotto was properly al dente and bursting with flavor; and the baby lamb leg for two was sheer and succulent. The 2014 Cottanera Etna Bianco and Rosso wines were good companions to the chef's work. I'll return when the dining room staff is more welcoming.
NEW LISTING:
As a former restaurateur, I know the value of a colleague's recommendation. So, I followed up on Bertrand Verdier's tip: Alliance 5 Rue de Poissy (5th).
This is what new, chic, upscale Paris restaurants look like: Open kitchen at one end of a room with generously spaced white tablecloth-dressed tables with millennial-generation waiters in sports jacket and open shirt collar.
I selected the 75-euro six-course dinner (tell the chef what food allergies you have, and he'll create a surprise work-around).
After the amuse-bouche of an elegant red-pepper puree served in an industrial-architecture-inspired crock, a single oyster buried under an avalanche of crème fraiche and slivers of fried onion and lemon zest made the first course.
The vision of a forest floor appeared when the chef sent the second course of oyster and girolle mushrooms and steamed potatoes covered with fern-like green herbs, green powder—which I suspect was created from drying and pulverizing herbs–and tiny flower pedals. Its wilderness tasted so good, I recalled how much I enjoyed my Boy Scout days in the woods with my tent and sleeping bag.
Then came the fish course: Bar filet (sea bass) with more flowers, and cauliflower in white, yellow and green renditions. It was followed by foie gras wrapped in bright green Swiss Chard centered in a bowl with beef broth, garnished with a single slice of carrot, leek and potato. Then the meaty, wild duck with its elegant texture and aged beef taste, alongside the ancient grain, spelt. Finally, the dessert: milk chocolate praline crust that seemed like a raft afloat in a lovely pool of coffee-flavored Crème Anglaise and capped with vanilla ice cream.   

Wild Duck with Spelt
In an era of dining rooms with bare table tops, ear- splitting noise levels, Alliance reminds you that dining is more than eating. It's about conversation without shouting, tasting ideas inserted into food, and service that discreetly says the time is yours.
My Sunday Lunch or Dinner Venues:
Fish La Boissonnerie: (6th arr.) 69 Rue de Seine. The menu is more eclectic than in the past: dishes range from Middle Eastern to classic bistro presentations. Small but reasonably priced wine list, which you can enjoy in a casual ambiance: wood table and chairs, and everyone dressed in jeans or other casual style. The streets in this area are buzzing with musicians and food markets, making this a good Sunday lunch location.
110 Taillevent: (8th arr.) 195 Rue du Faubourg Saint-Honore'. Here, the name is the story: 110 wines by the glass.  It's a good Sunday dinner choice as many Paris restaurants are closed.
For many, Taillevent was once the greatest three-star Michelin restaurant in France (it's now two-star). This sister restaurant is a lot less formal and less expensive; both restaurants are now owned by the family of Chateau Phelan-Segur, St. Estephe.
 All photos by John Foy.