In the engrossing book, Passions: The Wines and Travels of Thomas Jefferson, author James M. Gabler writes of an Italian doctor-merchant-winemaker-statesman Filippo (Philip) Mazzei who landed in Virginia in 1773 with his wife, their 12-year-old daughter and 10 Italian vineyard workers.
In a morning walk with Mazzei, Jefferson learned that this young Italian man grew up in a mountain village in Tuscany and studied medicine at the Santa Maria Nuova Hospital in Florence, but was dismissed for drinking wine before taking communion on Holy Thursday. Mazzei recounted his departure from Italy for Turkey, where he practiced medicine for two years, then moved to London where he set up an Italian wine and food shop. It was there that he met Benjamin Franklin and Virginian Thomas Adams. The Americans encouraged Mazzei to go to Virginia, which he did, and where Adams introduced Mazzei to Jefferson.
Jefferson's passion for wine was well established and his cellar at Monticello already stocked with French, Madeira and Port wines. He formed a partnership with Mazzei to develop a vineyard on 400 acres next to Monticello; Mazzei named it "Colle," Italian for hill. But the Revolutionary War ended the vineyard experiment, and in 1778 Jefferson proposed to the Virginia legislature that Mazzei go to Europe as a financial agent for the Commonwealth of Virginia. Mazzei signed an oath of allegiance to Virginia and departed for France.
Two hundred and forty three years later, another Mazzei arrived in America. In May, Francesco Mazzei presented a tasting of six vintages of the family's top Tuscan wine, Siepi, in New York City while acknowledging that a distant relative was here long before him.
Mazzei, and his brother Filippo, are the current guardians of Chianti's Castello di Fonterutoli, owned by their family since 1435. Siepi was created in 1992 from a blend of Chianti's primary red grape, sangiovese, and Bordeaux's merlot. The 14 to 27-year-old vines are grown in a 15-acre vineyard in the Chianti Classico village, Castellina. Siepi is labeled a Tuscan IGT (Indicazione Geografica Tipica) or in wine parlance, Super Tuscan. These nontraditional wines have risen to the pinnacle of Italy's wine hierarchy.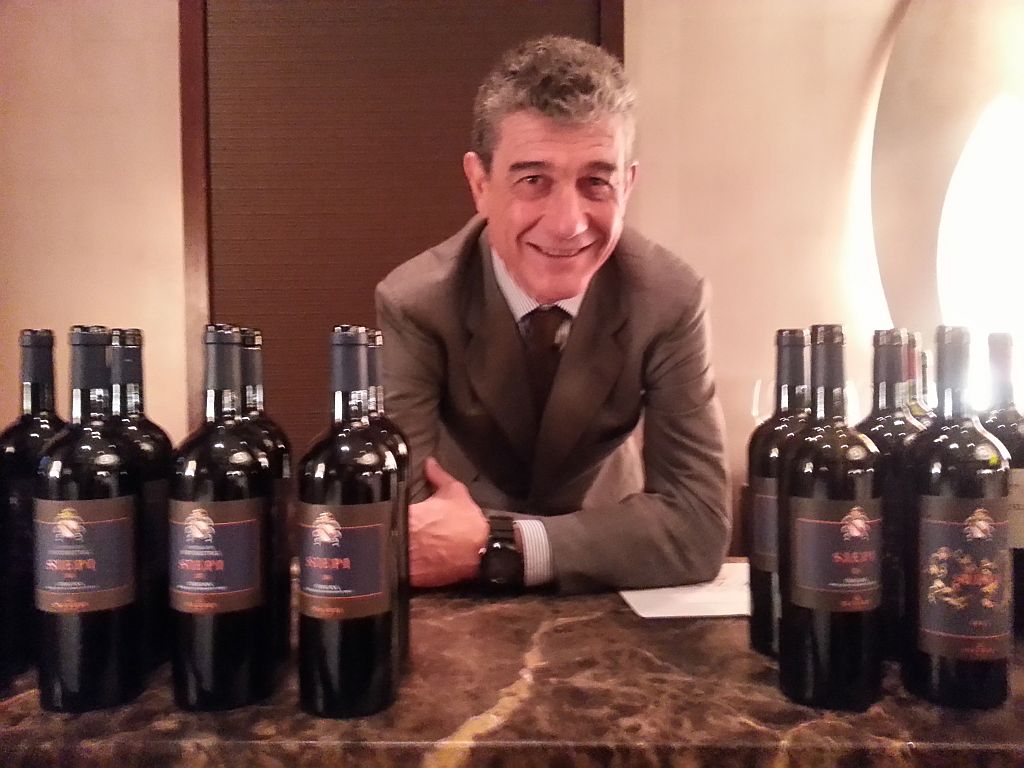 Francesco Mazzei in NYC.
We began the tasting with the 2005 Mazzei Siepi. I've tasted numerous Tuscan wines from this vintage and most show the effects of the rains in August and September: The 2005 Siepi didn't escape unscathed either. Its smoky, toasted oak and black-tea scent, and initial black-fruit flavor is overtaken by harsh tannins and noticeable alcohol in an unbalanced finish. 85 points. Not commercially available.
Mother Nature was kinder in 2006. A healthy year of warm to hot weather brought ripe merlot and sangiovese with good acidity, making a savory, fruit-driven 2006 Mazzei Siepi. Its mild chocolate and black-fruit aroma is the first distinguishing characteristic setting it apart from the 2005 wine. Then, the Darjeeling tea and black-cherry flavors are lined with integrated tannins lifting it above the 2005 and lowering it into your cellar for years of pleasant drinking. 90 points.  Prices range from $75 to $140, calling for searching the Internet before buying.
The sun god was even kinder to Siepi in 2007. A tranquil and temperate spring and summer turned to a warm, dry fall giving the grapes excellent sugar and acidity at harvest. The refined black-fruit aroma of the 2007 Mazzei Siepi is instantly appealing; its medium body balances tasty, red-plum fruit flavor with a line of bright acidity that is at once more noticeable than in the 2006 and telling you this is an outstanding vintage for aging. 93 points.  Prices range from $79 to $134.
In the wine world, good things do not normally happen in threes. In Tuscany, 2008 was a very dry vintage, stressing the vines. Some September rainfall gave the vines a reprieve and the grapes better balance. The 2008 Mazzei Siepi brings a noticeable milk-chocolate aroma along with a deep black-cherry scent and flavor. The wine's tannins and acidity need a year or two more aging before they blend into the fruit. 88 Points. Not commercially available.
Siepi wasn't only under the Tuscan sun in 2011; it was also under Sahara-like heat that descended on Tuscany in mid-August. Winter rains and a July storm provided some moisture for the vines, but the harvest came early with unbalanced grapes.
The 2011 Mazzei Siepi displays a panoply of mild toasted oak, milk chocolate and red-fruit aromas; its juicy cherry and black-cherry flavors are carried on the lightest body of the five wines, but are matched with soft tannins and mild acidity. It is a pleasant wine; drinkable while the 2006 and 2007 age. 87 points. I think at $96 to $110, you will be happier with the outstanding 2007 Siepi.
The 2012 Siepi is the 20th anniversary of this wine. Without doubt, the Mazzeis prayed for a wonderful growing season, but "uneven" is the badge pinned on the 2012 vintage. From periods of freezing winter to a wet spring and onward to a second dry, hot summer, Tuscany's vineyards and winemakers alike were stressed and challenged.
The 2012 Mazzei Siepi emerged from it with more subdued aromas of oak and chocolate and red fruit than the 2011 Siepi. But it shares the 2011's lighter body and the juicy black-cherry fruit that finishes short–just like the harvest. 85 points. At $70 to $90, it's the lowest priced, but smart money looks for the 2007 in the same price range.
In 19 years, the Mazzeis will celebrate the 600th anniversary of ownership of Castello di Fonterutoli. It's a testament to their dedication; the current generation's development of Siepi shows it is establishing a modern wine for future generations to carry the enterprise into the next century.
Photos: John Foy