New Zealander Steve Smith is a master of wine, noted viticulturist, and a visionary. In the 1980s, he saw a 250-acre plot in Hawke's Bay as an ideal vineyard site, well before that region was on the New Zealand wine map. However, it was being used as a winter paddock for cattle and sheep. Then, in 1987, it was purchased by a concrete company intending to turn it into a quarry and gravel mine. Local growers and political opposition mounted, causing the company to put the property up for sale in 1997.
Terry Peabody is an American engineer and businessman who moved to Australia in the mid-1960s, and built a fortune from creating a method that re-used fly-ash, a by-product from coal-fired power plants, as a constituent for concrete.
At the time that Smith was looking for a way to buy the vineyard land, Peabody's wife Mary wanted her husband to create a business that would be a family heritage. She proposed a winery; he accepted.
A decade passed while the Peabodys researched wineries, vineyard land and the wine business structure in France, Napa Valley, and Australia. Then, in 1997, on a business trip to New Zealand, Peabody met Smith and all the pieces of the puzzle came together. A partnership was formed, the Hawke's Bay property acquired, and Craggy Range winery was born.
The following year, a second plot was acquired for a chardonnay vineyard and the winery itself, followed by a third acquisition of the 350-acre Te Muna Road Vineyard in Martinsborough.
Martinsborough's cooler climate is ideal for sauvignon blanc and pinot noir. While New Zealand sauvignon blanc has caught the eye and palate of wine consumers, I think its pinot noirs are equally compelling. They offer vibrant fruit without being fruity; are medium-bodied, with balancing tannins and acidity. And not to be underestimated, most New Zealand pinot noir winemakers control the level of alcohol and oak-influence.
Winemaker Matt Stafford joined Craggy Range as an associate winemaker in 2006, rising to full winemaker in 2010, and chief winemaker in 2012 with responsibility for the entire winemaking team and portfolio.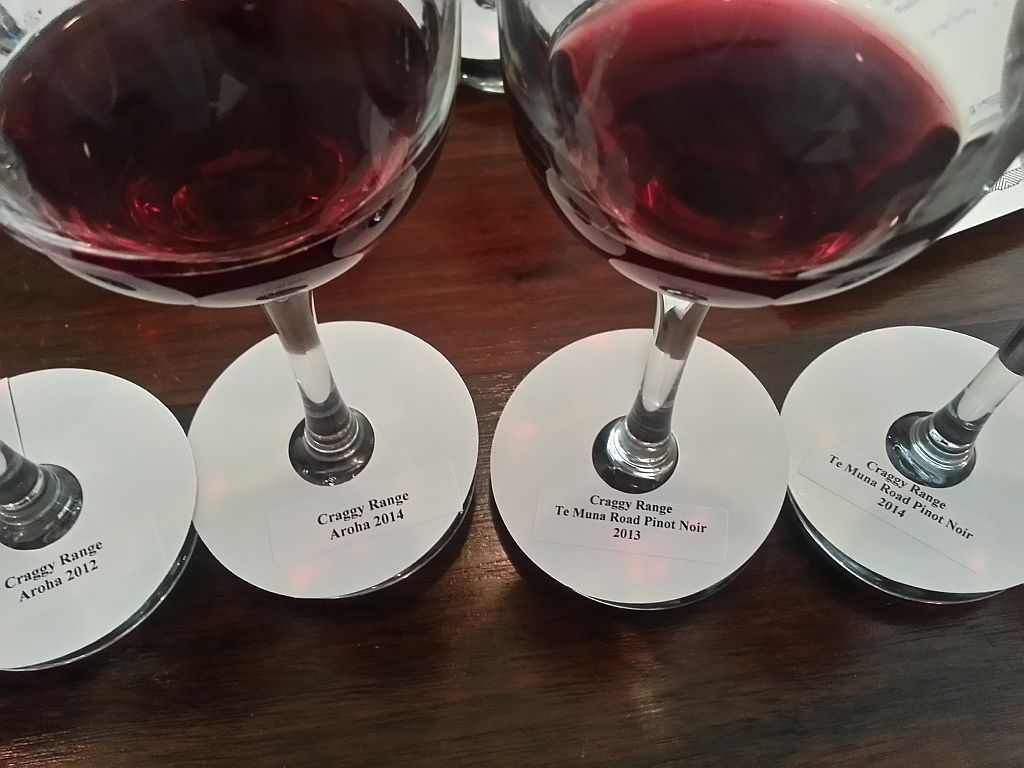 The 2013 and 2014 Craggy Range Te Muna Road Vineyard Pinot Noir are the prodigy of near perfect growing seasons.
Alluring five-spice powder aroma, and pronounced blackberry, black-cherry and subtle black-pepper flavors make the 2014 Te Muna Road Vineyard Pinot Noir instantly captivating. Integrated tannins and a gravelly dryness in the finish without the slightest hint of alcohol or oak, make this a first-rate New World pinot noir. 93 points. It will arrive in our market in May; expect to pay about $39 to $45.
The 2013 Te Muna Vineyard Pinot Noir mixes its black-cherry aroma and flavor with slightly more black-pepper than found in the 2014. Its dry finish is pleasing and long, and the wine is very drinkable. 90 points. Retail is $39 to $47.
Aroha means love or affection in Maori, the language of the indigenous Polynesian people of New Zealand. It is also the name of Craggy Range's pinot noir made from a special selection of two pinot noir parcels in its Te Muna Road Vineyard. Its first vintage was 2006.
The youthfulness of the 2014 Te Muna Road Vineyard Aroha Pinot Noir requires repeated glass swirling before its blackberry and black plum aromas are released. Its medium-body is tightly wrapped with black-cherry fruit flavor, and the oak-barrel aging brings a plush texture. But if you age the 2014 Aroha for a year or two, the wine will expand its rich fruit character requiring less wrist action on your part. 90 points.  It will arrive in our market in June; expected retail price $90 to $95.
With three generations now working at Craggy Range, and the wine estate in a 1,000-year trust, it's fair to say that the winery is in good hands, and will give us good wines for years to come.
 Photos by John Foy