this is the fourth article in a series about the new generation in Burgundy. 
As with many traditional family wineries in Burgundy, at Domaine Arnoux you'll find siblings and parents working side by side on the home turf. And, embracing an increasingly frequent and modern trend, here, sister and brother team Audrey and Jean-Baptiste have brought home insights acquired while working in southern hemisphere wineries during Burgundy's winters.
Audrey's (age 25) tours include Cloudy Bay in New Zealand and Baron Philippe de Rothschild in Chile. Jean-Baptiste, 23, has clocked-in at the certified-organic Aurum winery in New Zealand and La Motte in South Africa. At home, Jean-Baptiste works with his father, Pascale, in the vineyards and cellar, and Audrey joins her mother, Caroline, in the administrative and business side of the domaine.
Pascal overtook operations in 2007 after working 20 years with his uncles. The family farms 53 vineyard acres in Chorey-les-Beaune, Savigny-les-Beaune, Beaune, Aloxe-Corton, Pernand-Vergelesse and Corton.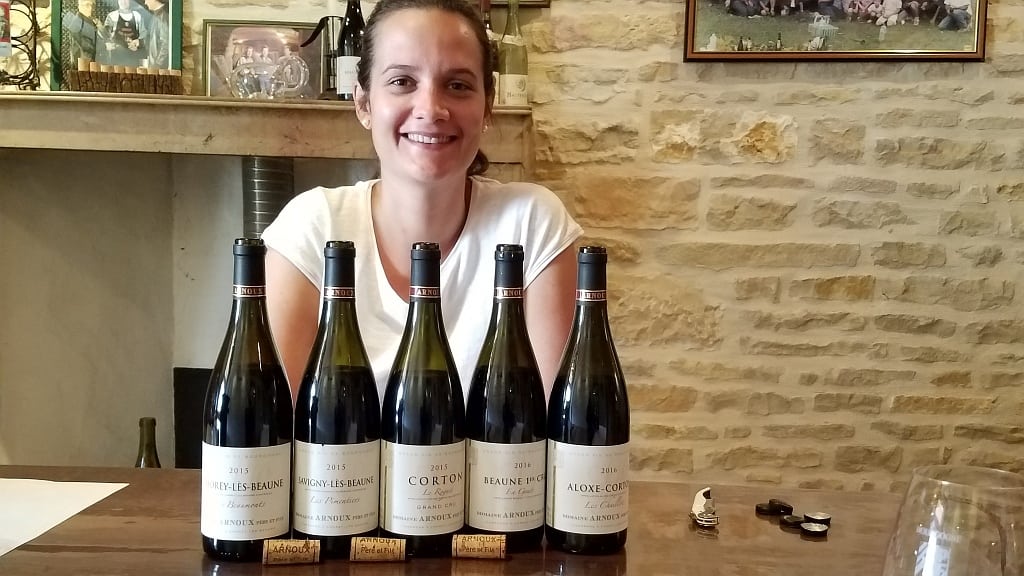 While visiting Burgundy this year, Audrey organized a tasting for me in their home. The red wines are all are aged 12 months, but the use of new oak differs: 20% for the Corton grand cru, 15% for premier crus and 10% for the village wines. The wines are neither fined nor filtered.
We began with the 2015 Domaine Arnoux Chorey-les-Beaune Les Beaumonts. Beaumonts, meaning "beautiful hills," in the otherwise flatland Chorey vineyard, is the marl and limestone bedding for Arnoux's vines. In 2015, Pascal transformed the ripe pinot noir into a bright-red, spicy, cherry and cranberry-scented and flavored wine. The mild acidity and tannins brought support and length. 89 points. Retail is about $29.
The 2015 Domaine Arnoux Savigny-les-Beaune Les Pimentiers is made from two plots with 30 and 50-year-old vines grown in reddish limestone and pebbly soil. Its ethereal texture carries delicious red-fruit flavor laced with tingling pepper and a mineral, stony backbone. This combination of flavor and finesse is sublime and what makes Burgundy red wines the most seductive in the world. 92 points. Retail is $35 to $40.
The medium-bodied 2015 Corton-Rognet Grand Cru with its deep, rich fruit redolent of black cherry sported a peppery note and mineral backbone from the gravelly limestone and marl vineyard. Nowhere to be found was oak influence from the 20% new barrels that Pascal used. He melded the wood into this perfectly balanced wine that will give pleasure for many years. 94 points. Retail is about $110.
The Burgundy 2016 vintage will be remembered for the April frost that destroyed many vines, but produced excellent wine from the surviving grapes.
The 2016 Domaine Arnoux Beaune En Genet Premier Cru delivers a delightful red-fruit aroma and a mouthful of black-cherry and anise-like flavors. Once more, the vineyard's minerality appears behind the rich fruit, and the tannins glide the wine to a long, pleasing finish. 91 points. Expected to arrive in our market in January 2019.
It was clear to me that the smoky aroma of the 2016 Aloxe-Corton Les Chaillots came from the flint and limestone vineyard and not from the use of oak barrels. Alongside the flint-induced scent is a substantial black-cherry aroma and flavor lined with minerality and wrapped around an elegant body. This is a very well-made wine. 93 points. Expected to arrive in our market in January 2019.
Pascal captured the wonderful aromas and flavors of pinot noir and the minerality of each vineyard's soil. His restrained use of new oak barrels, which he learned from his father, who was a cooper, takes the wines of Domaine Arnoux to an elegant level
Now, with two energetic millennials of the sixth generation joining the family business—and experiencing the positives and negatives of New World wines and wineries—the future of Domaine Arnoux shines brightly.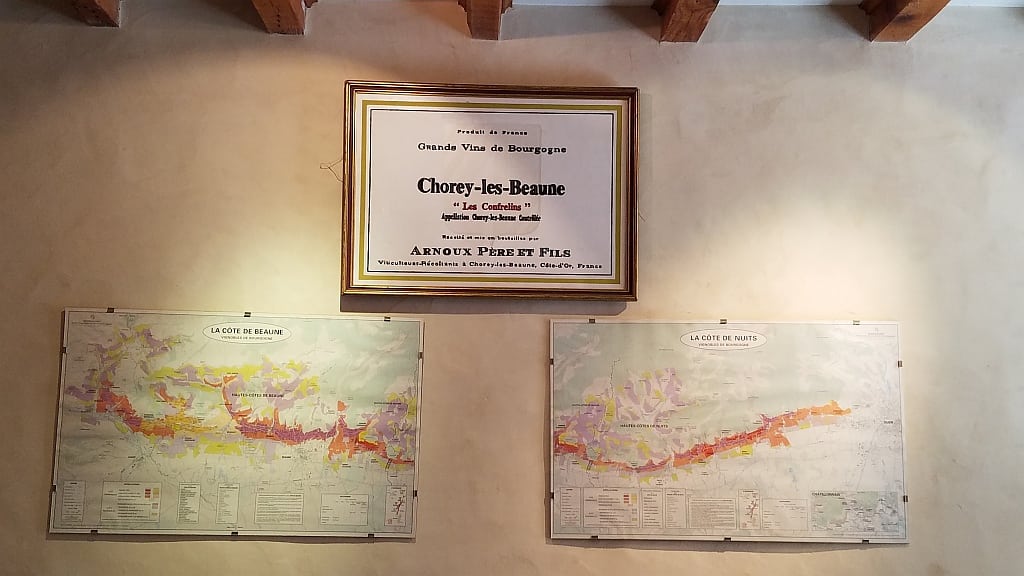 Photos by John Foy