Master sommelier John Szabo (speaking), professor Kevin Pogue (left)
We can thank Robert Mondavi, in his pioneering days in California, for marketing wines by their grape names. And, depending on your point of view, Mondavi also can be congratulated or blamed for indoctrinating Americans to buy Sauvignon Blanc—in the 1960s, an unpopular wine—under the auspices of "Fume Blanc," a moniker borrowed from Pouilly-Fume (fume meaning "smoke.") The "smoke" in this case referred to the characteristics imparted by the oak barrels in which the wine was aged in Mondavi's Napa winery.
Fast forward to the current decade in which smoke in wine has a different connotation: the pungent and distinctive aroma and flavor characteristics that often show up in wines made from volcanic soils. Not everyone, however, is a believer.
But the wine industry has found two advocates of the oft-debated theory in master sommelier John Szabo, author of Volcanic Wines: Salt, Grit and Power, and geology professor Kevin Pogue, Ph.D., from Whitman College in Walla Walla, Wash. The two experts recently were in New York City for the inaugural International Volcanic Wine Conference. Pogue is renowned for mapping many of Washington State's AVAs based on their geology.
Forsaking the New World's focus on grape varieties, and the Old World's vineyard system, Szabo and Pogue threw a wide lasso around wines produced from grapes grown in volcanic soil from America's west coast to Chile, Italy, Portugal, Greece and Hungary.
Szabo suggested that volcanic soils influence the structure and flavors of grape varieties regardless of location. Citing Napa Valley, he noted the difference between the fruit-driven valley floor wines and the mineral backbone of the hillside rocky volcanic soil vineyards.
As he spoke, I recalled the gravelly, mineral and tannic Dunn Vineyards Howell Mountain cabernet sauvignon, and its softer sibling, the Dunn Napa Valley cabernet sauvignon, which blends purchased grapes from the valley floor with the Howell Mountain fruit. The single-varietal bottling requires decades to soften, whereas the blended cabernet sauvignon is drinkable soon after bottling.
While Germany is rarely associated with volcanoes, its Eifel area, which lies between the Rhine and Mosel, is dotted with hundreds of former eruption sites—"hot spots," if you will. The region is renowned for its schist vineyards, which provide mineral-based Riesling wines considered the finest in Germany and, arguably, the world. Meanwhile, some of Italy's wine history is buried in lava and its wines are figuratively erupting with the stony backbone and salty flavor components that Szabo and other advocates identify with volcanic soil wines.
They argue that one need only taste the bright acidity of Sicilian white wines made from carricante and catarratto grapes grown in the lava rock-filled hillside vineyards of the lively Mount Etna (DOC) volcano. Or the refreshingly crisp and flinty Lacryma Christi, Greco di Tufa and Fiano di Avellino grown in Campania, the home of Mount Vesuvius to understand the effect of volcanic soil.
In a world where the winemaker's wide-ranging kitbag includes harvesting extra-ripe grapes, long macerations, new oak barrel toasting and aging recipes, flavor-designed yeasts, micro-oxidation and more, it is only volcanic soil that leaves an unmistakable and permanent imprint on a wine, say proponents of the new volcanic school.
To test that theory, after Szabo and Poque's presentation, I tasted a selection of Italian wines grown in volcanic soil. And what better place to start than with Sicily, where winemaking has existed for centuries alongside Mount Etna, the highest and most active volcano in Europe.
Modern Sicilian winemaking begins in the late 1980s, when pharmacist Giuseppe Benanti rejuvenated his family's vineyard in the black-lava soil and rock on Etna's southern slope. Today the estate is in the hands of his twin sons Antonio and Salvino.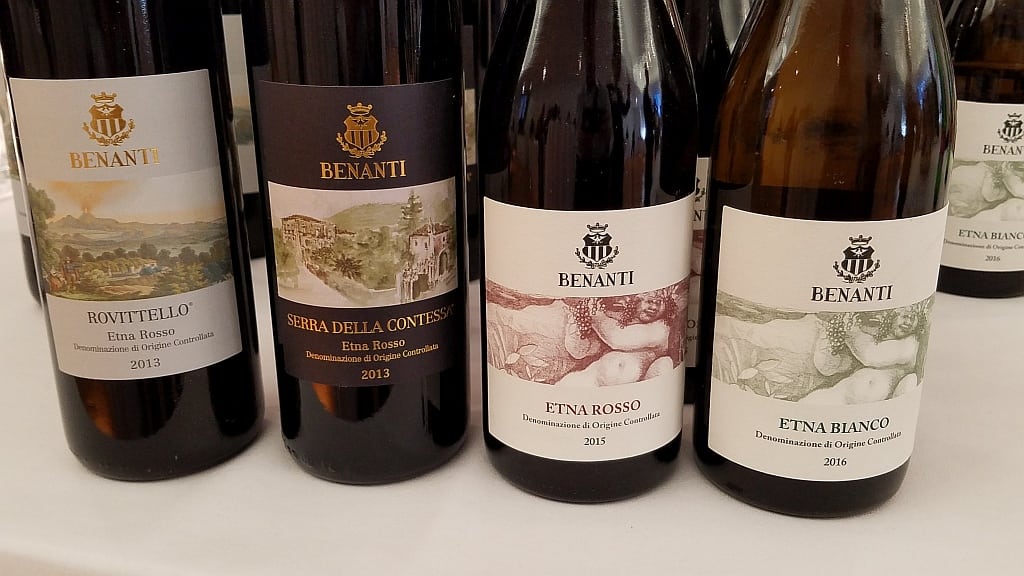 The light and fresh 2016 Benanti Etna Bianco is pure carricante with a mild herbal and citrus nose. Its white nectarine flavor with a dry, gravelly finish is a thirst quencher for a summer day. 88 points. Retail $19 to $24.
The 2015 Benanti Etna Rosso blends nerello mascalese and nerello cappuccino, producing a pronounced red-fruit and dried strawberry aroma. It's a bowl of red berry, blackberry and strawberry flavors bound with tannins and minerality on a medium body. 91 points. Retail $18 to $23.
Benanti's leading wine is the red Serra della Contessa, named for the 18th-century owner of the property. It's the same blend as the Etna Rosso, but the volcanic soil is prominent in the 2013 Benanti Etna Rosso Serra della Contessa's aroma of black cherry, strawberry and crushed rocks. The dusty, mineral taste underlines the black-cherry fruit flavor and the dry, stony finish. 90 points. Retail is $50 to $55.
From the northern side of the volcano comes the nerello mascalese and nerello cappuccino for the 2013 Benanti Etna Rosso Rovitello with its flinty, smoky, black-cherry aromas. The volcanic soil reappears in the graphite taste that lies quietly under the rich, black-cherry flavor carried on a medium body with integrated tannins and a pleasing finish. 90 points. Retail is $50 to $55.
Since 1830, the Tasca d'Almerita family has made wine in Sicily. Today it operates five farms (tenute) on the island, including tenuta Tascante on Mt. Etna. Its first harvest was in 2008 from a 30-acre vineyard 2,300 feet above sea level in sandy volcanic soil rich in calcium and mineral acidity.
The 2016 Tasca d'Almerita Buonora Tascante Etna Bianco has citrus and white floral aromas, and a tangy lemon flavor with acidity that refreshes the palate. The touch of saltiness in the finish adds to its appeal. 90 points. Retail is approximately $21.
The 2014 Tasca d'Almerita Il Tascante Sicilia is pure nerello mascalese with a bright cherry hue and a dusty, crushed rock and cherry nose. Its medium body carries very tasty cherry and strawberry fruit flavors with round tannins and a stony, dry finish. 91 points. Retail approximately $21.
Ghiaia Nera means "black gravel" and is an appropriate name for a wine grown in the volcanic soil found throughout the estate vineyards. The 2015 Tasca d'Almerita Ghiaia Nera Tascante Sicilia is brilliant cherry-colored with a slight smoky and red-fruit nose. The initial graphite, mineral taste is offset by the very ripe, cherry fruit flavor with a marjoram-like seasoning. 90 points. Retail from $16 to $21.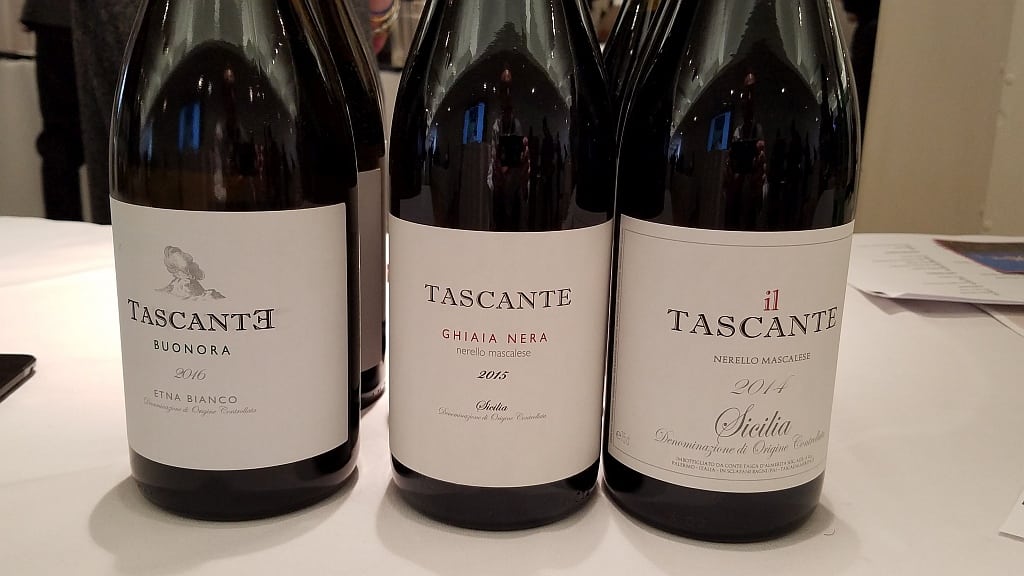 Mount Vesuvius is the only active volcano on Europe's mainland. Located about 12 miles from Naples in the Campania region, its eruption in A.D. 79 destroyed the cities of Pompeii and Herculaneum.
The volcano has a semicircular ridge called Mount Somma that rises to 3,714 feet. It is there that you find Cantine Olivella, an organic winery founded in 2004 in the village of Sant' Anastasia, part of Mount Somma, on the north side of Mount Vesuvius.
Within the winery's 25 slopeside acres are the white grapes caprettone and catalanesca used for its Lacryma Christi del Vesuvio Bianco. Caprettone, which constitutes 80 percent of the blend, take its colorful name from capra, or "goat," as the shape of the bunches resemble a goat's beard; catalanesca is a Spanish grape brought to the region in the 15th-century from Catalonia, Spain.
Fermented and aged for three months in stainless-steel tanks, the 2016 Cantine Olivella Lacryma Christi del Vesuvio Bianco has a clear white color and pleasing floral aroma. A very flavorful melon taste with soft acidity and a saline finish makes this wine ideal for seafood. 89 points. Retail is about $15. Imported by Panebianco in NYC.
 Cantina del Vesuvio, an organic winery founded by Giovanni Russo in 1948, occupies the slopes of Mount Vesuvio. Today his son Maurizio directs the 30-acre estate where Piedirosso grapevines grow in the dark, porous lavic soils for the 2015 Cantina del Vesuvio Lacryma Christi del Vesuvio Rosso.
 Brought to Campania in the 5th century B.C., piedirosso has grown on the volcanic slopes of Vesuvio ever since. It wholly comprises Russo's 2015 Lacryma Christi with pronounced aromas of black olive, plum, and marjoram. Its full body offers very flavorful blackberry, mulberry fruit and black pepper with a stony, mineral backbone that delivers balance and length. While  Lacryma Christi means "tears of Christ," this wine cries for grilled lamb chops or your favorite steak. 91 points. Imported by Wine Twist, NYC.
Cantine degli Astroni was founded in 1999 by the Varchetta family, vineyard owners and winemakers in Campania for more than a century. The vineyards' volcanic soil is planted with indigenous grapes, including the white grape caprettone featured in the 2016 Cantine Degli Astroni Lacryma Christi del Vesuvio Cratere Bianco.
Cratere, meaning "crater," refers to the vineyard's location on the eastern side of Mount Vesuvius. Made and aged in stainless-steel tanks, the very pleasant white floral and fruit scent is matched with a pear-like flavor that has a refreshing acidity and stony, dry finish. 89 points.  Imported by the Vine Collective in NYC.
It is fair to say that Antonio Mastroberardino single-handedly transformed Campania from a bulk-wine producing region to a source of well-made world-class wines. After World War II, Mastroberardino took the reins at his family's 19th-century property. He focused on local grapes in a climate of economic and physical devastation. Solid winemaking and endless promotion were the springboards to success. But what launched Mastroberardino—and the region—onto the international stage was its Taurasi wine made with the indigenous aglianico. It became known as the "Barolo of the south." Today Mastroberardino is in the hands of Antonio's son, Piero.
2016 Mastroberardino Lacryma Christi del Vesuvio Bianco is made from the indigenous grape coda di volpe, which means "tail of the fox" and explains the shape of the grape cluster. Its light body is composed of a lemon-y and white-peach character with a pleasing acidity and rock-salt tang. Fortunately, it's not as fleeting as a fox. 87 points. Retail is $14 to $19.
The light-bodied 2016 Mastroberardino Lacryma Christi del Vesuvio Rosso is the companion wine of the bianco, offering lively red-fruit aromas and tangy cherry and red-plum flavors with mild minerality. Both wines work with casual foods such as sushi rolls, pizza and hamburgers. 87 points. Retail is $16 to $19.
The flipside of the above two wines is the full-bodied 2013 Mastroberardino Taurasi Radici. Made from aglianico, the spicy black pepper, dried oregano, graphite, black-plum and black-cherry aromas and flavors appear and step aside like actors on a stage. This multi-dimensional wine needs a few years of cellar aging for its tannins and minerality to harmonize with the rich flavors. 94 points. Retail is $55 to $60.
This tasting demonstrated that volcanic soils instill minerality, graphite, flint, bright acidity, gravel, and dusty, crushed rock character to wine. Some of these markers are found in nonvolcanic soil wines, such as chardonnay grown in calcaire soil.
It is useful to explore these wines with their various accents, and even better to seek them for regular consumption. They are far more authentic than many wines being manipulated by winemakers and corporate wine companies interested only in brand building, or designing wines for a supposed "American palate."
Photos by John Foy