Winemaker Chloe Chevalier
Today's article is the first of a series that reports on a new generation of winemakers taking the reins of family estates in Burgundy. During my visits, I focused on the delicious 2015 vintage, and the frost and hail-depleted 2016. 
Domaine Chevalier is in Ladoix-Serrigny, a small village whose northern edge marks the end of the Cote de Beaune and beginning of the Cote de Nuits, Burgundy's two world-renowned sub-regions.
The Chevaliers have made wine there since 1850. Today, 30-year-old winemaker Chloe Chevalier manages the 37-acre estate  with two of her four sisters. Nine acres are devoted to chardonnay and aligote in even parts, and 28 acres to pinot noir.
In 2008, Chloe graduated from the enology program in Beaune and took the winemaking reins from her father, Claude. She eliminated new oak barrel aging for the basic Ladoix appellation and Ladoix premier cru wines, and reduced the new oak from 20 to 50 percent for her Aloxe-Corton, Corton and Corton-Charlemagne wines. She doesn't use gelatin or egg whites to clarify her wines, preferring racking them (a process of moving the wine from one container to another) to eliminate the sediment, "I prefer to make wines that show the terroir and fruit, that are authentic, and are not about fashion," she said.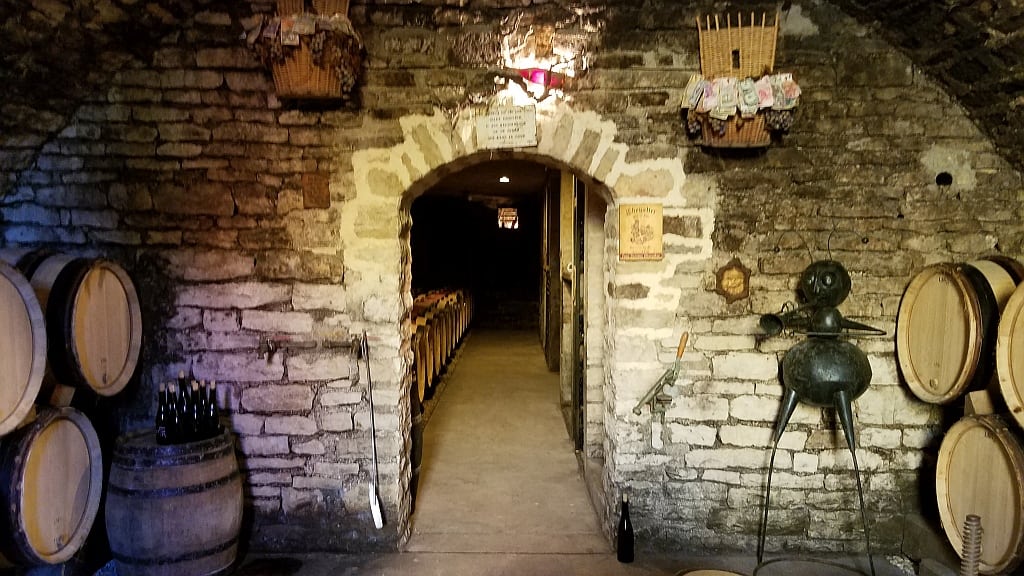 As we stood in the cool, centuries-old cellar, Chloe noted that though 2015 was a hot vintage like 2009 and 2005, it produced better balance from the ample spring rains that carried the vines through a dry summer.
Pinot Noir:
The first sip of the cherry and raspberry-scented and-flavored 2015 Ladoix was an immediate message that this every day, light-bodied wine was at an elevated level in 2015. 89 points. Expect to pay about $49.
The 2015 Ladoix Premier Cru Les Corvees was aged in four-year-old barrels, and is slightly darker than the translucent cherry-colored appellation wine. Its delectable cranberry and raspberry flavors were wrapped around a medium body and carried a pleasing finish. 90 points. Expect to pay about $69. 
Normally, Aloxe-Corton is not a wine that you drink before the fourth or fifth year, but the 2015 Aloxe-Corton delivered a rich, black-cherry-aroma and-flavor with freshness from the wine's acidity that made it difficult to only taste, and not gulp it down. 91 points. Not in the market yet. 
No matter the size of the parcel, Corton and Corton-Charlemagne grand cru vineyards are the pride of every owner. For the Chevaliers, it is also a family fable about their grandfather, Georges, which Chloe recounted as I was tasting the exquisite 2015 Corton Le Rognet Grand Cru.
In the 1950s, as France was recovering from the economic and physical devastation of World War II, Georges and a friend went to a vineyard auction hoping they could make a joint investment.
They were able to purchase one parcel containing five ouvrees of Corton and three ouvrees of Corton-Charlemagne (an ouvree is the size of a vineyard plot that a man can work within a day—there are 24 ouvrees in a hectare, or  2.44 acres). But, after the auction the would-be partners decided that the purchase was too small to be viable for both, so Georges said he would buy it for himself.  There was, however, a small detail: Georges didn't have the money.
Georges' father, who was buying and selling farm workhorses, had purchased a colt for his son. Georges returned the colt and asked for the money, which was just enough to buy the eight ouvrees. The following year Georges repaid his father after selling two barrels of his grand cru wine.  
Today, Burgundy grand cru vineyards are the most expensive in France, averaging five million euros (about six million dollars) per hectare. So, the colt that Georges Chevalier returned to his father might be the best horse trade in history.
As for the wine, its grand cru pedigree is seen in the black-cherry color and deep, rich black-cherry and raspberry flavors with a stream of vanilla from aging in 50% new oak barrels. As magnetic as the 2015 Corton Le Rognet is, this is a very structured wine that should age in your cellar for at least five years, and bring splendid pleasure for decades. 93 points. Not in the market yet.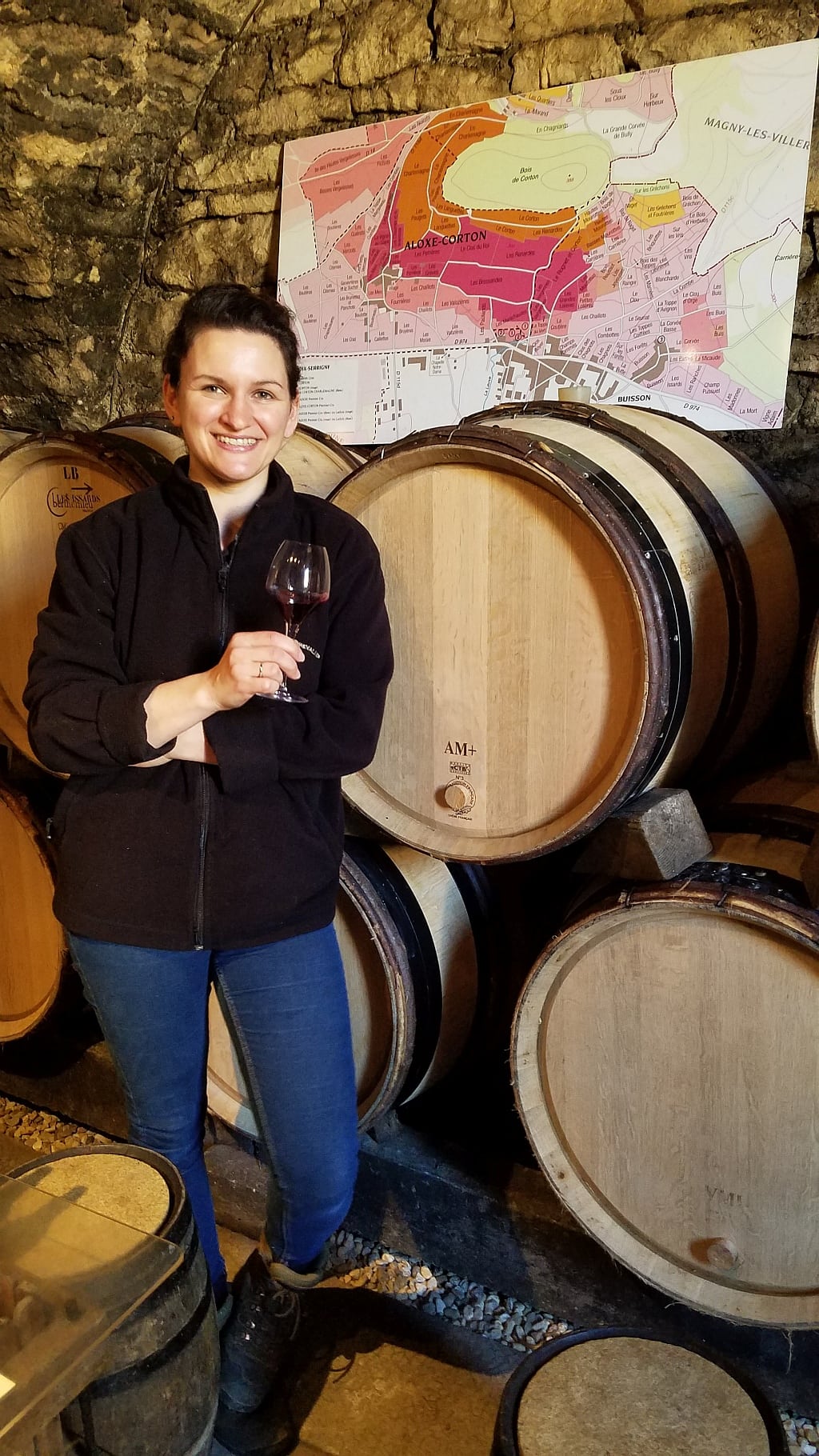 Chloe with her 2016 Corton Le Rognet Grand Cru
Chloe said the 2016 wines are silkier than the 2015s. I found that descriptor varied by producer and wine, but what was certain is that many wineries suffered enormous damage to their vines and income that year from a spring frost just before flowering, and then a hail storm. With each bottle being so precious, I had a tinge of guilt as bottles were opened for our tasting.
Only 17 barrels of the 2016 Ladoix were made as opposed to a usual harvest of about 85 barrels. But what was harvested was a bright cherry-colored wine with an enticing cherry and cranberry aroma and flavor. It is lip-smacking good. 89 points. Not in the market yet.
At 60% loss, the 2016 Ladoix Premier Cru Les Corvees was only slightly less devastated. It, too, had a brilliant cherry hue that seemed to be a solace for the bleakness that covered Burgundy after the April frost. Black-cherry flavor and a mineral background delivered complexity, length and desire for more. 90 points. Not in the market yet. 
As Chloe removed the cork on the 2016 Aloxe-Corton she said this vineyard and the Corton escaped damage. Like the Ladoix wines, the Aloxe-Corton has a brilliant cherry color. It's very flavorful red fruit was lined with a gravelly backbone, providing structure and a very long balanced finish. 92 points. Not in the market yet. 
The 2016 Corton Le Rognet was still aging in its barrel, retaining a smoky accent from the toasted oak, which will diminish with time. Its refined black-fruit flavor and taste was underlined with a raspberry essence and an elegant finish. 93 points.  Not in the market yet.
Chardonnay:
The 2016 Ladoix Blanc is made from purchased organic grapes as the frost devastated Chevalier's chardonnay, leaving only enough to make one 300-liter barrel (about 400 bottles) from its Ladoix vineyard.
However, the surviving chardonnay's high quality produced a very floral aroma and delicious, richly flavored pear, apple and vanilla, with a long lingering aftertaste. Like the Ladoix rouge, this wine is for immediate enjoyment. 92 points. Not in the market yet. 
The Les Grechons vineyard was purchased by Chloe's grandfather and upgraded to premier cru in 2000 (the upgrade was only for chardonnay). Chloe was able to make the 2016 Ladoix Premier Cru Les Grechons from her own grapes. It has a more complex nose of pear, lemon and vanilla, and a bigger body carrying tasty white fruit with a pleasing long finish. 93 points. Not in the market yet.
The 2016 Corton-Charlemagne has the pleasing floral and white fruit aromas, and pear and apple flavors with soft acidity that makes this vintage instantly appealing and for near-term drinking. 91 points. Not in the market yet. 
At the conclusion of the tasting, Chloe's style was clear: let the vineyard speak for itself. Without excessive extraction, or oakiness, the wines are not commercially made for the fruit-bomb-loving crowd. Each that I tasted had the delicate body and finesse of fruit flavors lined with minerality and acidity that reflected the vintage, and makes Burgundy the most sensual wine in the world. Chloe is only 30 years old. Assuming she has a long winemaking career ahead of her, that's good news for us.
Domaine Chevalier Pere & Fils wines are imported by AP Wine Imports, New York City and Boston.
Photos by John Foy