Antoine and Prune Amiot
This is the second in a series of articles on a new generation of Burgundy winemakers at family estates.
From Route National 74 (RN74 to Burgundy insiders), the road winding through the Grands Crus Côte de Nuits, the village of Chambolle-Musigny is barely visible. But for Burgundy wine connoisseurs, the wines produced there are up front and center.
Without question, the vineyards, which rise up a thousand feet and more on the limestone hillsides surrounding the tiny village, produce the most delicate, enticing and sensual wines in the region. While lighter than its neighbors—Vougeot, Morey-Saint-Denis, Gevrey-Chambertin, Flagey-Echezeaux and Vosne Romanee—they are not fragile.
No other Burgundy can take you on a magical fragrance tour as a Chambolle-Musigny pinot noir with its scents of cinnamon, clove, anise, nutmeg and black-peppercorn intertwined with aromas from raspberry, cranberry and cherry fruit and floral perfume. Sometimes, I spend more time inhaling this spell-binding wine than tasting it, and wondering how can such an ethereal wine be so possessing?
In the center of the village is Domaine Amiot-Servelle, where I met fourth-generation winemaker 38-year-old Prune Amiot and her business-educated 29-year-old brother, Antoine, for a tasting of their 2015 and 2016 wines.
The domaine is a family affair. It was founded in 1920 by Clement Tachot. When his daughter, Cecile, married Jean Servelle they assumed ownership in the 1950s and changed the name to Domaine Servelle-Tachot. Then, in 1980, Christian Amiot from the neighboring commune Morey-Saint-Denis, married Elisabeth Servelle, and with his father-in-law Jean, operated the domaine in Chambolle-Musigny. When Jean died nine years later, leaving Christian and Elisabeth the estate, it was renamed Amiot-Servelle.
Throughout his life, Jean abstained from using herbicides. Christian expanded that quasi-organic practice and met standards for organic certification in 2008. Three years later, his daughter Prune joined the estate as winemaker after graduating from University of Dijon enology program in 2004 and working at wineries in Cote-Rotie and Burgundy.
The organic designation above Amiot-Servelle's cellar.
I began my tasting with the 2015 Domaine Amiot-Servelle Bourgogne Blanc made from chardonnay grown in the flatlands on the other side of RN74. Its ripe fruit flavor, soft acidity and immediate pleasure are markers of this vintage. 87 points. Retail is about $25. From the same area, the 2015 Bourgogne Rouge's pinot noir features translucent cherry color, and pleasing aromas and flavors of cherry and cranberry. The mineral backbone provides a dry finish. 88 points. About $29. Both wines will be good partners to summer salads and grilled poultry or pork.
The 2015 Domaine Amiot-Servelle Chambolle-Musigny is a blend of pinot noir from five vineyards. Its light cherry hue, delicate body, black pepper and raspberry aromas and flavors are hallmarks of this appellation. Enjoyable from the first scent to the final sip. 89 points. Expect to pay $55 to $70.
The 2015 Domaine Amiot-Servelle Chambolle-Musigny Les Charmes Premier Cru is less peppery than the appellation bottling. Its aroma tilts towards cranberry, and the medium body (for Chambolle-Musigny) has a pronounced raspberry-cranberry fruit profile sprinkled with black pepper and backed by a mineral spine. While drinkable with decanting, it will be better to leave this wine in your cellar until 2021 or 2022. 90 points. Expect to pay about $115.
I am not the only one who thinks Les Amoureuses should be elevated from premier cru to grand cru status. The auction market—the true arbiter of value—commands a premium for Les Amoureuses over all other premier cru vineyards, and often exceeds the price for the grand cru Bonnes Mares.
The 2015 Domaine Amiot-Servelle Chambolle-Musigny Les Amoureuses Premier Cru has a more intense black-cherry aroma and flavor than the Les Charmes and greater palate weight. Spicy black pepper mingles with the fruit and a firm, supportive mineral backbone provides for a long finish. 91 points. Definitely needs cellaring until 2022 or 2023. Expected arrival in our market is November.
Amiot-Servelle acquired small parcels of Morey-Saint-Denis and the grand crus Charmes-Chambertin and Clos-St.-Denis from Christian Amiot's family inheritance. The 2015 Amiot-Servelle Clos-St.Denis has smoked meat and black-cherry aromas. It is more expansive on the palate than the Chambolle-Musignys and has more black-fruit flavor with a richness underscored by minerality. Like the Amoureuses, it should be cellared for four or five years, and enjoyed for a decade or two after that. 91 points. Expected arrival in our market is November.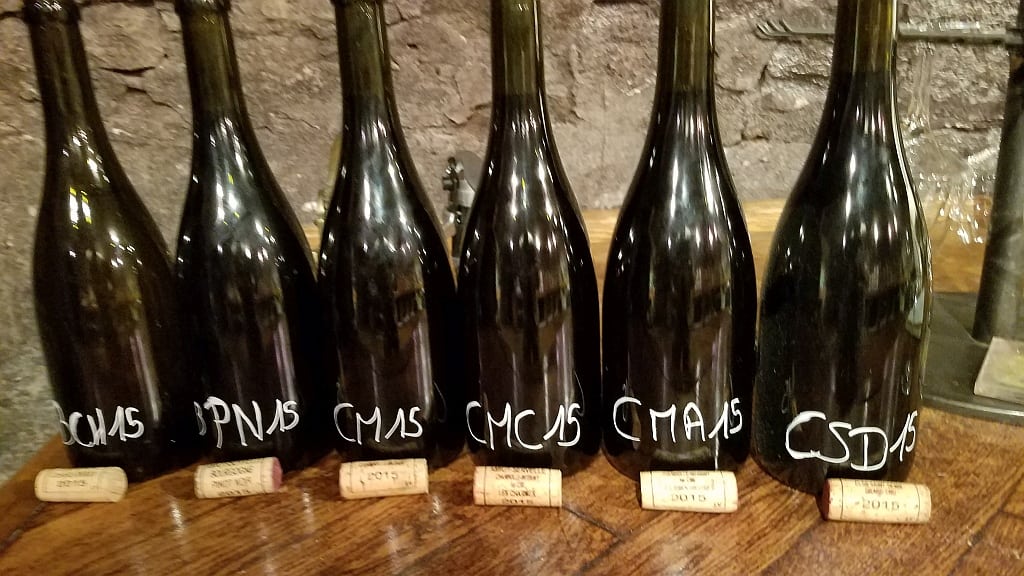 As reported in the first of this series (see Domaine Chevalier), the April frost in 2016 inflicted substantial damage across Burgundy, and the Amiot-Servelle domaine lost 70% of its wines to it. But a small compensation was the vines and grapes that survived produced intensely flavored small berries.
Take the 2016 Amiot-Servelle Chambolle-Musigny bottled in 2018: Its black-cherry aroma and flavor accented with black-pepper spiciness is deeper and broader than the 2015's red fruit profile. It lingers on the palate and the structure foretells an enjoyable life. 91 points. Remains at the winery aging, but should be in our market later this year.
Only six barrels were made of the 2016 Amiot-Servelle Chambolle-Musigny Les Chares Premier Cru in 2016 (22 barrels were made in 2017), but those barrels contained wine with deeper and richer fruit than in 2015. Angled towards the black fruit spectrum, the 2016 Les Charmes is mouth filling with a firm mineral backbone. 92 points. Remains at the winery aging.
Only four barrels were produced of the 2016 Amiot-Servelle Chambolle-Musigny Les Amoureuses Premier Cru (versus six barrels in 2015). From those four, you'll be delighted with the black-cherry character that rules the color, aroma and flavor. Behind that, is a firm body with delicious fruit, spicy black-pepper and earthiness that adds that extra dimension, making Les Amoureuses unique. 93 points. Remains at the winery aging.
The youthfulness of Prune and Antione is balanced by the decades of experience of their parents. It is a combination that should carry Amiot-Servelle well into the 21st century and keep it in the spot light of every Burgundy devotee.
Photos by John Foy