The winery named for Geyser Peak may have been born in 1880, but its modern-day story began only in the 1970s, making this great-granddaddy of a winery more of a GenXer.
George Vare, a serial entrepreneur who was president of the winery in the 1970s remade the estate, located on a hillside across from Geyser Peak Mountain where thermal steam clouds billowed from the summit. He expanded it into one of California's largest wineries, including the introduction of bag-in-the box wines.
Over the years, various corporations owned Geyser Peak, but the business model remained the same: multiple wines at various price points. Back then, I had Geyser Peak's premium red wine, Alexander Valley Reserve Alexandre on my restaurant wine lists. It was well made and offered good value. But I never considered it a collector's wine. So, a few months ago, I had more than a bit of curiosity when I found a bottle of the 1986 Geyser Peak Alexander Valley Reserve Alexandre in a box buried in a corner of my cellar.
The 1986 vintage was the middle child of a superb three-year run of California cabernet sauvignon-based wines. They were the most elegant and Bordeaux-like wines of that decade. It was also two years before the Meritage category was created for wines that blended at least two of Bordeaux's traditional grapes (cabernet sauvignon, merlot, cabernet franc, petit verdot or malbec) with none being 90% or more.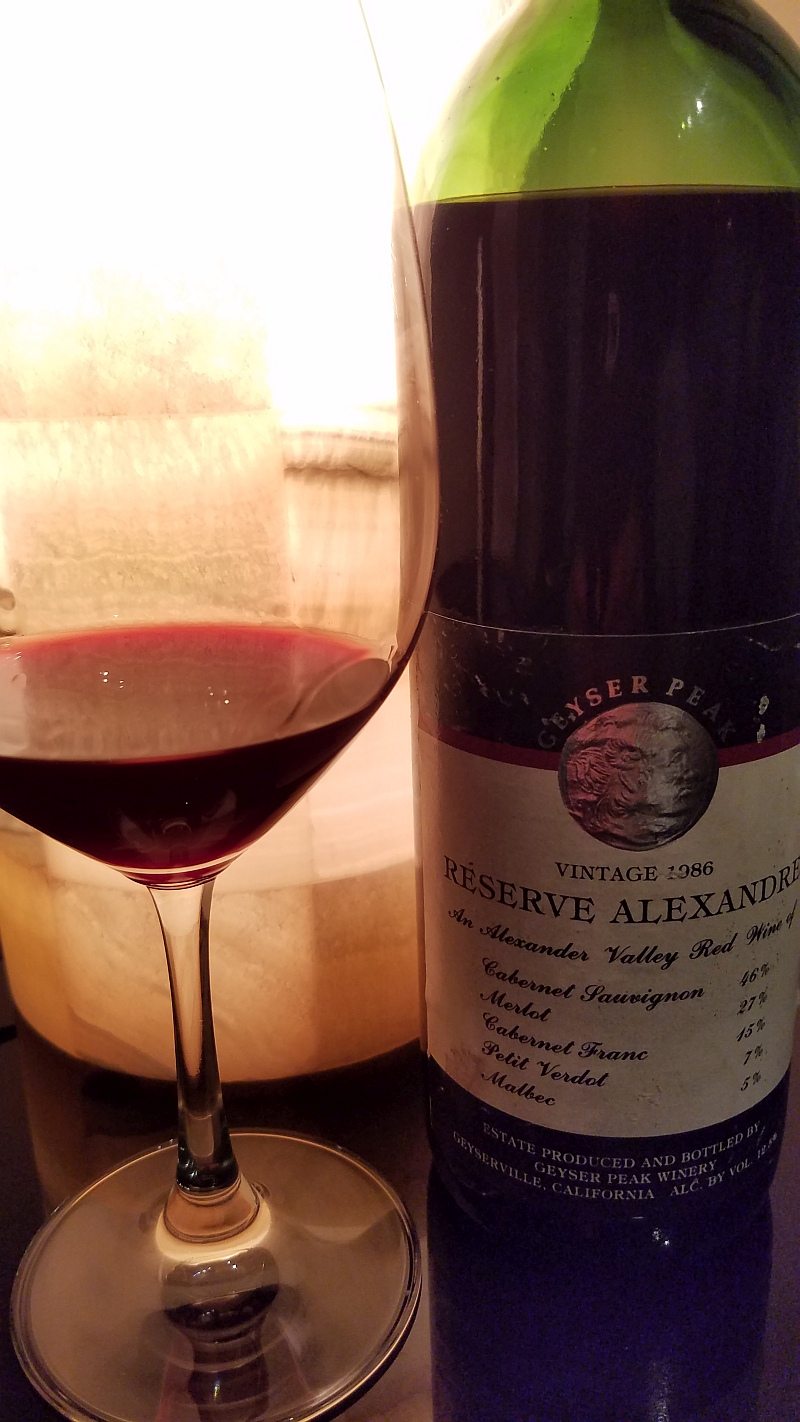 The label on the 1986 Reserve Alexandre declared 46% cabernet sauvignon with merlot, cabernet franc, petit verdot and malbec in descending amounts. I poured a tasting portion of the wine into a 21-ounce Bordeaux glass. The solid red color with just a faint old-red brick tint around the edge did not surprise me. Having collected and consumed hundreds of bottles of California cabernet sauvignon wines dating to the 1960s, color retention is a trademark of Napa and Sonoma wines.
As the wine opened, tobacco, herbal, black tea and black-fruit aromas rose from the glass. The medium-weight body brought flavors matching the aromas, but in different proportions and order. California's natural fruit flavor was front and center, followed by tobacco and dried-oregano tastes. The absence of any oakiness, extra-ripe fruit, or alcohol scent or taste would be unfamiliar to those who began drinking California wine in the 1990s.  At 12.5% alcohol, the 1986 Reserve Alexandre returned me to the time when California red wines where ideal companions for an array of foods, such as the sautéed tuna loin with black-olive tapenade resting on the plate beside my glass.
Earlier this week, I opened the 2013 Geyser Pear Alexander Valley Reserve Alexandre Meritage. Like the 1986, it, too, was born in a great vintage. I was anxious to discover the quality of this wine and how it differed from its 32-year-old ancestor.
Its blackish-red color, black olive, blackberry and vanilla nose reflected the change in California winemaking that began in the 1990s. Its Alexander Valley character and heritage was revealed with its medium-body and the black olive accent in the aroma and taste that I find in many wines from that appellation.
Along with the black-olive flavor, the blackberry and black-plum-styled fruit, tannins and acidity gave this Reserve Alexandre excellent balance and a long, pleasing finish. Its youthfulness and modern style brought a bigger, rounder texture, but it is not the heavy, dark chocolate and extracted black-fruit profile often found in many contemporary wines, and that overpowers the palate. It is pleasant to drink now, but you should age a few bottles—not as long I unknowingly did—but at least five years for added complexity. Its structure and flavors tilt it more towards red meats, but I found it a good companion with sweet Italian fennel sausage and braised broccoli rape. 92 points. And its very reasonable $39 retail pricetag maintains the remarkable value that Geyser Peak has offered for decades.
The 2014 Geyser Peak Walking Tree Alexander Valley Cabernet Sauvignon is from the third consecutive excellent vintage for cabernet sauvignon wines in Napa and Sonoma. It's composed of 92% cabernet sauvignon and 8% syrah.
The wine's appealing clear black cherry color, black cherry, black pepper and milk chocolate aromas are followed by its medium body, which carries a pleasant black cherry and cassis flavor with dry, slightly gravelly tannins. A touch of alcohol appears in the finish, but it is not distracting.
Normally, I object to blending syrah with cabernet sauvignon as it adds a peppery character and extra richness that dominates the palate. But Geyser Peak kept the 2014 Walking Tree balanced and drinkable. Barbecue season is soon upon us, so, think of this wine for roasted chicken and grilled hamburgers. 88 points. Retail prices range from a good value $15 to a less attractive $23.
Photos by John Foy