Whether the party is in a hipster bar, elegant restaurant, or at home (be it ever so humble), New Year's Eve calls for the world's most stylish wine: Champagne.
Style is a matter of taste and Champagne has two: blanc and rose. A few weeks ago, the New York-based Wine Media Guild of which I am a member held its annual holiday Champagne tasting and luncheon at Il Gattopardo, an upscale Italian-themed restaurant in a 1897 Beaux Art Renaissance townhouse on Manhattan's West 54th street. An appropriate setting for what was to be poured.
Spread across three tables were 22 rose Champagnes rangng from nonvintage and vintage, to appellation, premier cru, and prestige cuvee, to little known producers and mega-brands. Some were dry, others fruity, and all classified brut, save one extra brut (less than 6 grams of sugar per liter versus brut's less than 12 grams).
It is a fact that people shop by price, so, from this rose coterie, I've listed my favorites by price and those ready to drink at your celebration Sunday night. Most Champagnes have a wide price range, and I listed those, too.
Less than $50.
Collet was founded by Raoul Collet nearly a century ago, this cooperative uses grapes only from premier and grand cru vineyards for its nonvintage Collet Brut Rose. The brut rose is a pleasant balance of red fruit and minerality. Its $36 price tag (starting) makes it a great value, but the value dissipates as it reaches $65 at some retailers. Ideal for an aperitif, midnight toast, or with slightly spicy hors d'oeuvres. 90 points.
Nonvintage Alfred Gratien Brut Rose reflects the artisanal style handed down to fourth-generation cellar master Nicolas Jaeger. Making the first fermentation (which changes the grape juice to wine) in used Chablis oak casks, and foregoing malolactic fermentation gives Alfred Gratien Champagnes substantial body, crispness and aging capability. With a production of about 300,000 bottles (compared to Moet & Chandon and Veuve Clicquot who make millions of bottles annually), you have a Champagne house that is truly offering hand-crafted wine.
The nonvintage Alfred Gratien brut rose blends Champagne's three principal grapes: chardonnay, pinot noir and pinot meunier with delightful cherry and strawberry aromas and flavors. Perfectly balanced fruit and acidity provide length and a pleasing finish. A great choice for accompanying hors d'oeurves, or with a shrimp or chicken dish enlivened with a mango salsa. At $37 this is a great bargain, but the appeal dims as it reaches towards the $70 price tag of some retailers. 92 points.
Nonvintage Philippe Gonet Brut Rose is from a producer I've enjoyed for years. Owned by the brother and sister team Pierre and Chantal Bregeon-Gonet, this nearly 200-year-old Champagne house has 46 vineyard acres,16 of which lie in Le Mesnil, considered the finest soil for growing chardonnay in the Champagne region.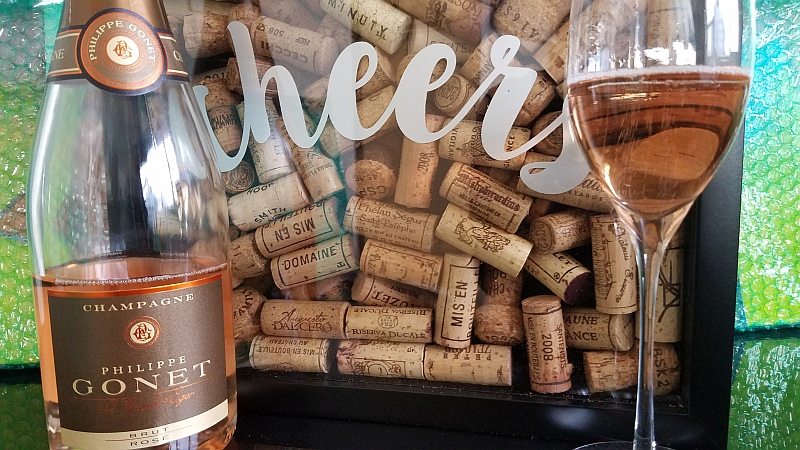 Gonet's rose is a blend of 90% Le Mesnil chardonnay and 10% pinot noir. The translucent orange tint and cherry blossom scent are instantly appealing. The cherry and tangerine fruit flavors are riding on the stream of chalky, mineral backbone that makes Le Mesnil chardonnay world famous. Its starting point of $38 is great value, but the upward climb to $70 is too high. 90 points.
Nonvintage Lamiable Grand Cru Brut Rose is an ode to passion. With only 15 acres, Jean-Pierre Lamiable and his two daughters, Ophelie and Orianne, tend their organic vineyard—that practice being a roll of the dice in the cold, rainy Champagne region—produce the Champagne and manage the business.
The brut rose's pinot noir and chardonnay grapes come from only grand cru vineyards. Tasty red plum and cherry flavors are balanced with mild acidity making this the perfect Champagne to start the party or keep it flowing. Only 4,000 cases were made (the large brands make that amount before the morning coffee break) so finding yours might be a challenge. But at $42 its worth the search, while the $60 peak makes it less interesting. 90 points.
Nonvintage Piper-Heidsieck Sauvage Rose is neither savage nor wild; it's the name of a wild rose. It is a consistently well-made Champagne composed of 80 to 90 percent pinot noir and pinot meunier, with the balance being chardonnay.
The blend delivers an orange-red hue and Bing cherry and red plum fruit flavors with good balance and length. It's a pleasant aperitif, and a fine paring partner to spare ribs and chicken wings if the evening's celebration includes finger foods. Widely distributed, it should be easy to find near the $42 starting gate, but not worth chasing at the upper end of $80. 90 points.
Last month, I wrote A Thursday article Boizel Champagne is a welcomed addition to the American Market, which reported on this quality-driven family introducing their delicious Champagnes to our market.
The nonvintage Boizel Brut Rose was a welcomed inclusion at the guild's recent tasting. Its pleasing red fruit flavor and balancing acidity gives it the structure to glide effortlessly from an aperitif to partner with a pork tenderloin on a bed of eggplant caponata. At $46 it meets its competition in this review, but is not appealing at $64. 90 points.
The nonvintage Charles Heidsieck Brut Rose Reserve is always a superb combination of full body without being heavy. Cherry, strawberry, and tangy cranberry flavors are underscored with palate cleansing acidity and minerality. It's delicious to sip, and better yet with a serving of sautéed curried shrimp or chicken tenderloins with roasted cauliflower seasoned with mild paprika. At $47, the Charles Heidsieck brut rose offers value, but that diminishes as it reaches the excessive $95 price tag of some retailers. 95 points.
The Rouzard family, owners of Louis Roederer Champagne purchased Deutz Champagne in 1993. Under the new ownership, Deutz became a first-rate Champagne. The pink tint of the Nonvintage Deutz Brut Rose is as translucent as chiffon. Pleasing cherry and cranberry flavors are balanced and carried to a clean, flavorful finish on a line of acidity. At $49 the Deutz rose is competitive with the other listed Champagnes, but it loses that edge as the price climbs to $77. 90 points.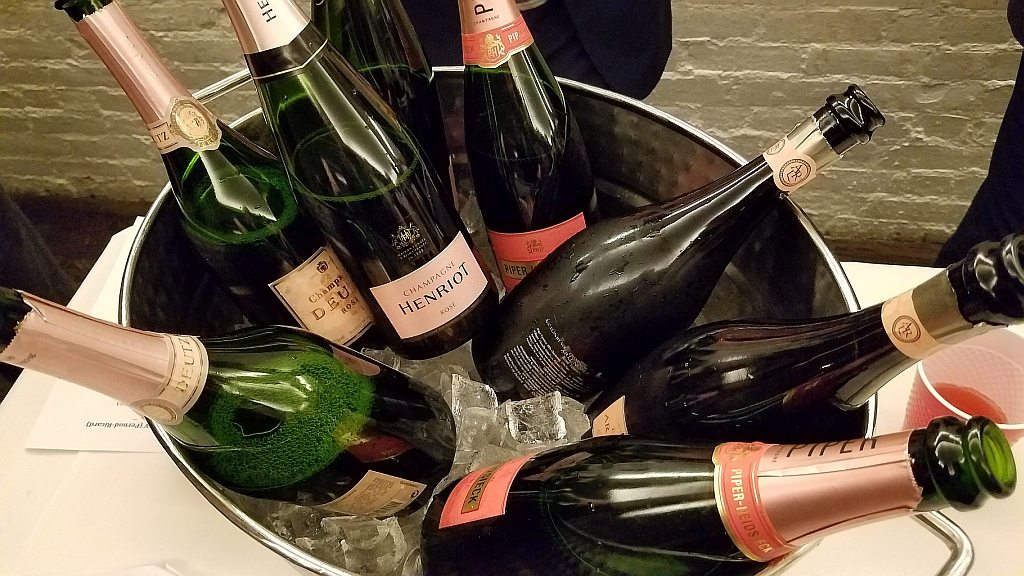 From $50 to $99.
Henriot is a personal favorite. I collect its vintage and prestige cuvee Enchanteleurs bottlings. The gossamer pink-tint of the nonvintage Henriot Brut Rose belies its substantial body and delectable raspberry and cranberry flavors. Perfectly balanced and a lingering finish are quintessential traits of Henriot Champagnes; serve it with hors d'oeurves, or a mushroom crepe appetizer. It's appealing at $50, but is less so as the price increases to $80. 93 points.
 Making a vintage Champagne in 2011 was no easy task given the weather variability of a warm spring, a cool, rainy summer, and mix of sunshine and rain in late August and September. But the Roederer Champagne house was very successful with its 2011 Louis Roederer Brut Rose.
A pronounced cherry and cranberry nose and mouth-filling red fruit flavors are supported with a stony, mineral backbone, giving this 2011 Roederer rose balance and length. Serve it with a lightly spicy vegetable or poultry course. Reasonably priced at $60, but lacks appeal as it crosses $75 and continues to $90 at some stores. 91 points.
Bollinger is one of the most respected names in the Champagne region. With its 62% pinot noir, the nonvintage Brut Rose displays the Bollinger style of richly flavored, full body wines. A stony, chalk-like backbone supports the fruit and makes the wine a good partner to chicken quesadillas, and a Greek-style grilled octopus. This well-made rose warrants its $70 starting price, but multiple retailers have it at an over-the-top $90 to $110. 92 points.
Pol Roger is a great medium-size Champagne house and its vintage and Prestige Cuvee Winston Churchill wines are always in my collection. The orange-tinted 2008 Pol Roger Brut Rose is a superbly structured wine of savory fruit flavors of cherry, strawberry and tangerine with a backbone of acidity and minerality. You can enjoy this wine on New Year's Eve with a mildly spicy Chinese stir-fried vegetable or poultry dish. And it has excellent aging capability, too. It's appealing at $75 to $105, but diminishes as it rises to $140. 93 points.
Prestige Cuvees where price is not the primary consideration.
The term Prestige Cuvee Champagne applies to the finest wine from a Champagne house. Typically the wine is aged six to 10 years in the producer's cellar, made only from the best chardonnay or pinot noir grapes, and only in excellent vintages. Capturing Prestige Cuvee Champagne's complex aromas and flavors requires serving it in a white wine glass.
These Champagnes usually have unique names, and are packaged in artistically-designed bottles and elaborate boxes, making them special holiday gifts as well.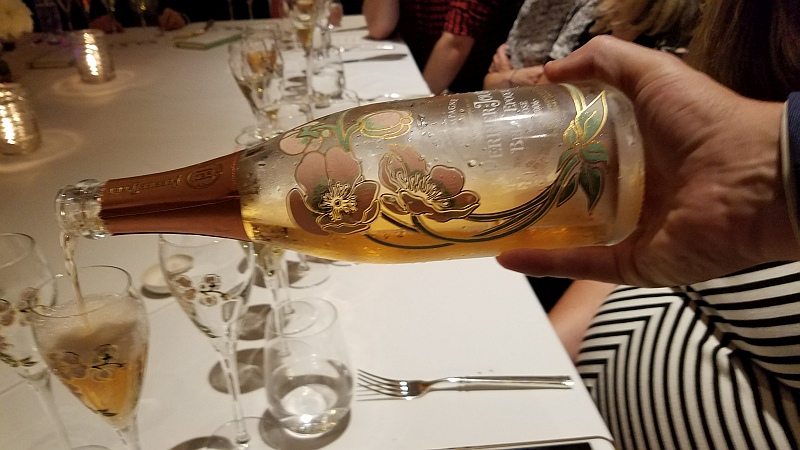 The world's most beautiful wine bottle contains the "Belle Époque" wines of Perrier-Jouët and in the 2006 rose, the quality of the wine matches the vessel. I had this wine twice this month and it is superb: Black cherry and orange blossom aromas, and ripe red plum and cherry flavors wrapped around a full body are mouth-filling. Bright acidity and minerality bring length and aging ability. With its floral etched and painted bottle, this wine lends a sense of celebration. Serve it with a fruit dessert as the clock nears midnight, then toast the arrival of 2018. The price of the 2006 Perrier-Jouet Belle Époque Rose spans from $180 to $420; with a little internet research you'll find numerous stores under $300. 94 points. 
Taittinger Cellar
Taittinger Champagnes are synonymous with elegance. The ethereal 2006 Taittinger Comtes de Champagne Brut Rose offers red fruit and ginger aromas and flavors that are perfectly harmonious with the grapes' acidity. For your New Year's Eve dinner, serve it with roasted chicken, veal or pork drizzled with the meat's jus. Or, with black sea bass or red snapper on sautéed yellow and red bell peppers. And save some to welcome the New Year.  Prices range from $168 to $292 with wide distribution. And consider buying a few bottles for your cellar as the Comtes de Champagne ages wonderfully; I'm drinking my 1996. 97 points.
Founded by Nicolas Ruinart in 1729, Dom Ruinart is the oldest Champagne house. Today it is part of the LVMH, the Moet Hennessy Louis Vuitton luxury goods conglomerate.
The 2004 Dom Ruinart Brut Rose reflects the high quality fruit of this vintage. Surprisingly for some, this rose is 81% chardonnay, which gives the wine its refined texture and ginger accent, while the 19% pinot noir contributes the strawberry and cherry characters. Behind the fruit is Ruinart's mineral soil and 2004's bright acidity. You can enjoy this refinement now with poultry dishes, and adding a few bottles to your cellar will be very rewarding in a decade. Retail prices range from $234 to $350, with very limited distribution. 94 points.
Veuve Clicquot is also part of the LVMH house. The slightly copper-colored 2006 Veuve Clicquot La Grande Dame is the most fruit forward of the Prestige Cuvees reviewed. Pungent strawberry and cherry aromas float from the glass and the red fruit flavors are tied to a full body. Lively acidity provides balance and a long, lingering finish. This is an excellent Champagne to drink now; retail prices run from $230 to $400, and with its wide distribution, finding it at less than $300 should not be a problem. 94 points.
Happy New Year!
Photos by John Foy