This is the time of year when retailers create special packages (and sometimes prices) in the high-end gift-giving category. Seemingly they think there's no price point when it comes to satisfying the collectors or fine-wine drinker in your life (even if it's a gift for yourself). To help you cut through the red ribbons, I've culled my notes and composed a list that simplifies your shopping.
Finer California wineries in general–and Napa's in particular–target the mid- and higher-priced buyer or collector. Justin winery in Paso Robles offers an attractive gift box containing one bottle each of 2015 Justification, 2015 Savant  and its flagship 2014 Isosceles. Justification is a St. Emilion-inspired blend of nearly equal parts cabernet franc and merlot with a black-tea, herbal and black-cherry character. Savant  (80% syrah , 20% cabernet sauvignon) delivers rich, dark chocolate, black pepper and blackberry qualities. Isosceles blends 73% cabernet sauvignon, 15% cabernet franc and 12% merlot, yielding a black-fruit and oak-aged plush wine.
The gift box is available on the winery's website: $140 for Justin wine club members; $175 general public. Or you can purchase the individual bottles retail is: $40-$50 for 2015 Justification 90 points; $50 for 2015 Savant 88 points; $50-$100 for 2014 Isoscles 92 points.
Constructed into the base of Mount Saint Helena, Chateau Montelena is one of Napa Valley's most historic wineries, if not for its 19th-century stone-fortress-like building, then for its role in putting California wines on the map during the 1976 Judgment of Paris tasting in which the estate's chardonnay was voted best white wine over Grand Cru white Burgundies (sacre bleu!)
While the chardonnay remains a top-notch wine, it's fair to say that today Chateau Montelena's estate cabernet sauvignon is the more prized wine, making it the ideal gift for wine collectors.
The 2013 Chateau Montelena Estate Cabernet Sauvignon Napa Valley is from one of Napa's great vintages. Its intense black-fruit, integrated tannins and long, delicious coffee and black-cherry flavor is backed by a mineral backbone. One sip explains why Montelena's estate cabernet sauvignon is sought after.
In a valley and era of extra-ripe, high-alcohol, oak-infused wines, Chateau Montelena's estate cabernet sauvignon stands out for its balance and harmonious composition of fruit, soil, and winemaking. 94 points. A wide retail price range of $110-$169.
Like Jim Barrett, who purchased Montelena in 1972, Jayson Pahlmeyer is an attorney whose wine passion drove him into the business. Six months ago, I wrote about the 2013 Pahlmeyer Proprietary Red (See: Don't give him another tie! Wine gifts for Dad.), but the less expensive 2014 Pahlmeyer Merlot Napa Valley is an excellent choice for those who like big, bold Napa wines.
Displaying blackish-purple color and substantial vanilla and black-fruit aromas, the 2014 Pahlmeyer merlot is loaded with ripe, plum and blackberry flavor and wrapped in plush tannins. If decanted for an hour, you can drink this wine now, but three or four years cellaring will make the wine rounder and less rambunctious. 90 points. Retail prices range $70-$110.
Shafer Vineyards founder John Shafer was part of a group of young, inexperienced owners and winemakers who in the 1970s developed vineyards in what would become the renowned Stags Leap District.
The 2013 Shafer Hillside Select Stags Leap District is as balanced and harmonious as its vintage. A year of warm, sun-drenched days and cool, sometimes chilly, nights delivered perfectly ripe grapes.
Black cherry, black tea, vanilla, oregano and bay leaf appear in the nose and on the palate. Stags Leap District's velvety tannins bind the wine and give it great aging potential. Those who resist drinking this immediately pleasurable wine will be rewarded with greater complexity from 2023 to 2033. 96 Points. Retail prices range from $265-$400.
Long before California caught the fancy of wine collectors, Italy's Piedmont and Tuscan wines were cherished. Barolo was known as the "king of wines and the wine of kings." You can treat someone like royalty with a bottle of the 2013 Fontanafredda Barolo Serralunga d' Alba. 
The former hunting estate of Vittorio Emanuele II, the first king of Italy, dates from the 19th century— purchased as the home of his mistress and later wife. Their union produced a son, Count Emanuele Alberto di Mirafiori, who created the winery at Fontanafredda and made its first Barolo in 1878. Serralunga d'Alba is one of the five steep hilltop villages containing Barolo's best vineyards.
Just arriving in the market, the 2013 Fontanafredda displays nebbiolo's classic bright cherry color and cranberry-cherry fruit aromas and flavors with white pepper and marjoram-like accents. Its medium body belies the common thought that Barolo's are heavy weights, but its minerality and tannin backbone are true to Serralunga and foretell this wine's aging potential. 90 points. Its $42-$50 price is not princely.
Between Serralunga d'Alba and the village of Barolo sits the picture-perfect medieval village Castiglione Falleto where the tart cherry 2013 Vietti Barolo Castiglione was produced.  
Fifth-generation winemaker Luca Currado crafted a translucent black-cherry, red tea and cherry-scented wine that brings robust cherry and raspberry flavors. Its brisk acidity and tannins reflect the vintage and youthful nebbiolo, but will soften and blend with the tasty fruit if cellared until 2023. 91 points. Retail prices range from a good-value $40 to an excessive $75.
Tuscany's steep hillside Montalcino village is as picturesque as Castiglione Falleto and its Brunello wine is as prized as Barolo. Each is made from a single grape: nebbiolo for Barolo, and sangiovese grosso for Brunello.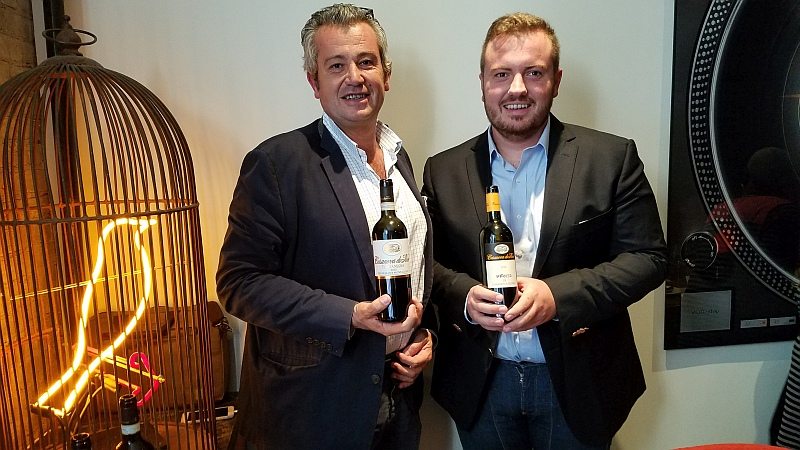 Giacomo & Giovanni di Neri at Charlie Bird restaurant in NYC.
Casanova di Neri was founded in 1971 by Giovanni Neri, and today it is under the direction of his son Giacomo, and grandson Giovanni. An ideal gift is their 2012 Casanova di Neri Brunello di Montalcino.
In its short history, Casanova di Neri has garnered numerous awards. Black-cherry colored, the 2012 di Neri Brunello reflects the outstanding quality of the vintage with its pungent smoke, soy, black-tea and black-fruit aromas. Savory, ripe, black-cherry and Darjeeling tea flavors are backed with substantial tannins. This is a "must-have" for any Brunello collector. 96 points. Retail prices range from a very reasonable $50 to an excessive $100.
Happy gifting, drinking, and holidays.
Photos by John Foy