This is the fifth article in a series of six on the new generation of winemakers at family estates in Burgundy.
Depending on your traveling direction, Nuits-Saint-George is either the beginning or end the Cote de Nuits section of Burgundy's Cote d'Or region. The communes, or villages, of Premeaux-Prissey and Nuits-St.-Georges compose this renowned appellation, which is more industrial and commercial than its picturesque neighbors Vosne-Romanee, Vougeot, Morey-Saint-Denis and Chambolle-Musigny.
Just off of route National 74 (R74)—the main artery running through the Nuits-St.-Georges appellation—is Maison Ambroise in Premeaux-Prissey. The domaine, which dates to the 1800s, began producing wines in 1987 when Bertrand Amboise assumed control of the property. Today it is a 50-acre estate run by Bertrand and his wife Martine and their 38-year-old daughter Ludivine, who does the fermentation, and 34-year-old son Francois, who is the vineyard manager.
Bertrand used some organic farming techniques, but it was Francois who converted the estate entirely to organic farming and received certification in 2013. However, the 2016 spring frost destroyed 80% of their grapes, forcing them to abandon organic farming to salvage what remained.
I met Ludivine at their home for a selective tasting of their estate wines. We began with three white wines.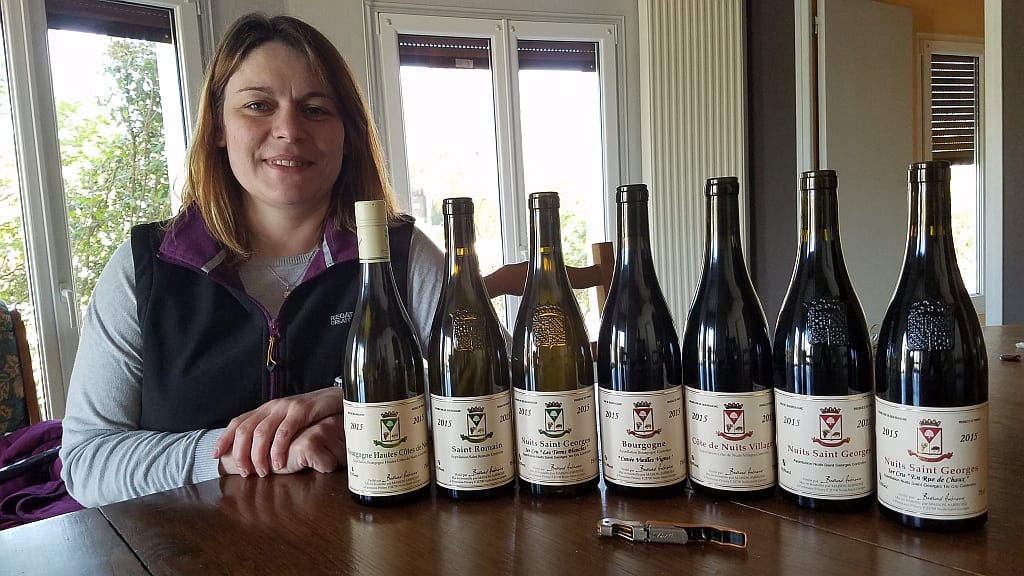 The 2015 Maison Amboise Haut Cotes de Nuits has a slight yellow tint and a lemon-thyme nose. Aged in 40% new oak for 10 months, its medium body is built around rich pear and lemon flavors with a balancing minerality and acidity. 89 points. Retail is approximately $35.
Saint-Romain is a minor Cote de Beaune appellation sitting above Meursault and Auxey-Duresses. Maison Ambroise limits the aging of its St.-Romain to 30% new oak for one year, "If you use too much oak for Saint Romain you make a very nice California chardonnay," Ludivine said somewhat wryly.
The 2015 Maison Ambroise Saint-Romain is true to its origin with its lemon, lime and thyme aromas, and rich apple and mineral taste. The oak aging provided a round, full mouthfeel, while Saint-Romain's natural stony backbone provided a pleasing long finish. 91 points. Retail is approximately $50.
My third was the 2015 Maison Ambroise Nuits Saint-Georges Les Terres Blanche Premier Cru. This appellation and Morey-Saint-Denis are the only ones in the Cote de Nuits that produce a white appellation (AOC) and premier cru.
With its yellowish tint, and toasted, smoky aroma and flavor from aging in 100% new oak for 14 months, the 2015 Les Terres Blanche needs a few years of cellaring for the oak to meld into the pear, lemon and mineral flavors currently submerged. 89 points. Retail is approximately $85.
Turning to four red wines, Ludivine said they are neither filtered nor fined before bottling.
I began with the 2015 Maison Ambroise Bourgogne Rouge Cuvee Vieilles Vignes. Unlike most other Bourgogne Rouge wines usually made from young vines, Ambroise's is made from 50 to 70-year-old vines in a vineyard at the bottom of a slope between Pemeaux-Prissey and Nuits-St.-Georges. Aged in 20% new oak barrels for 15 months, the wine has a pleasant cherry aroma and a delightful cranberry-cherry taste layered on a stony sensation. 88 points. Retail is approximately $28.
The 2015 Maison Ambroise Cote de Nuits Villages is from Premeaux-Prissey and nearby vineyards with 55-year-old vines. Aged in 40% new oak for 15 months, it displays herbal and red-fruit aromas with tasty cherry and cranberry flavors underlined with a gravelly accent. Its immediacy is compelling. 88 points. Retail is approximately $50.
The 2015 Maison Ambroise Nuits-Saint-Georges fuses pinot noir from vines averaging 60-years-old in five vineyards spread across Premeaux-Prissey and Nuits-St.-Georges. The wine is aged in 70% new oak for one-year and has the herbal accent and red-fruit aroma similar to the Cote de Nuits Village. But the fruit flavor is richer with raspberry and cranberry flavors stitched to sweet tannins and a mineral backbone. This is a very pleasing wine. 90 points. Retail is approximately $75.
Chaux, which means lime or limestone, is the soil component for the 2015 Maison Ambroise Nuits-Saint-Georges Rue de Chaux Premier Cru. The combination of the unique rocky soil, 60-year-old vines, aging in 100% new oak barrels for 18 months, produced black-cherry, spicy and clayish aromas. The delicious cinnamon and black-cherry flavors are carried on a solid medium body that needs about five years of cellaring to release all its richness. This is a superb wine 93 points.  Retail is approximately $110.
The new generation of the Ambroise family is producing rich, flavorful wines. The oak aging is targeted to the appellation allowing the wine to express its origin. Now under the direction of Ludivine and Francois, Maison Ambroise has a secure and bright future.
Photos by John Foy